Introduction
In this blog we will explore how you can have a sustainable Diwali without compromising on Diwali celebrations! 
Do you remember when we were kids, Diwali was about not waiting anymore for that one sweet dish that, despite all your efforts, would not be spared until the festival of firecrackers arrived? It was about the joyous chaos of being a part of something that we couldn't comprehend yet enjoyed every bit of it. 
The tantalising aroma of sweets wafting from the kitchen, and the delightful anticipation of lighting diyas and bursting crackers. Those childhood memories, like cherished jewels, are woven into the very fabric of Diwali. 
Diwali, the Festival of Lights, isn't just a ritual; it's a divine raga, a culmination of emotions that reverberates through time, sometimes touching the very core of our souls. These emotions should not be addressed from a compromised perspective. Therefore, we bring you sustainable Diwali celebration ways.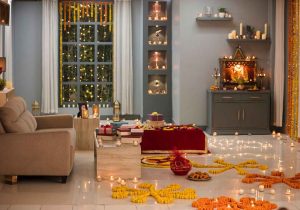 With every rangoli pattern drawn with and every diya's flicker echoing our traditional hymns, we connect not just with our heritage, but also with the ethereal vibrations of Diwali's divine Sannidhya (presence). 
This festival isn't merely observed; it's experienced, its melodies woven into the fabric of our being, binding us to our ancestors and to the divine cosmos. 
The fireworks and the diyas and the sweets: They all showcase our love for tradition, our reverence for heritage, and our shared joy as a community. Each burst of colour in the night sky is an example to our collective happiness, a visual poem written by the entire neighbourhood. 
This Diwali let's not just preserve our cherished traditions but make them even better. Let's not only light diyas, but also kindle the flames of positive change. Here, we present sustainable Diwali celebration ways that go beyond the ordinary, inspiring you to make a difference while embracing the essence of this beautiful festival that brings us every happy. Because Diwali, it's about doing more; that encourages positive alternatives. 
Rangoli with Flowers #warmwelcome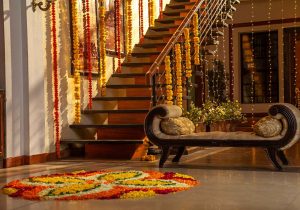 In a world increasingly dominated by synthetic colors and materials, choosing to forego them is a statement in itself. By saying no to synthetic dyes and powders, you're making an eco-conscious decision. You're opting for sustainability, aligning your celebrations with the environment. It's like giving nature a hug! 
Choosing clean, dry soil or sand as the base for your Rangoli is a connection to the very earth from which life springs. It's a humble yet profound acknowledgement of our roots. The process of creating a Rangoli on the ground is a grounding experience, literally and figuratively. 
In essence, a Rangoli with fresh flowers is a celebration of nature's beauty, a rejection of artificiality, a connection to our heritage, and a heartfelt welcome to all who cross your threshold. 
Lamps, Love, and Luminescence #ArtisanDiwali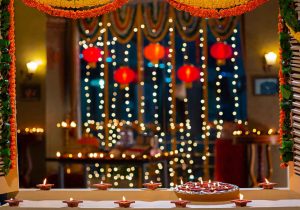 The gentle flicker of diyas! In their golden glow, we find the expression of love and warmth. Lit with care, they illuminate not just our homes but also our spirits, dispelling darkness and ushering in hope. 
As we light the mitti ka diyas and watch their soft glow illuminate the corners of our homes, we are not just honouring the ancient practice of lighting up the darkness, but also embracing our responsibility towards Mother Earth. 
Local Flavours, Global Impact
#SweetStories
This Diwali let's focus on quality over quantity. Instead of an extravagant spread of sweets, opt for a selection of high-quality, eco-friendly choices sourced locally. These #SweetStories not only tantalize the taste buds but also support local artisans and businesses, fostering a sense of community and sustainability. 
Gift of Growth – Nurturing Nature
#GiftOfGrowth
Gifts are expressions of love, and what better way to show your affection than by gifting potted plants? Basil (Tulsi), Money Plant, Aloe Vera, Air Plants (Vayu Vriksh), and Bamboo Palm wrapped in cloth are not just presents; they are a #GiftOfGrowth. These green companions spread joy and create an eco-friendly ambiance, symbolizing life, renewal, and the promise of a greener tomorrow. 
Gratitude Journal – Cultivating Positivity
#GratitudeDiwali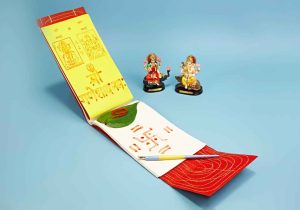 Having embraced these eco-conscious practices, start your new year with a heart full of gratitude. Acknowledge even the smallest blessings in a Gratitude Journal, fostering a #GratitudeDiwali. Whether it's a simple bound notebook or a digital journaling app, this practice cultivates positivity, mindfulness, and a deep appreciation for the wonders of life. 
Conclusion:
Let's illuminate not just our homes but also our hearts with the warmth of sustainable traditions and eco-friendly choices. Together, we can make this festival not only visually spectacular but also environmentally impactful. 
How Can we Help:
We invite you to embrace a greener, more sustainable celebration. Let's make this Diwali not only visually captivating but also environmentally responsible. And who better to accompany you on this journey than Bonito Designs, India's No. 1 full home only personalised interior design brand. 
At Bonito Designs, we understand the importance of blending tradition with innovation, creating homes that resonate with your essence. Our team of over 300 interior design experts brings a touch of brilliance to every project. We are not just about designing homes; we craft experiences, ensuring your space reflects your personality and values. 
What sets us apart goes beyond our creative flair. It's our commitment to quality and your peace of mind. With a meticulous 7-stage quality check process, from design conceptualisation to packaging and installation, we ensure every detail is handled with utmost care and precision. Your satisfaction is not just a goal; it's our promise. 
And here's the cherry on top: we offer a 10-year warranty on our interior services. That's a decade of assurance, a decade of living in spaces that inspire and comfort you. With Bonito Designs, your home isn't just a place; it's a reflection of your dreams, beautifully realised. 
Happy Diwali from Bonito Designs!