Elegance, Sophistication and Richness are three precise elements that describe the interior décor of Mr. Koushik's residence. The owner wanted a resident that not only showcases rich look but equally offers utility to every space.
With this concept in mind and to provide maximum feasible space in the given area, We – Bonito designers brought in most lavish interiors for their client.
Fab Foyer Ambience
No one can stay away from the impressive décor created at the entrance area. The space is best utilized by offering zig-zag shaped, white and dark brown colored storage shelves that are sandwiched together with looking mirrors in between.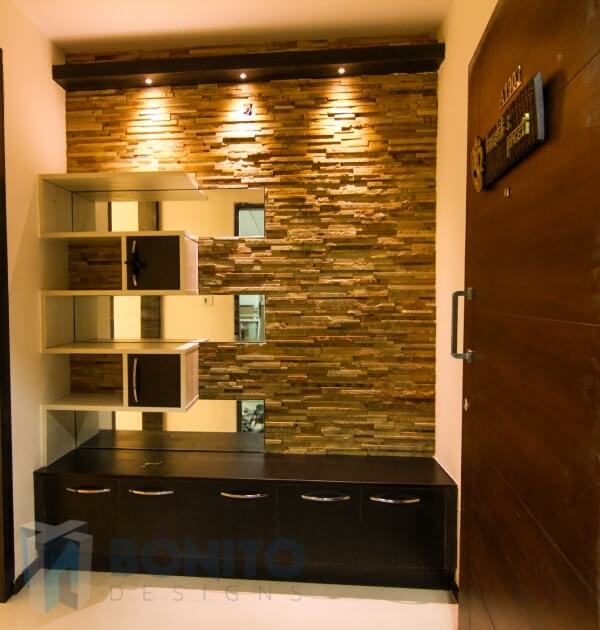 The remaining wall area is textured with stone cladding that is highlighted with spot lights placed on ledges at top while the bottom is utilized with well dimensioned shoe cabinet that also offers eminent sitting space for two at a time.
2BHK Apartment's Living Space
Moving further will take one to the attractive living space that is big enough to comfortably seat 10 members at a time. The big wall behind the sofa area is enhanced with yellow color wall paper which is bordered with similar stone cladding as done in the entrance zone.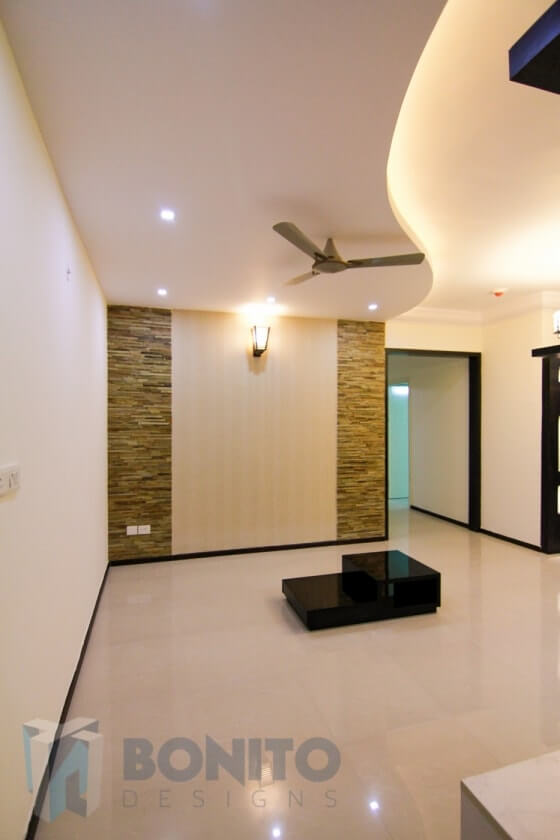 The wall for TV unit is also draped with same wallpaper to create a perfect balance in entire area. While the above space of TV unit is enhanced with 3 ledges of different sizes the bottom zone is placed with two cabinetry shelves as well as an open white colored shelve.
Dining Area cum Puja Ghar
Next comes the dining area, which is just alongside the balcony. The space is partitioned with two walls opposite each other. The first wall is décor with classy look dark brown and white crockery shelve.
The side of the shelve is distinguished with a step-up counter that serves as an amazing corner display and the area above crockery shelve is excellently matched with a display counter of L-shape.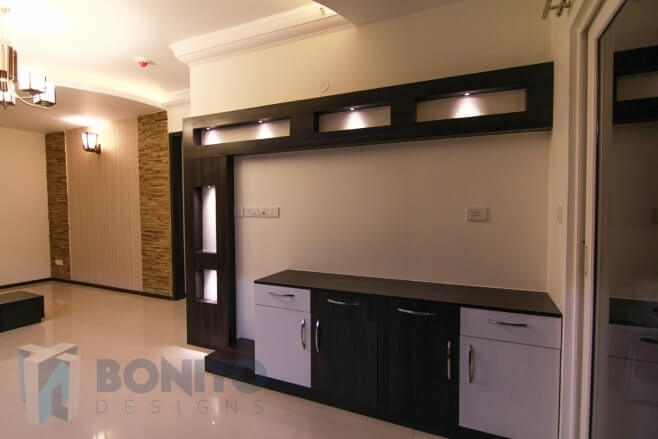 There is simple yet big and rich look puja unit designed at the wall opposite to crockery cabinet.

Kitchen and Bar Unit
Behind the dining area is the kitchen counter which is an open space served with breakfast counter from one end. Opposite to this counter are the working and storage cabinets of kitchen zone that are incorporated with shelves of different sizes and styles.
So, storing distinct items will not only be easy but attractive as well. The kitchen space is amazingly beautified with eminently designed bar unit at one side.
Washing Zone
To best utilize the small space left near kitchen area, there is adequate size washing zone provided. This area is served with excellent storage and drainage system.
Kids cum Guest Room
This room is highlighted with light green and white tone with a dressing unit and a full wall cabinet on one side and display shelves and study table on other size.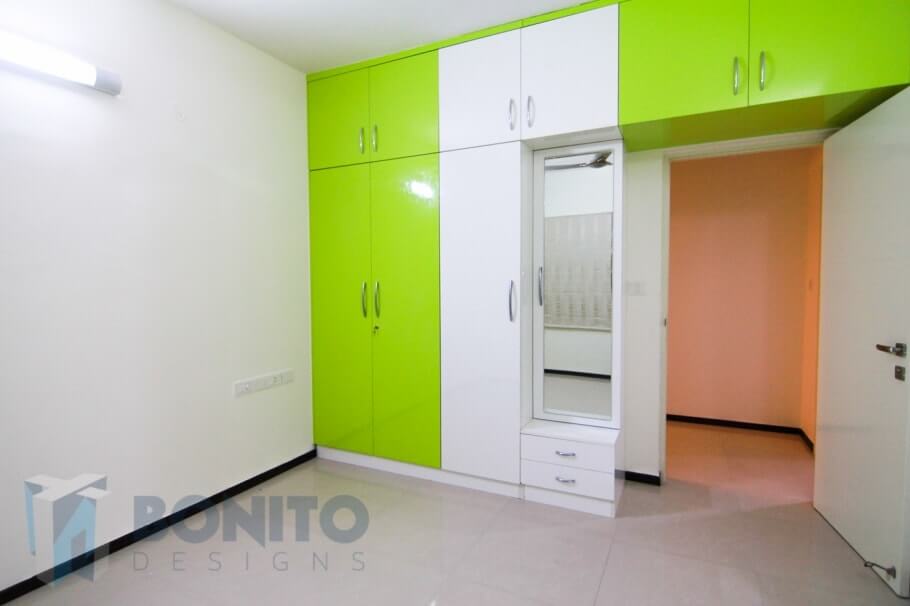 Even the dressing unit offers enough storage space for kids or guests.
Master Bedroom
Master bedroom is designed next to other balcony of the apartment in which one wall is placed with 9 feet tall wardrobe. This is further complimented with a study table and TV cabinet alongside.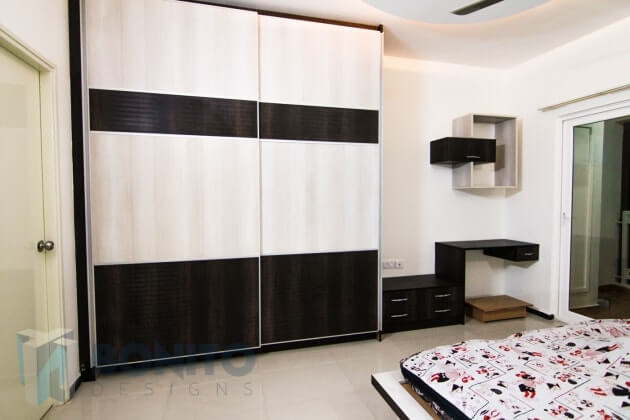 The wall opposite to it holds the head rest of the bed that further holds enough storage space with bed side tables and lamp lights above them.
False Ceiling for 2 Bhk Apartment 
No space can be beautified without a perfect false ceiling design.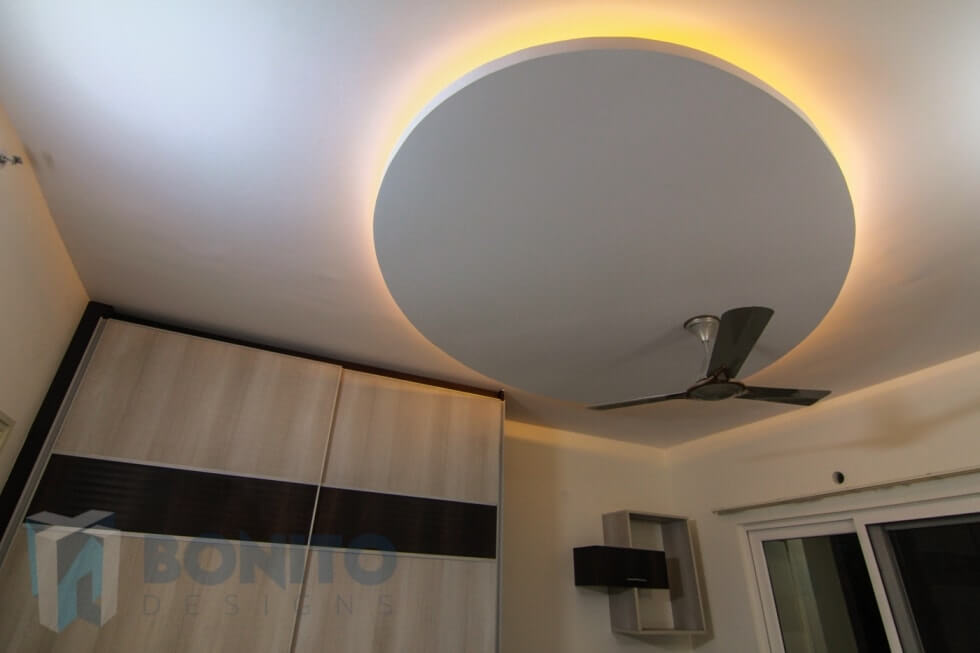 The living and dining space are separated even from top with L-shape false ceiling. There is a dome in master bedroom while guest room and kitchen zone are kept simple.
The overall interior décor of the space delivers excellent storage, amazing usability and classy appearance from all aspects.
Planning to interior design your home? Contact Bonito Designs – the leading interior designer in Bangalore.