With so many patterns, designs and ideas of interior décor available these days, it is even more difficult to get perfectly sophisticated and that awaited wow look for a home. But there are professionals who are expert in this field and they exactly know what and how much will suit to a space.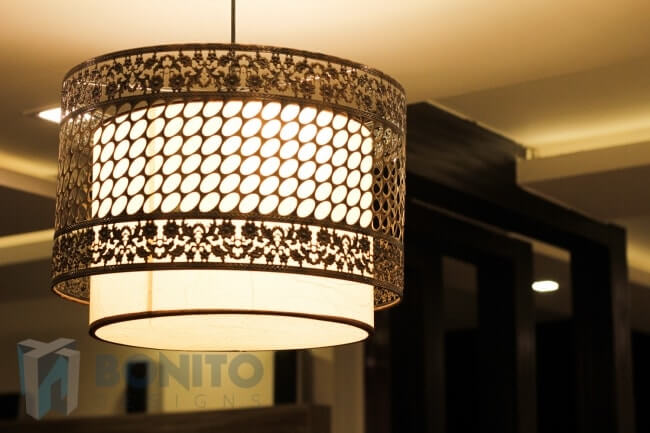 As a leading professional interior designers in Bangalore; even this time we, Bonito Designs have proved intelligence and creativity by creating outstanding interiors for a 3BHK flat at Sarajapur Road of Mr. Prashant Shetty.
So, let's take a close peek at incredibly beautiful interiors of the flat that showcase unique expertise employed by our interior design professionals this time!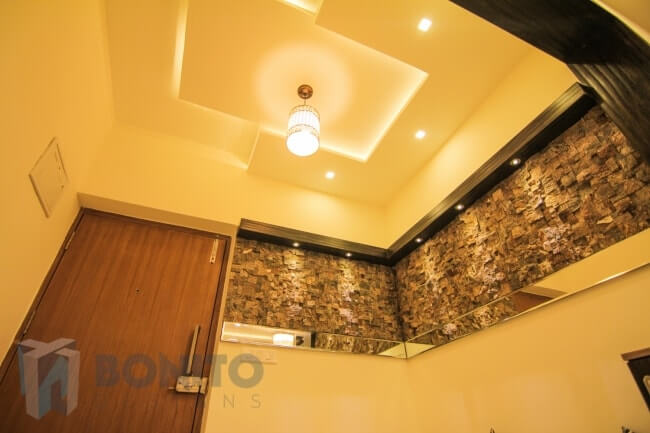 Well-Planned Impressive Foyer Area
The L-shape foyer area wall is beautified with stone cladding in similar pattern. This L-shape stone cladding is further beautified with elegant mirror strip placed beneath it and spot lights placed above it.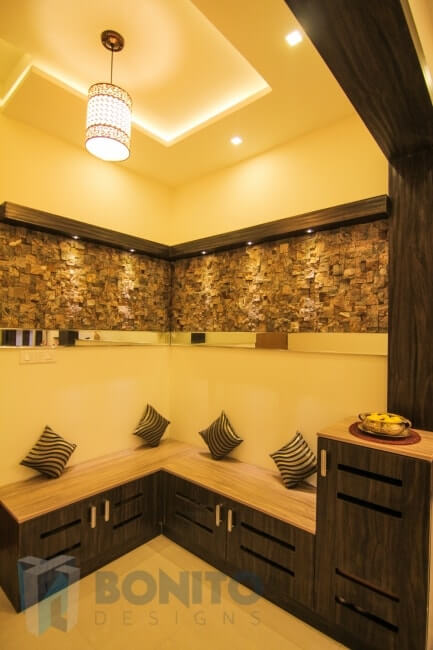 The bottom space of the area is excellently utilized by providing cabinets with seat and storage that ends with a tall cabinet on one end. An inverted U-shape false ceiling design is provided in this space, which is further enhanced with 3 spot lights and a hanging chandelier in between.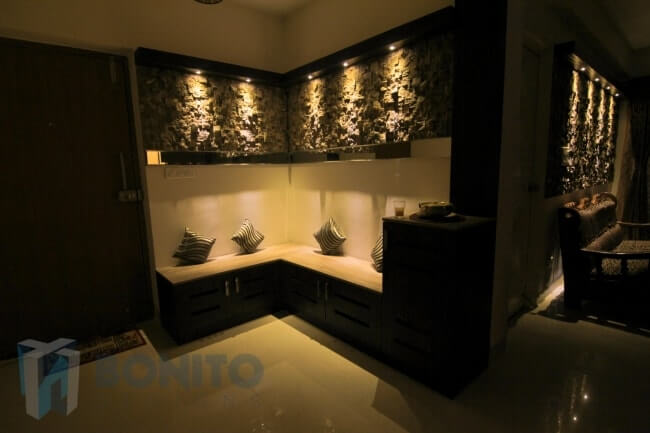 The foyer area truly holds great elegance and especially when you enjoy the beauty of this space just with lighting.
Sophisticated Living Room design ideas
The living space of this apartment is outlined between two walls facing each other. The left wall is adjacent to the foyer area and so similar pattern of stone cladding is done to provide an enhancive continual design.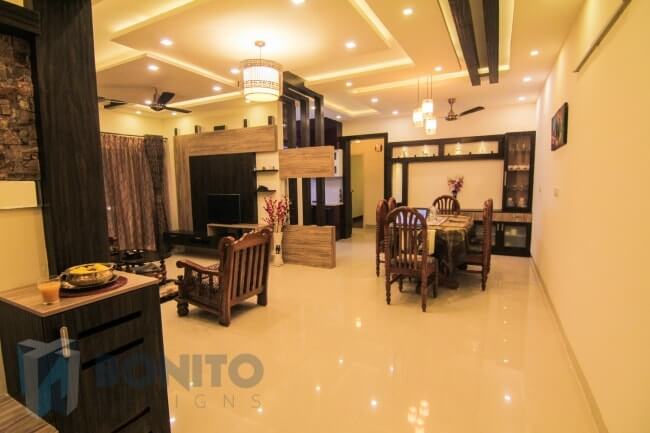 The right side wall of the living room is utilized by designing TV cabinets with appropriate size drawers and shelves to suffice their storage needs.
A tint of dark brown and light brown colored wood is used in interiors of entire apartment to give it an elegant and sophisticated appearance. So, same tints are used for drafting the TV cabinet as well.
The uniqueness of living and dining space is the wooden partition separating these two areas. The partition is designed with the same shades of brown in geometric design of strips and rectangles that give a really impressive appearance to the entire area.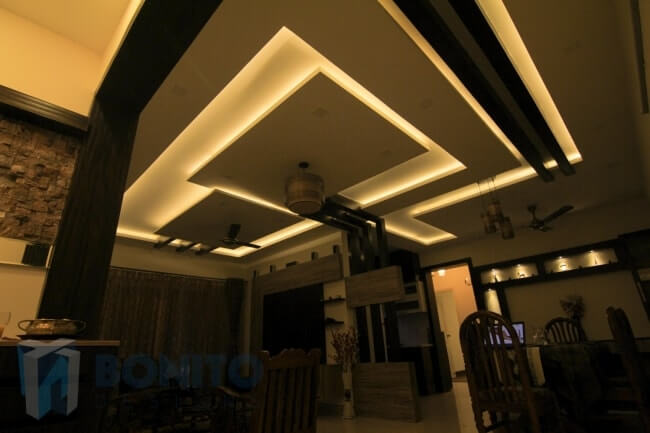 The living room interiors are further enhanced by same geometric shape false ceiling that is being used to modify the partition.
Elegant Décor of Dining Space
The false ceiling of the dining space is designed in continuity with false ceiling of living room. So, despite of using intricate patterns, our professional interior designers are able to deliver neat and clean appearance to both these areas.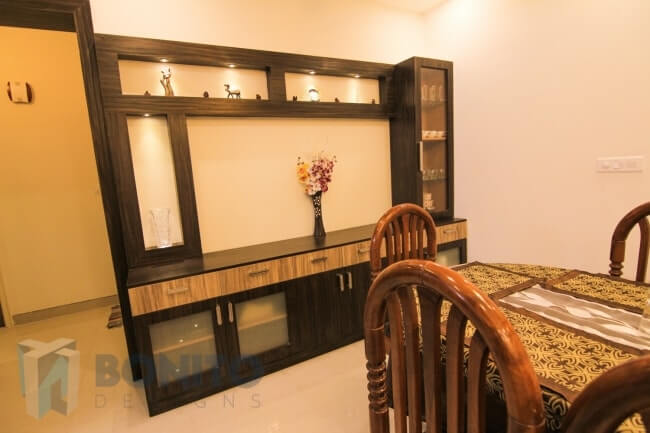 The amazing thing about the dining space is that its front wall is visible as soon as one enters the apartment.
So, keeping this thing in consideration, these experts have designed a beautiful crockery unit for that wall. This crockery unit has glass doors on either side, and open spaces with spot lights to perfectly place different kinds of artifacts.
Wonderfully Designed Modular Kitchen Interiors
The small size kitchen is designed with the use of brown and white color.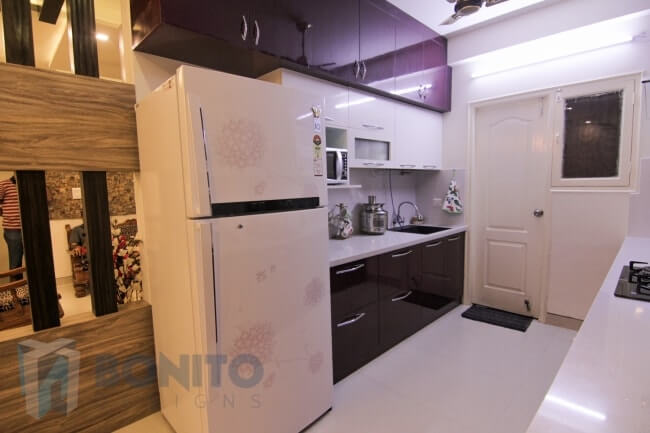 There is enough utility offered by use of drawers, and glass door cabinets over kitchen countertop.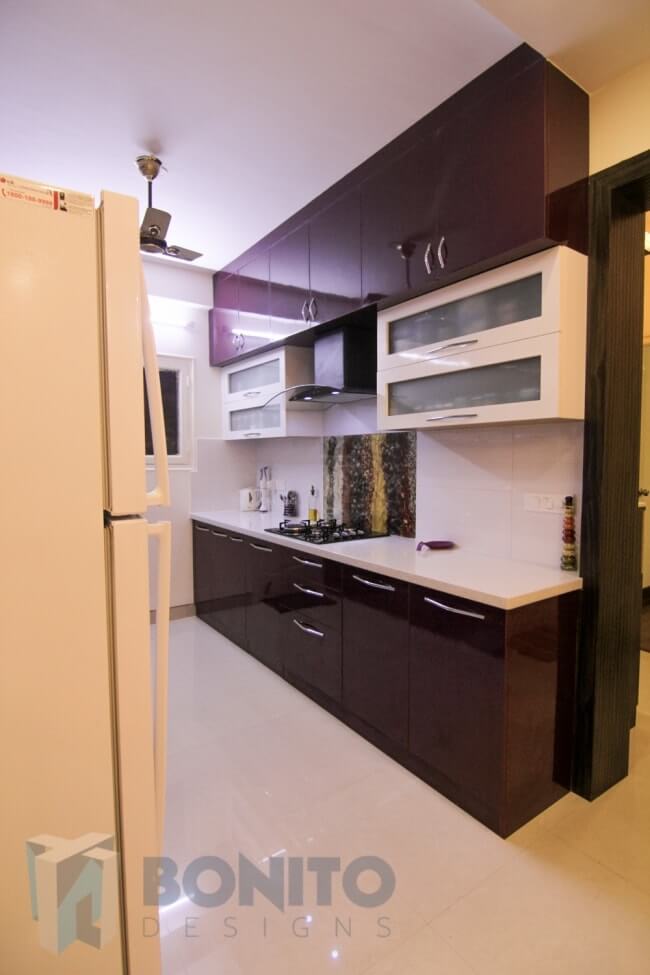 Despite of small size, the experts are able to deliver excellent utility area, along with elegant designs with a few aspects of luxury such as microwave shelve, glassdoor cabinets and lofts on either side of the kitchen.
Eye-Catching Puja Room design
Walking towards master bedroom is a narrow passage, which has been excellently utilized by providing a neat and beautiful looking puja cabinet.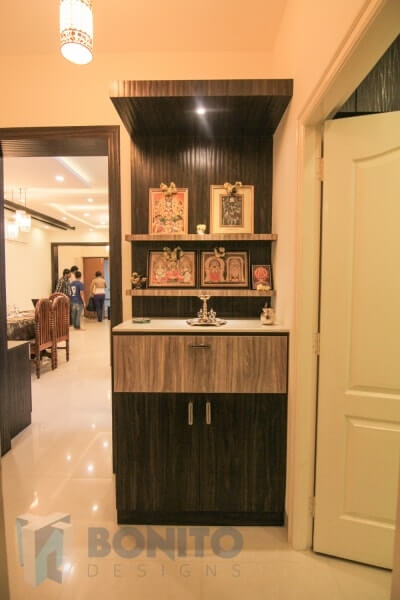 This cabinet has enough space for storage and turns out to be the optimum use of the available space.
Super-Stylish Master Bedroom designs
An adorable, stylish and comfy interior is what that describes this room. The sliding wardrobe doors fits perfectly with a limited area of the room.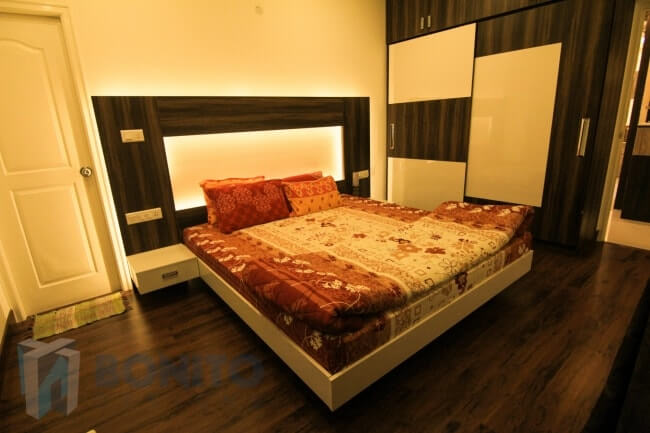 High gloss and matte finish laminates are used for designing the wardrobe as well as other interior of this room.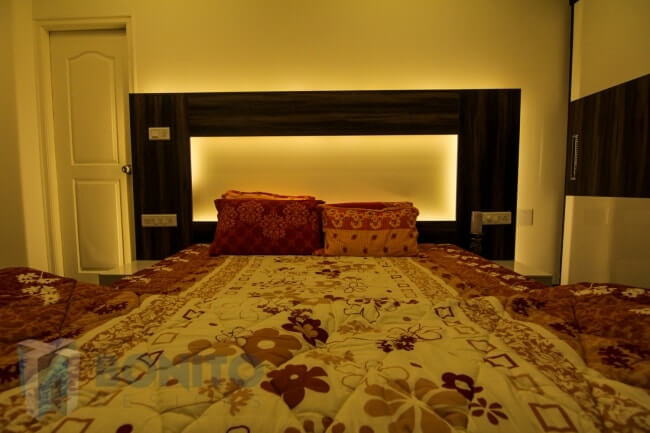 The king size bed is enhanced with the wooden paneled head rest that holds spot lights in between.
A dressing unit with cabinets and simple yet chic false ceiling design completes the stylish interior of this space.
Parents Bedroom in apartment
The small size parent's bedroom is provided with an L-shape wardrobe with loft for additional storage.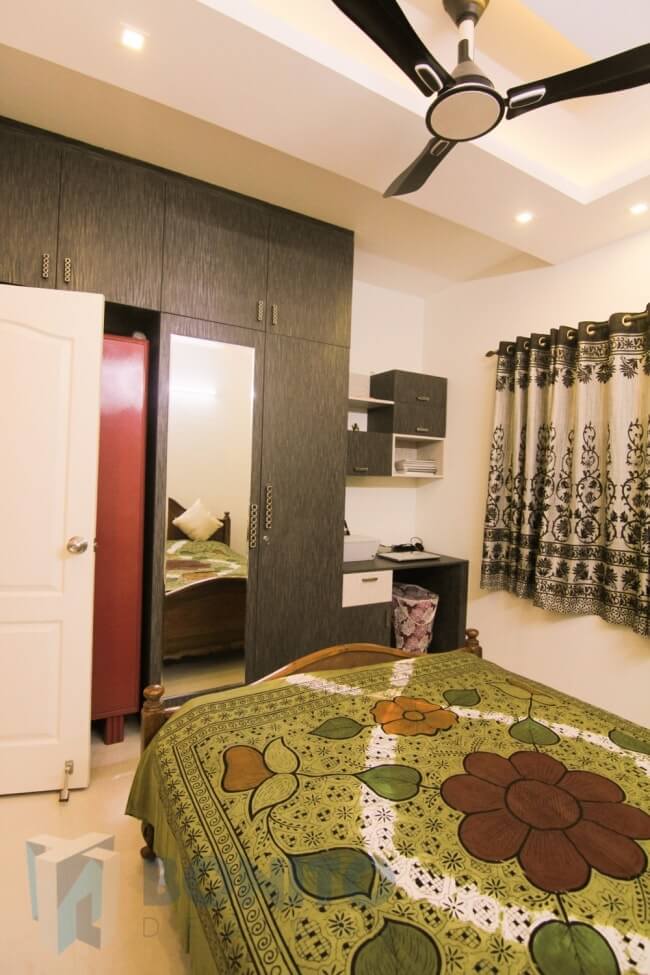 A sleek study table with shelves at top excellently compliments overall interiors of this room.
Guest Bedroom of Mr. Prashant Shetty
The guest bedroom is beautified with a dark and light shade combined wardrobe, dressing unit and sophisticatedly designed study table that gets enhanced with interesting floating false ceiling offered at the top.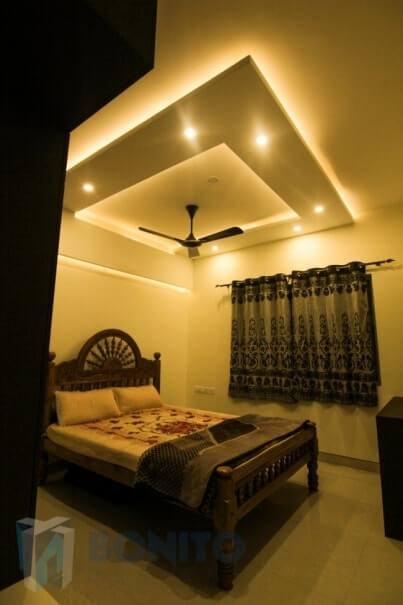 The interior design of Mr. Shetty's house symbolizes classiness with style. We, Bonito designs, made it a house worth longing for.