Latest Update: Jan 11, 2021
5 unique ways to decorate high ceilings
High ceilings lend magnificence to a room. It accentuates the beauty of a room. High ceiling also means paying more attention to the design of the interiors of the room. Though a room with high ceiling might look intimidating in terms of designing it, a few tips can give style and beauty to high ceilings.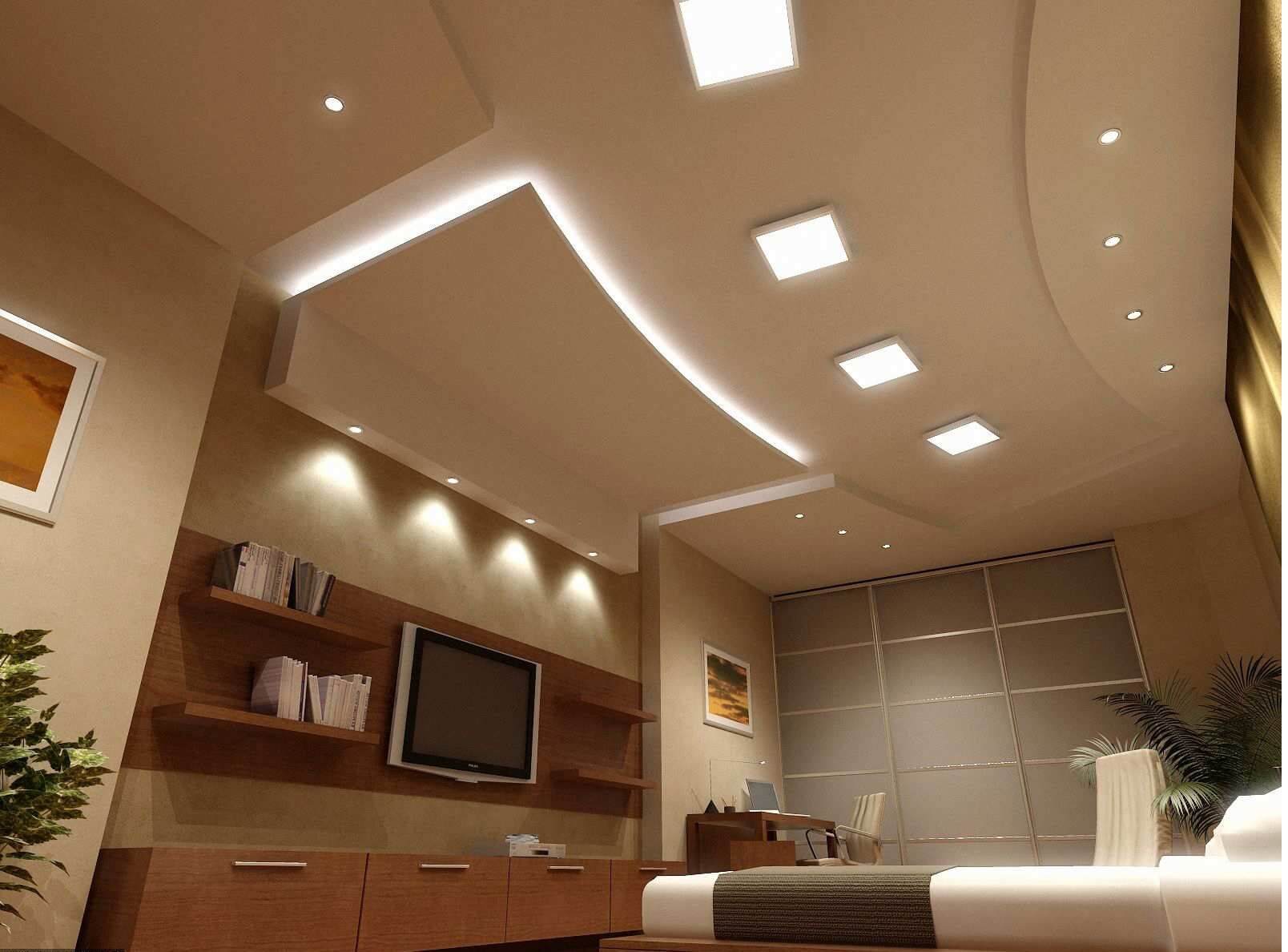 Source
1. Lighting, the most important aspect:
The most important and practical way to decorate a high ceiling is by installing great lights.
When it comes to high ceiling, chandeliers are the best option.
While buying a chandelier, do pay attention to other factors also and do not just opt for one with an attractive design. Also look out for the height, the shading used, the bulbs and also how it needs to be cared for.
Now, chandeliers are available in different materials and even various designs. Choose one that is appropriate for your room, one that will match the height and width of the room and will fall perfectly in line with the décor of the room.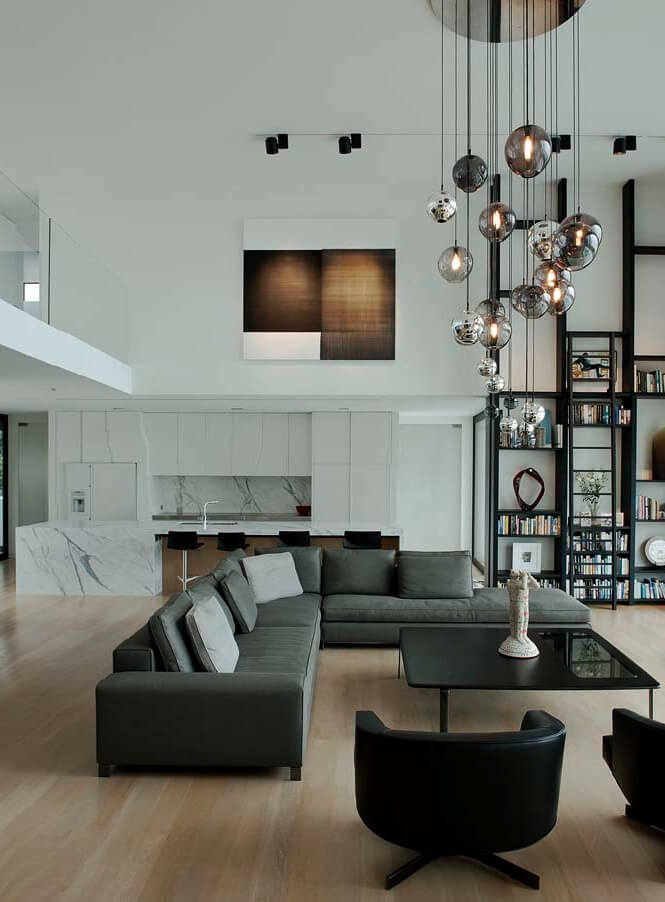 Source
Pendant lighting is also a great idea to perk up a room. Pendants can also be suspended at normal height which makes it easier to enjoy its shades.
Track lighting is another good option for a room with high ceiling as it can be moved easily as and when required.
2. Curtains to add drama:
High ceilings design often mean tall windows and if paired up with elegant and attractive curtains, it also adds a drama and sheen to the high ceiling. When it comes to tall windows, venetian blinds are the perfect match. Curtains also give a homely feeling as high ceilings can often intimidate.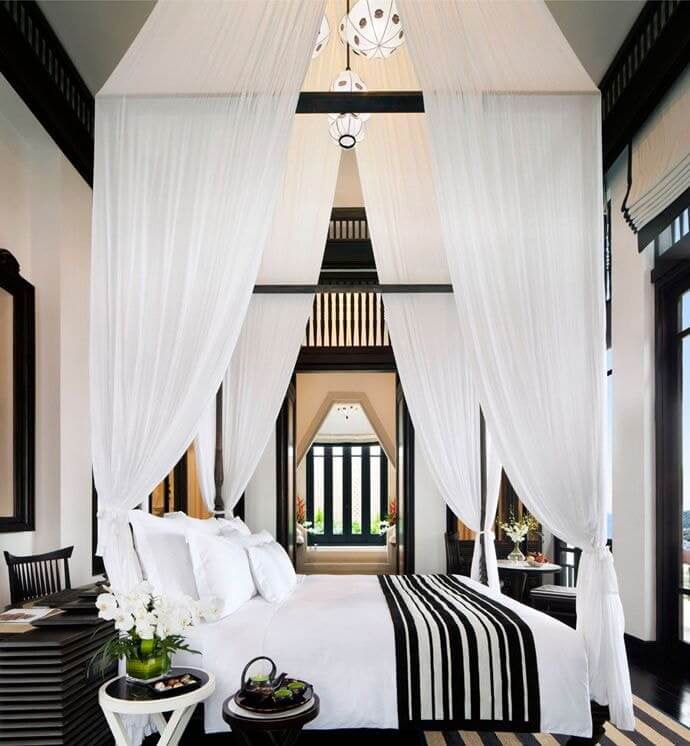 Source
The choice of colors for the curtain can be from white to dark shades. Each color has its own pluses and minuses. The choice of the color depends on what one is looking for – a calm atmosphere, or a shrinking feel to the room to balance the high ceiling or to add brightness to the room.
3. A close companion to high ceilings:
Some people prefer to have false ceilings to reduce the height of the room. But for those who want to maintain the look and feel of high ceiling, can opt for uncovered timber beams.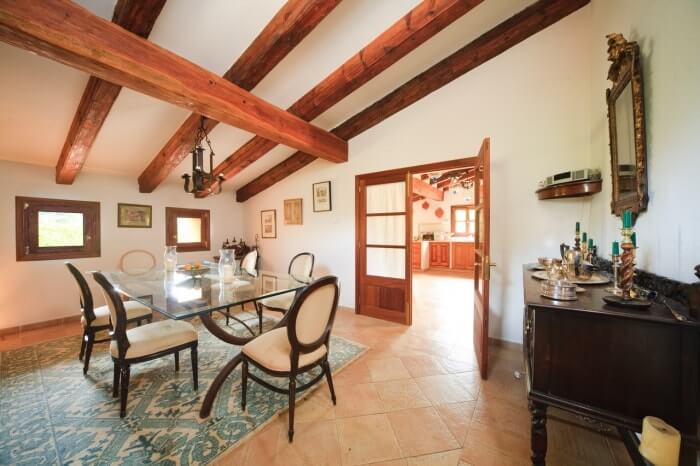 Source
Though these beams also do what false ceilings do that is to reduce the scale, these look much more attractive and arty than false ceilings. These wooden beams are a perfect companion to high ceilings.
4. Texture and warmth to high ceilings:
A suitable texture and design on the high ceilings definitely give the high and magnificent ceiling a feel of warmth and style. You can opt for various different designs that are readily available and go for one that matches with the style of your room.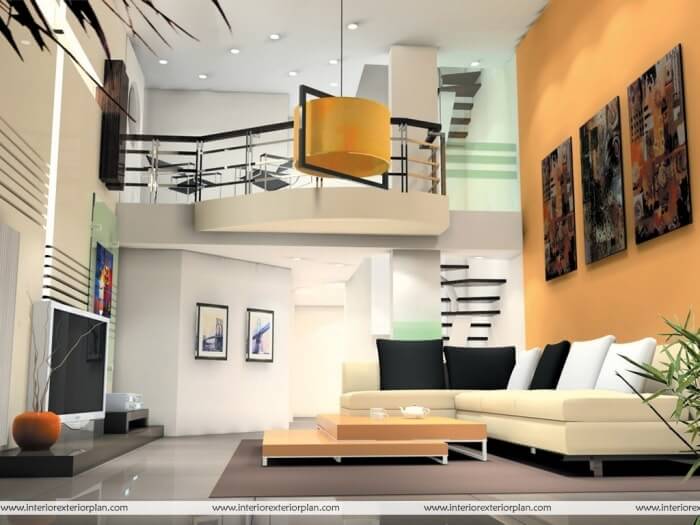 Source
A well textured and designed high ceiling always brings the best in a room and adds a luxurious but homely touch to the surroundings.
5. The other points worth considering, the wall and the floor:
A room with a high ceiling means a room with high walls and large floor space. If you won't pay attention to these two factors, then all your decorations on your high ceiling will go waste.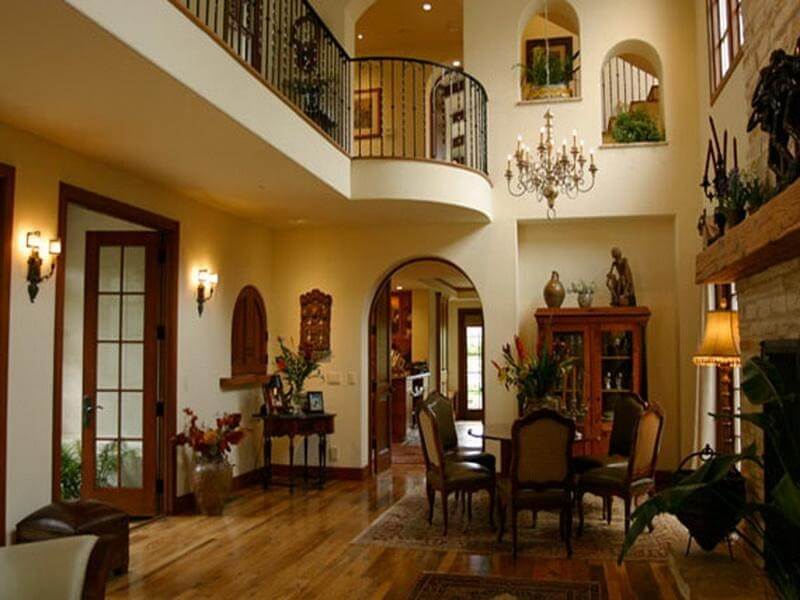 Source
High walls give more space to storage. You can have nice shelves on the walls either with window doors or with glass doors. Window doors mean you are covering up space and glass doors mean you are letting others see what's in there.
So here you can display good artworks, sculptures, etc. They are concealed yet visible. You can choose to display your valuable art works here because here they remain safe and yet visible.
High walls can also be used to build a library at home. Books not only provide a visual delight to a room but also, a delight for visitors and for the residents too, it is a solace to have a library in such a magnificent room.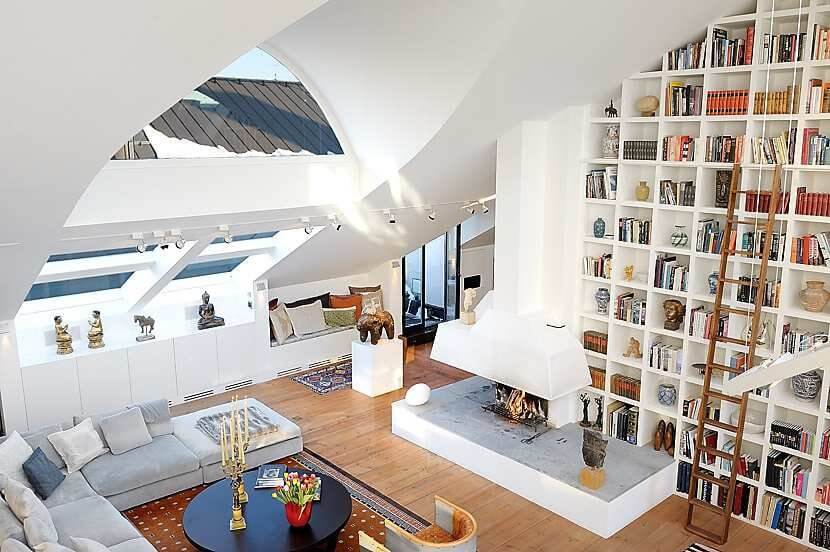 Source
Add a nice wooden ladder and you have a practical library right in your living room.
You have another advantage. High walls also can hold large paintings or even life-sized paintings comfortably on them.
Large floor space calls for large furniture too.
Small furniture or materials or things will be easily lost in the magnificence of a large room, with high ceiling and windows. At the same time, do throw in good measure nice and comfortable pillows wherever you can.