Introduction
Picture the excitement of going furniture shopping with your family. You are hard pressed to ask the children to not go for that bunk bed they've seen on TV! You want something more sophisticated and refined instead. We have always assumed that luxury is an unattainable dream. But let us debunk that myth for you.
The art of high-end selections is as much about our 'brains' as it is about the 'beauty'. So, if you're detailed enough to spot the right furniture and get it at the right price, your home interiors can be elevated with the most minuscule of budgets.  
While we all love shopping for exquisite and designer items, there's always a price to pay. And with furniture selection, it's the decision of being extra sure to pick the right one.  
But don't worry! We're here with our 12 pro tips specially curated for you on how to find the right fit for your luxury lifestyle. Keep reading to discover more! 
How to Pick the Right Furniture?
1. Read the Room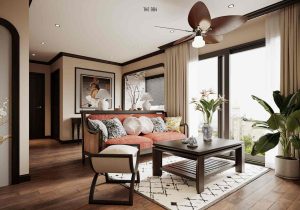 When it comes to furniture selection, planning efficient layouts is vital to make the home more welcoming. Analyse the area of the room and opt for the size and layout that complements the space. 
Maintaining proportion is crucial while picking furniture. Oversized furniture will end up overpowering the essence of the space. And at the same time, small furniture makes the room feel uncomfortable and bland. A well-balanced and clutter-free layout lets each piece of furnishing shine through while maintaining an open and airy essence.  
Pro-Tip: During the exercise of furniture selection interior design, make sure to pick sizes that leave ample space for comfortable movement.  
2. Fix a Style for

Furniture Selection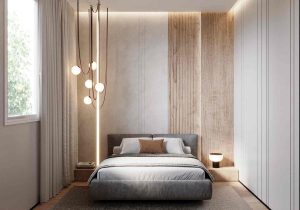 Interior design is a way to reflect your luxury lifestyle. This is why, in the process of furniture selection, picking the right style is important. The style must align with interior design language and your personal flair.  
From minimalist designs to retro furnishings, there are plenty of options to pick from. Ensure to select the one that blends well with overall aesthetics and establishes harmony in design. A few of the popular furniture designs and their characteristics are: 
Furniture Design 

Primary Characteristics  

Modern  

Composed of contemporary materials like plastic, leather, steel, and vinyl.

 

A sleek look in monochrome colours.

 

Mid-century  

Delicate curves with clean lines and a minimalist concept.

 

A mix of velvet fabric with metal accents.

 

Traditional  

Straight lines, intricate embellishments, and tapered legs.

 

Warm tones like gold, brown, grey, and cream with stripes, plaid, or floral textures. 

 

Vintage  

Primary colours like cream, beige, and grey for retro visual appeal.

 

An appearance of being old.

 

3. 

Mix Aesthetics with Functionality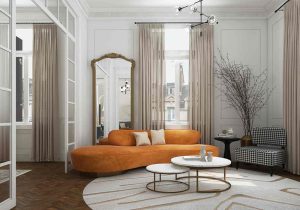 Your focus on the high-end furniture selection shouldn't stick to aesthetics. Rather, look for a style that offers a stylish affair of design and comfort. A premium lifestyle is only jazzed up by spaces that are practical, comfortable, and visually appealing. 
It's important to look for furniture that fits the space and purpose. For example, to select living furniture, prioritise the comfort of seating and furniture layout that enhances the comfort of a room. In the case of a bedroom, the focus must be on a stylish bed of optimal size.  
Pro-tip: Try to pair the furnishings in a group of three to strike visual impact and attain symmetry in design. It also aids in avoiding overcrowding of furnishings in compact spaces. 
4.

Go Out-of-the-Box with Versatility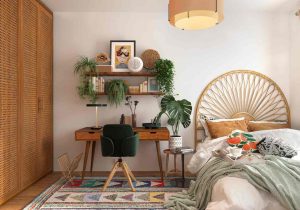 With open layouts ruling the interior design, consider the idea of multi-functional furniture selection. Go for customisable designs to adapt to distinct needs. Always consider easy-to-move furniture that helps you rearrange the layout for a fresher look.
Multi-functional items like stools, ottoman, tables, etc., can also be used to accommodate decor items apart from serving their original purpose. One of the major advantages of selecting these furnishings is that they can easily be tucked away when not needed. It aids in making the space look clean and clutter-free. 
5.

Zero Compromises on Quality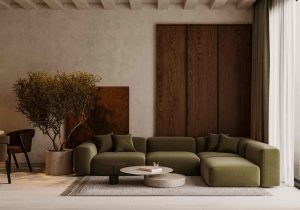 There's nothing as satisfying as buying the right quality product. Isn't it? While we make no compromises on other shopping aspects, the same stay thumb rule for furniture selection. The right choice of furniture to exhibit your luxury lifestyle must have premium quality. With luxury being a synonym for quality, consider opting for rich materials like teak wood, velvet, marble, and dazzling metals for furniture selection.  
For interiors to truly stand out, invest in premium-quality furniture. If your design flows in an earthy direction, consider the idea of opting for materials like cork, bamboo, and recycled materials for a one-if-its-kind look and robust quality. One of the major advantages it offers is durability and the ability to keep every space as new as ever! 
6. Material that Sets the Tone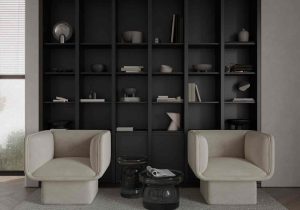 Material plays an important role in setting the tone of a room. During the process of furniture selection, opt for materials that complement the rest of the space. While wooden accents can be added to introduce warmth and a traditional look, metallic accents, on the other hand, introduce sleekness and a modern look to the room.   
Another guiding factor in the material selection is durability and ease of maintenance. With high-end furniture, linen, polyester, and leather are the trending materials that are easy to maintain. 
Pro-tip: Your premium lifestyle and traffic in space guide the choice of material. Always opt for stain-resistant fabrics in the social zones of the house.  
7. Look for Intricacy in Design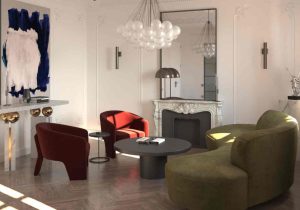 It's the fine details that speak the loudest. As you commence furniture selection, pay attention to the details. Look for pieces with intricate carvings, decorative trims, or enticing hardware that introduce a character to the room.  
While aiming at intricacy in the process of furniture selection, ensure that the details don't collide. The embellishments on furniture shouldn't be a repetition of any ornate design element in the space. This will set a monotonous look in the room. High-end furniture designs with gentle curves can effortlessly break the rigidity and make the room even more welcoming.  
8.

Colours that Complement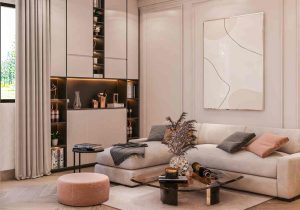 Aren't we all aware of the life that colours breathe into space? These can either make or break the look of any space. Stay attentive to pick the right tones during furniture selection. Assess the colour palette and add tones through furniture that blend well with the rest of the decor. 
Beige, grey, brown, and ivory are timeless choices for furniture selection interior design. If the furniture maintains a neutral tone, you can inject a pop of colour through soft furnishings. Let's look at a few of the colour combinations of wood and wall that set an enticing tone for the interiors. 
| | |
| --- | --- |
| Wood Tone  | Complementing Wall Colour  |
| Red   | Green   |
| Golden-yellow   | Teal, warm red, eggplant, or earthy green  |
| Brown with yellow undertone   | Buttery walls  |
| Antique wood  | Light or dark walls  |
| Ebony or dark mahogany chest   | Blue-green or deep red wall  |
9. Furniture Selection

that Marks an Impression
Home select furniture is a way to reveal your creativity. Your choice of furniture speaks a lot about your personality and design taste. To grab attention and introduce the wow factor, pick furniture that acts as the focal point of the room. 
High-end furnishings will make spaces practical and exude sophistication and luxury. Both style and functionality for these serve as a guide to your extent of customisation. For example, you can opt for customised kitchen cabinets or wardrobes that sync well with your premium lifestyle.  
10. Seek Expert Advice
Furniture selection can prove to be a daunting task when performed alone. It's best to seek expert advice for the proper guidance. A professional interior designer will analyse the area, review the needs, and provide optimal solutions.  
Explore the list of interior designers in Mumbai or your city for professional guidance to pick the right high-end furniture. At Bonito Designs, we have experts helping with tailored furniture selection for every unique design taste and need. Collaborative working is sure to elevate the aesthetics of your homes along with curating an unparalleled ambience.  
Living Room Layouts Guiding Your

Furniture Selection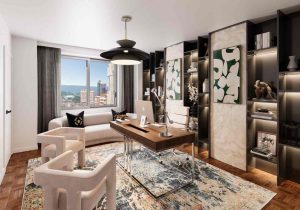 As living rooms are the most inviting spaces in homes, it's vital to be thoughtful to select living furniture. Its designer flair, along with functionality, can make every moment spent there more pleasant. 
The furniture selection for these spaces must be cohesive with the interior design language. Let's look at the top 5 interior design styles and furniture type that complements the look. 
| | |
| --- | --- |
| Interior Design Style  | Furniture Selection   |
| Modern   | Chic and space-saving furniture selection  |
| Minimalist   | Sleek furnishings with concealed storage  |
| Scandinavian   | Simple and functional furniture with a pop of colour  |
| Industrial   | Select living furniture in minimalist style along with loft storage  |
| Eclectic   | Practical furniture curating a cosy look  |
Selecting a layout simplifies living room arrangements. As living rooms offer a peek into your luxury lifestyle, it's vital to select living furniture layouts that go well with the area, scale, and comfort.
A few of the commonly followed furniture layouts are :
1.  Symmetrical Layout
Select living furniture for a symmetrical layout for a room of any shape and size. The arrangement comprises two sofas facing one another with a table in the centre. 
2.

L-shaped Layout
An L-shaped layout is the best choice for a combined living and dining space. While the longer wall accommodates the sofa, position the TV in front of it. 
3.

Floating Layout
You can introduce floating furniture to the living rooms with plenty of windows. With no solid wall to rest the seating, position the furniture away from the walls to form an island.  
4.

Long and Narrow
Long and narrow living rooms can accommodate furnishings on long walls. One wall can be used to place a TV and console exhibiting your premium lifestyle, and the other accommodates a sofa.  
5.

Irregular Room Layout
For irregular living rooms, home select furniture to form a seating zone anchored on rugs. You can flank the design by adding floor lamps for a dramatic appeal.  
Furniture Selection

Tips for Bedroom
After every hectic day, don't we all seek the comfort of our bedrooms? Being our personal sanctuaries, a bedroom must be the ultimate cosy and comforting space of the house. And this essence can only be attained through the right furniture. Here are a few pro tips to pick the best. 
Define whom the room belongs to. The choice of

furniture selection

will be guided by the personality of the user, whether it's for a toddler, teenager, or older occupant. 

 

Considering the ratio of room to furniture is very important for a well-balanced visual appeal. Visualise the size of furniture in the room and analyse the space it leaves for movement. 

 

Are you looking for an entire room makeover or will just a few updates with furniture do? Evaluate what you need to plan the

furniture selection

. 

 

Experiment, Visualise, and Select! 
As you delve into the art of furniture selection, take time to analyse the space. Visualise and experiment with different layouts and styles to find your perfect match. 
We at Bonito Designs care about your comfort and style in interior design. Contact today for expert guidance in curating spaces that are a step ahead of your dream home. 
Marrying Comfort with Style!