"Clean your room first!" How many times we have uttered these words in an attempt to get children to pick up after themselves?
How to organize a kids room?
If, as a general rule of thumb, on a given day your child's room looks like a tornado just hit it, have a close look into this post to find effective ways to organize your children's' room. Because you know it in your hearts, there is no changing your children's ways.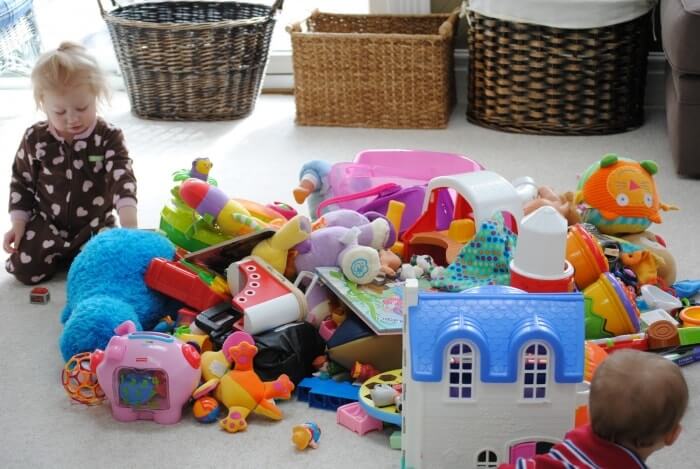 Source
Tips to organize Kid's bedroom:
Get down to your child's level. Yes, before you begin planning on anything, look at the room from a child's point of view. You may be in for a surprise. Cupboards that are too high for a child to reach, drawers that don't open easily and cabinet doors that may pinch little fingers when they close.
Simply putting toy boxes; doesn't solve the problem of having useless toys still in the room. Same goes for clothes and books that your child doesn't need anymore. "Donate them instead of hoarding them and get more space to work upon."
Most importantly, there should be a fun element for kids in all that organizing that suits the adult eye. Once you have this vision, proceed in a step by step manner and use the tips to arrange kid's bedroom given below to guide you.
1 #Interior designing tips to organize kids bedroom – Making the closet/cupboard work double-time
Bring the clothes hanger down to the child's level and move seldom used articles like winter clothes, rugs, over-sized clothes and shoes to the upper section where they can be reached by an adult if need be. Invest in small sized hangers to hang your little one's clothes on.
If the closet has a drawer, create sections within it by using colorful trays or shoe boxes to store undergarments, stockings, socks and such more. It is amazing how much more space you can create this way and keep the under things from getting mixed up.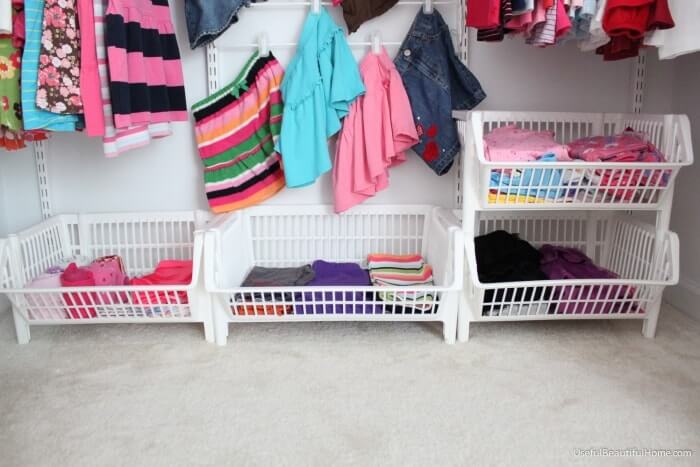 Source
On the inside of the closet door, put up small pockets made of cloth or durable resin to store trinkets, hankies, clips, rubber bands, cards and any other accessories. You can get this kind of a contraption in a superstore or kids store.
You can even make one yourself with colorful cloth. Keep some pockets empty for your little one to use as he/she pleases. She will use it for her special things.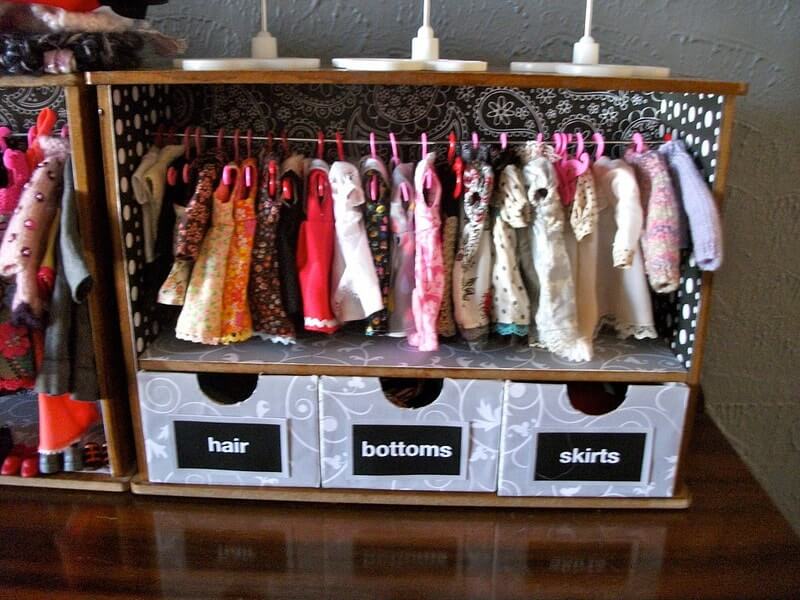 Source
If there is floor space available in the closet you can turn it into a laundry site. Stowe away a laundry basket (if you already have one) in a corner. If not, create one by investing in a hollow ottoman that can be used to sit by the kids or stand on to get to the higher shelves.
2 # Decor ideas to organize kids bedroom – The toy story
Toys make up the largest part of any kid's room. They are taken out at random and left; they are to be re-arranged by the parents or caretakers. In either case, you can help your child by making it a fun exercise.
Children love tossing things instead of neatly arranging them. So buy colorful small buckets that can be stored in the toys corner or in a closet (if you have an extra). Label them with categories of the toys like animals, vehicles, board games and so on.
You can teach the child by doing it yourself a few times and showing as if its fun tossing things in various buckets. Hopefully your child will follow suit.
If your child is an avid craft maker, nurture this talent by setting up a low table in a corner with cushioned stools that can be stowed underneath the table. If you are getting this custom made, have some storage space built in to store all the paints, crayons and canvas paper that your child may use.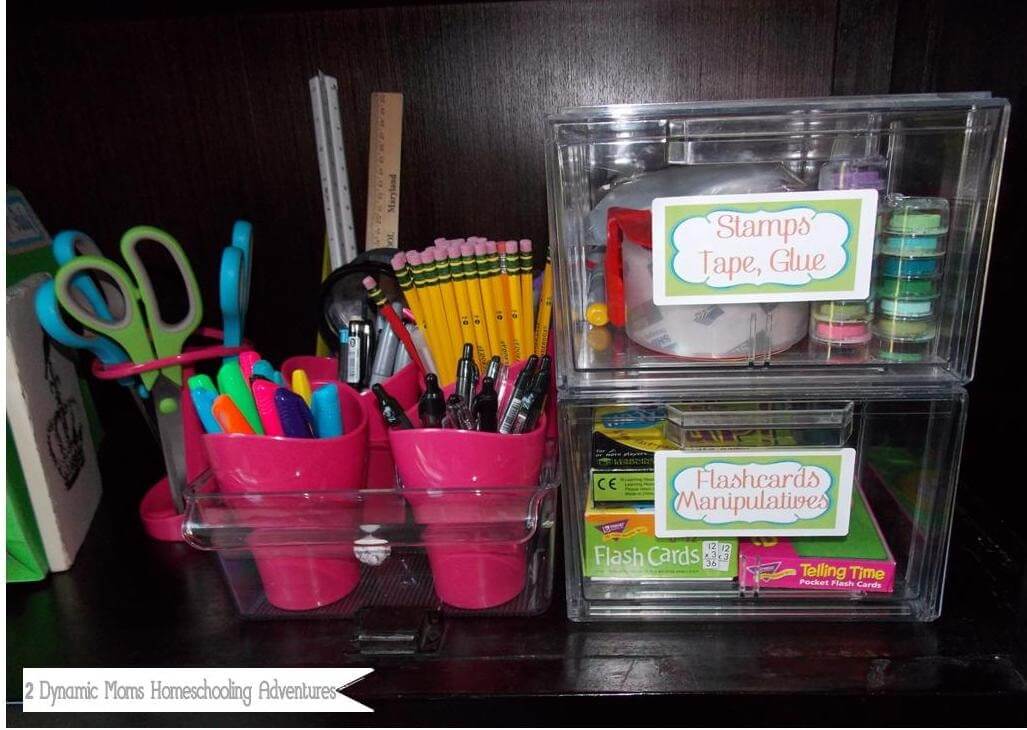 Source
On the front wall, attach Velcro or a similar fabric to display your child's artwork. This can double up as a study table as well. Just make space for the books by attaching hanging shelves (only if your child is old enough not to drop books in the process of taking them down or putting them back on).
If you have a younger child, place the books on open shelves at his or her level.
3 #Interior decor tips to organize kids bedroom – The sleep area
Since children who are able to sleep in their room will continue to do so till they remain at home, it is advisable to invest in a bed that will grow with them. Bunk beds for more than one child is a good investment. A single bed for a small room will do nicely as well.
Make sure there is storage space within the bed to be able to store items that are not needed often. Inside this storage as well, use baskets or bins to store items so they are more organized.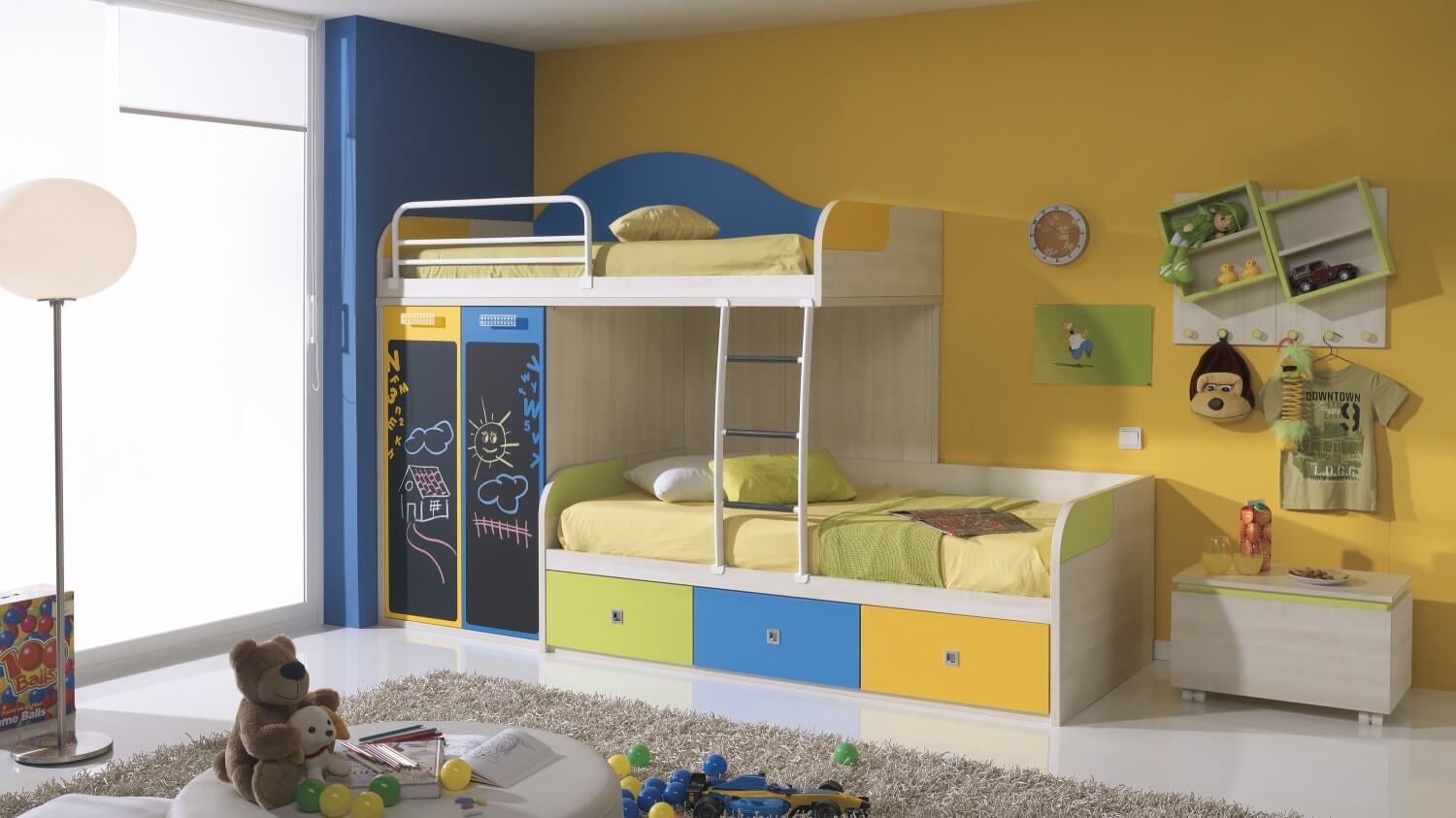 Source
Things like unused toys, clothes, walkers stored for younger children to be given away later, blankets and rugs, etc will find a new organized home within this space, away from the open spaces.
Placing a side table is a very good idea so that children can put their alarm clocks, bedside books and water bottles here. A small drawer in it can take care of stray items like creams, lotions, medicines, etc.
4 # Designing tips to organize kids bedroom – The dressing area
Having a mirror in their room is a very crucial thing for your child. Not only does it serve its purpose of helping them get dressed, it also is an important tool in your child's understanding of himself/herself. The dressing desk can be installed in a corner so that you don't have to earmark extra space.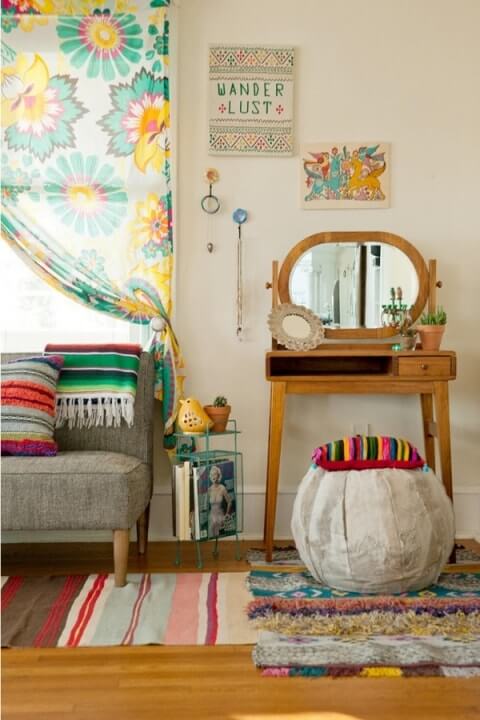 Source
The corner will get utilized effectively and you will get a lot of space to store shoes, cosmetics, extra toiletries and such other things at arms length.
5 # Extra bits and ends:
To gibe your child's room a lively appearance, install a canary yellow chandelier (in case you live in an area that doesn't need fans)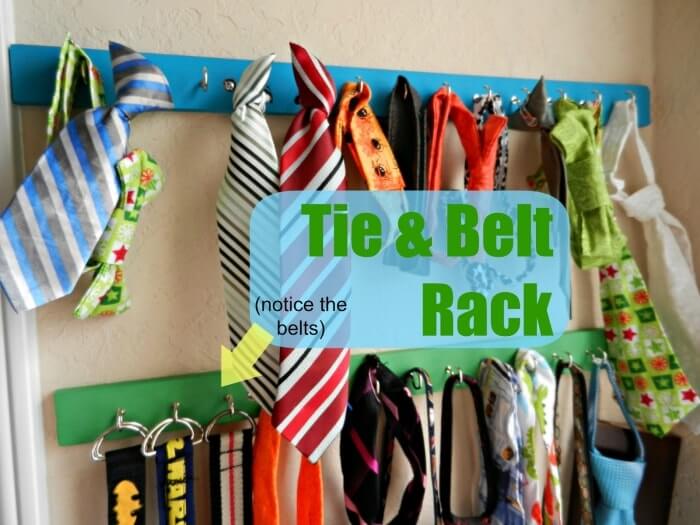 Source
Attach hooks on the side of the closet to hang coats, hats and belts)
Use behind the door space to store soft toys in canvas baskets.
The most important thing to do is to do away with stuff your child doesn't need anymore. Whenever a particular toy basket overflows, it is time to donate.
If you follow this rule of thumb of tips to organize children's bedroom for toys, clothes, shoes and games, you can easily maintain an organized look in your child's room. All the Best!