Is your garden blooming with colorful flowers every day? Let them not dry and wither, but be stemmed into a creative flower vase to make the entire place light up with beauty and positivity. But you need not spend too much on getting imported flower vases, you can make one yourself.
All you have to do is try to sharpen your creative skills to get an elegant flower vase out of your unused or overused things. Here are a few DIYs that would really make your house look more beautiful.
Teapot flower vase
Any kind of tea kettle or teapot can serve the purpose of a flower vase. Your old teapots needn't be dumped into the bin but can be restored as a flower vase with just a plain paint on it. You can also stick a few contrasting tones of beads or stones for it to look rich and classy.
Stemming flowers to mason jars
Replace the hot and sour pickle, sweet and sticky jam from the Mason jar with beautiful flowers. Now it's time to feed the olfactory receptor not the gustatory receptor by filling the space with the scent of flowers that you would keep in these jars. If you feel the jars look too plain, fill them with glitters or wrap them with copper sheet. This in turn will make it look like a real and classy flower vase.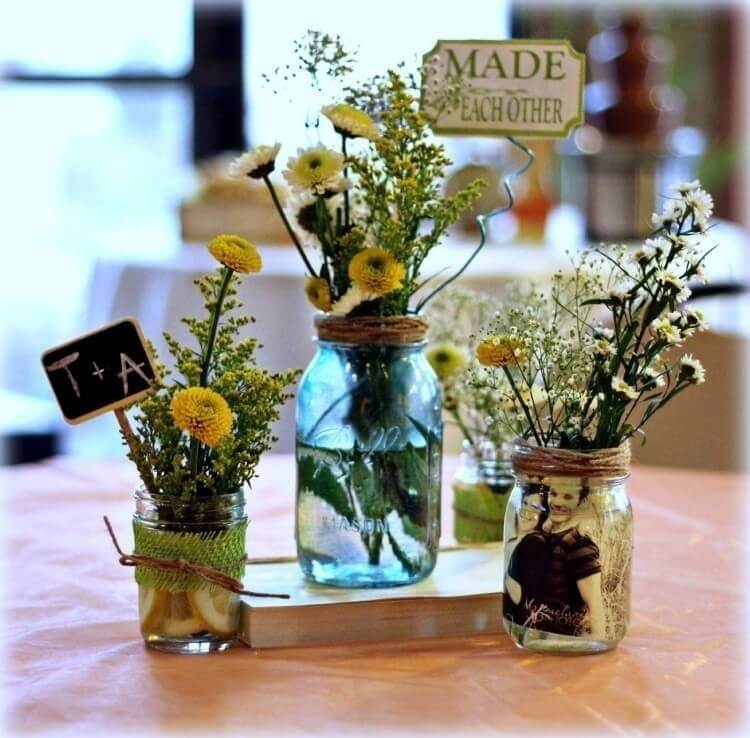 Tuck in flowers inside food containers
We all have a tendency to dispose of the ice cream containers or any plastic biscuit or cookie boxes. Though they eat up your kitchen space, you can retain them for their special characteristic of being used as a flower vase. It is an added advantage that it will not bother your kitchen space now, but will lure you with its all-new avatar of being a creative flower vase. Just tuck in a few flowers of the same color or of different color combo for it to look all the more pleasant.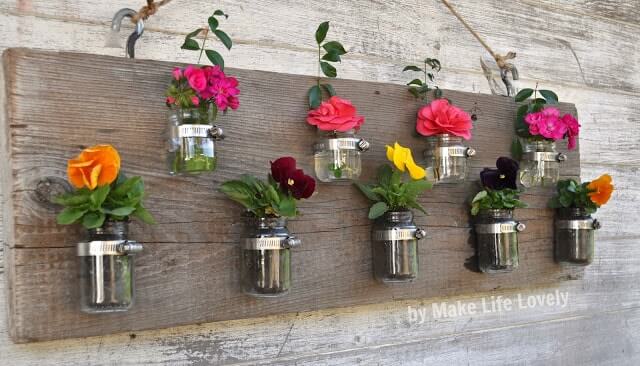 Flowers in wine bottles
Wine bottles can now also be used to fill them with flowers instead. The colors of wine bottles are so vibrant that it would impart a different feel to the entire space and especially when it has flowers floating in it. You can also wrap it with colored papers for it to look stylish and different. You can also hang them to a U shaped clamp instead of placing it on the table.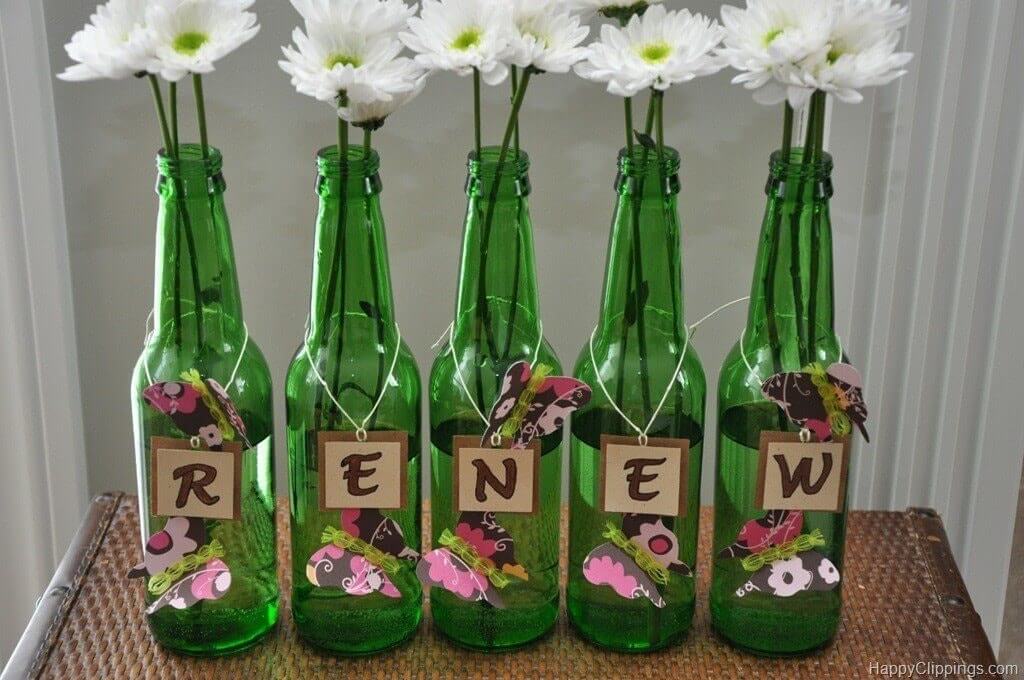 Metal buckets, now as flower tub
Cage your flowers in bucket space so that the density and number of flowers can be more. It will also look awesome. You can hang it on the wall with the handle. It will look pleasing if one hangs in on to the wall at the foyer area or against a stone-clad wall to complement it. This can also be kept outside your house in the balcony or at the compound wall. Now your old and rusted metal bucket has got a new look.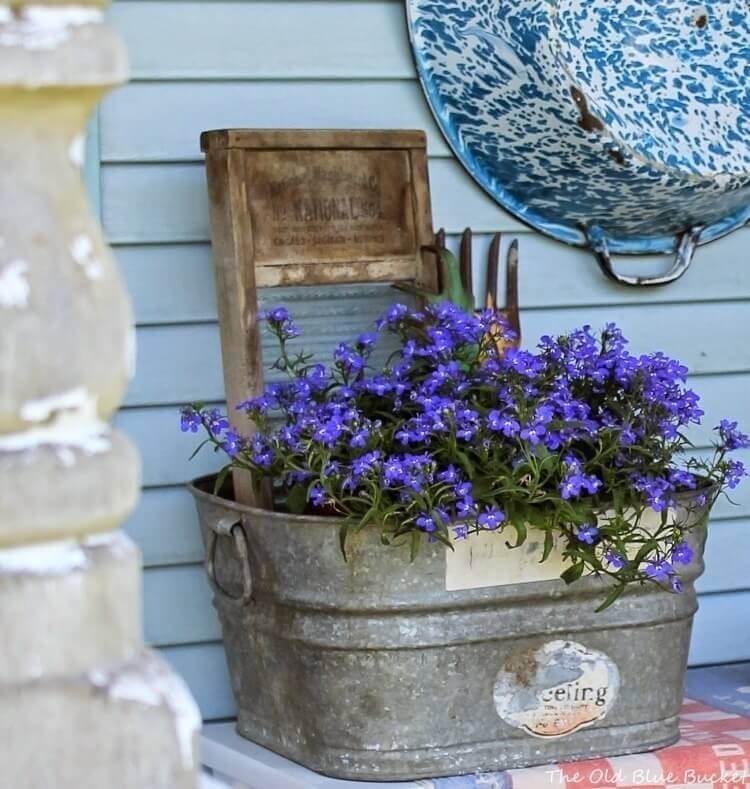 Flowers canned into tin cans
Those that were used to hold sugar, energy drink powder, etc can now hold flowers, which means your tin cans can be used as a flower vase. Try to fill them with colorful flowers or the ones that match the tins and walls so that, any corner or center space they occupy will look bright and lively.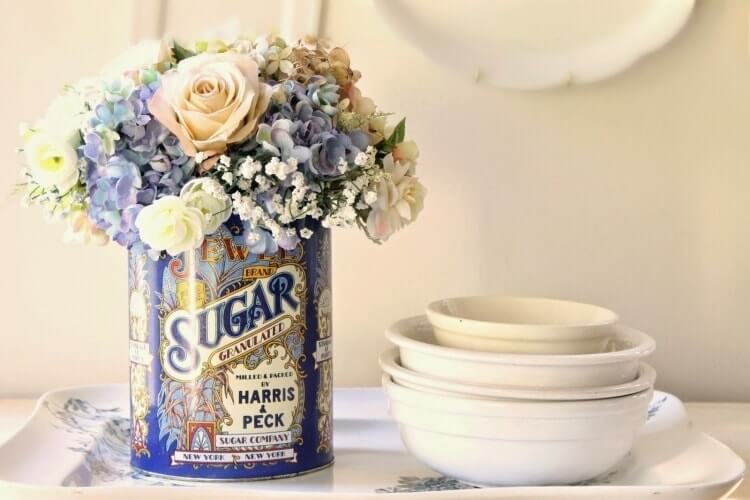 Water bottles to bottle the flower
This is a common and well-known way of using a water bottle as a flower vase that has been lying unused for so many years. If you are artistic, you could wrap the cut bottle piece into some color paper or cloth to look a little dressed up. You might even stick paper made flowers on the surface of the bottle so that it looks artistic.
Bulb blooming with flowers
The bulbs here need not have tungsten, but flowers to light up space. Use your fused bulbs to clutch scented and colorful flowers. You can tie a rope around the neck of the bulbs to hang them from anywhere you want, like the wall hanger, the nail on the wall, a small stand or even a clamp to flaunt with its show.
Teacups to flower cups
Your vintage cup collection can also be filled with a bunch of flowers, as it would look like a flower bowl. Try cutting the stem off and place them inside the cup along with a saucer, it would be displayed as a symbol of romance or just a cup with half-cut stems would look like a flower basket. You can place them in the middle of the tea table or dining table and on the TV unit to engage your guests with its lovely look.
Shampoo bottle as a flower vase?
Isn't it amazing that shampoo bottles can be used as flower vases? But it is true. You now can tuck in the empty shampoo bottles with flowers so that it looks good and can be kept at the corners of the houses to give away a royal look. If you have attached speakers at the four corners of your living or bedroom, you can place them there. You can cover the bottle with plain color glossy or matte paper so that it would look different.
Get inspired by these ideas and make your own creative way of presenting flowers. Catch you in our next blog. Also, you are always welcome to post your ideas in our comments section on the same.