Good furniture needs a bigger space? What if you have a small rented home, but need a good furniture to make it look beautiful? Is it possible? As per the saying, "Nothing is impossible". It is how you see things. It is not a big deal to accommodate furniture, home decor and other extra decorative things at huge apartments or a villa.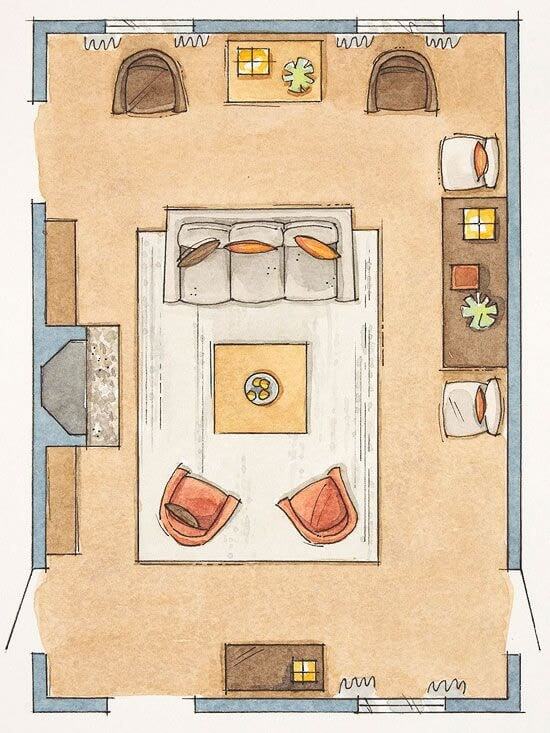 Source
It turns out to be all the more interesting and challenging when a small space has to be filled with beautiful furniture avoiding the clutter. Here, are the easy furniture placement ideas for one who always ponder with a feeling of how to make smaller spaces look better.
1. Corner usage
Make use of the corners of your room to stack up colourful stools.
By adopting this method one can save a lot of space and also make the corners look cuter.
2. Cubical shelving
No matter if you are going to place a vertical or a horizontal shelf, what matters is that they are cubical or not.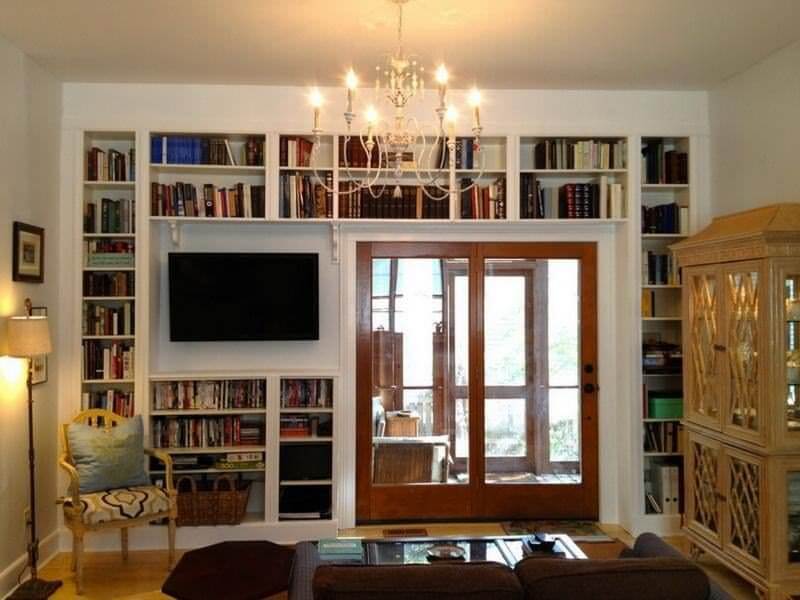 Source
Cubical shelves has the capacity to balance the design pattern and the space equally.
3. Ledges
Ledges happen to be one of the most chic and brilliant wall shelf that occupy a very little space, yet hold a lot of other items.
Source
Adding ledge can make your blank wall look adorned.
4. Open shelving
Open shelving can be one of the options that can be acquired in your kitchen, which will avoid the every time hassle you encounter while taking things when required.
5. Hanging table
Try to place a wall mount or a hanging table in your bedroom, so that the place is utilised sensibly without causing any harm to the walking area or the other furniture.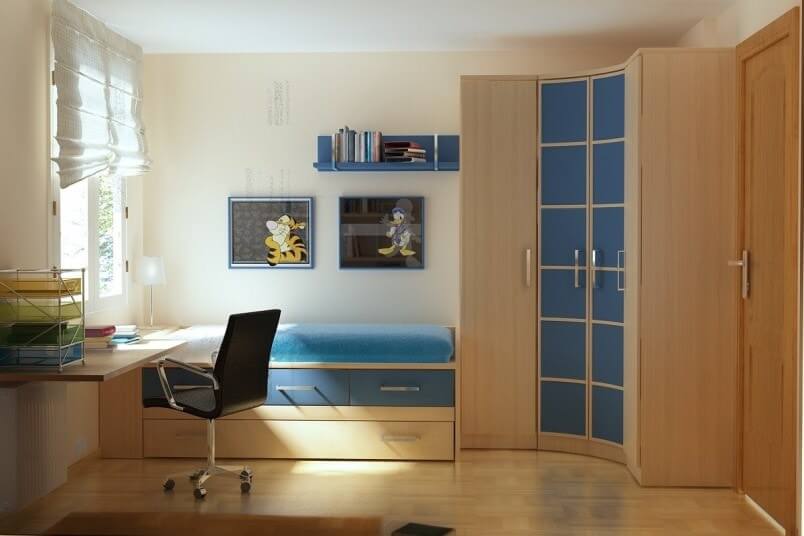 This piece of furniture is functional yet less space consuming.
6. Dining table with bench
The bench accompanied by the dining table seems to be the newest trend that is becoming viral among the people.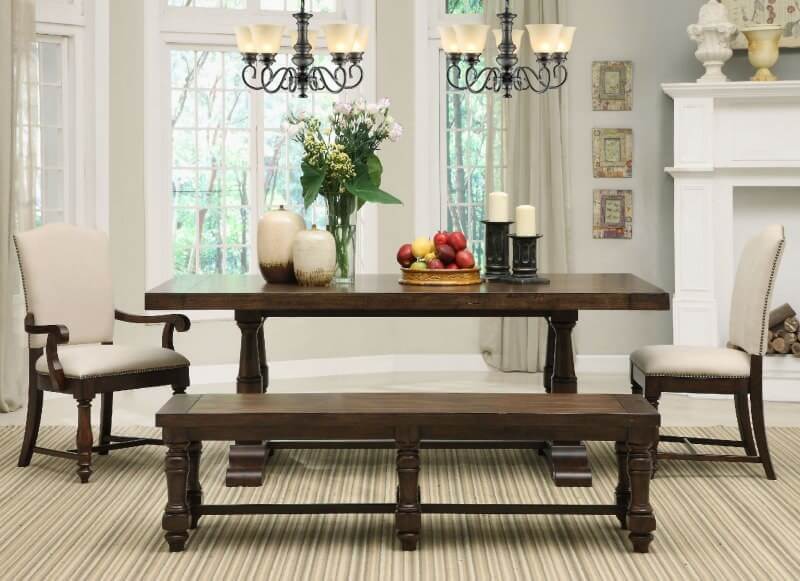 Source
The combo looks not only romantic but also consumes lesser space than having a chair. You can tuck in the bench beneath the table when you don't use it.
7. Small arm chair
It is always better to have an arm chair that is small yet cozy. They don't eat up most of the space like your huge sofas. It also gives that antique look to your living room.
8. Sofa cum beds
The sofa bed accounts to one of the most space saving furniture by nature.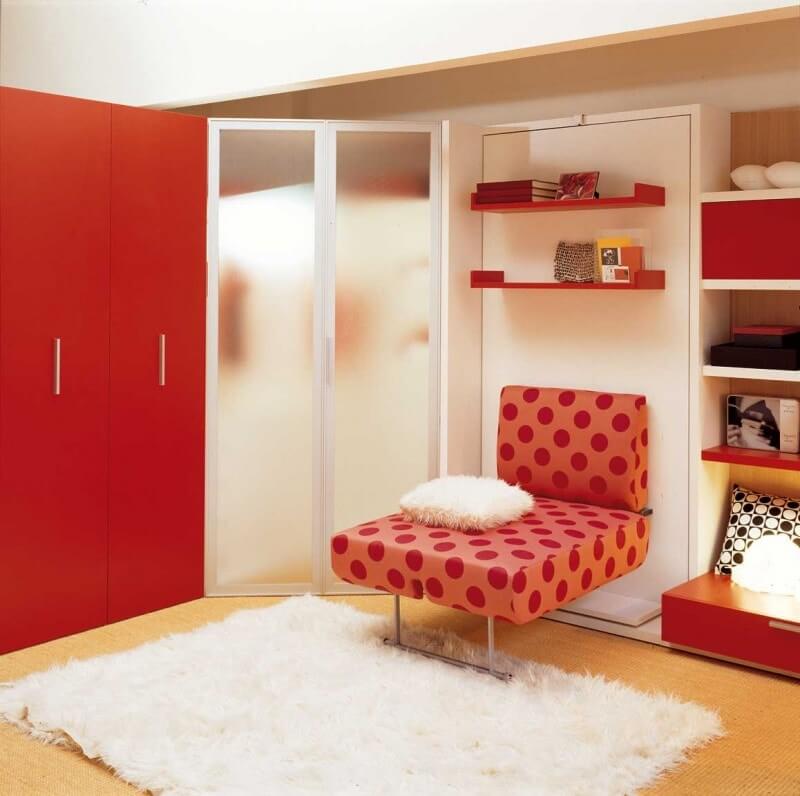 Source
You have a lot of options to choose the right sofa cum bed in terms of your needs. All you to do is folding and unfolding to use it as a sofa and bed respectively.
9. Pantry cupboards
A pantry cupboard can save huge floor space and can stack in a lot of items. This particular idea can be included in the kitchen, where you can place all the groceries, spices, a few sleek utensils, cutleries in there without disturbing the floor space.
10. Magazine holder as corner unit
Did you know that a magazine holder can act like a corner unit? Surprisingly, it does.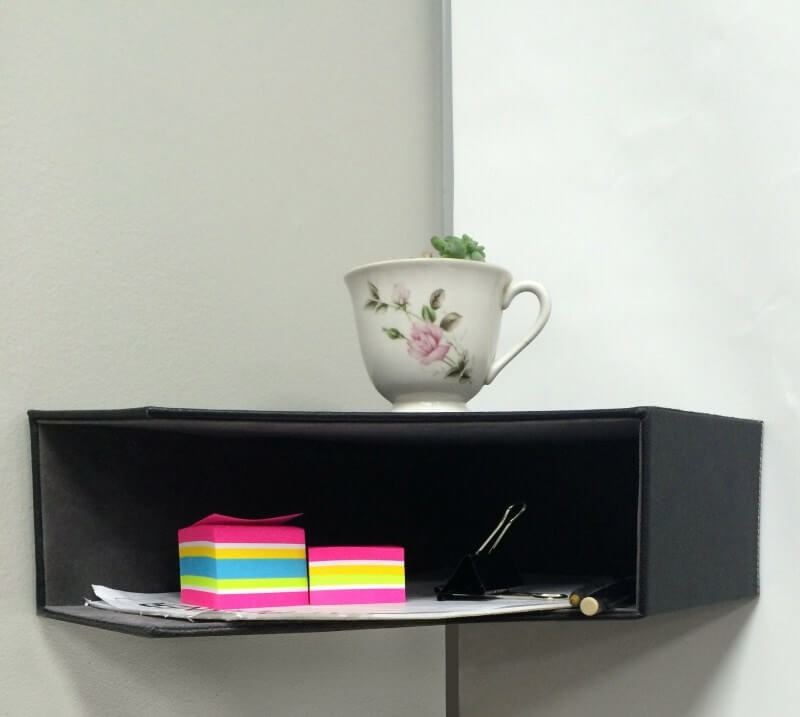 Source
You can just fix the magazine holder to the corner of the wall with its opened surface facing outwards. Now the corner shelf is ready where you can place your personal items
11. Mirror and its uses
A mirror used in a room or any closed space can make the entire place look bigger than usual.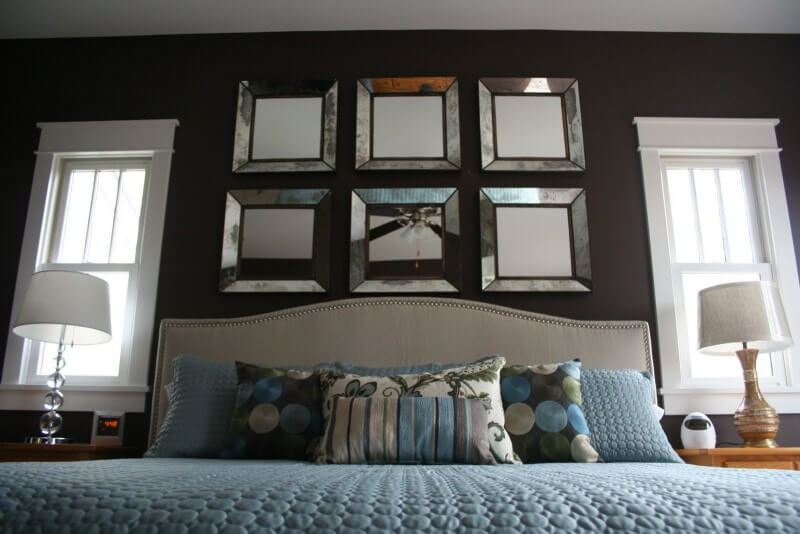 Source
If you want your small room to appear big, you can place a mirror with decorative frames to make it look all the more attractive.
12. Headboard shelves
For your small bedrooms, it is always best to go for headboard shelves instead of choosing a side table or a nightstand.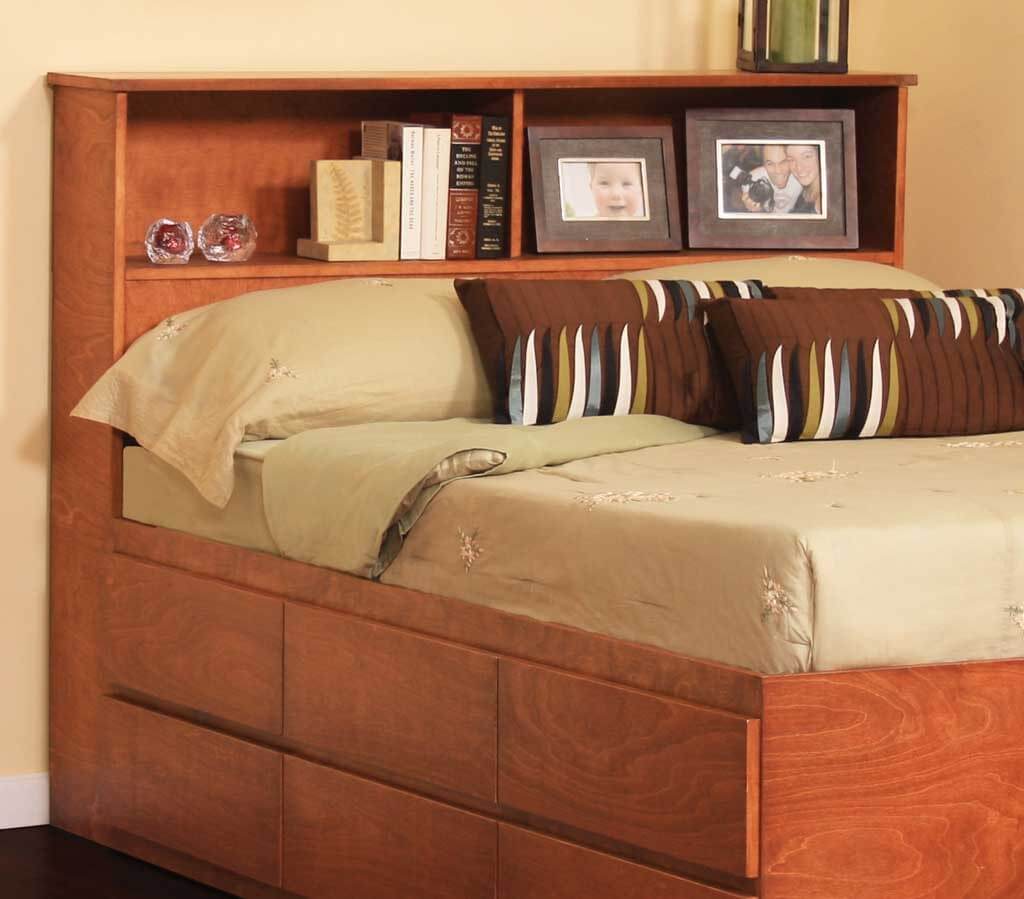 Source
Otherwise add ledges above the headboard so that, they can be used as shelves to hold your books, photo frames, etc.
13. Painting as storage
To add an artistic touch to your home, you can hang a good painting on to the wall. Paintings can be fixed on top of a storage box.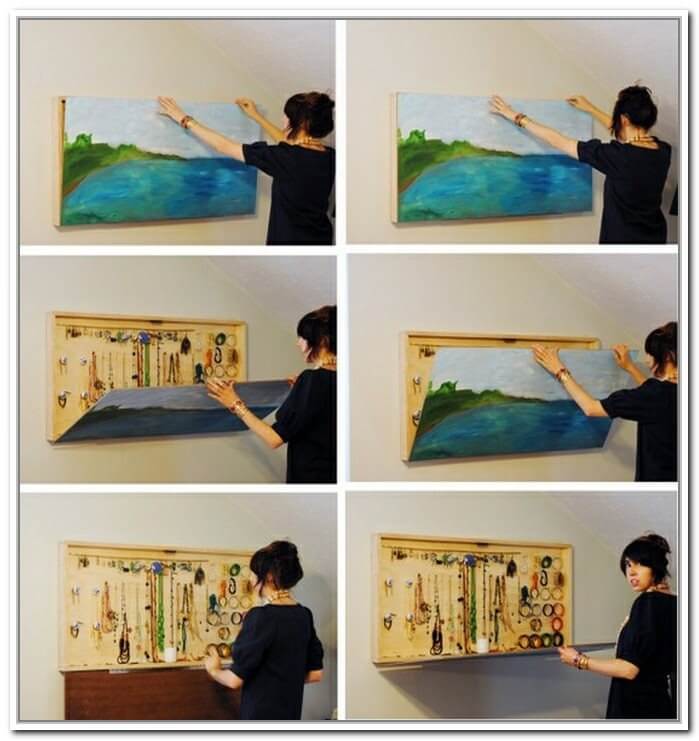 Source
The painted board serves the purpose of a door for the storage box where you can use it as key chain holder.
14. Countertops
A countertop becomes very useful when installed in your kitchens. Countertops can be used to hold your vegetables when your kitchen slab is entirely occupied with other utensils while cooking. You can also use the countertop as a chopboard.
15. Wall hanging pouch
There are a lot of decorative wall hanging pouches that make the walls look prettier.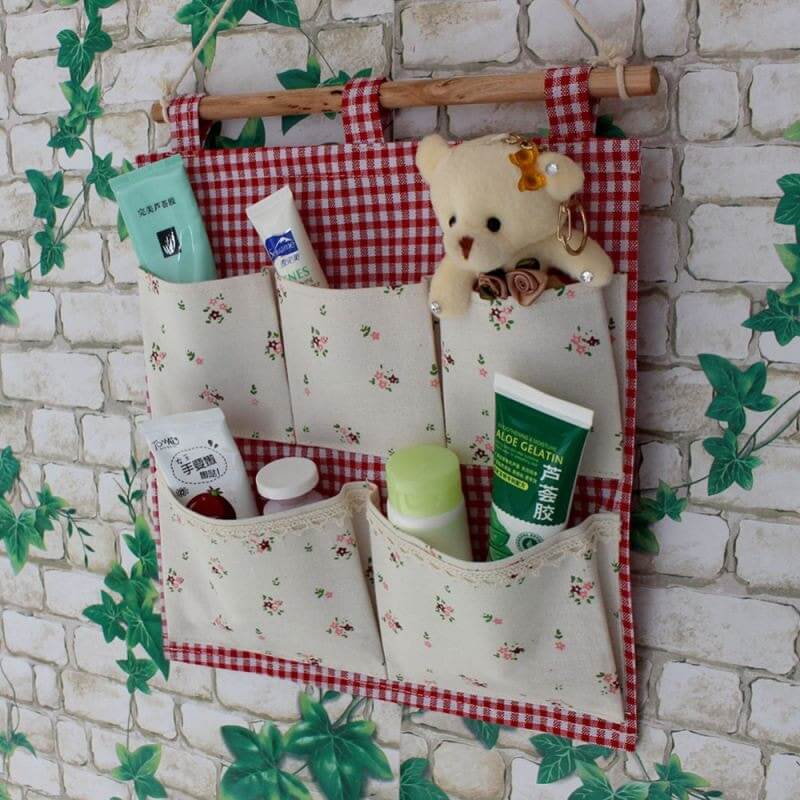 Source
They can be used to hold your cards, mobile accessories, bills, manuals, pens etc.
16. Ottoman storage
Ottoman is always a comfortable place to sit or use it as a table, owing to the property of the cushion fixed at the top of it. It can also be used as a storage simultaneously. You know how? Get an ottoman that has a removable top.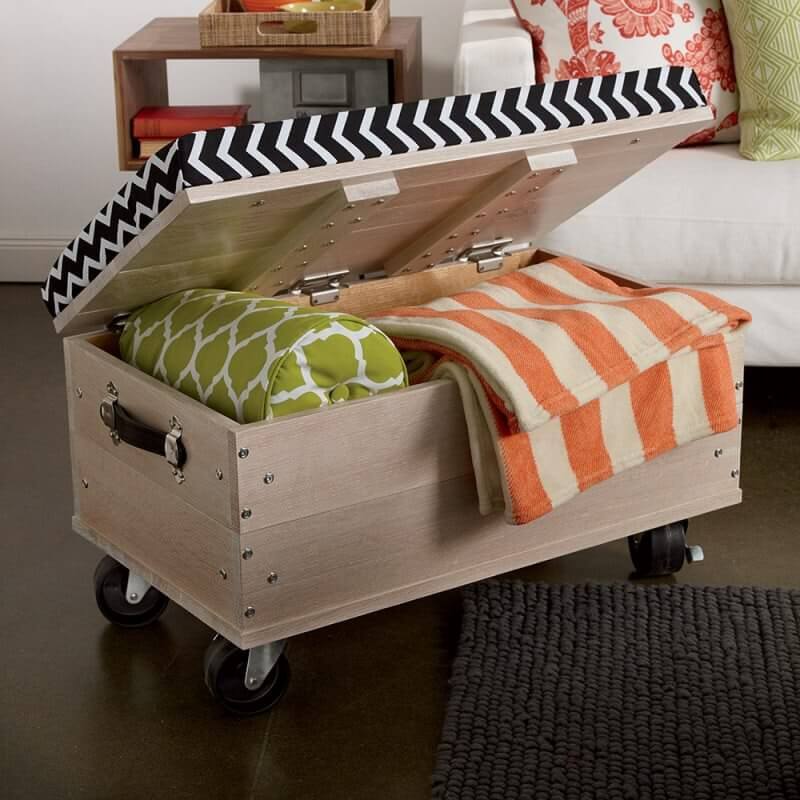 Source
This way you can store your cushion covers of sofa, toys etc, in the storage space and close it to get back to its old Avtar- the ottoman.
The tips above will fairly give you an idea of arranging your extra yet important things in a small space brilliantly. Have a tidy and mess-free small space living without compromising the look of your home.
Don't forget to comment below, if we missed out any creative tips that you know 🙂 Let our reader's know your furniture arrangement ideas.