Client Name: Dr. Deepak
Current Residence: Vidyanagar, Hassan
Residence To Be Occupied: Hassan Vidya Nagar near Nethaji Public School, Hassan
Type of Residence: Duplex 5 BedRoom House (5BHK).
Project Commence: June 2010
Project Completion: Dec 2011
Type of Work: Architecture & Interior Designing, Structural Detailing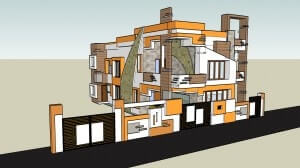 Requirements Given by Dr. Deepak:
Dr. Deepak runs a privately held clinic in the city of Hassan, and has developed genuine credibility as a professional in his field through years of dedicated service. He says this home is to pamper himself for the achievement of his, that has been attained after a long time of hardship. Moreover; this happens to be his first house and you know how you feel about your first own home.
1) He had a north facing plot; and he was sure on having the 33′ side of the plot to be used for main entrance which faces north & they emphasized on Vaastu.
2) He wanted the adjoining site (which belongs to his sister) to be used for temporary structures which can be later demolished against the demand of need and these structures needed to be useful and cost-effective.
3) Ground Floor Requirements
Huge living room of 300 sq ft.
2 bedrooms with attached bathrooms; one for parents and the other one for guests.
Open Kitchen and a minimal store room.
Internal staircase for the First Floor.
Dining Room accommodating six family members.
Huge external bathroom for parents as well as guests and for other utility purposes.
Huge Pooja Room.
External opening and space for washing and other purposes.
Huge portico.
External staircase for tenants in the second floor.
4) First Floor Requirements
Huge Master Bedroom with walk-in wardrobe and attached bathroom.
One Daughter's Bedroom.
Guest Bedroom.
Balcony towards the main road.
Common toilet with separate dresser facility.
A regular cutout and See-Through from the top with passage space for the movement.
A normal external stair running to second floor.
Our Initial Analysis & Challenges Faced By Us
For a moment we felt Interior Designing in Bangalore was the easiest thing to do when we started uncovering, never before seen challenges with this architectural & interior project in Hassan. Our major challenge was buffering enough work details and requirements before heading over to Hassan, for a meetup. The restricted number of visits that we did to Hassan were supposed to turn out fruitful and extremely productive and they apparently did so.
We found many a challenges by the time we could actually say we have done 99% of the work and count ourselves among the most reliable teams that provide interior designing in Bangalore.
The toughest part of the project was the communication. We found it really hard to gather the requirements and ideas and to also convey the necessary things over time. But in less than a month, our understanding with the client helped to bridge  this gap and we haven't kept a track of number calls or visits either.
Client has a joint family and that makes it tough for them to arrive at a firm decision; or call a decision as final. Throughout we had to remain patient and open to amending requirements and needs. This flexibility is something most people don't get when they opt for interior designing in Bangalore.
The site had high density of black soil which is very bad for constructional purposes. Thus we had to take up soil bearing test which made us to come to a conclusion of bringing the plinth level to 3 ft above the ground level.
Continuous revision of the requirement forced us to repeatedly re-evaluate the STAAD analysis and change the structural plan according to the new architectural plan. Sadly or luckily (for the client) we didn't charge extra.
Space planning proved to be quite challenging because of the lack of workable area (49X28) after deducting 12 columns and 9″ brick walls. It was tough because Deepak's Dad wished to stay away from the living hall to avoid noise, whereas Dr.Deepak insisted on having rooms on different heights to which Dr's sister was totally against. His aunt added that she'd wish to see people in the living room while cooking. This family love definitely made our architectural and interior designing work harder!
Innovation Added
We added an eye candy to the exterior of the house in a very limited width of space (12′) which was left out after deducting external stair-case and portico.
We also provided a consistent design on the east side of the house, which is usually neglected by most of the interior designers in Bangalore or any other place. The internal staircase windows were boxed out on the east side of the house in order to provide a better view.
Dr.Deepak insisted on having a 6′ tall compound and at the same time he did not want the ground floor external beautification to be hidden because of it. We had to design a compound wall that progressively but seamlessly increased in height, and had enough hollow structure which offered see-through and at the same time didn't compromise on the visibility of the external elevation of house.
Final Delivery
Structural drawings, 3D views, Interior Views, Architectural drawings, detail drawings, exterior views are all delivered.
Material suggestions, technical suggestions, material samples were provided as and when required.
Site visits during important occasions such as, Column marking, Foundation marking, Plinth level checking, Lintel level checking, RCC Checking and also Deepawali (Ask for tea from them if you happen to visit them) :).
What Mr.Deepak had to say?
Mr. Deepak was immensely happy towards our availability during critical times. He says our bonding has helped him ease down his burden more than our professional offering (we're blushing you see?)
He had already told us not to miss the house warming because he seems to have grown tired of answering people who keep on asking as to who did the designing?.. well, we wish if we were lying ;).