Foyer Design
This foyer has a stunning view of distinctive artifacts and beautiful spot lights falling on top of these from the false ceiling.The shoe rack seats 3 drawers and shelves.Few open ledges are designed catering to the display need of this foyer.
Crockery Unit Design
Dining area of this home has a Solo Piece of Buddha Painting which according to Vaishali is a gift possessed by luck as even the retail store replaced its artifacts collection with clothes and this was one among the last collection they had.Right below this beautiful piece of Buddha, We have designed a crockery Unit with matching colors of the Buddha Painting.It has 4 drawers and 4 shelves.
A beautiful wooden colored panel with spotlights highlights the bamboo rafters, Painting, and the matte finished Crockery Unit.
Living room accessories
This Living area has both bright and light colors which are wisely chosen and highlighted with spot lights falling from the paneling above.
A sleek "L" shaped Tv unit with storage space is designed and accessorized with display niches and spot lights. The wall near balcony is decorated with stone cladding with spot lights falling from top and bottom. Designer lights are another elements which adds brightness to this living area.
False Ceiling is at its best in this home. A spiral in the living area with more spotlights lighting up the most auspicious part of the home and one arc continues to the dining area.
Modular Kitchen
This beautiful parallel kitchen is already been planned well. Our calling was to make it more functional.We have incorporated lot of storage in this kitchen. We have designed cutlery unit, bottle pull out, tandem boxes, and shelves. Top lift cabinare designed on either side of the chimney. Dustbin and detergent holders are placed below the sink. RO unit is designed adjacent to the utility area. We have incorporated a Tall unit, shelves without accessories and top lift cabinets for more storage and microwave cabinet on the other side of the kitchen.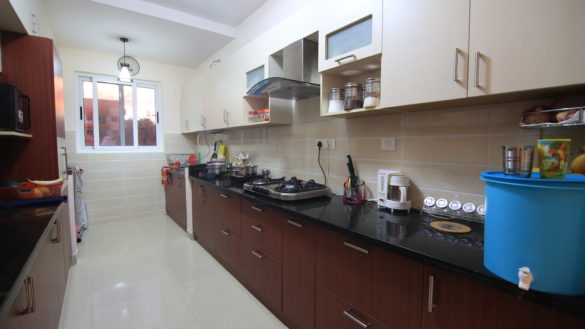 Parents bedroom design
This bedroom has a huge wardrobe with an interesting pattern with square shaped laminates pasted on it.Handles of this wardrobe are placed unevenly to create a unique design.
Master bedroom interior
It is a huge master bedroom and a nice stone cladding pattern is created on the entrance wall. We have designed 1 wardrobe and a beautiful dresser with darker and lighter colored laminates and huge mirrors to enjoy the full sized reflection.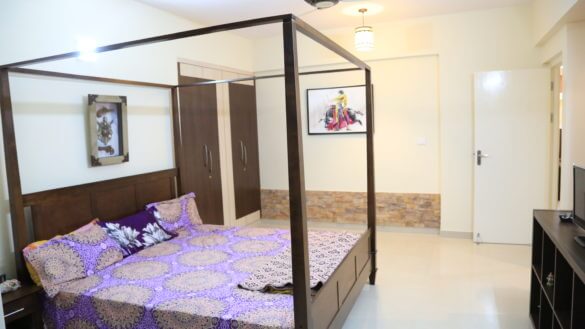 Kids Bedroom Furniture Sets
We have included blue and white colors in this kid's room. A 2 doored slider wardrobe with concealed handles and a dresser are the pieces of furniture at one side of the room.The mirrors are wisely pasted on the side panel of the wardrobe and display ledges in the corner to accommodate cosmetics . Another side of the room is dedicated only for the study unit with huge storage space.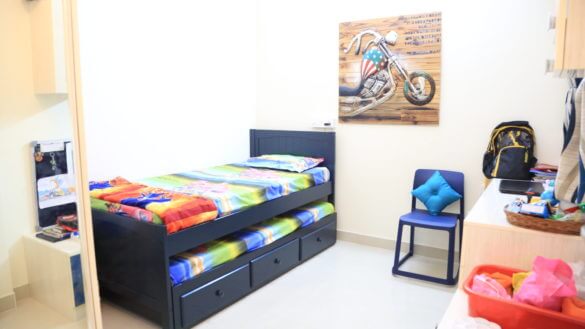 If you require assistance in crafting your dream interiors, reach us @ +918066085646 and we will convert your dreams into design