Enhance the concept and design of your home through 'Home Concepts'
A home is made with love and care and it becomes more worthwhile with the mutual affection and concern among family members. It is thus necessary to ensure that this heaven of yours is made more attractive with the right home accessories.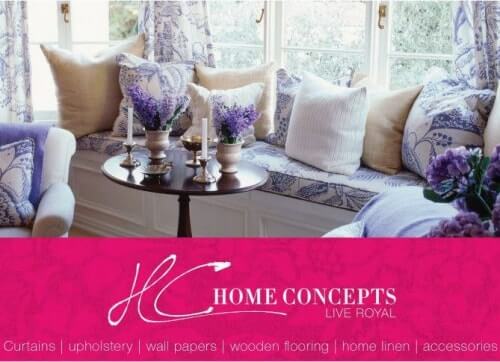 Usually, one has to roam around hundreds of different shops and markets to get the different home accessories such as upholstery, curtains and more. That is not only tiring and time consuming, there is so much wastage of money as well.
We all wish for a store that would have everything we wanted for all home decoration, right :) ? My walk into the 'Home Concepts' store will answer all your prayers.
As the name suggests, 'Home Concepts' is a store that sells each and every home accessory that you have ever wished for. It is an elegant store and has a good collection. The store also has a great variety of each to choose from.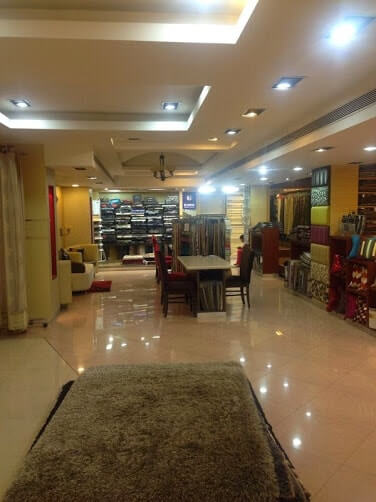 'Home Concepts' has an amazing display of different types and materials of curtains, wallpapers, upholstery, wooden flooring, blinds, curtain rods/systems and curtain channels, mattresses, customized sofas and more.
Thus no matter what your tastes are or what your budget is, 'Home Concepts' has something to offer to each one of you. I decided to check out each material.
The store owner and the sales assistants were kind and patient enough to deal with all my queries and doubts. They also ensured that I could even look around all corners to know each material displayed.
That's a great thing about the 'Home Concepts' store that you can spend as much time here and touch and feel all the fabrics and their collection even. There are no disturbing glances and no annoying urgency, but only helping hands and kind help.
I took a stroll around the store and these are what I found: :)
Curtain fabrics and upholstery:
The store not only has such varied designs when it comes to curtains and upholstery, it also has a chain of fabrics to choose from. You just have to select a fabric and the sales assistants will guide on the designs available in the fabric. There are polyester, linen, silk and even viscose fabrics to choose from.
Though the other fabrics are available in different rates, silk is the most expensive one of course. If you are wondering about the quality, then don't, 'Home Concepts' have imported fabrics as well as branded ones.
You name the brand and you will get those here. Some brands that I got to see are D-décor, F & F, DC Tex, Saron, J& Y, Hames and so on.
The owner advice was that since polyester does not need much maintenance, polyester curtains and upholstery are much in demand. You will get top quality polyester fabrics here in the range of Rs. 300-900 per metre.
Collection of wall paper designs:
The wall papers they have are from top brands all over the world. Who knows the wall papers that you buy from 'Home Concepts' are the same as your favorite Hollywood celebrity? The wall papers here are from the Wall Quest from USA, Versace and even designer brands from UK and so on.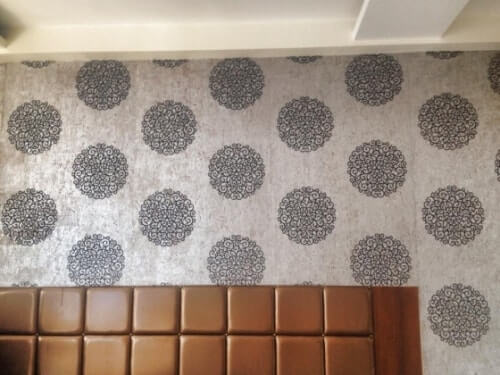 I was impressed by this amazing collection of wall paper designs which had exquisite designs. On enquiring, I was told that those wall papers were from Korea. It had such amazing color and display.
Other types of wall papers at the store are:
Wall papers with clothbacking:
These are unique ones which will lend a bulgy look and also give an extra protective layer to the walls.
Wall papers with glass beads:
This just took my breath away. A wall paper full of glass beads? Spectacular is the word. It is just pure art in the form of a wall paper. Here is the snapshot that i took from their catalogue.. ;)
The best thing about it is that it can also be washed. There is no fear of fading away either.
Wall paper with mica and cork:
This is as imaginative as it can get. It looked just out of the world. To explain this type in a better way, I took this picture from google… :P
If you have a member in your home with bizarre and unique tastes, you should get this wall paper for him or her.
Wall paper with dried leaves:
Where else will you hear about such a wall paper other than 'Home Concepts'? It can serve a wall just as an exquisite art piece. An idea is to put in on a wall which is away from prying hands.
This wall paper is apt for those walls which are visible but not easily access.
Wall paper with crystals/Swarovski:
This is as royal as it can get. If you wish to give a royal look to your walls, then this is the wall paper you should go by. Its shine is still lurking around my eyes.
It has such as a look to it that you realize why crystals are so much loved all around the word. The only glitch here is that you have to take utmost care in maintenance and it cannot be washed.
The store will also get the wall papers installed in your home for which they will charge you a nominal service fee. The wall papers come with a guarantee of 4 years and most of them can be cleaned with detergent and that's the quality of these beautiful wall papers.
Wooden flooring:
The advantage of getting wooden flooring from the store is that they have such a good collection.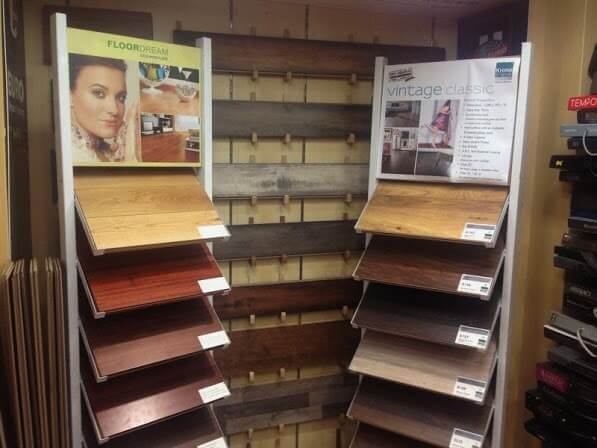 They have two types of wooden flooring, one is laminated one and the other made from hardwood with HDF backup. The cost of the hardwood flooring is Rs. 500 per square feet. Hardwood thickness is around 18 mm while the laminates are available in different thickness such as 8 mm, 10 mm and 12 mm.
They also have Kromo Origianl and BVG Kromo types and they come with 10 years of warranty. You can also choose suitable wooden flooring for your office too. Office wooden floorings are available with a 7 years warranty.
A wooden flooring suitable for outdoor flooring. The best thing about it is that you can carry it with you if you even change your home.
Nice ones which are easy to install and even remove. I have already given an order for my outdoor.
Blinds for Windows:
Blinds are a great addition to windows. They are good for maintaining privacy and at the same time, they can be opened as and when you wish to allow light and air to float in. Blinds also give a great look to windows. 'Home Concepts' have a good variety of blinds and affordable ones too.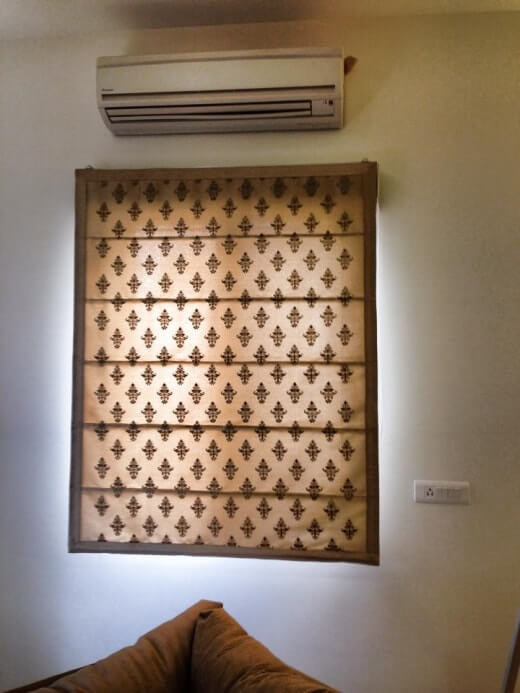 The types of blinds that I came across at the store are:
Techno screens suitable for office use: Best application with this kind is as blinds for office windows unlike home blinds, offices ones aren't that opened often and thus the blinds should be ones that does not have wide gaps. These blinds allow only a little amount of outside light inside and thus are apt for the windows of conference rooms.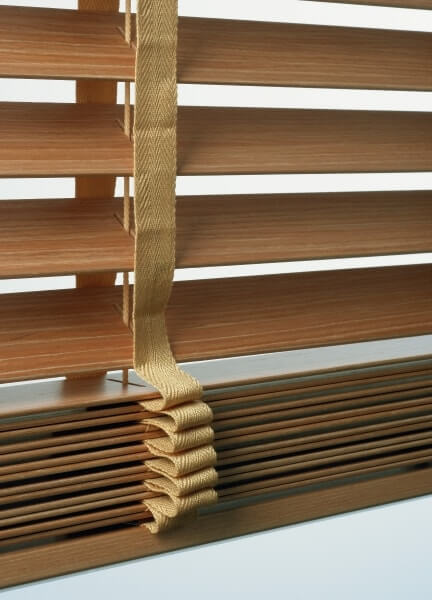 Other blinds that I saw at the store were the ones for kids' bedroom, blinds made from natural wood, jute and blinds for kitchen too. I really liked the bathroom venetian blinds which were waterproof.
There are even PVC exterior blinds which are great for terraces and since they are waterproof, there is no worry about them getting spoiled in the rains.
Also I came across rollers, Roman blinds, wooden blinds and vertical blinds.
What about price range?
The rollers just cost Rs. 130 per sq ft which included the mechanism as well as the fabric.

For Indian type of blinds with fabric is cheaper at just Rs. 75 per sq ft. The Korean ball chain blinds with fabric cost a little more with Rs. 175 per sq ft.

The venetian blinds, I found were more practical ones made from metals and were also waterproof. If you opt for motor mechanism, it is a little on the expensive side. Otherwise, the venetian blinds just cost Rs. 125 per sq ft.
P.S- These prices may vary ;) . This is just a rough price cloud for you :P
The Roman blinds looked sleek but were costly as compared to other blinds. The owner vouches for the quality of these blinds as he informed me that since quality is their first priority, they only used products from the Somfy company.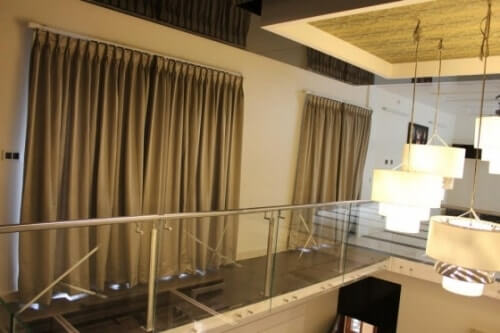 They have astonishing collection of blinds, I should say and with the range starting from just Rs. 95 per sq ft to Rs. 600 per sq ft, there is something for every budget.
Mattresses: You have mattresses ranging from Rs. 8000 to Rs. 5 lakhs. Apart from Indian brands, Italian branded mattresses are also available.
I could not understand the different types here so the owner took me to each mattress and explained the type and function of each mattress:
Form mattresses: They are the usual ones with 40/90 density.
Spring mattresses: These were the most popular ones with different springs such as pocket spring and bonal spring available.
Memory foam: These could be called intelligent mattresses for they take the shape of the body and does not heat the body either. Good ones suitable for the Indian weather.
Natural latex: These kinds of mattresses really give a comfort to the body and they are one of the high quality mattresses, since they are imported from Belgium and these made from natural latex are man-made.
Bonded mattresses: I was surprised when I was told that these mattresses which are slightly harder than the usual ones, are good for those with back ache. These mattresses were good for people with back ache.
Body contour: These are high density foam with the combination of memory foam and it takes the shape of the body and they come in different thicknesses such as 5, 6, 8 and 14 inches.
The king size body contour mattresses come with a thickness of 6 inches and it will just cost around Rs. 40,000.
Customized sofas of world class quality are another attraction at 'Home Concepts'.
So, all you have to do is to just keep the blueprint of your home and different rooms ready and visit 'Home Concepts'.
There is no need to knock hundreds of other stores because all that you want for your home interiors are available at this store.
Apart from these you can find different curtain rod designs and handmade bins
Top brands from India as well as abroad, quality fabrics, great designs and an unbelievable variety to choose from, 'Home Concepts' is the perfect one-stop destination for all kinds of interior decoration objects.
Pay a visit and you will be mesmerized as I was.