Ask your partner what they love the most in their kitchen. We are sure that you will listen this word – Kitchen BASKETS in their never ending list of lovable items (because women love the things which helps them to organize the things in a better way..! 😉 🙂 )
Every women loves to bag kitchen tools as much as they can if their eye balls get stuck onto the new arrivals. But storing all those things in particular fashion will become a daunting task if things are not placed properly.
Baskets the other name for storage..!!
Here comes the hero (baskets) which sets all your things in an orderly manner. Baskets has become the major storage source in a kitchen. Gone are those days where all your things are packed n stored in your loft.
Many baskets of different sizes and styles are available in the market based on its purpose and place of hang out. Most of the baskets are fitted with in the cabinets and drawers of the kitchen. The baskets themselves come in different shapes to serves your needs better.
We have nailed out different types of kitchen baskets that are available in the market to save your research time and effort.
Types of baskets – Choose among the best as per your requirements…!!
1. Plain baskets:
Plain baskets will make you to organize your utensils in a better and systematic way.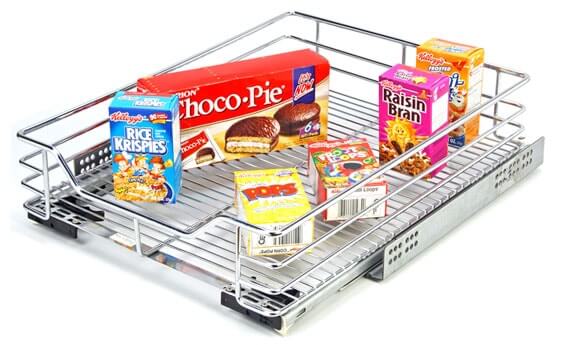 Source
Features: 
Highly resistant to corrosion.
Available in varied dimensions that fit your bill
Different designs are available depending on the dimensions.
They are available as wired baskets with different width dimensions as 8″, 12″, 15″, 17″, 19″, 21″, 24″, 28″, 32″ along with different height dimensions as 4″, 6″, 8″.
As this is available in ample of sizes you can choose the best that fits your kitchen space. It is really helpful for daily use as it drying facility as well. It will improve the storage facility with limited space. The concave shape will enhance the look of the baskets thereby preventing the sharp edges.
2. Thali Kitchen baskets:
These are highly space-saving and functional baskets. They are basically used to arrange the plates of different sizes and shapes with many different sized compartments built within it. Besides giving a visual look, another arresting feature of having this basket is that it will prevent the breakage of your plates.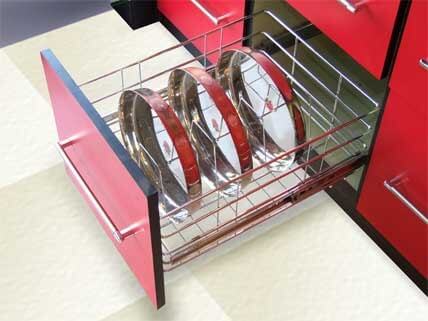 Source
With the available depths of 20″ and 22″, these baskets can be available in the widths of 15,17,19,21(inches)
You cannot doubt on the quality and the weight resistance of this Thali basket as they are made up of high quality stainless steel and is useful to store the plates in a most secure and orderly fashion.
Also Read: 5 Best Places to Place a Fridge in Your Home
3. Cutlery Kitchen baskets :
These baskets consists of in built thin adjustable steel wires which are useful to store small accessories like spoons, knives and forks.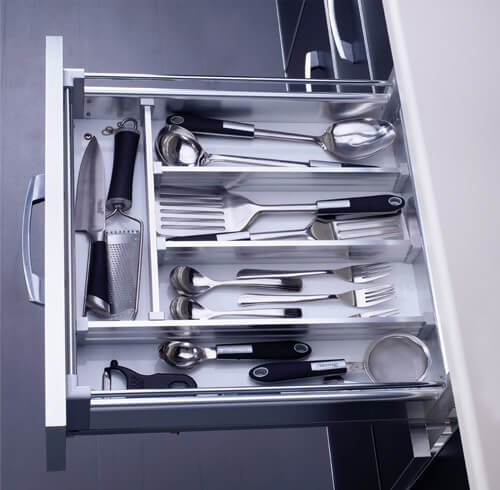 Source
The partitioned arrangements helps to store the cutlery and to keep the kitchen top tidy.
The washed cutleries can be put straight way into these baskets since these are made up of rust proof stainless steel.
Removable cutlery set:
Modern kitchen removable cutlery sets are also available in the market. The best functionality of using this PVC tray baskets is to place right under the hob, as it accommodates mostly the used items in your kitchen.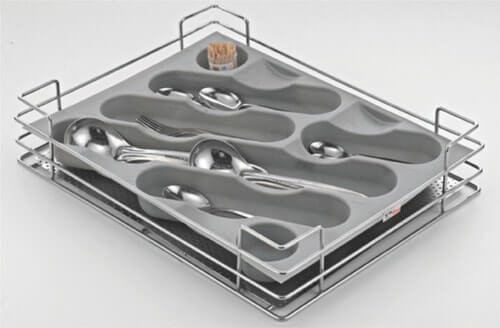 Source
Added advantage of opting a removable cutlery set is that you can easily detach the plastic tray – wash/ clean it and can put back into its proper place.
Perforated cutlery sets

As they come with punched holes, these perforated cutlery sets will help to circulate the air in-between the utensils.
4. Partition Kitchen basket :
These stainless steel baskets are made partitioned so as to store different kitchen utensils like plates, cups, glasses and spoons.
These baskets are corrosion resistant and highly durable because of which they are of high demand in market.  These baskets are also available in different dimensions.
Partition kitchen baskets comes with 15,17,19,21″ in width.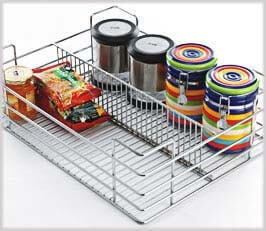 Usage of Partition kitchen basket:

The effective way of using partition kitchen baskets is that you can segregate different storage items by placing similar shaped utensils at one side.
5. Cup and saucer Kitchen basket :
In household kitchens these baskets are of vast applications. It has in-built compartments for placing cups, saucers and small plates.

6. Plain Kitchen baskets 
These are plain stainless steel baskets with sufficient in- built spacing to store all kinds of utensils and annealed raw materials.
7. Bottle Baskets :
These are the high-quality baskets which are specially designed to store bottles of different sizes and shapes.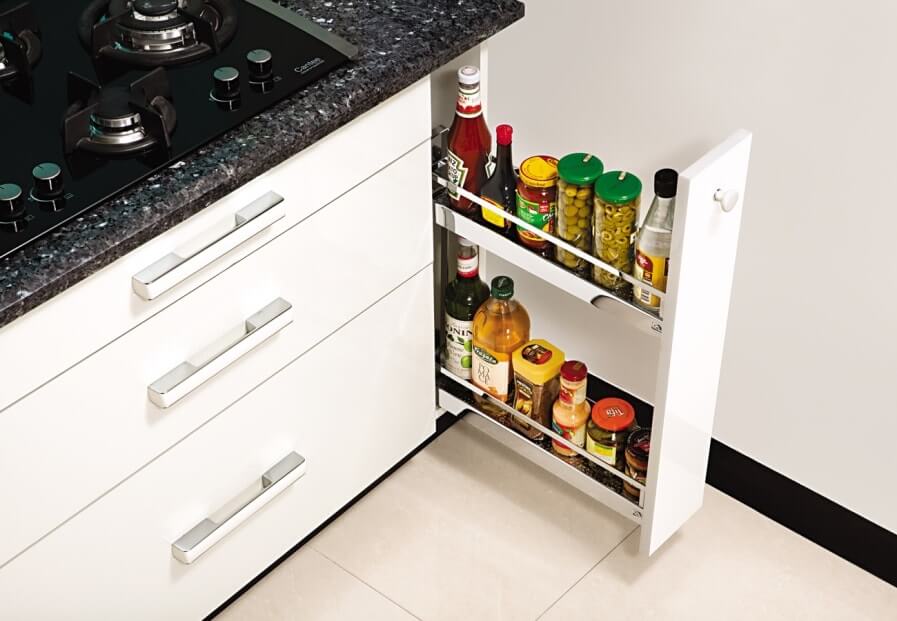 Source
These baskets contain in-built racks so as to store and handle each bottle conveniently and proper portioning ensures that bottles are placed in an orderly manner without clashing with each other.
Having baskets imbibed into your kitchen will suffice your needs. Cooking is nothing but love made visible to the dear ones. Having a wonderful kitchen makes every dish – a healthier and delicious one.
Rediscover the simple joys of cooking with different kinds of baskets…!!
In our next article, we will explore about space utilizing corner solution trays. So Stay tuned..!!