Kitchen is not just a space for cooking and eating, kitchen is essentially the heart of a house. This is where the day starts with a morning tea and ends with nice cold dessert. It is therefore necessary to keep it clean and clutter free.
In the modern kitchen interiors now a day's everything comes in a modular form. To make it compatible with the new design, a lots of new innovative kitchen ideas can be used to organise your kitchen.
Here are few hanging storage ideas in the kitchen that can be implemented in ones kitchen to make it clutter free plus add on nice touch of creativity to it.
1. Hang and flaunt those beautiful dinner wares.
Hanging open storage is a very good option if your kitchen is a small one and not much space is there. This hanging storage in the kitchen will also serve as great decor for kitchen interior if you have colourful kitchen crockery's. You can display pan, pots and even colorful stem wares.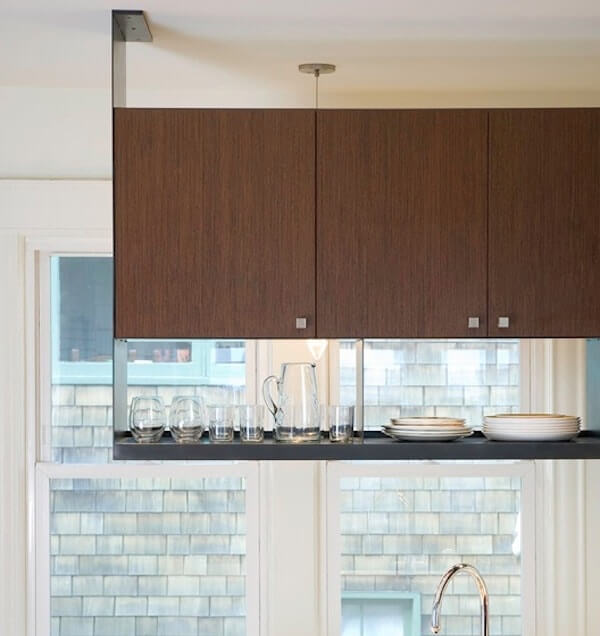 Source
This will not only keep the kitchen spacious but also bring nice warmth to the kitchen space with colourful hangings around.
2. Hang and hide perfectly.
You can avoid wasting space in your kitchen by using hanging closed storage for small kitchen and for those who want their cookeries or other items to be kept closed in a closet.
Source
Hanging closet in the kitchen can help you keep your cookware's covered in a cabinet. It's one of the best options if your kitchen design is an island type. It maximises spaces in your kitchen interiors with the hanging from ceiling concept.
3. Open hanging racks ideas in the kitchen for the metal lovers
Depending on your space and usage you can have either single or double hanging racks for storage. You can also have one of them closed and one open.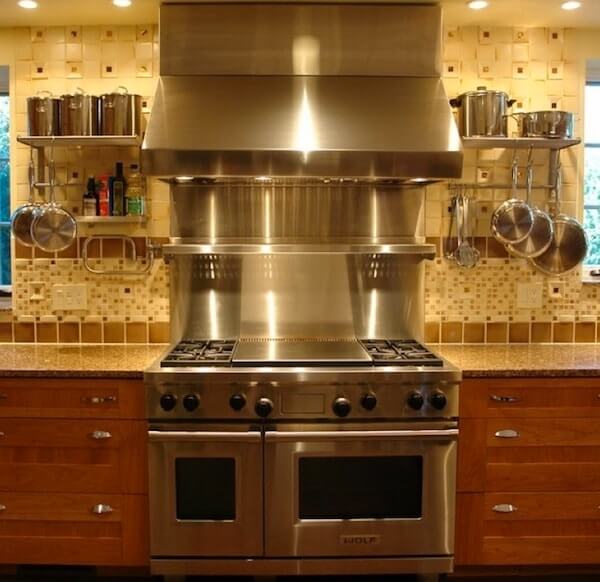 Source
This way you can store all the items in the closed one which you want out of sight. These shelves are very easily hung and requires very little overhauling.
4. Hanging pots and pans:
We all use deep, wide pots and pans and sometimes we do not have enough drawer space for those. We can use the hanging unit for those pans and pots.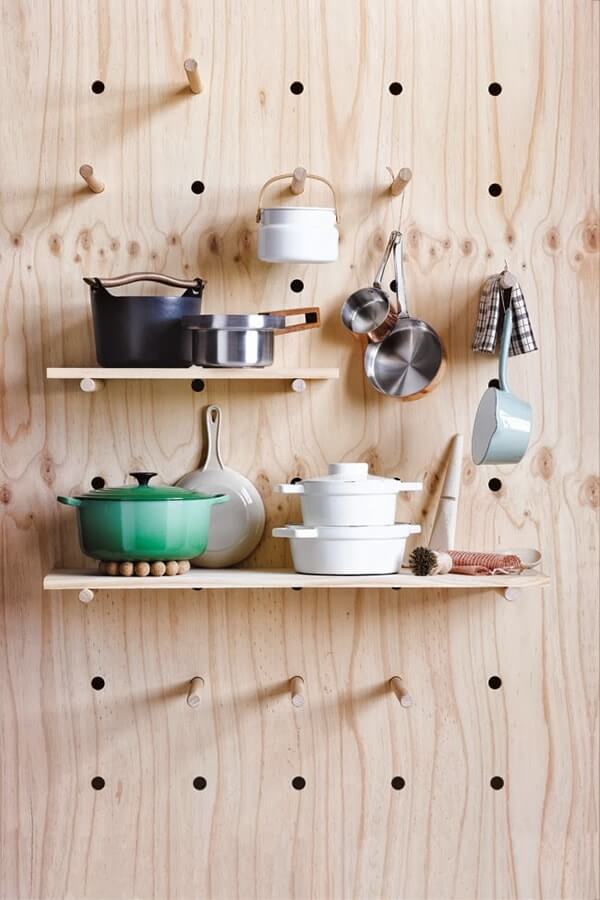 Pots can be hung nicely on the top and would give lots of space and also save you enough time opening drawers and searching for the pots and pans every time you cook something!
5. Hang under the table!
In an island kitchen one can hang their pots and pan under the table. This keeps it within reach also and makes it less messy around the kitchen space.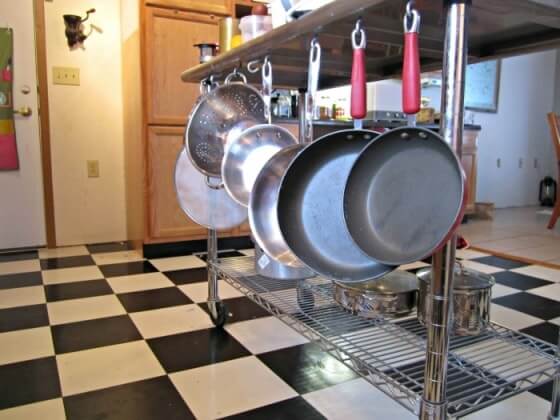 Source
This way one doesn't need to reach out to a height over ones head while cooking.
6. Hang within a frame
One cool way to make storage for pots and pan are to make a frame in a unsed wall space and hang them within it. This makes it cluster free plus the design looks trendy. If one wants instead of making a frame anywhere on the kitchen wall they can make a fram behind the door and hung it.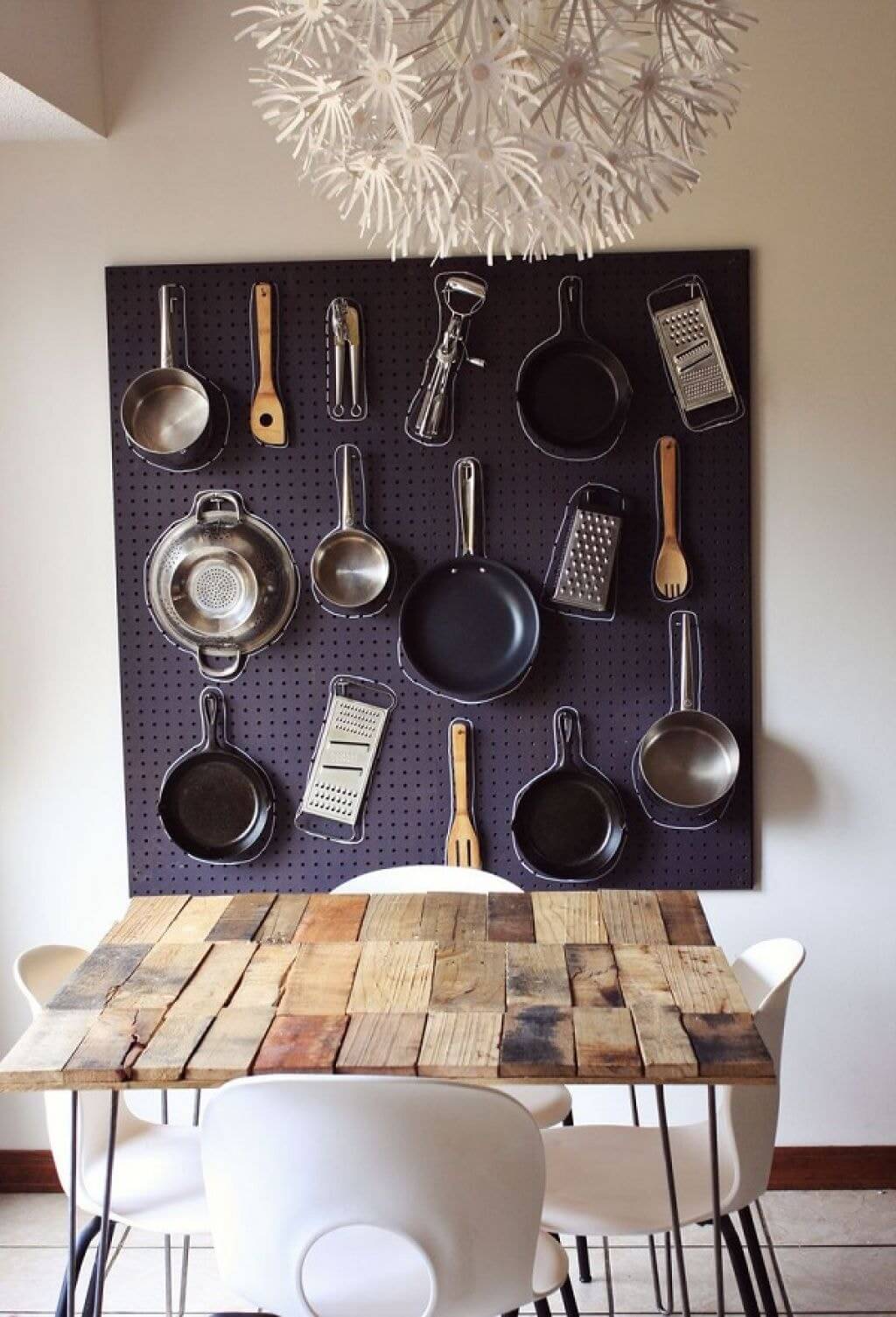 These modern and handy kitchen storage ideas would help a housewife as well a busy working lady keep things in place with no wastage of time and energy. You should always choose storage ideas according to your kitchen layouts.
Few ideas would best fit the island types and few would be best recommended for L-shaped kitchen layouts.
You can always add your own thoughts to these and transform your kitchen to a more beautiful space.