Great floors make the foundation of any designer home all the more classic. A cult favorite for home interiors for generations – marble has been a very popular choice. The trend of laying down marble floorings is not going away anytime soon. Prized for its variety and elegance, this popular building material has graced the homes and palaces of the rich and famous in ancient times. Now as a must-have for any home – we explore a whole new range of marble flooring designs that can blow your mind!
Marble found its place in the creation of monumental buildings that have survived the test of time like the Taj Mahal in Agra, India. Artistry with marbles is no longer limited to alluring sculptures. It has turned into bringing art under your feet. Bonito Designs brings you 5 marble flooring designs that will revamp the look of your designer home.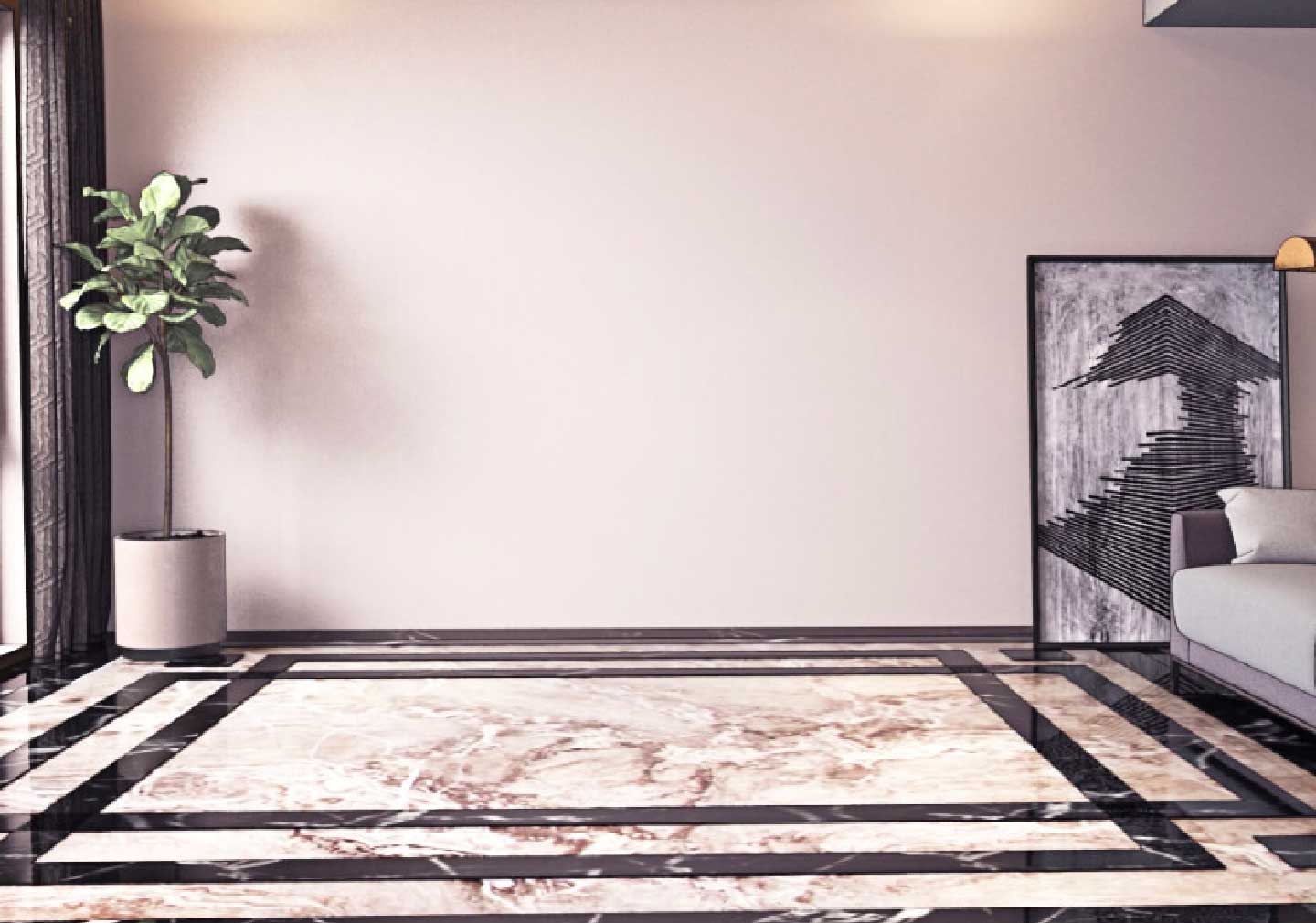 Marble Floor Design #1: Classic Borders That Don't Fail
A very classic and retro design that has remained timeless and beautiful. A monochromatic combination of white marble bordered by black marble brightens up any space. Use this design in spaces with minimal furniture to help move focus to the texture of the stone. A subtle but plush vibe is created with this design when the stone used is polished. Marble flooring consists of a vivid range of swirls and patterns that help set the space apart from the rest of the house.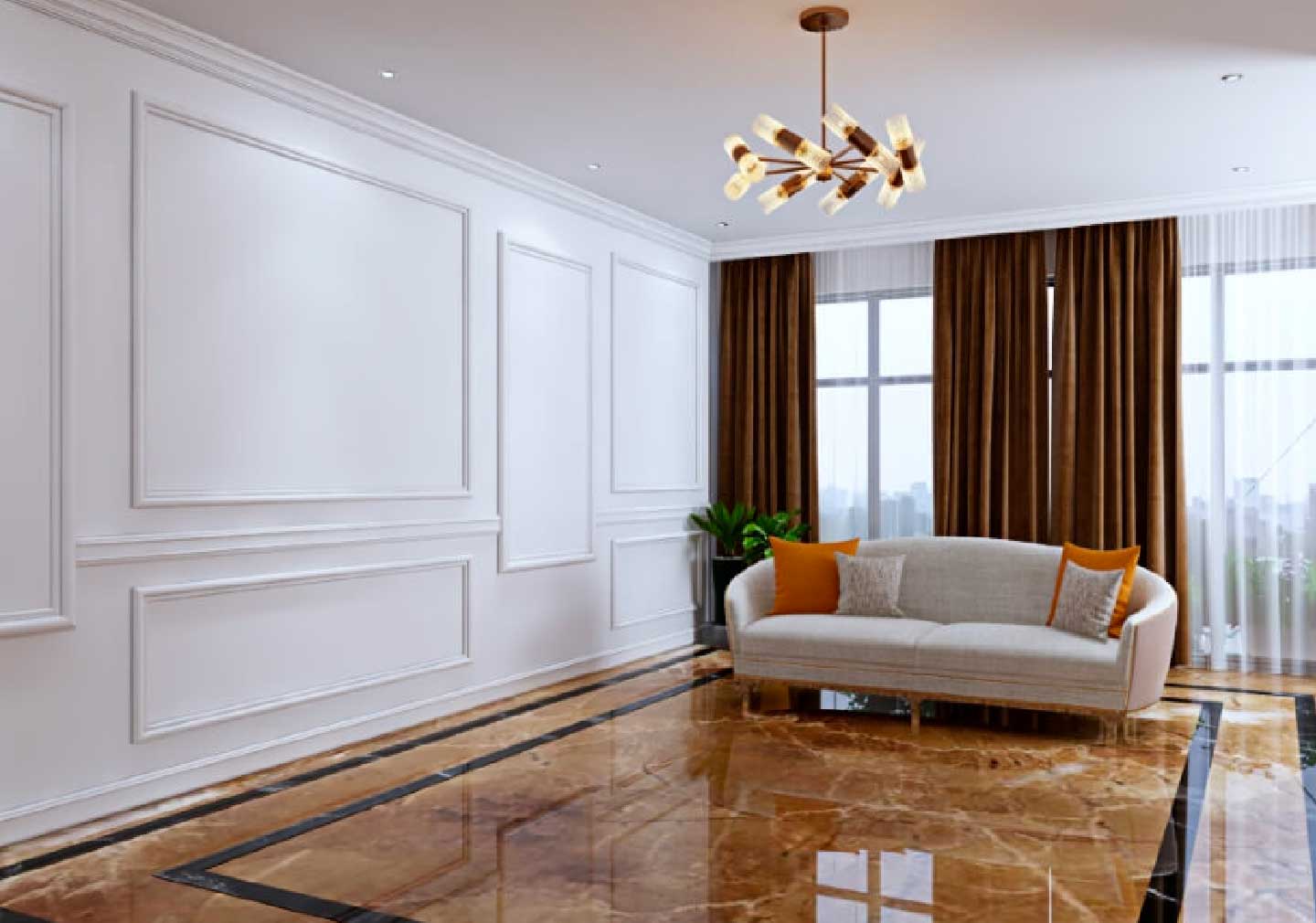 Marble Floor Design #2: Classic Designs That Are Better In Colours
Though the most common choice is the striking white, thanks to your interior designer your marble flooring can vary just like your style. Marble stones are used in the form of blocks, slabs, or tiles for interior purposes based on availability and design requirements. It can be usually found in the shades of the classic white and black but also in green, brown, grey, and other natural hues. Rather than selecting a shade, we recommend selecting a stone based on the streaks and patterns present within. A high-gloss finish for these patterned stones makes any space look sophisticated and warm.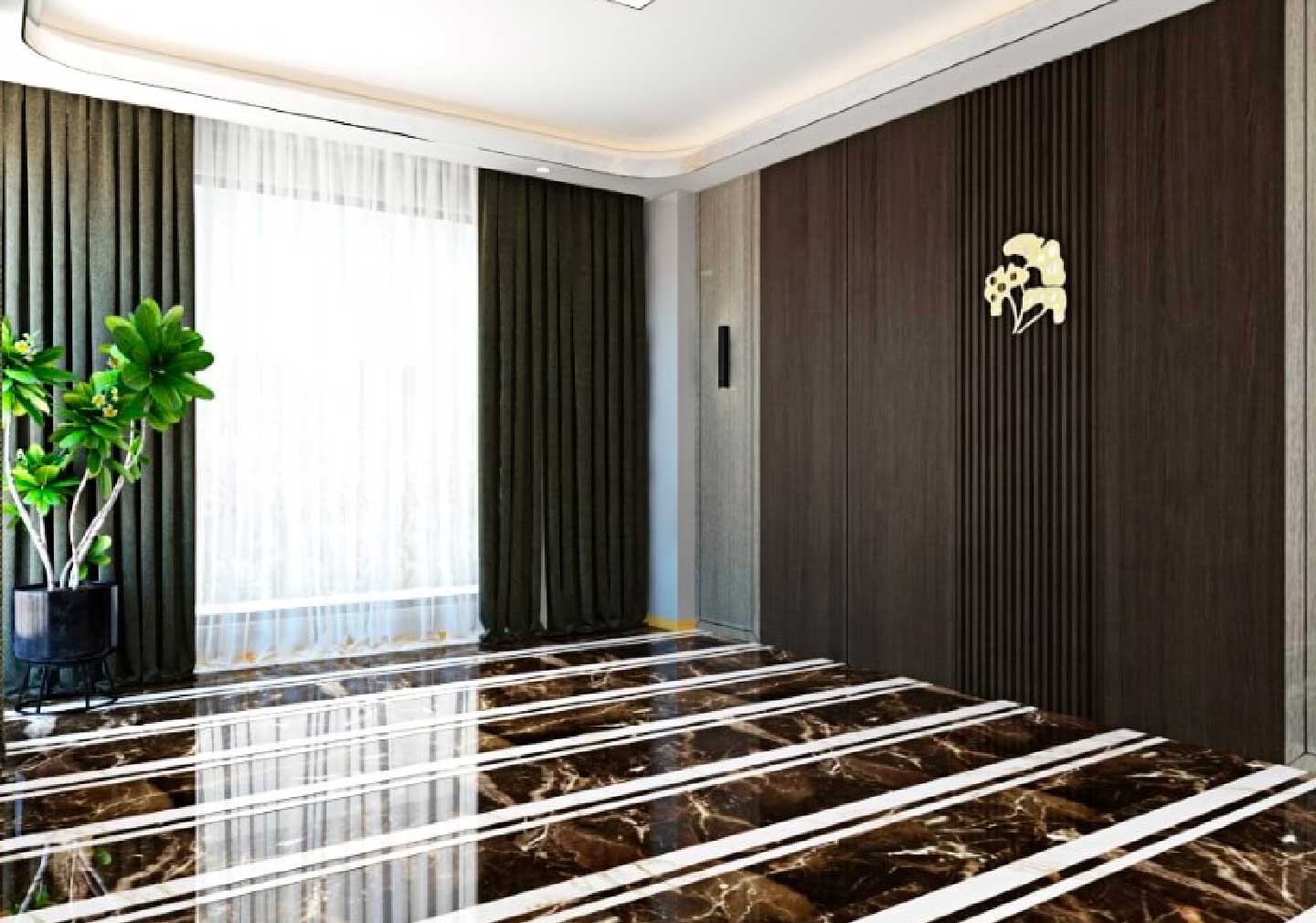 Marble Floor Design #3: Dark Stripes That Say Class
While dark floor tiles look better for a more corporate setting, it can also be implemented at home. Select corner spaces that do not house furniture. The best combination is with dark accent walls with minimal textures. Focus lighting that reflects off of these dark stones is enough visual for any space. Our designers would love to have this dark aesthetic with just a hint of stripes or patterns with contrasting shades. If you really have to add some furniture, classy industrial finishes that blend in with the colour scheme is the expert choice.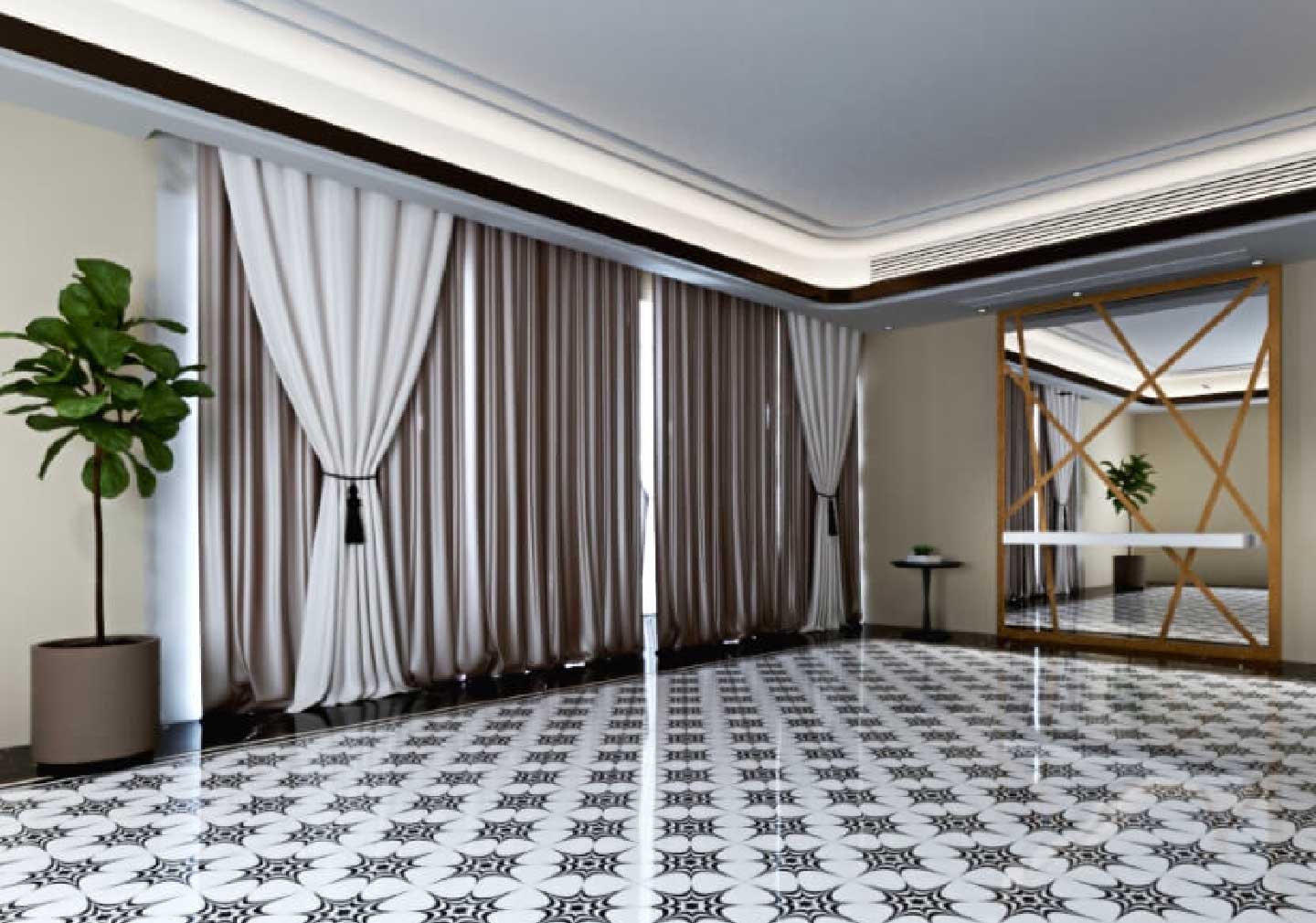 Marble Floor Design #4: Patterns All Over The Place
If you love patterns on your floor then this design is the one for you. For a much more bespoke flooring experience, you can select any custom pattern that can be laid down for your space. Unique designs like these make space and the home interior a much more authentic match for your unique design style. This flooring option is specially designed for any project according to the requirement which makes it very limited in availability. Professional techniques are used to custom-make these designs with high-precision tools such as water-jet stonecutters. Absolute dependency on the expertise of the supplier is required for a successful installation of this type of marble flooring.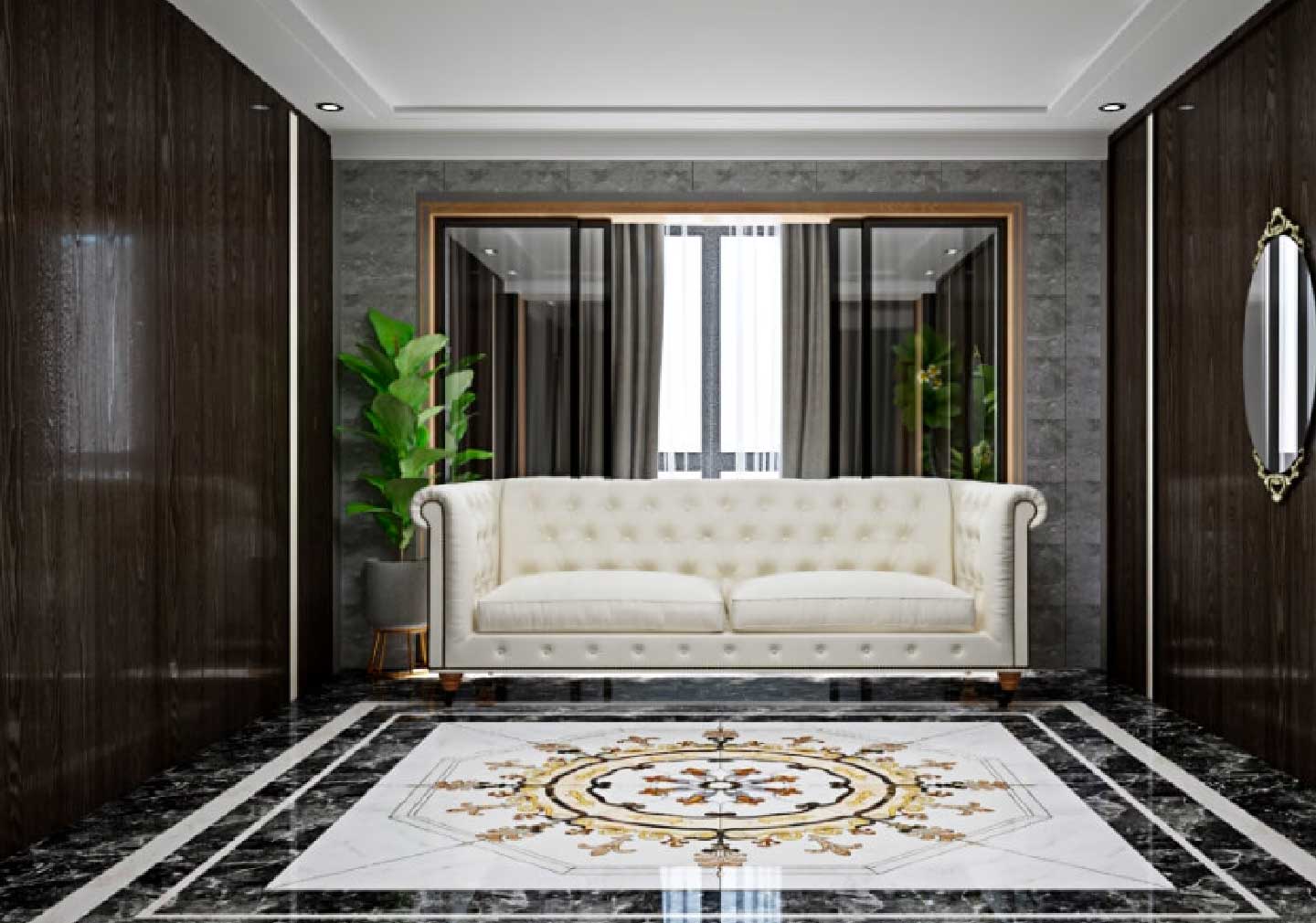 Marble Floor Design #5: All Eyes In The Center
A definite eye catcher if executed properly, these kinds of bespoke marble floor designs can become the centerpiece of any interior space. A reminiscent of the designs that graced the enchanting focal points of the royal palaces of the past, this design has not lost its charm. In a homely setting, these intricate swirls and patterns incorporate various hues from its surrounding colour schemes. A perfect addition to focal points of your floor plan such as foyers, entryways, or staircase landings, this helps draw the eye when there is minimal furniture present in the space.
Is Marble Flooring the right choice for you?
Marble Flooring is a must-have for any designer home that dreams of looking like straight out of the magazine. But the more important question is what kind of marble flooring is the right one for you. The best marble flooring for your home can be distinguished by their finishing and the grade of the stone. 
Types of Marble Flooring finishes for your home
While there are 3 finishing that are available such as polished, honed, and tumbled – each finish must be used strategically in the appropriate places. 
Polished marble flooring tends to be slippery when wet and is advisable for smaller applications like powder rooms where there is less traffic to prevent scratches. 
For a matte finish that presents the colours of the marble in a more muted tone, most homeowners prefer installing honed marble flooring. This type of finish also gives the marble more durability and makes it less slippery. 
For a much more natural look that gives your overall decor a much more rustic look, the tumbled marble flooring is your best choice. The process to achieve this finish makes the stone receive a worn-down look which only adds to the texture and looks of the area of application.
Which Marble stone is the best for your floors?
Different types of marble stones produce different types of looks based on their properties. Knowing about the 5 types of marble stones available for application in home interiors will help you opt for the best ones for your floor. The 5 most used marble stones recommended by our interior design experts are the following:
Carrara: Perfect for carving out stunning decors and life-like sculptures that can be the center-piece of your display shelf. Usually available in white, grey or bluish-grey, its signature linear veining gives the products created out of it a very rich look.
Statuary: What we commonly use for kitchen counter tops and flooring is called statuary. The neutral coloured base for these stones are light grey that makes its dramatic veins even more prominent and striking.
Calacatta: Known for its thick vein patterns, this stone is mostly used for flooring purposes due to its high level of porosity.
Emperador: This dark-coloured marble is usually used in the high traffic areas of a home. Available in various shades of brown, it has irregular vein patterns and fine grains that give it a signature look.
Crema Marfil: These stones come in a unique beige or yellow colour that is bright and brings radiance to the area it is used in. A patio, a balcony, or any type of outdoor space in need of cladding is the perfect place to install this stone.
For more inspiration for stunning marble flooring designs, contact our Bonito Designs – Home Interior Design Experts today, and let's start creating your bespoke home together.