Introduction:
In the world of interior design, there's a trend that has been making waves for quite some time now – celebrity-designed home interiors. And when we say celebrities, we're talking about none other than the dynamic duo of Gauri Khan and Manish Malhotra, who have lent their creative genius to transform over 500 homes into sheer works of art with Bonito Designs.
You might be thinking, "What's the secret behind these stunning celebrity-designed homes?" Well, wonder no more! In this blog, we're going to spill the beans on the top 5 tips for luxury interior designs, straight from the celebrity designers themselves.
1. Balance is the Key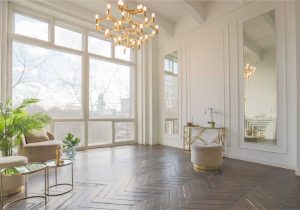 When it comes to luxury interiors, striking the right balance is absolutely essential. Gauri Khan and Manish Malhotra swear by this rule. Mixing contrasting elements like vintage and contemporary, or blending rich textures with minimalism, can breathe life into your interiors. So, don't be afraid to play with contrasts – it's the secret ingredient to achieving that 'wow' factor. 
2. The Art of Lighting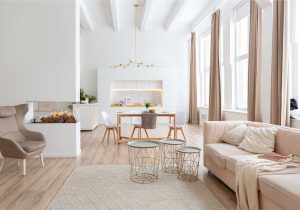 Luxury isn't just about how things look; it's also about how they make you feel. Lighting plays a crucial role in setting the mood. Opt for a mix of ambient, task, and accent lighting. Chandeliers, sconces, and statement floor lamps can work wonders to create a luxurious ambience. And if you really want to step it up a notch, consider adding some smart lighting that you can control with your phone – instant luxury at your fingertips. 
3. The Power of Statement Pieces
Gauri Khan and Manish Malhotra are known for their love of statement pieces. A bold piece of art, an exquisite rug, or a uniquely designed piece of furniture can completely transform a room. These items not only serve as conversation starters but also infuse a sense of exclusivity into your space. So, don't hesitate to invest in that one-of-a-kind piece that steals the show.
4. Texture is Everything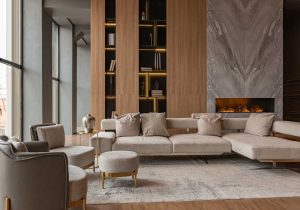 The devil, as they say, is in the details. And luxury lies in the textures. Combining different textures like silk, velvet, leather, and natural wood can add depth and character to your interiors. A plush, textured rug underfoot or some silk cushions on your sofa can make all the difference. It's these subtle touches that elevate your home to the next level of opulence.
5. Personalisation Matters
Last but certainly not least, personification is the hallmark of a luxury interior. Your home should be a reflection of your personality and lifestyle. While Gauri Khan and Manish Malhotra's designs may inspire you, it's crucial to inject your unique identity into the space. Display your favourite art pieces, incorporate your hobbies into the decor, and make your home truly your own.
How Can We Help?
Now that you've got the inside scoop on the top 5 tips for luxury interior designs, it's time to bring your dream home to life. And who better to help you achieve this dream than Bonito Designs, India's No. 1 full-home personalized interior design brand?
Bonito Designs isn't just a brand; it's an experience, a journey towards turning your house into a haven of luxury and style. With Bonito Designs, you gain access to World Designs, a collection curated by none other than Gauri Khan and Manish Malhotra – the creative geniuses behind some of the most stunning celebrity-designed homes.
What sets Bonito Designs apart, you ask? Well, let us dazzle you with a glimpse of their brilliance. With a vast portfolio of over 250+ in-house designers, our creative team brings innovation and expertise to every project. And here's the cherry on top: we offer a remarkable 10-year warranty on their interior services, ensuring your peace of mind for years to come.
But wait, there's more! Bonito Designs takes quality seriously. Bonito Designs' products undergo a meticulous 7-stage quality check, spanning from designing to packaging to installation. With Bonito Designs, you can trust that every detail will be handled with utmost care and precision.
So, why wait? Take the tips you've learned today and let Bonito Designs transform your dream home into a true masterpiece of luxury and style. Your personalised, celebrity-designed home interiors await – bring it to life with Bonito Designs!