In our previous post, we have given you 15 fun ways to make kid's bedroom stylish out of 30. In this blog, we are giving your 15 more kid's bathroom decor ideas as we have divided them into half, just to avoid your mind to indulge into confusion.. 😛 and make the process easy.. 😀
So let's get started to look out the remaining 15 kid's bathroom design ideas. Oh yea, don't get confused with the numbers. It was just a continuation of my last post.
16. Miniature can be the word:
Get miniature plants or miniature garden components like a mini swing, mini slide to complete the look.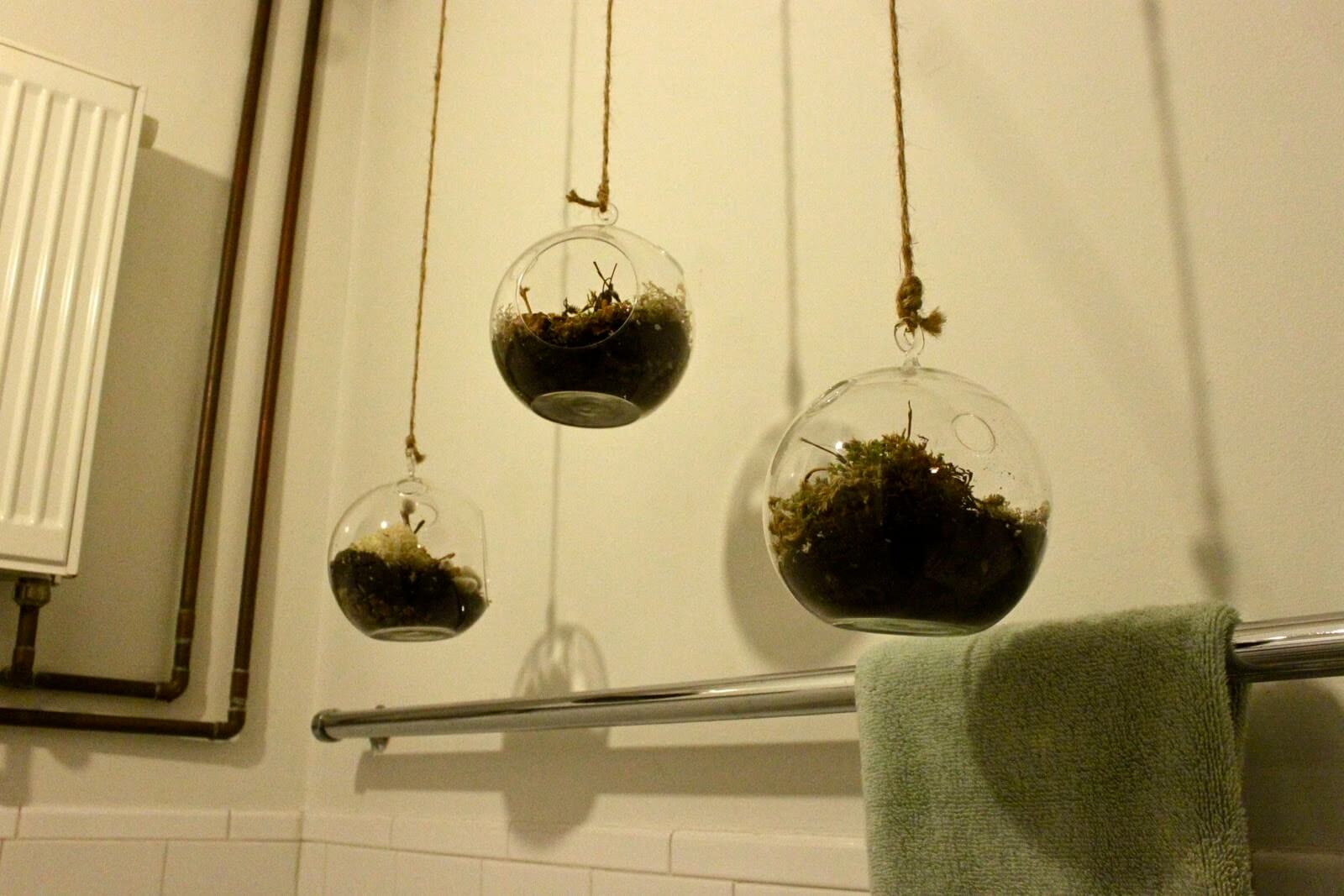 Source
17. Fruits for a healthy bathroom:
Rubber fruits or fruit drawings can give a 'healthy' (attractive) look to the bathroom design and the kids will love this bathroom decor idea as they love this tossing the rubber orange or apple around.
18. Bring a party of superheroes in your kids bathroom decor:
Figures of superheroes can add fun and adventure to a kid's bathroom designs.
19. Safety, the compulsory element for your cute little feet:
Whatever way you chose to design your kid's bathroom, let the primary concern be the safety of children. So keep this point as the basis while designing the kids' bathroom.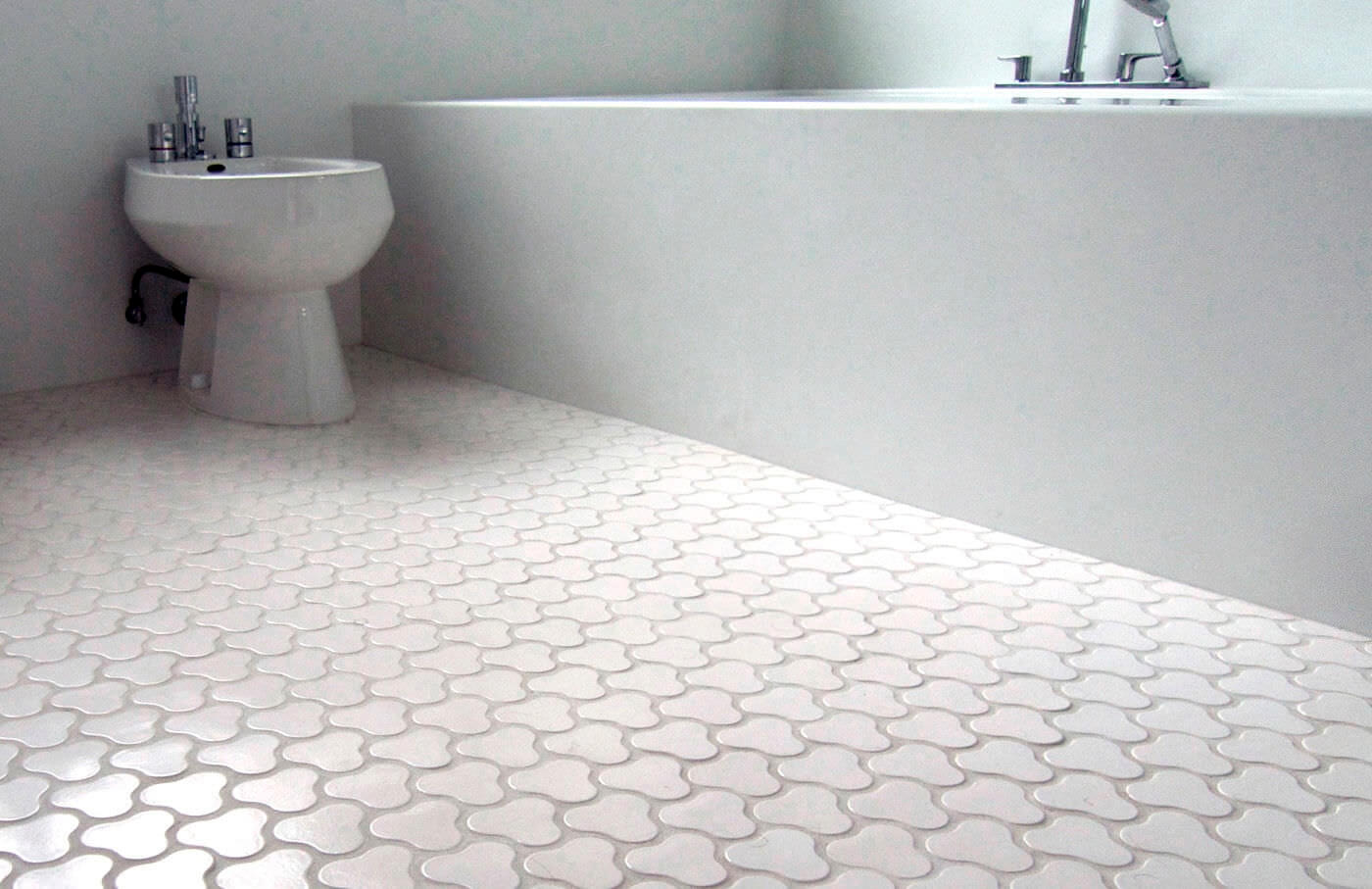 Source
So, go for anti-skid tiles, or soft materials and kid-friendly accessories. And do avoid pointed corners.
20. Bring the sky to earth:
The sky elements can be an apt look for a kid's bathroom.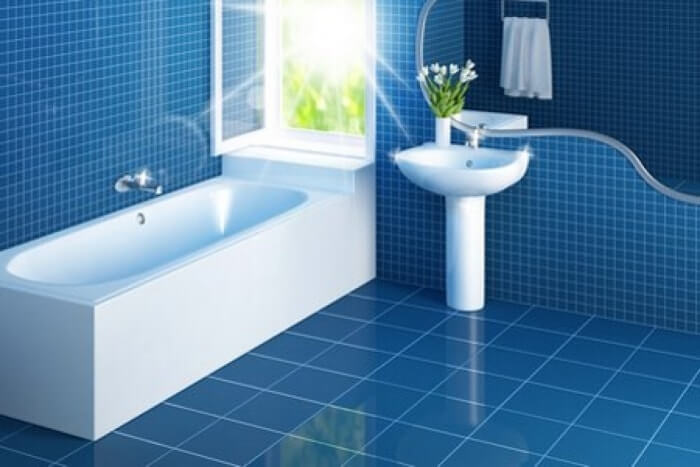 Source
Light blue and white combination can give a peace and calm but elegant look to the bathroom to contrast the mischiefs.
21. Let the sun shine:
Get the elements and color of sun to make the bathroom decor look not only brighter but more positive. To get the look, either use the color yellow and orange as the color scheme or make a big sun out of water-proof materials and hang it either in the middle of the bathroom or just hang it on the wall.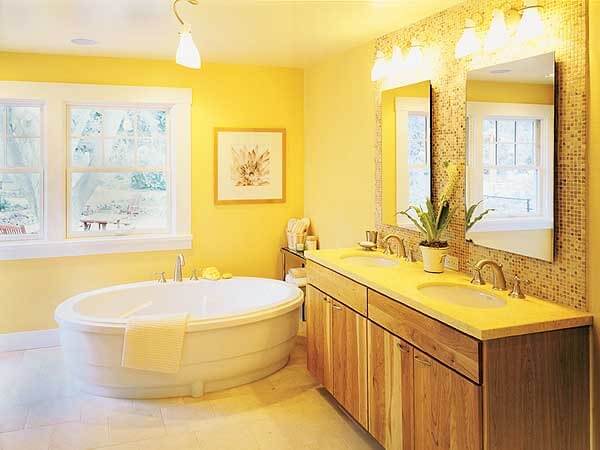 Source
And yes, do give the sun a bright smile! Let the windows too pitch in and allow the sunlight to pass into the bathroom for the added effect.
22. Nature friendly:
Teach your children the value of nature conservation by making his bathroom eco-friendly. Get eco-friendly objects and let him learn the importance of nature very early in his life.
23. Floral aura:
It is not just painting the walls with flower designs but a sunflower or aster or rose or lily can be thrown here and there to give a dreamy look to the bathroom.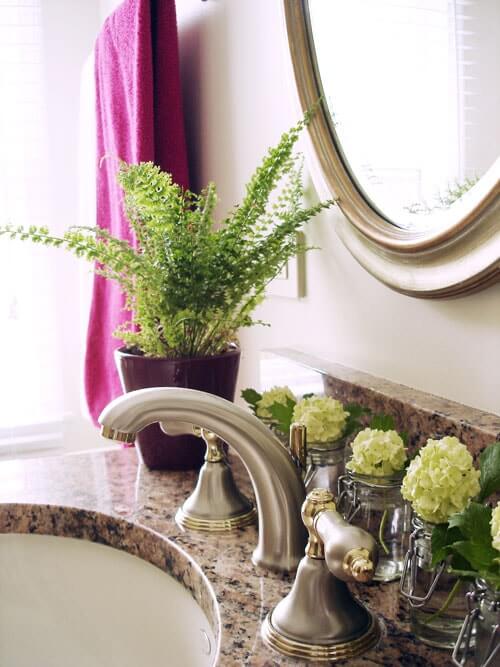 Source
You get many such type of flowers made from kid-friendly materials.
24. Me and my marine friends:
Fish, octopus, dolphin or even mermaid – bring them all into your tiny tot's bathroom and watch him squeal with delight, just as Prince George did on spotting a Bilbo!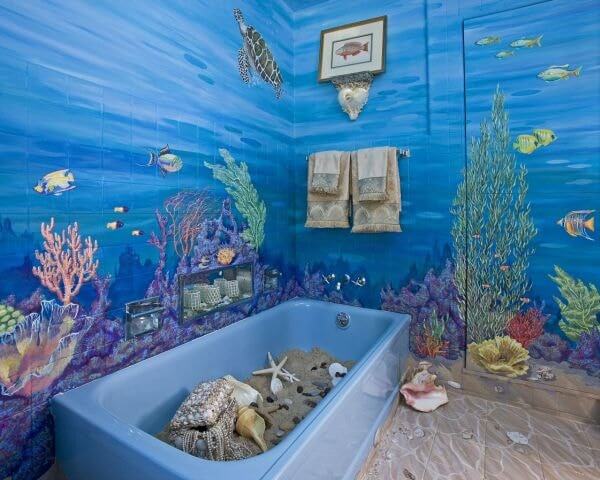 Source
25. Caving in:
A cave theme bathroom can be a great design idea for kids' bathroom.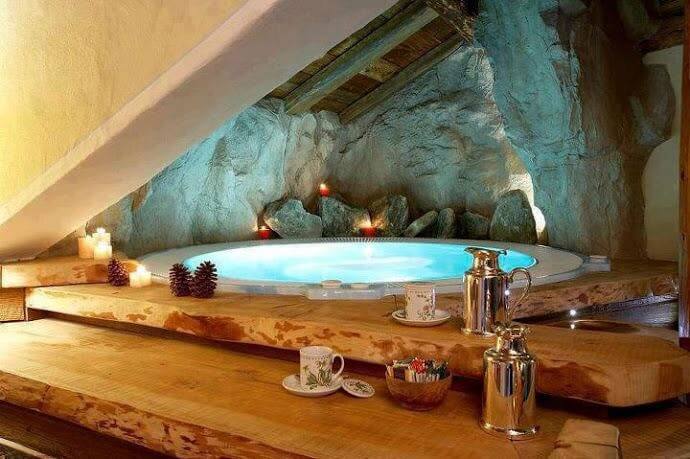 Source
One can give a cave look to the bathroom by either painting the walls like that of a cave or creating a 'make belief' look.
26. A giggling waterfall:
Who doesn't like waterfalls? An illusion of a waterfall can be created by innovative 3D designs. One can even get a huge painting of a water fall on the wall near the bath tub to enhance the look.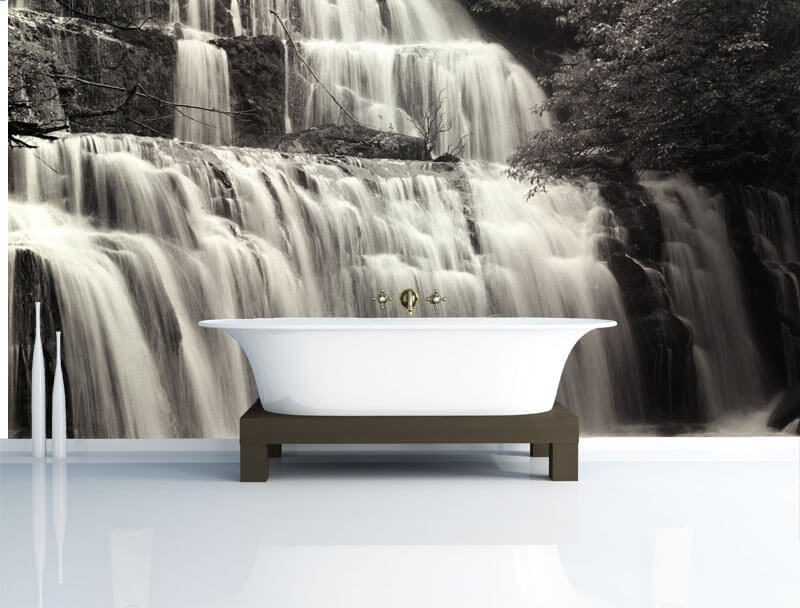 Source
I am sure that this will be a great hit and your neighbors will love this children bathroom decoration idea.
27. Create space:
No matter how you design your kids' bathroom, always leave some space and do not make it cluttered and crowded with things. After all this is the kids' bathroom, and what fun it is if there is no adequate space to move around freely?
28. A pink and blue combination:
Blue and pink combination work great if the bathroom is shared by a brother-sister duo. The alternate use of these colors will give a very attractive look to the bathroom.
29. Working with the kid's favorite color:
Check out the favorite color of the kid and work around it. Either color the walls with it or get shelves of this color. You can even towels or soap stands of this color.
30. A garden bathroom:
Give a garden look to your kid's bathroom decor. Get small real plants and place it in corners. Or better, color the walls with designs of flowers, leaves or even a garden.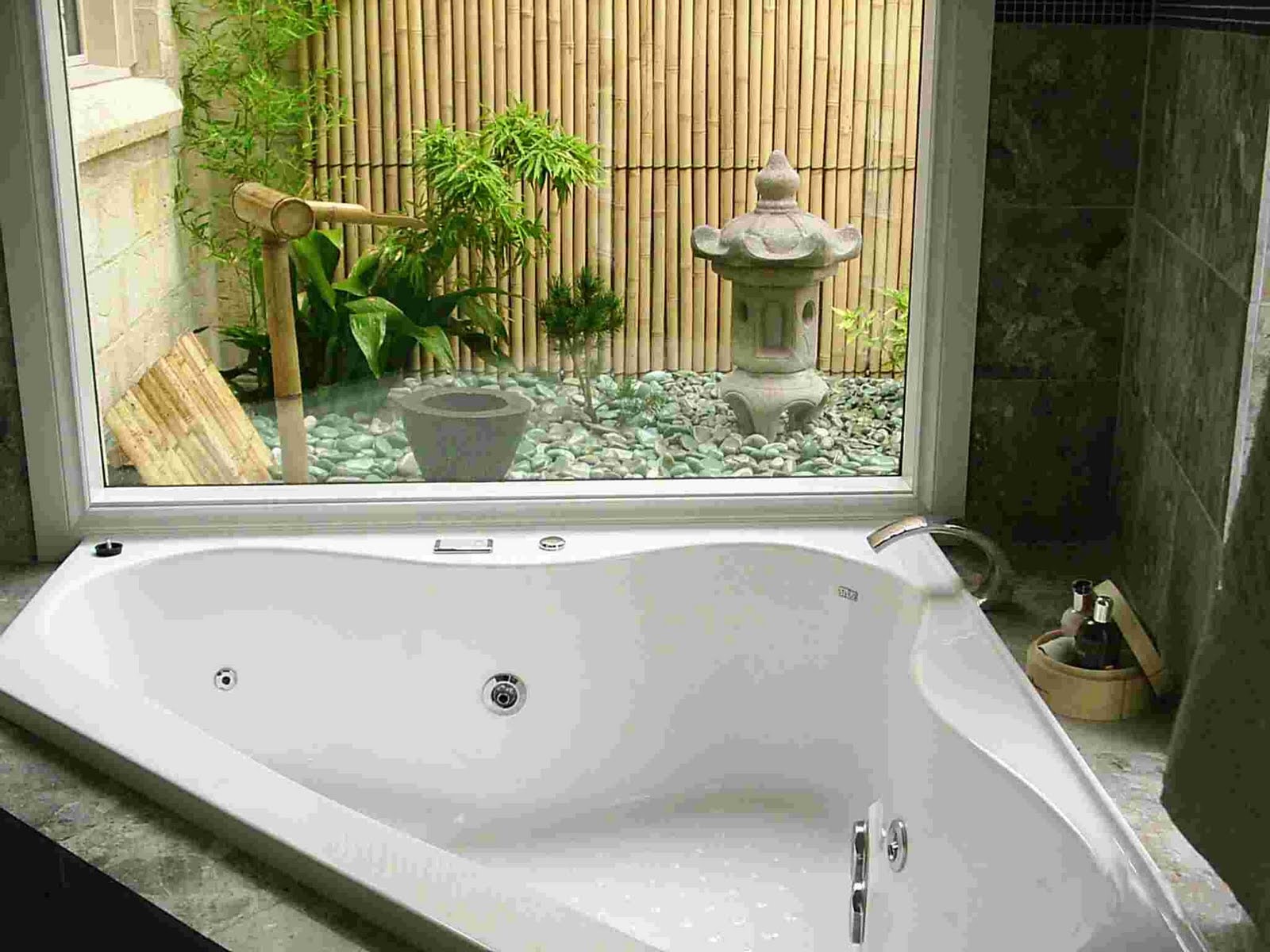 Source
Rubber flowers or flowers made from water proof materials scattered all over the bathroom can really make a bathroom the most favorite place for the child in a home.
So now it's your turn to let us know which theme you <3 the most? And which theme you wanna imbibe in your kid's bathroom.