If you are among those individuals who love their alone time, then having a balcony in the house is a perfect option for sure. But just having a balcony is not the solution. In order to have a perfect spot that becomes your favourite, you need to look for balcony decoration ideas. You can decorate your balcony in different ways depending upon the size and area of your balcony.
So, if you are on the hunt for the best decoration ideas for a balcony, there are plenty of them available today. All you need to do is to have your eyes rolling and choose the right balcony decoration ideas that suit your balcony perfectly.
Worried about how to decorate balconies? Here is a list of some of the trending balcony decoration ideas that you can try out for making your favourite spot in the house.
1. Installing a Swing:
One of the most basic decoration ideas for a balcony is to get a swing installed on the balcony. The advantage of getting a swing for the balcony is that you can get a huge one that can fill up one side of the balcony leaving the other side open for movements. Who is not going to love the idea of sitting on a swing on a summer evening with a cup of coffee? Keep colourful cushions and pillows on the swing and also decorate the string of the swing with tassels and other options to beautify the whole zone.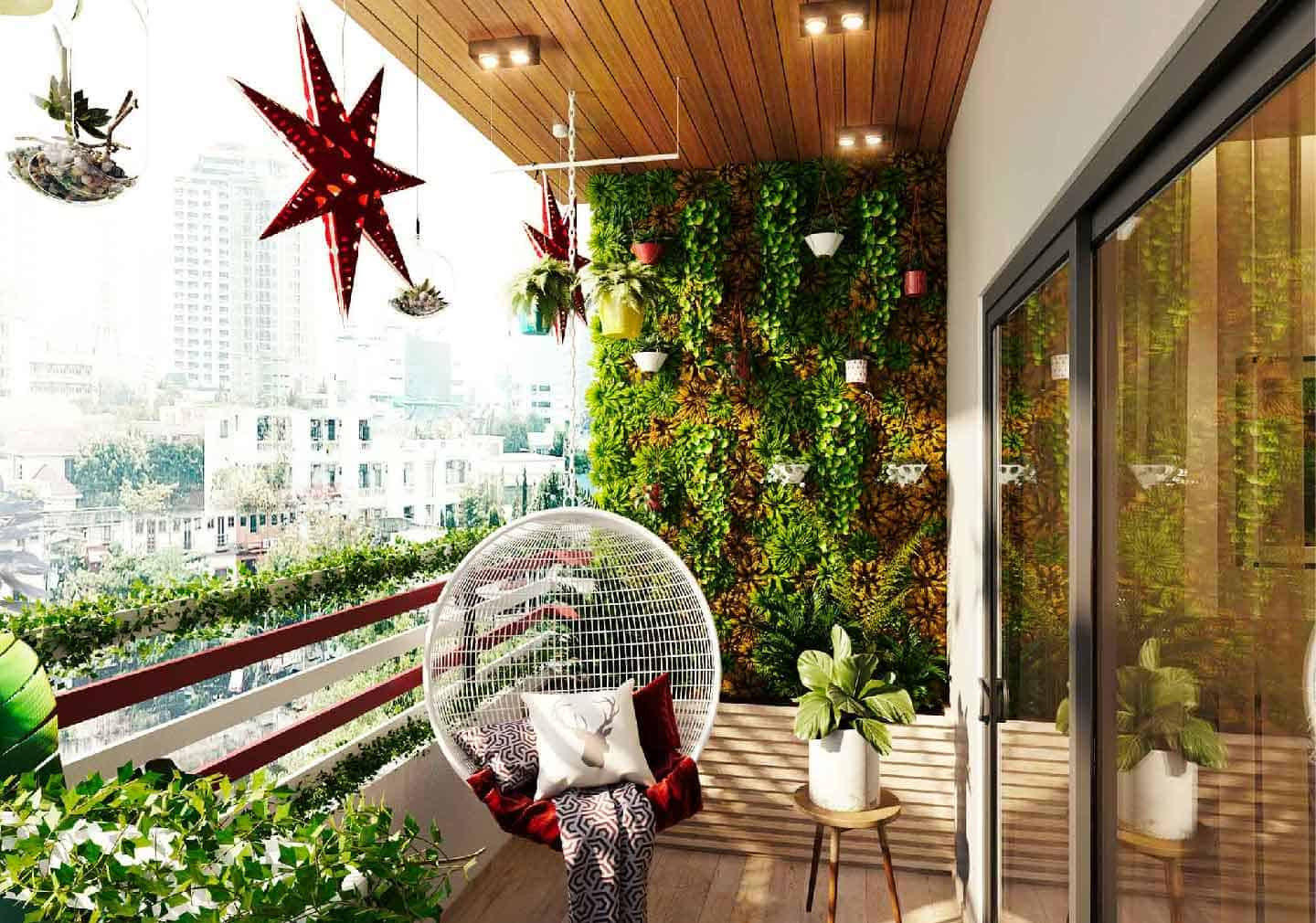 2. An Outdoor Living Area:
For bigger balcony areas, one of the fantastic home balcony decoration ideas is to get an outdoor living room setup. On winter afternoons, you can always call upon your guests over lunch at this setup. It is a great idea to accumulate your family members together to have family time with such balcony decoration ideas. Set up a sofa with a few chairs along with a glass center table over a comfortable piece of rug or carpet. If the balcony is big enough, you can also install some plush bean bags to offer a comfortable seating area that appeals to the vision also.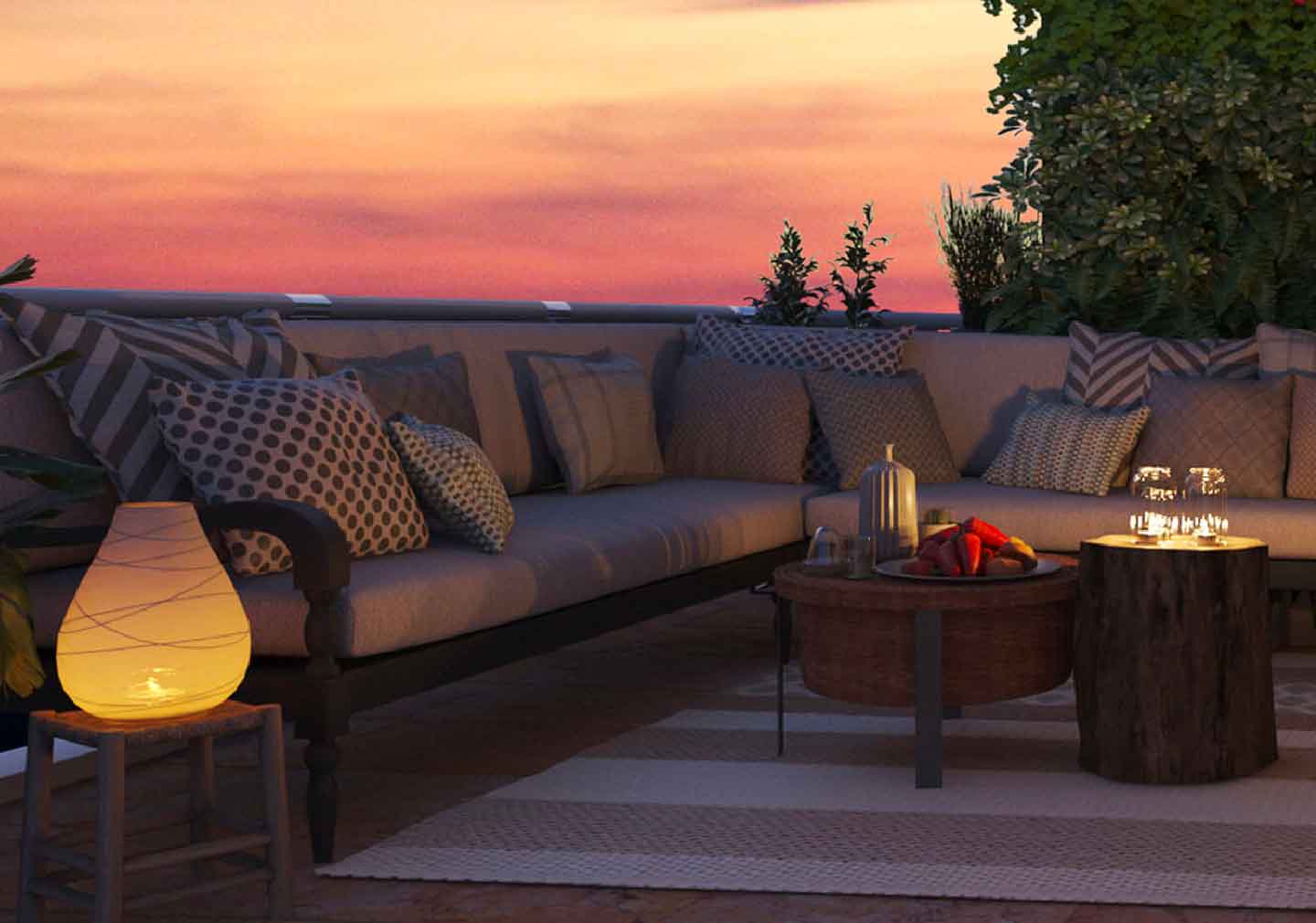 3. Seating Amidst Florals:
Most people love to keep flower pots on the balcony. While you are arranging these colourful flower pots, you can also set up a seating arrangement for 2 to 3 people amidst them. Install a small round coffee table around which you can have the chairs. Grow flower options such as daffodils, lilies, and other bushy plants to create the exact look that you must have always imagined for a lovely evening. Surely, such balcony decoration ideas with plants are going to be a perfect place for clicking photos on your Instagram.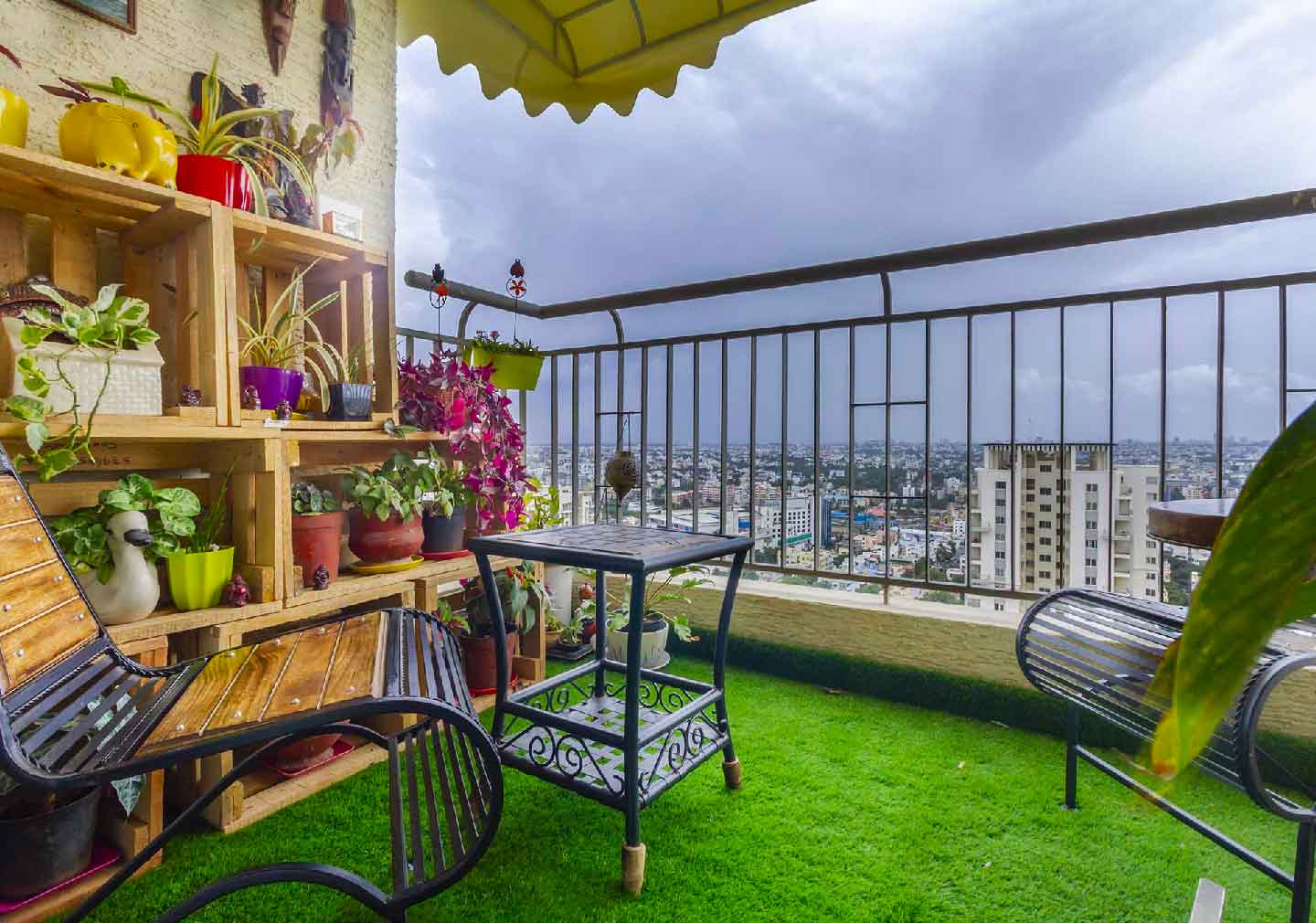 4. Pop of Colours:
When you are decorating a balcony, you are actually getting a blank frame. Now, you can add up your styles and your balcony decoration ideas in it. So, why not make it more colourful with some open balcony decoration ideas? Of course, having the colour green is quite obvious in most balconies, but adding some striking pops of colours is the trick. Paint up the railing with bright yellow or install chairs and stools in bright shades such as red to implement a colourful space.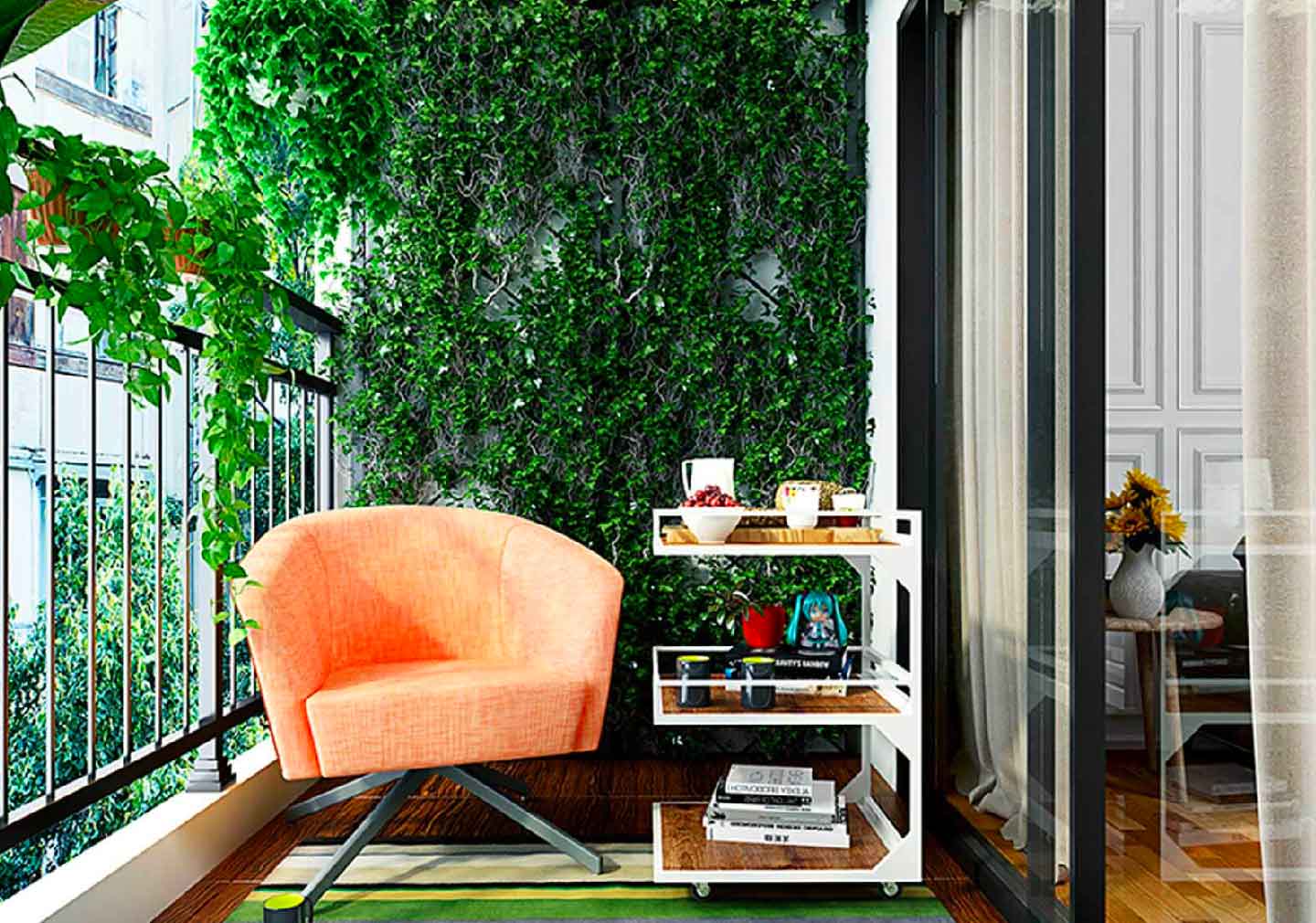 5. Setting up a Deck:
Let us set up a deck for some great conversations on the balcony with balcony decoration ideas with lights. This is quite simple with wooden flooring and a seating arrangement over it. It is better to have this wooden deck at one side of the balcony so that you can utilize the other half of the balcony for other ideas. Glow this deck area up by adding some statement lights and you are done.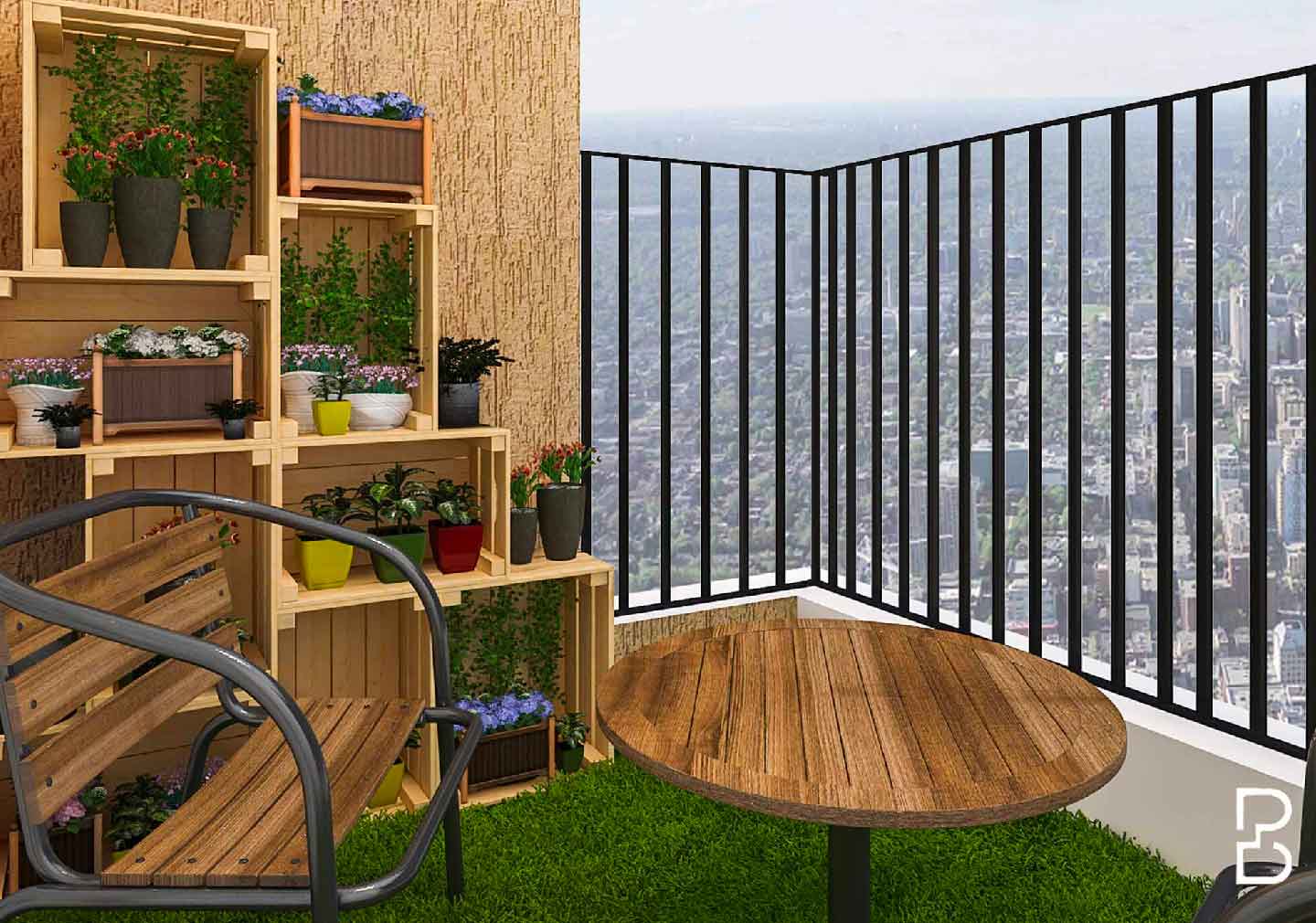 6. A Bar under the Stars:
Having a bar set up out on the balcony in place of indoors is again one of the coolest balcony decoration ideas. Nothing can beat the experience of sipping your drink in peace under the starry sky or on a monsoon afternoon. A bar setup is also one of the best options for balcony decoration ideas with lights. Add colored lights on the bar counter to illuminate the place while you can keep the seating area with dim light options.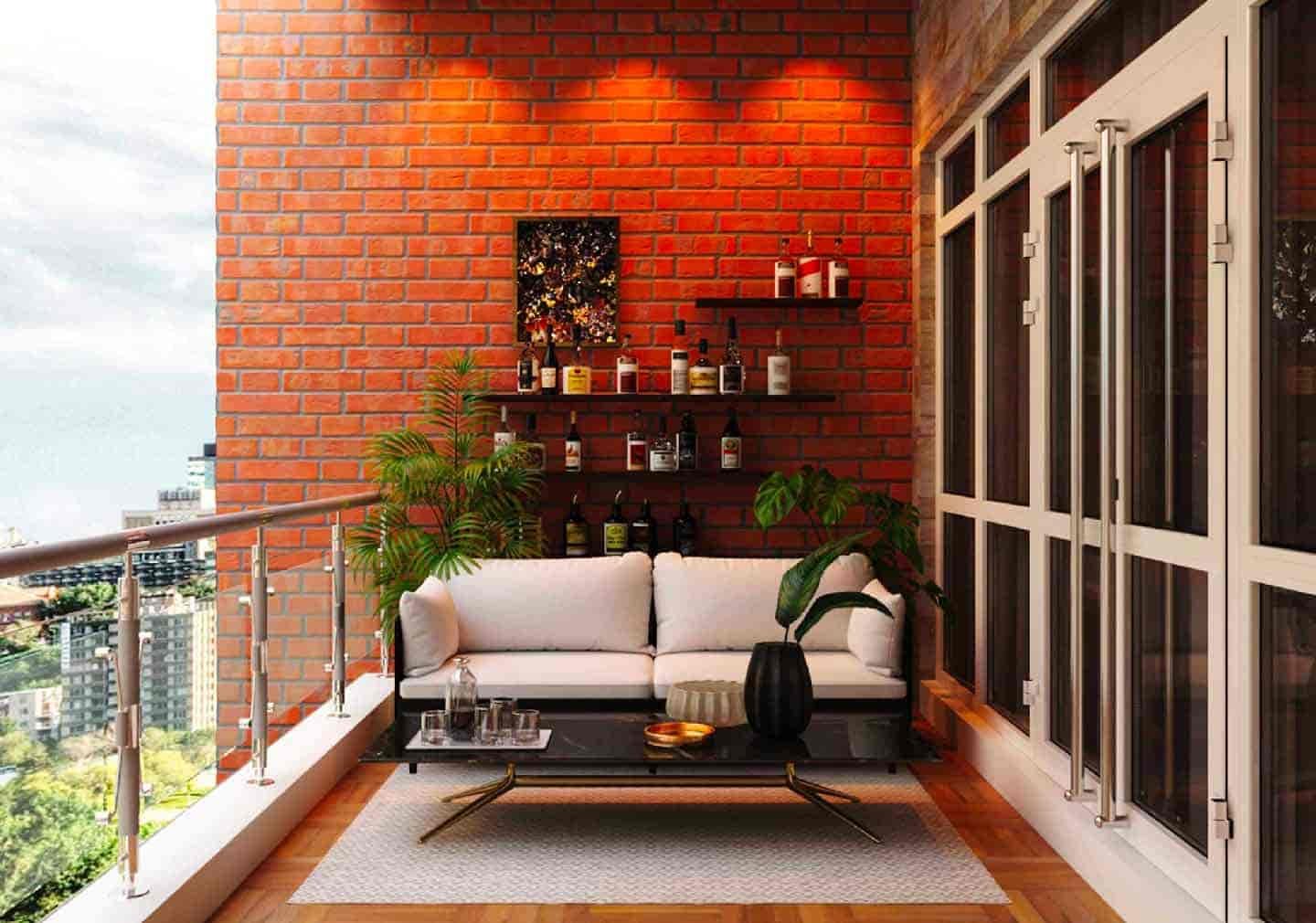 7. A Green Zone:
This is one of the most common and simple balcony decoration ideas that you can have in most modern houses today. Spread out a green grassy carpet throughout the balcony to achieve a green zone and then you can set up any other balcony decoration ideas according to your wishes. There are so many things to do here such as create a meditation zone, add some flower pots, and many others.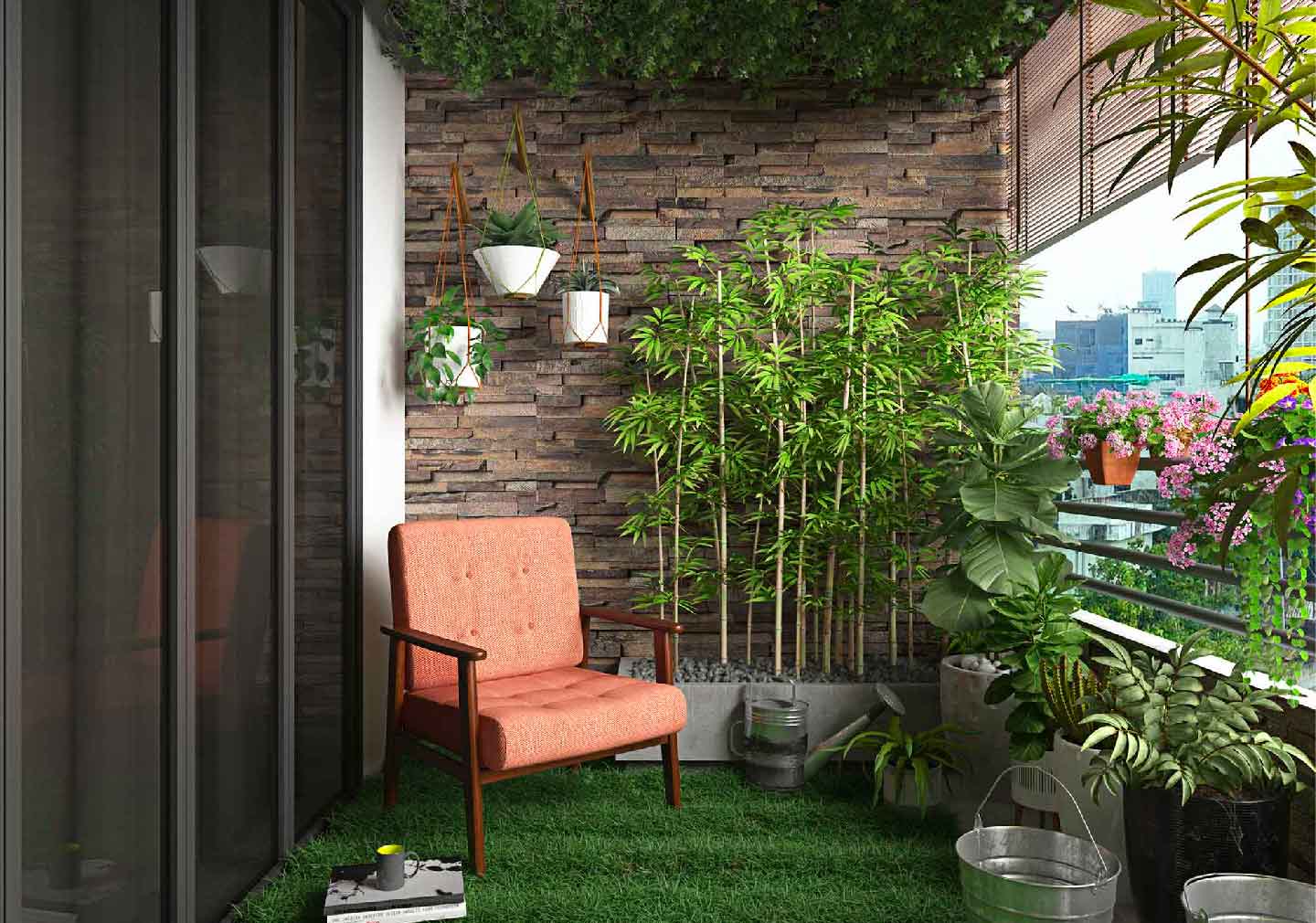 8. A Pocket-friendly Set-Up:
Not everyone has the budget to transform the balcony completely. Thus, trying some of the pocket-friendly and simple balcony decoration ideas is also a great option. Balcony decoration ideas such as just arranging some sleek chairs in the balcony along with some flower planters can also work. Just make sure that you are arranging the seating at the right place of the balcony that does not block the free area.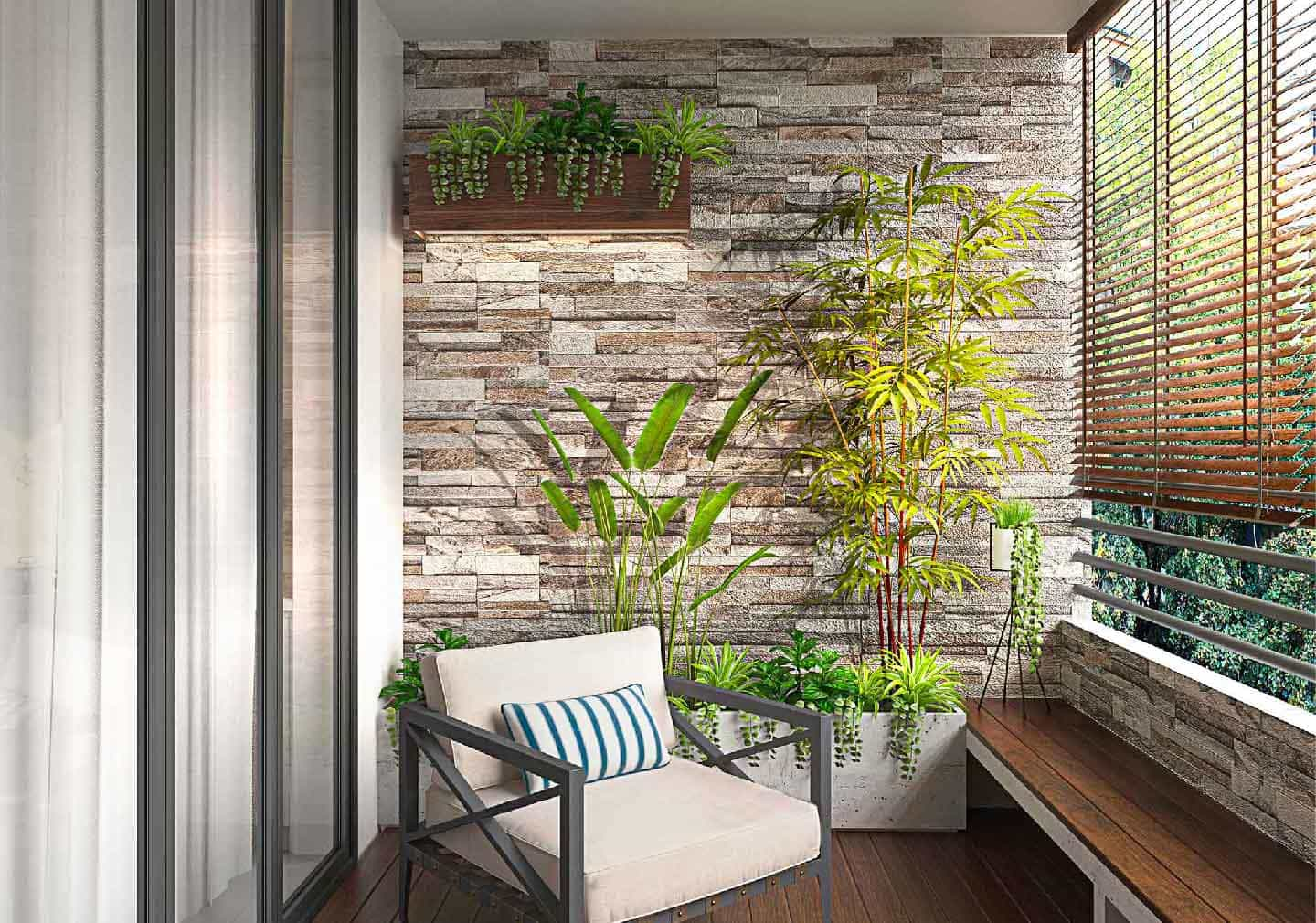 9. Relaxing Zone:
If the idea is to get a superb relaxing zone on your balcony, then there are some amazing home balcony decoration ideas to try out. Either you can have huge chairs and fill them with plush cushions or can install cushiony seats on the ground where you can relax. Along with being a relaxing place, such balcony decoration ideas can also transform your balcony into a little romantic zone to celebrate your important occasions. On special events, you just have to add up some scented candles to get the right romantic vibe.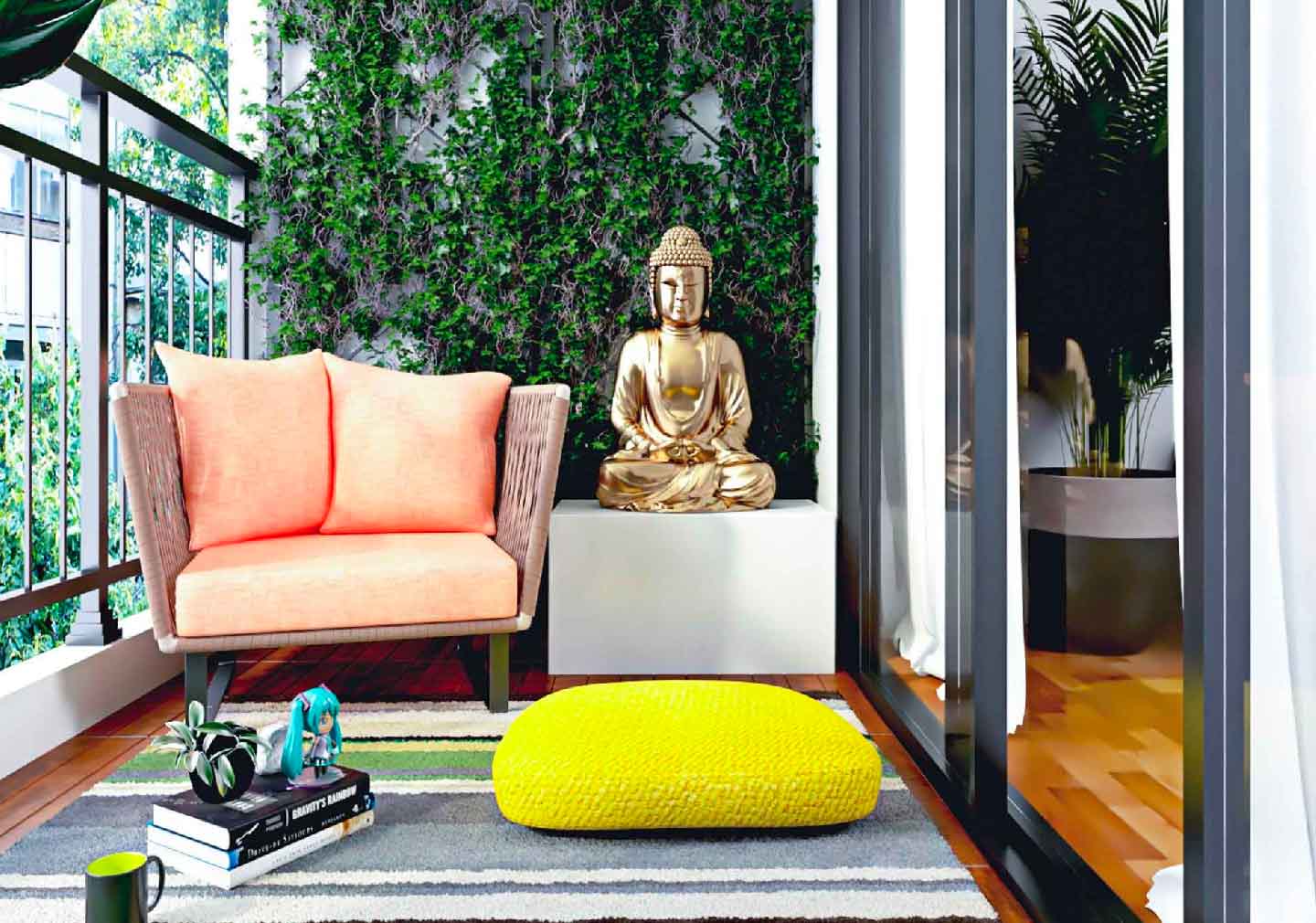 10. A Vertical Garden:
For smaller balconies, balcony decoration ideas such as vertical gardens work out amazingly. Choose a particular wall on which you can start growing creepers that ultimately offers you a perfect vertical garden. Choose creepers that can have tiny flowers on them so that you can also have a blast of colours amidst the greenery. Keeping the vertical garden as a background, you can install chairs or even a small swing later on and get great balcony design ideas for your home.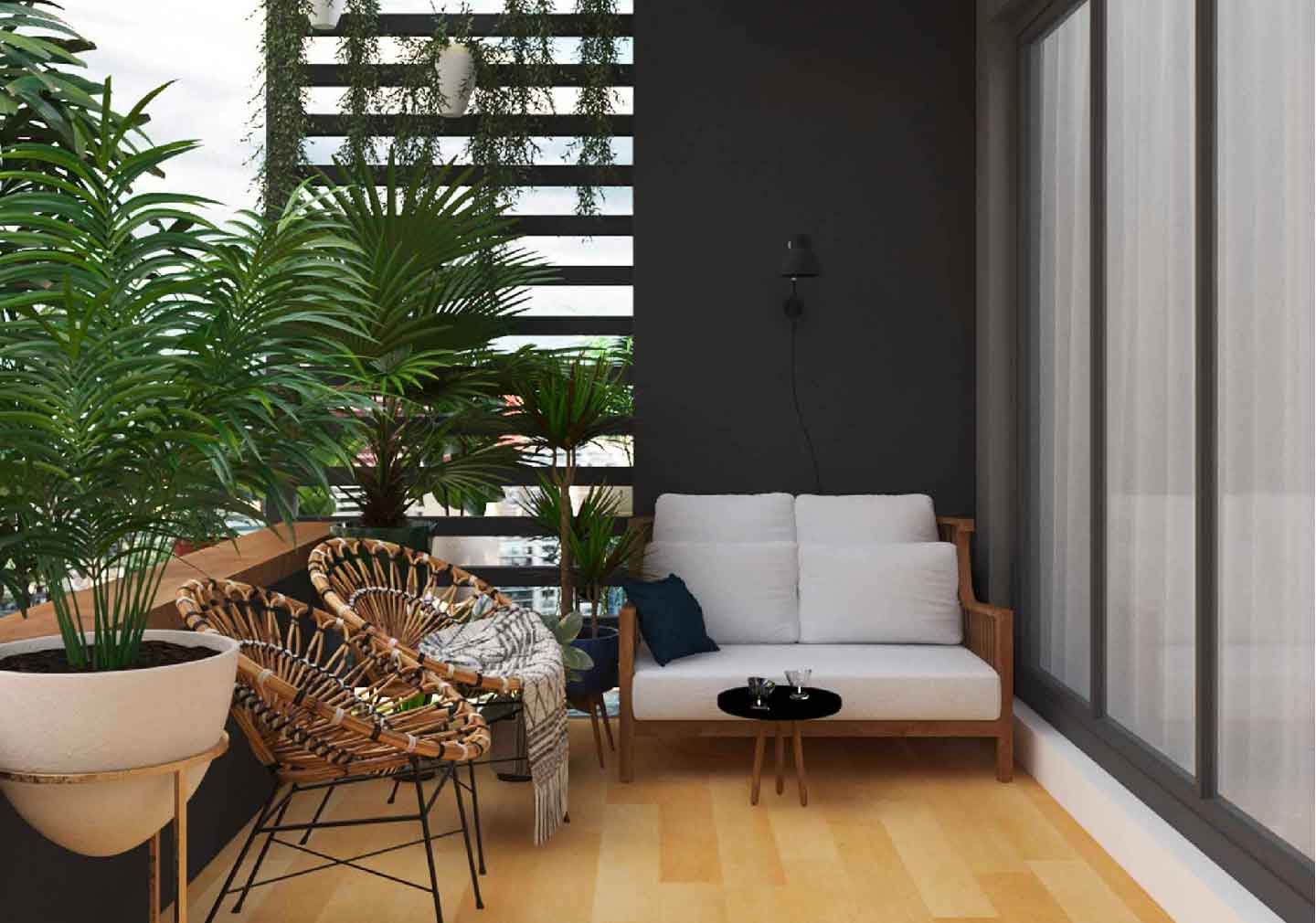 11. Kid's Corner:
If your society does not have a kid's park, you can create your own kid's zone on your balcony with useful balcony decoration ideas. Spread out the green carpet and then install your kid's favourite playing options such as seesaw and others. Just keep in mind the safety hazards and you can let the kids play here for hours.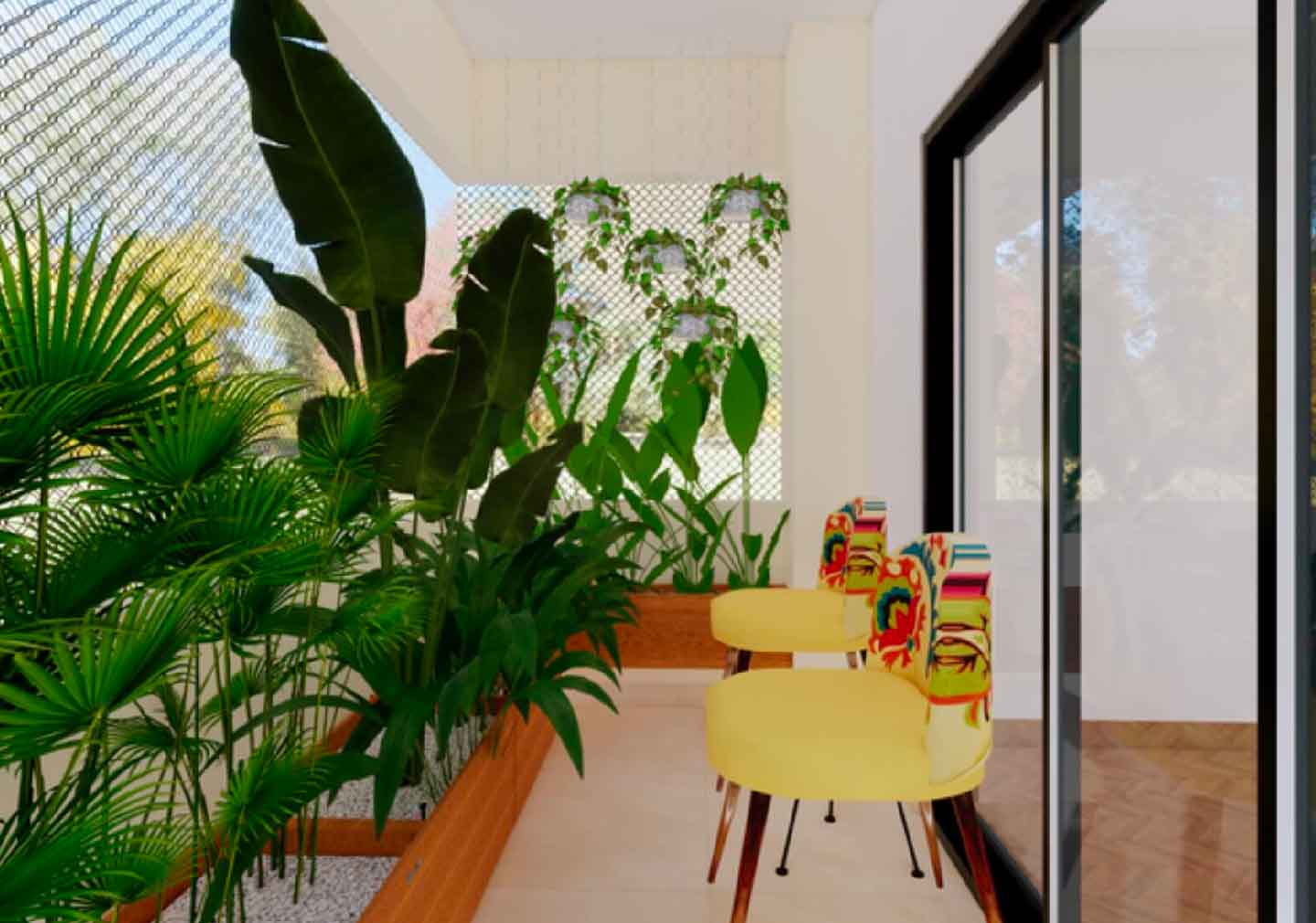 12. Workout Zone:
Nothing is better than working out in the open air with such balcony design ideas for home. Set up your own personal gym on your balcony so that you can work out well in the fresh air. Apart from working out physically, you can also arrange one corner of the balcony as a meditation corner for your mind and soul. There are several balcony decoration ideas that combine two different zones effortlessly.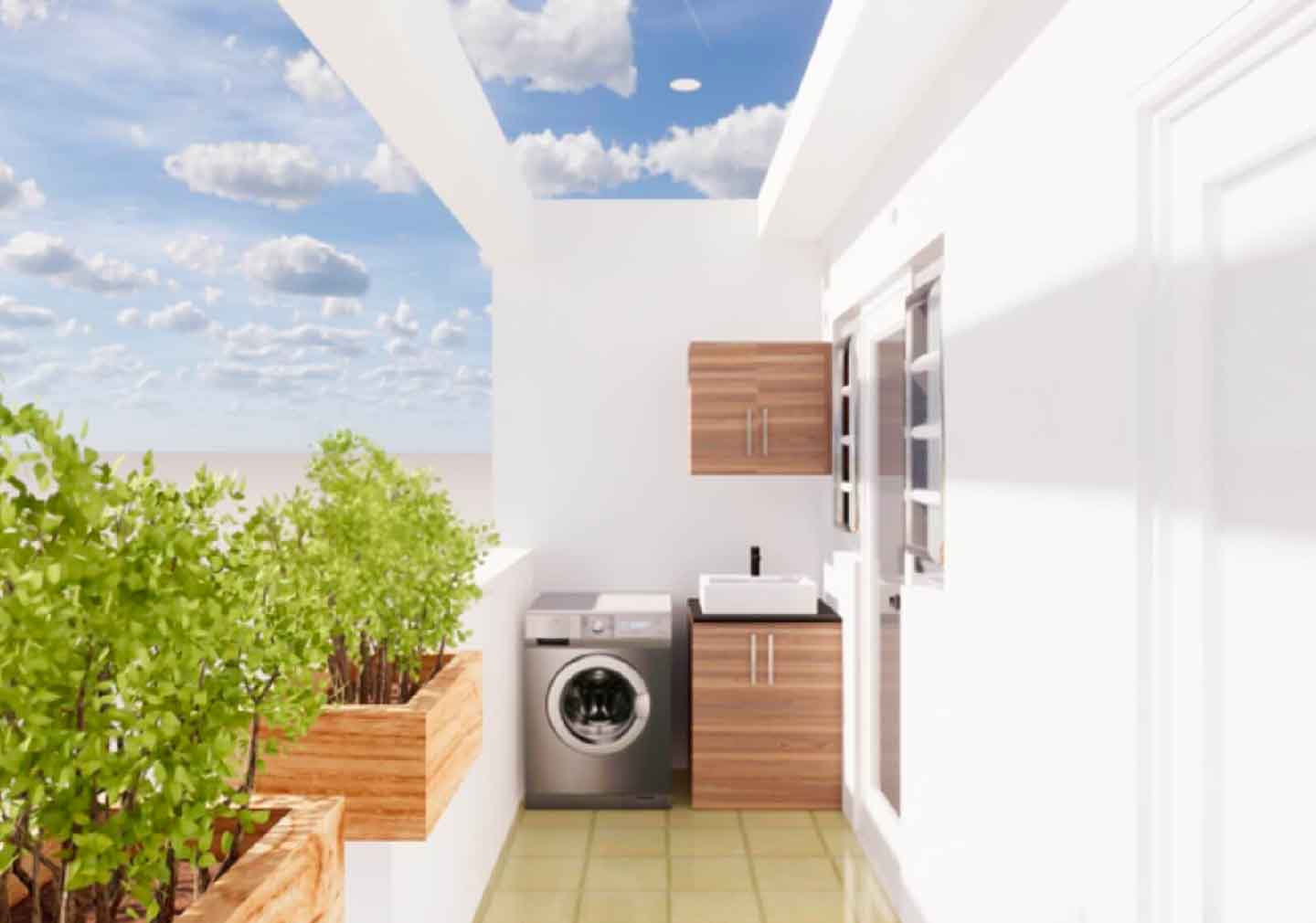 13. Picnic Spot:
Transform your balcony into a picnic spot with balcony decoration ideas where you can gather your friends or family members on different occasions and have fun. You can install a tandoor or similar equipment in one corner of the balcony so that you can actually enjoy the picnic in a realistic way with such balcony design ideas for home.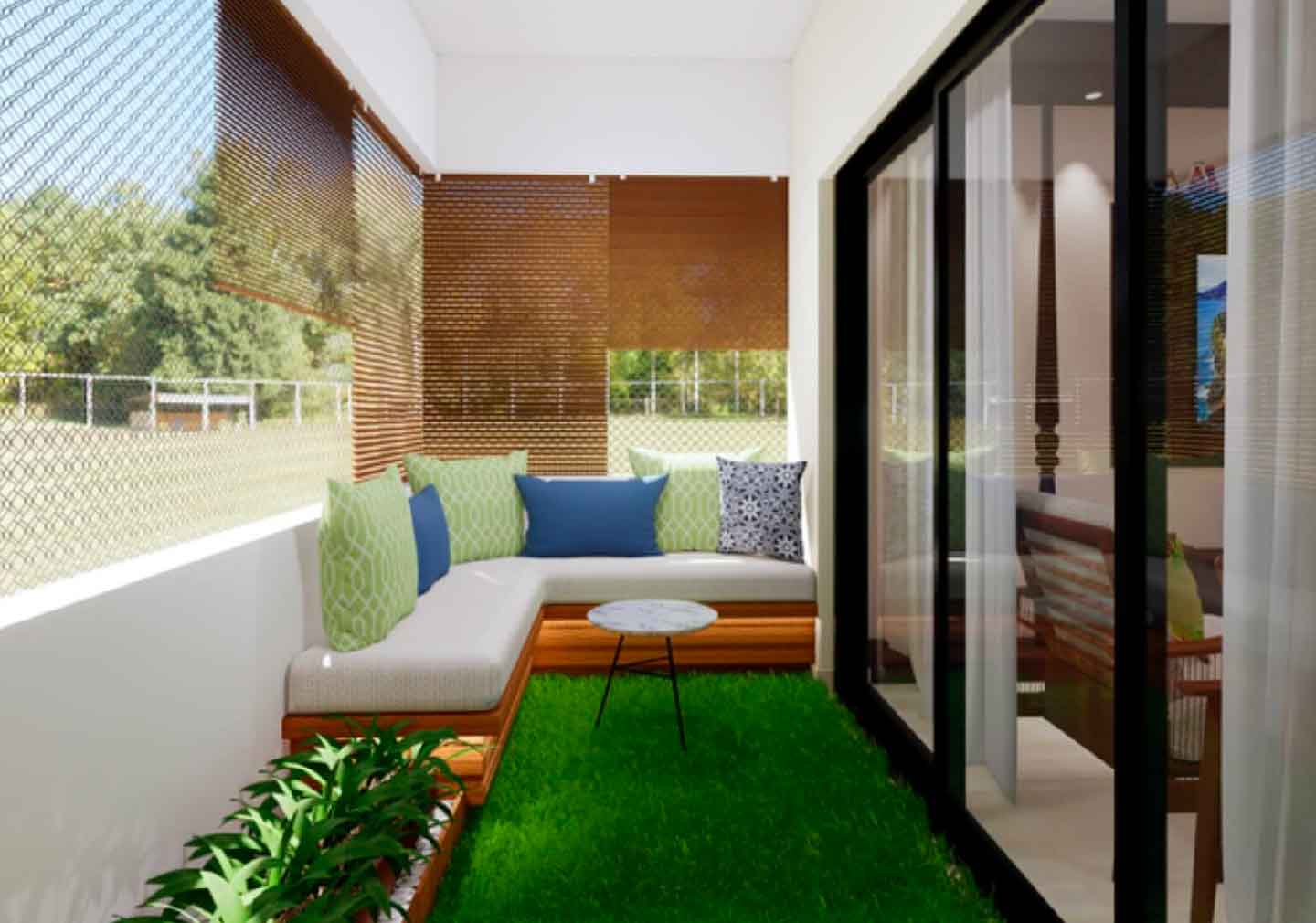 14. Farming Vibes:
People who love plants but do not have a garden or a terrace often fulfill their wishes on their balconies with different balcony decoration ideas with plants. In fact, it is a great idea that the balcony can be utilized in growing some organic items. You can grow flowers, herbs, and even fruits and vegetables that do not take up much of an area. Today, there are so many ways you can have plants such as in pots or even in hanging pots for open balcony decoration ideas. After all, there is different happiness when you enjoy your homegrown delicacies.

15. Mimic the Interiors:
When you are confused enough about how to decorate balconies, one of the best ideas is to mimic your interiors. If you have a balcony outside your bedroom, you can create a replica of the bedroom interior. Similarly, if you have got a balcony just outside the living room, you can surely extend the designs of the living room to the balcony. Even taking admiration from the interiors can help you in getting some lovely balcony decoration ideas.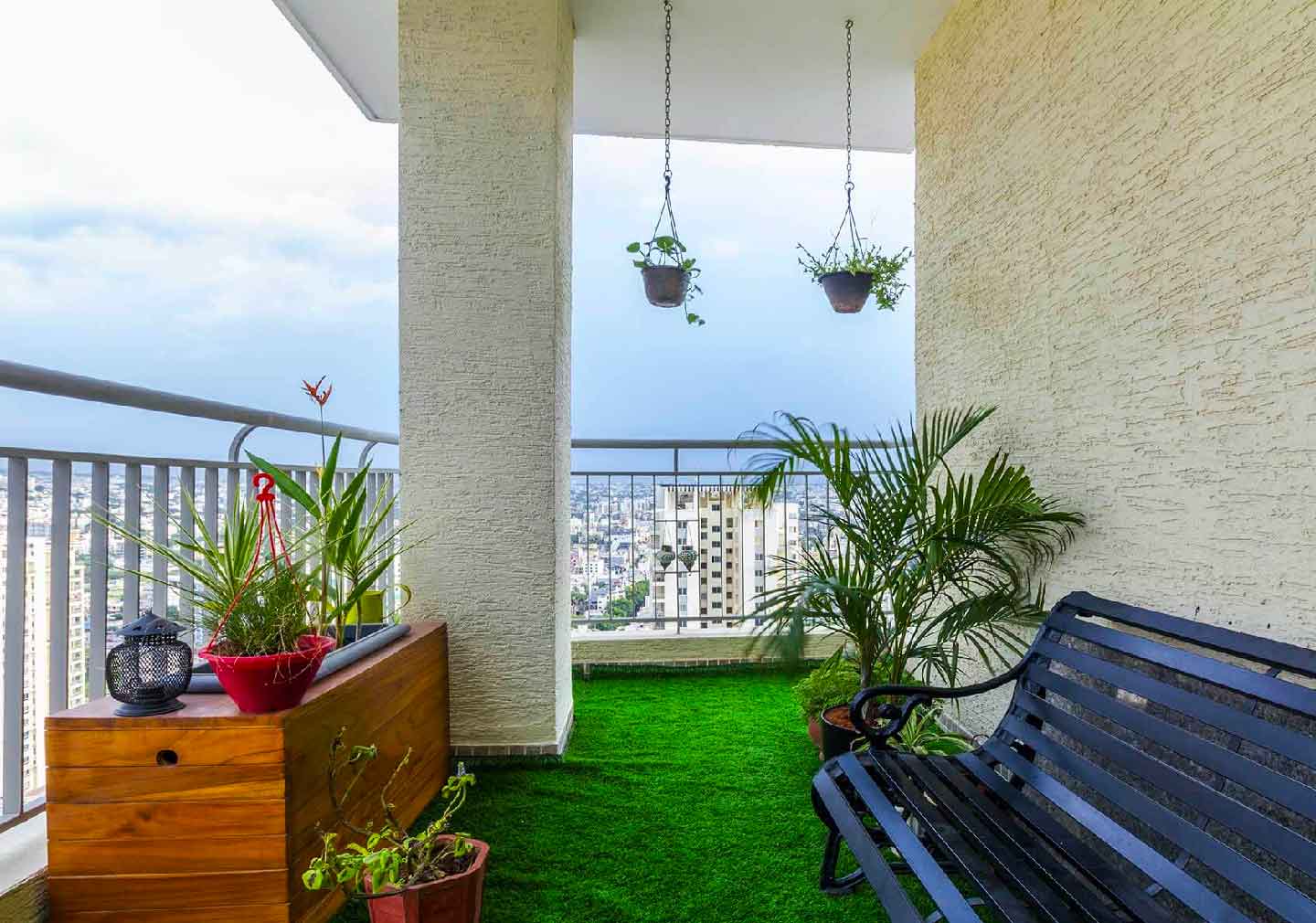 While decorating a home, the major focus remains on the interiors and often the balcony area is left out. But the scenario is different when you are hiring a good interior designer who takes into consideration even the smallest corner of the house. Thus, they make sure to offer your balcony the same importance that is provided to the other parts of the house.
Designing the balcony can be a tricky thing. The selection of the balcony decoration ideas depends upon a number of factors such as the size of the balcony and the elements available. Analyzing the area properly and then picking up the right option can surely offer you a place that can become your favourite corner in the house.
Start your journey with us and craft your
dream home
Make a statement, build a designer home.