"Never underestimate the power of a fresh coat of white paint"- Jeremiah Brent once said it with much assertion and significance. Whites can bring in the win-win situation in any space. When you think of an all-white kitchen, several less-than-flattering phrases may spring up in the mind: blasé, bland, uninteresting and boring. Well, white kitchen interior design don't get the chance to showcase their full potential, though.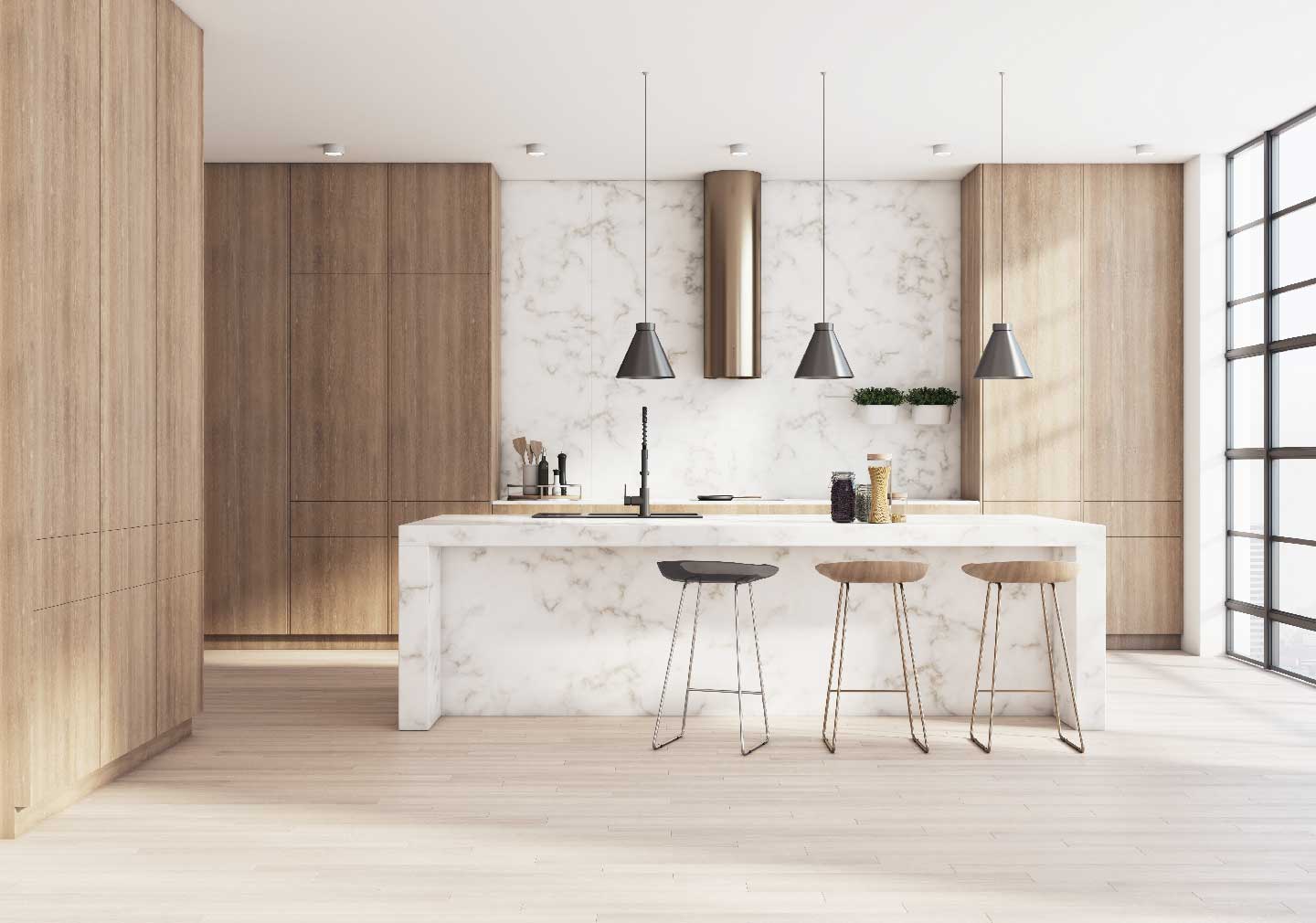 Packed with potential, they are actually the undiscovered masterworks that serve as excellent blank slates for creating a kitchen interior design you desire! Conventional designs definitely focus on contrasting affairs with white. But think out of the box with spaces dipped in the sophistication of all white elements. It suits all the design styles- classic, transitional, farmhouse, Scandinavian, and many others equally well, making it the ideal and minimalist color for fans of contemporary modular kitchen ideas.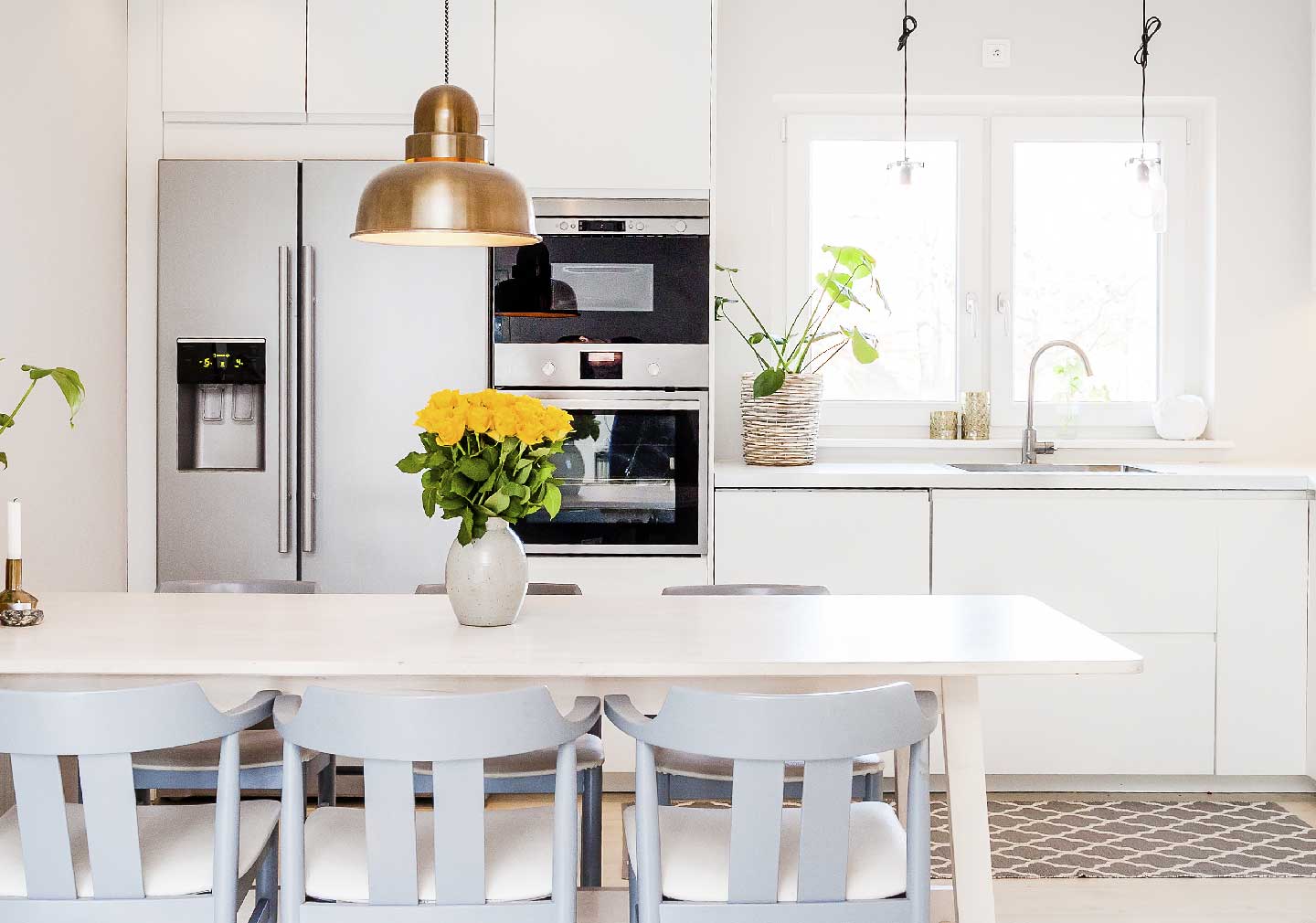 Whites can turnout to be paradoxical! Not the dominant color, though; you already know that one: there will be a lot of white. Islands, tables, chairs, floors, backsplashes, and cabinets are all excellent choices for the overall theme with a white or light tone. A color which can never go out of style, white is the best way to create a complete look, whether it be ultra-modern or contemporary. Walls, counters, floors, and cabinets can all be painted in this color palette.
A striking statement with impeccable aesthetics can be made with just white in the scheme. There are a lot of kitchen colors as per Vastu too. Being a popular color in the design industry, it is often utilized to produce an ambiance of refinement and elegance. When used in modular kitchens where there are no windows, white can reflect light, giving the impression that the space is larger. In reality, the myriad ways to make a white kitchen shine will pleasantly surprise you.
Here are some ideas for creating an all-white kitchen interior design:
A monochromatic white color palette will give your modular kitchen a cohesive and sophisticated look. Consider using different shades of white, such as cream, eggshell, and pearl, to add depth and interest to the space.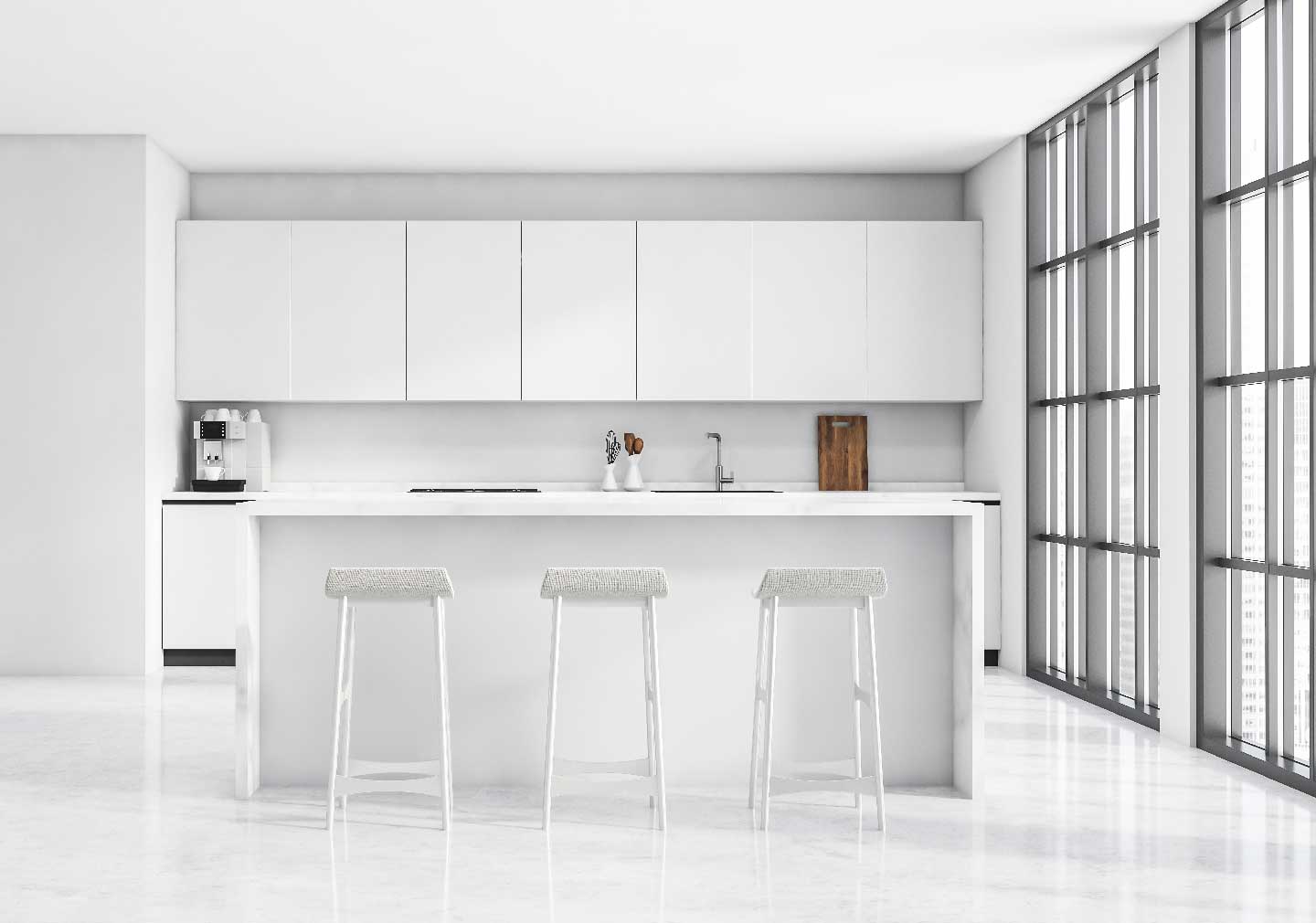 Why not play with textures?
To keep an all-white kitchen interior design from feeling flat or boring, incorporate different textures. Use textured tile backsplashes, rough-hewn wooden beams, and chunky knit throw blankets to add visual interest.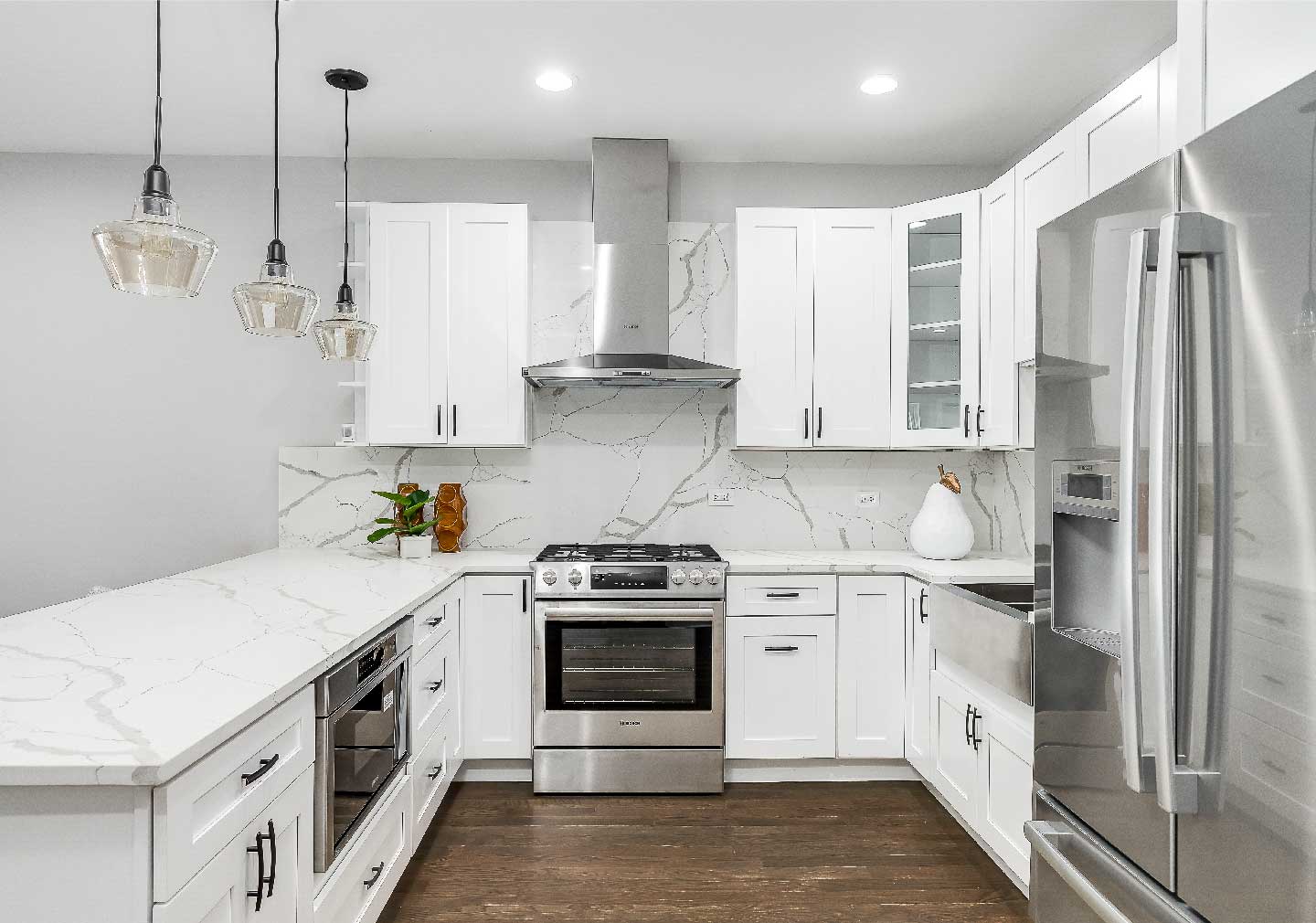 An all-white kitchen interior design will benefit from plenty of natural light, as it will help to brighten the space and keep it from feeling sterile. Consider installing large windows or skylights to bring in as much natural light as possible.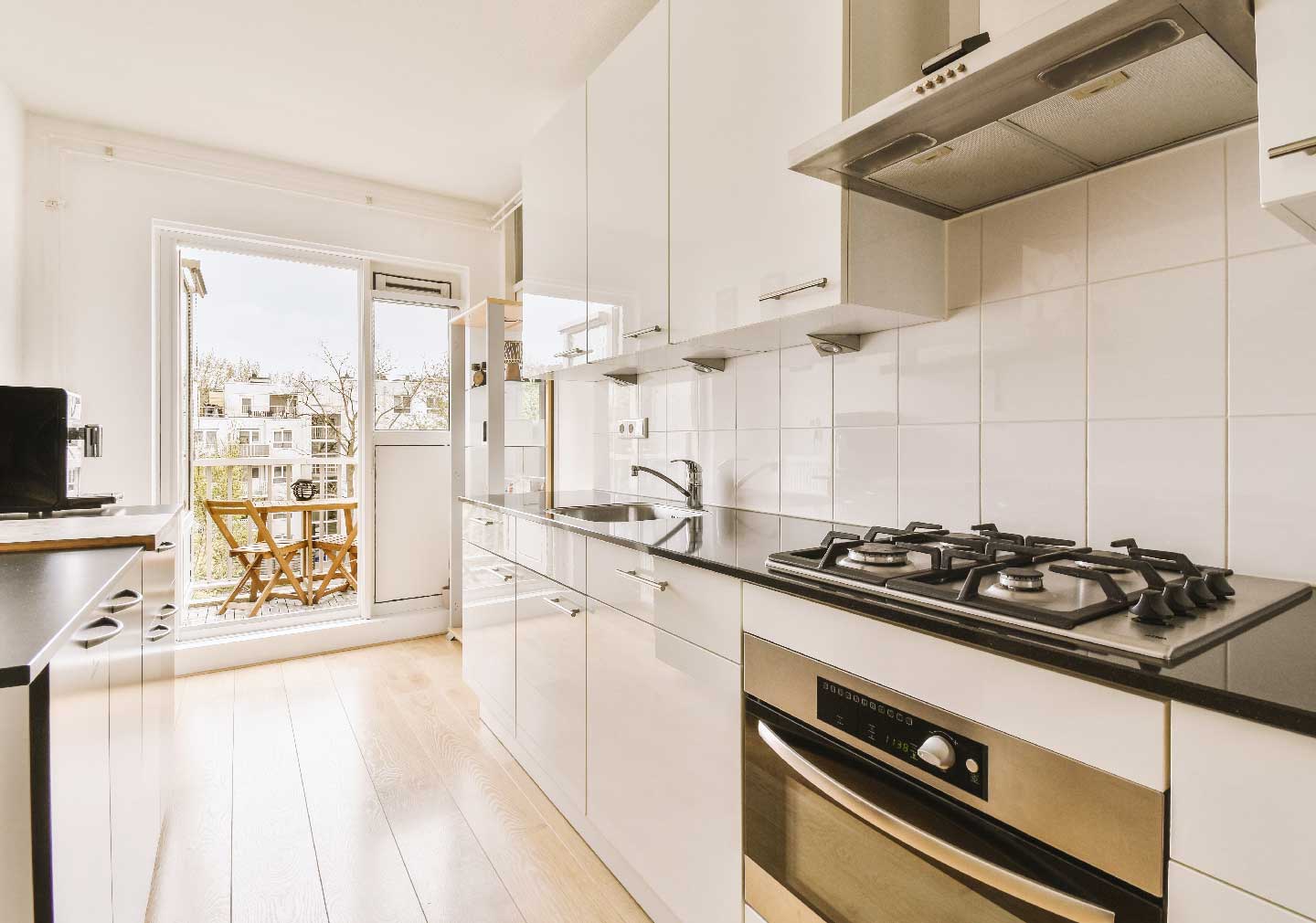 Metallics, such as stainless steel and brass, can add a touch of glamor to an all-white modular kitchen. Use them sparingly, such as on faucets, hardware, and light fixtures, to add a bit of shine without overwhelming the space.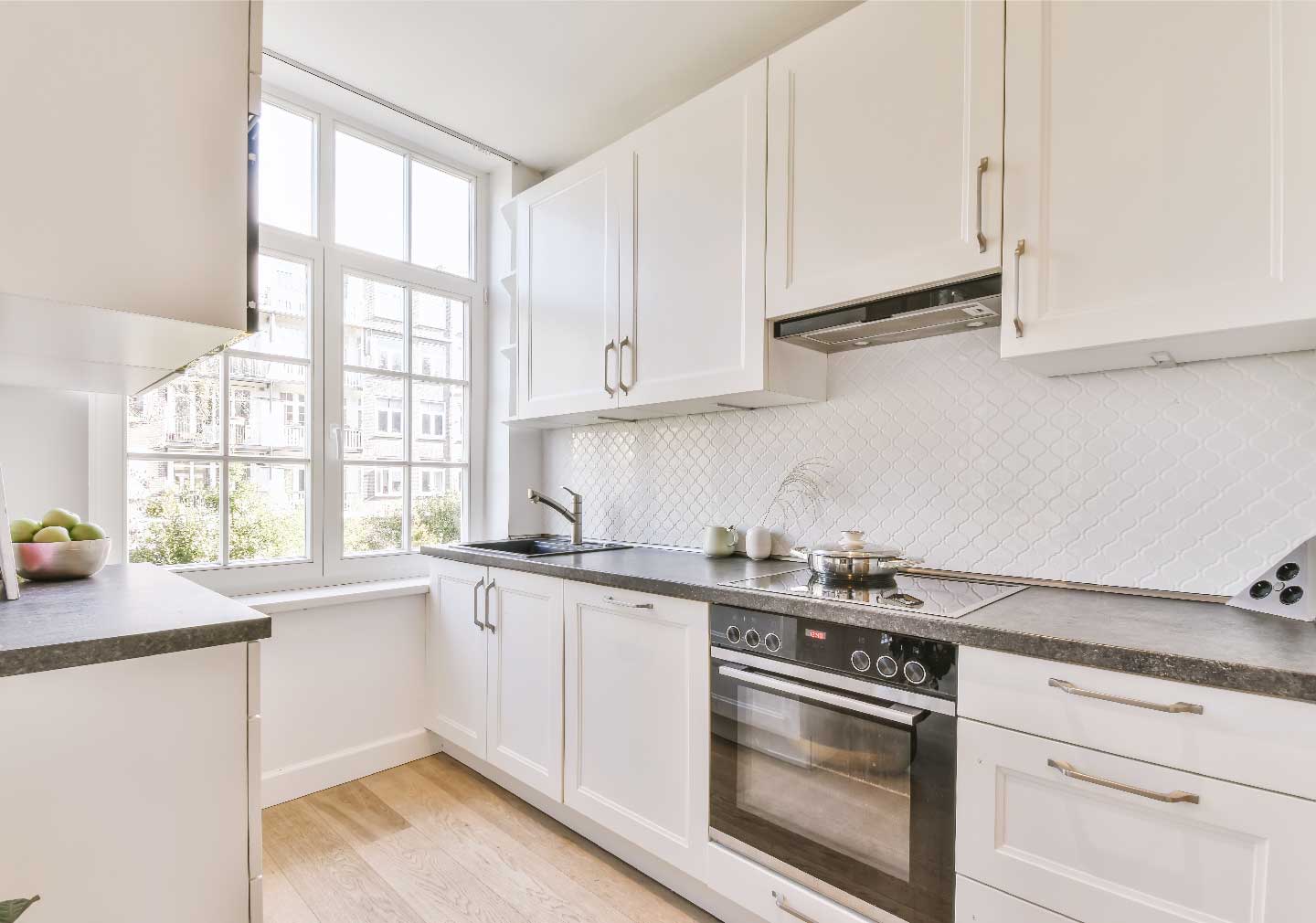 While an all-white kitchen layout is a classic and timeless look, it can be a bit stark. To add a bit of warmth and personality, consider adding pops of color through backsplash or accessories such as dish towels, pots and pans, and vases of fresh flowers. An artwork amidst this can be the show stealer!
Open shelving is a great way to add storage to an all-white modular kitchen without detracting from the clean and minimalist aesthetic. Use white dishes and glassware to blend seamlessly with the shelving and keep the look cohesive.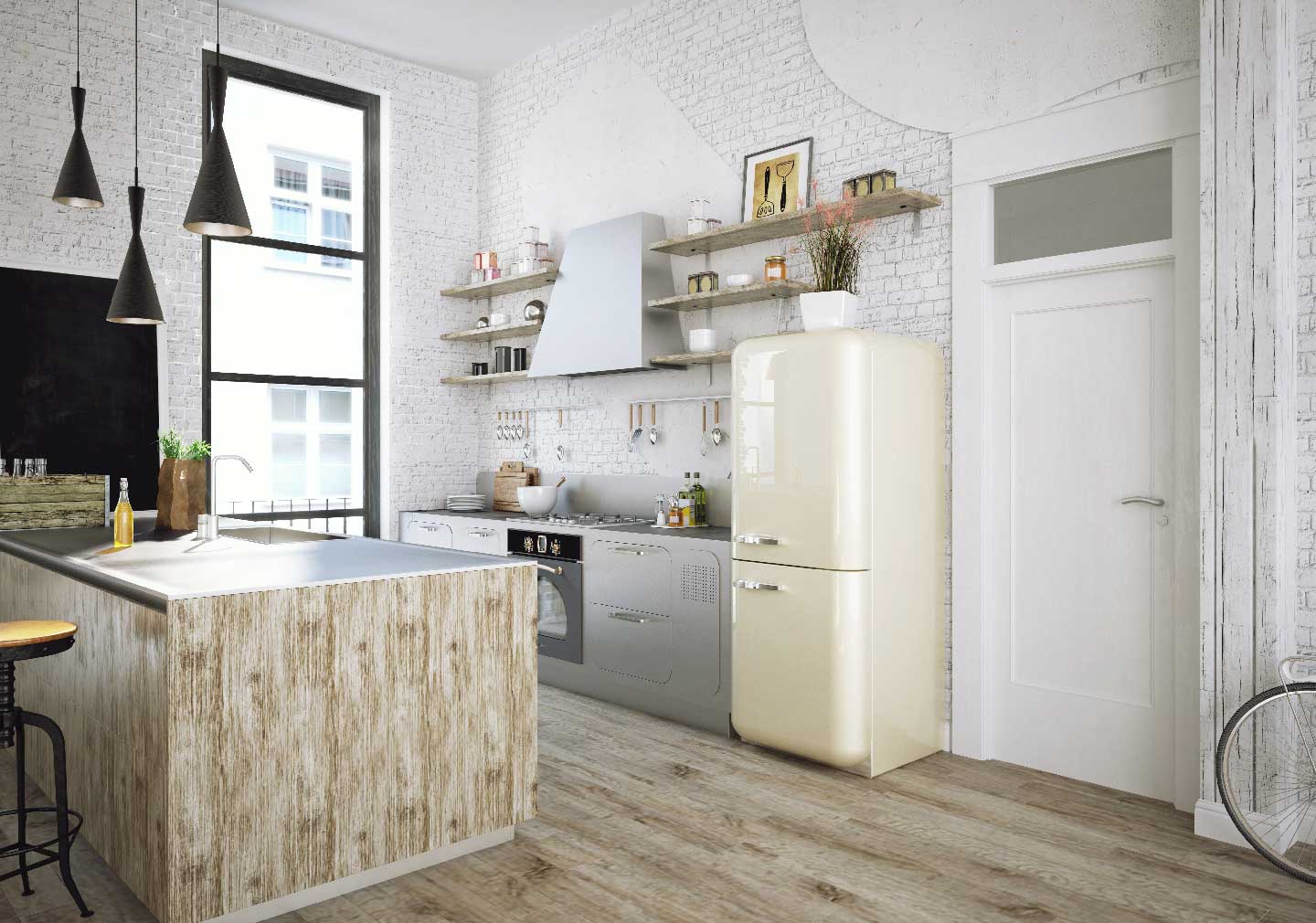 Consider a white backsplash
A white backsplash can help to reflect light and make the kitchen feel larger and more open. Whether it's a high gloss one or the faux brick style, white backsplash can make the kitchen decor look exquisite. Consider using a textured white tile to add interest and depth to the space.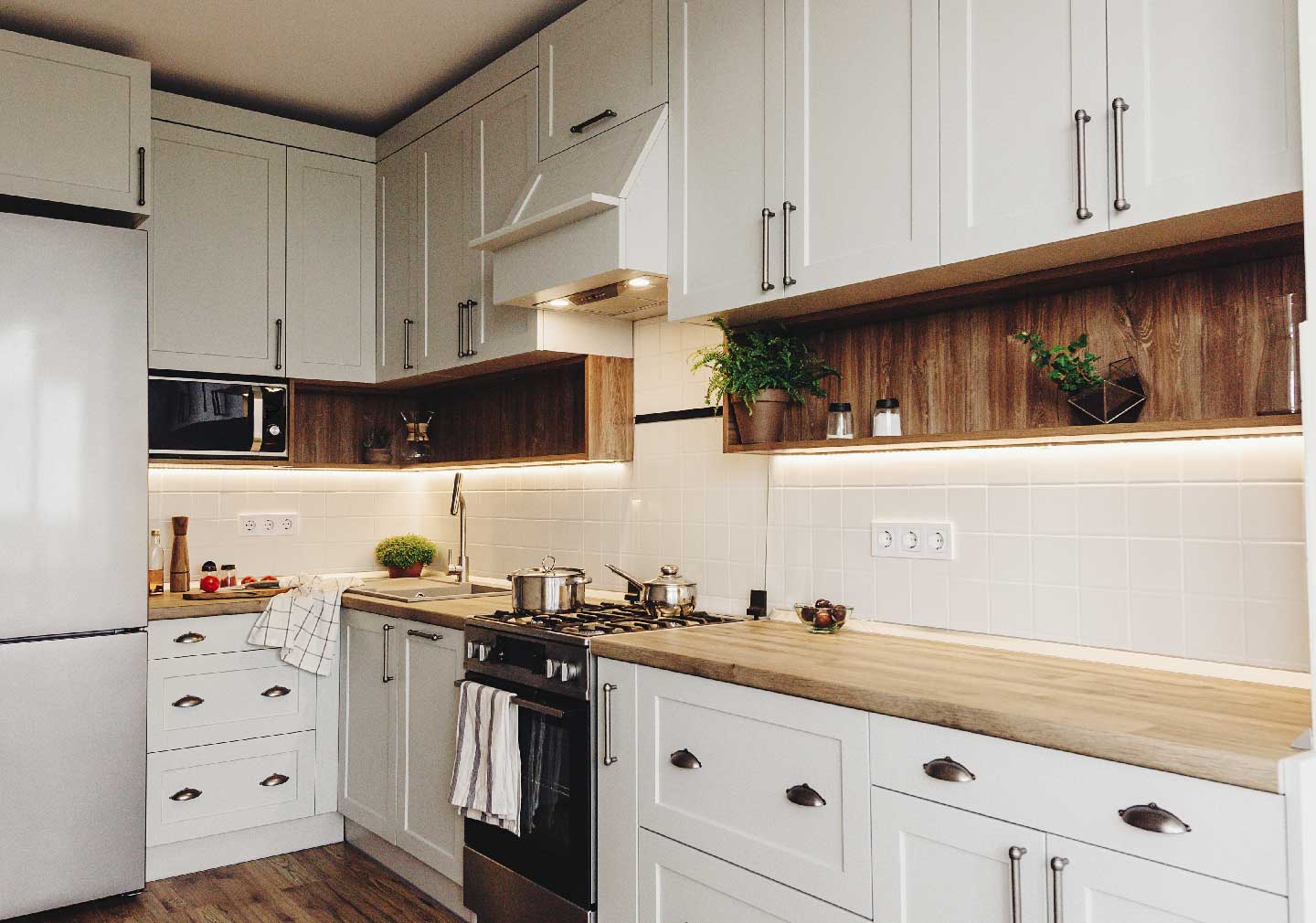 To keep the all-white look cohesive, choose white appliances such as a fridge, oven, and dishwasher. If you have existing stainless steel appliances, consider installing white cabinet panels to help them blend in with the rest of the kitchen layout.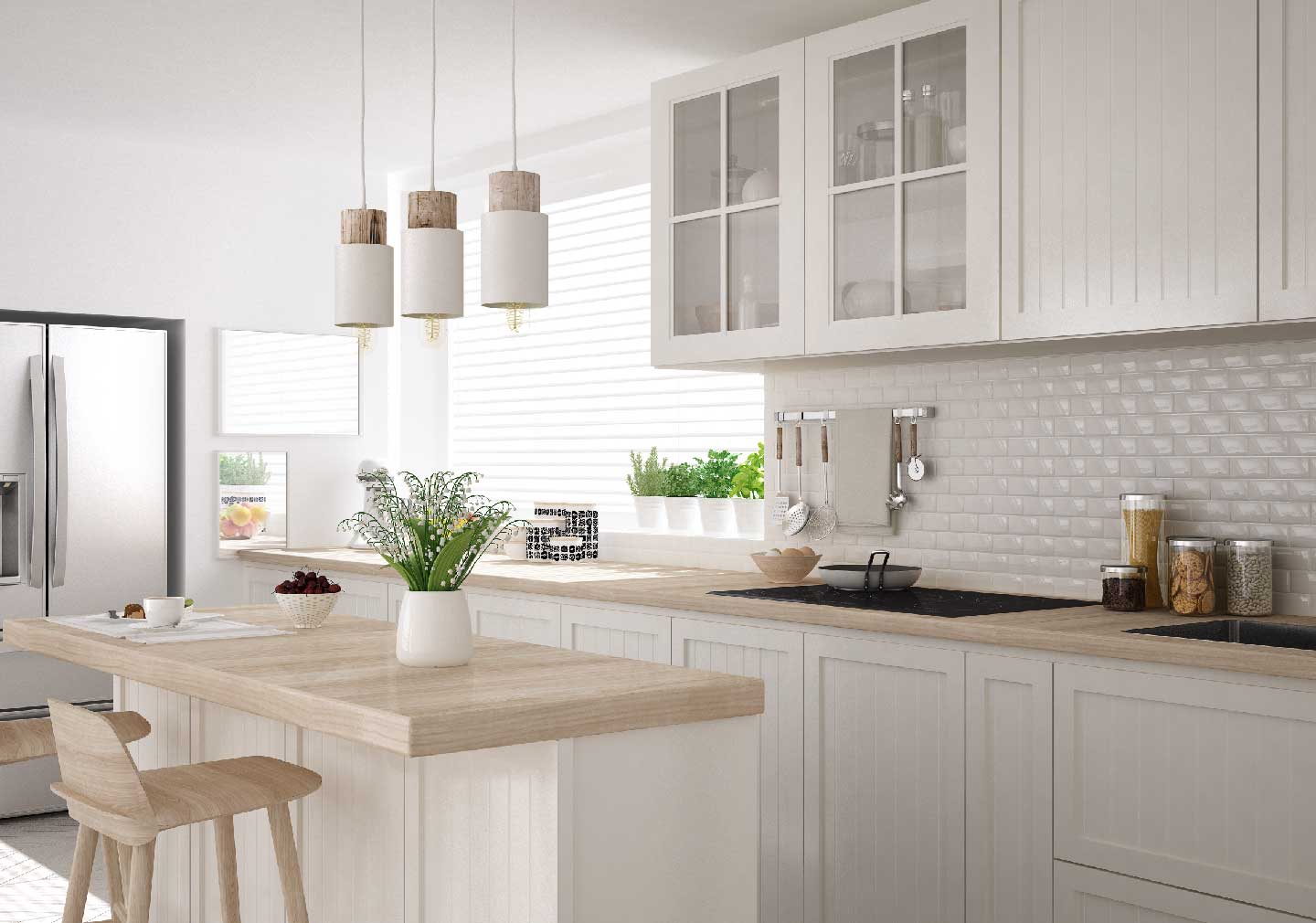 Add a white kitchen island
A white kitchen island can serve as a centerpiece for the space and provide additional storage and workspace. Choose a modular kitchen interior design with open shelving and a white marble or quartz countertop to keep the look cohesive.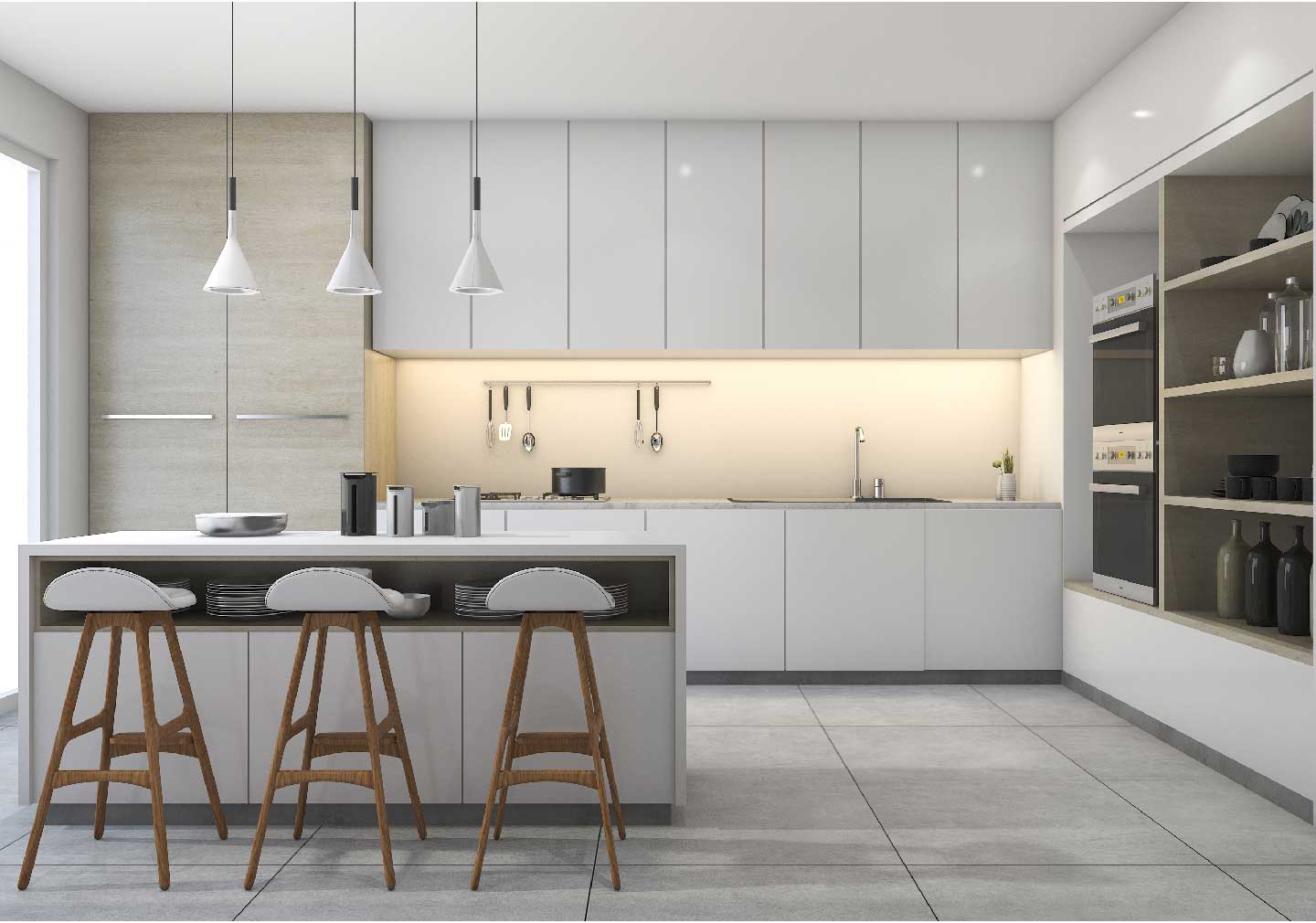 The norm is white lighting
White pendant lights or a chandelier can add a touch of elegance to an all-white kitchen interior design. Choose a design with a white shade or finish to keep the look cohesive as lighting can change the look.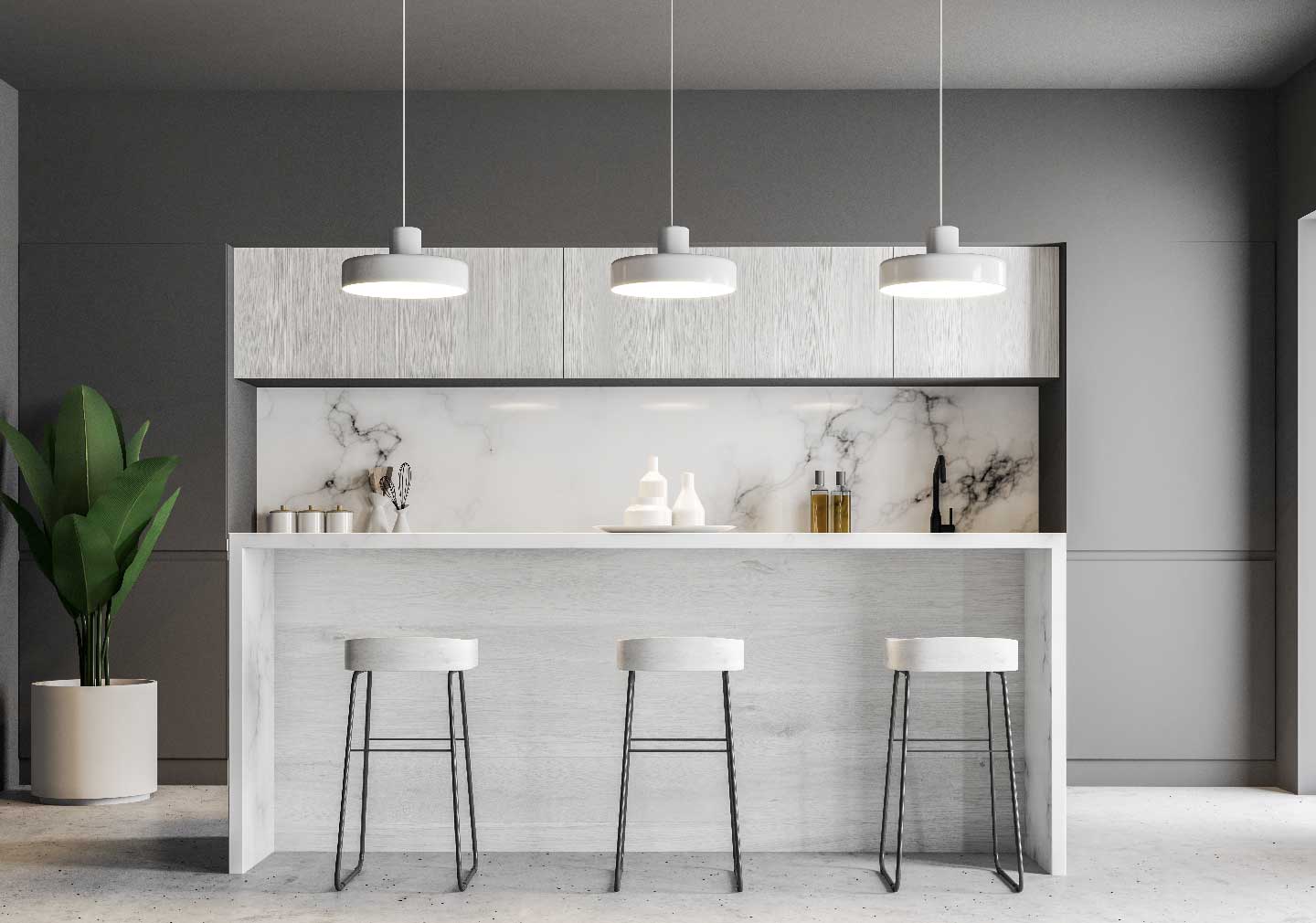 Let's face it: the white kitchen's pristine, modern appearance isn't going anywhere anytime soon. This incredibly fashionable style can range from an all-white interior to a kitchen with white kitchen cabinets and counters. A white kitchen's flexibility to adapt to any style you want is possibly its best feature.
Loving this all white interior look for your kitchen space? Bonito Designs can make your kitchen space look lavishly beautiful in any design style you want. Visit our experience center for more information.