Introduction
Miami: where the sun-soaked beaches, pulsating nightlife, and relentless architecture create an atmosphere of sheer exuberance. Known as the playground of the rich and famous, Miami is a melting pot of cultures and influences that shape its unique style and design sensibility. 
Miami is a city that invigorates energy, vitality, and a zest. Its design landscape reflects this dynamic spirit, blending contemporary sophistication with a touch of glamour. Miami's home interior design is all about making a statement, embracing individuality, and celebrating the vibrant spirit of the city itself.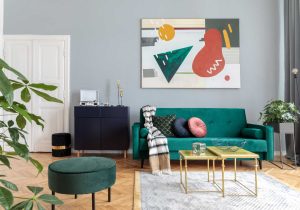 Miami Art Moderne: Where Modernism Meets Artistic Flair:
Enter Miami Art Moderne, a design theme crafted by Gauri Khan and brought to you by Bonito Designs as an exclusive design theme for your dream home. It encapsulates the essence of Miami's style in a captivating as well as artistic manner.
It's a harmonious fusion of modernism, geometric precision, and a dash of glamour. We tried to capture the heart and soul of this aesthetic, ensuring that your home becomes a testament to the bold and beautiful spirit of Miami. 
Dive into a Palette of Vivid Liveliness:
Art Moderne is here to inject life into your surroundings! It bids farewell to mundane and says hello to a colour palette that packs a punch. Picture deep blues that whisk you away to an underwater paradise, electric greens that electrify the room with energy, and sunny yellows that radiate sheer delight. Blend these eye-catching hues with sophisticated neutrals, creating a harmonious visual feast that will make your heart skip a beat. 
Luxury Redefined: Materials that Dazzle:
When it comes to Art Moderne, luxury isn't just a word—it's a state of mind. Bonito Designs takes pride in selecting materials that redefine opulence and redefine your concept of "wow." Imagine polished metals that shimmer like starlight, sleek glass that reflects elegance at every angle, and lacquered finishes that add a touch of sophistication.
And let's not forget about the occasional appearance of natural wood, showcasing its organic beauty with understated flair. It's like having your own personal red carpet rolled out in your space! 
Let There Be Luminescence: A Light Show Like No Other:
In the world of Miami Art Moderne, natural light floods the space, breathing life into every nook and cranny. But the true magic happens with the meticulously designed artificial lighting fixtures that take centre stage, illuminating your space with a theatrical flair. 
Experience the Magic of Miami Art Moderne with Bonito Designs:
Prepare to be whisked away on an extraordinary journey through the captivating world of Miami Art Moderne with Bonito Designs' celebrity-designed interiors. Let our team of design experts transport you to canvas for artistic expression. Immerse yourself in the vibrant colours, luxurious materials, and carefully curated artistry that define this fresh and fabulous aesthetic. 
So, are you ready to embrace the fresh and fabulous world of Miami Art Moderne? Call us today and start your interior design journey today for personalised interiors.