Introduction
When we think of Halloween, images of spooky decorations, jack-o'-lanterns, and cobweb-covered corners immediately come to mind. However, at Bonito Designs, we believe that Halloween doesn't have to be all about orange and black, plastic skeletons, and fake spiderwebs. This year, we invite you to explore the art of blending interior design with the spirit of Halloween, transforming your home into a captivating and elegant eerie masterpiece. 
Setting the Stage: Bonito Designs Interior Magic
 
Before we dive into the Halloween magic, let's introduce you to Bonito Designs, a renowned name in the world of interior design. With their expertise in crafting beautiful and functional spaces, Bonito Designs is known for creating interiors that are both aesthetically pleasing and practical. The blend of innovation and creativity is their forte, making them the perfect partner to craft your unique Halloween-inspired interior. 
Unique Halloween Decor Ideas by Bonito Designs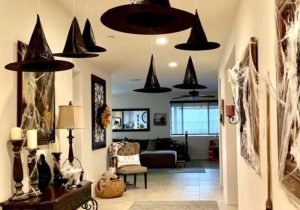 Sophisticated Halloween Colour Palette:
Embrace the spirit of Halloween by incorporating dark and moody colours into your interior. Deep purples, rich blacks, and elegant shades of Gray can be expertly integrated into your existing color scheme to give a subtle Halloween twist. Bonito Designs can help you select the right shades that suit your home's ambiance. 
Haunted Elegance in Lighting:
Proper lighting can dramatically alter the atmosphere of a space. Consider adding elegant candelabras with flickering LED candles, chandeliers adorned with black roses, or strategically placed lanterns to create an eerie yet classy atmosphere. Bonito Designs can guide you on choosing the ideal lighting fixtures to achieve this unique effect. 
Statement Halloween Art:
Bonito Designs can assist you in selecting Halloween-themed art or sculptures that are tasteful and fit seamlessly into your existing decor. Think portraits of Victorian-era figures with ghostly apparitions, or sculptures of ravens and black cats to add a touch of mystery. 
Luxe Halloween Textiles:
Upgrade your interior with rich, luxurious textiles that invoke the Halloween spirit. Velvet drapes, satin cushions with subtle Halloween motifs, or even a damask-patterned tablecloth can create a lavish yet eerie ambiance. 
Botanical Horrors:
Incorporate black roses, dark succulents, and elegant yet eerie botanical arrangements. Bonito Designs can suggest how to place these floral elements to create a hauntingly beautiful interior. 
Subtle Halloween Patterns:
Consider using wallpapers or upholstery with intricate patterns, like damask or intricate lace, which can add a layer of sophistication to your Halloween interior without overwhelming it. 
Conclusion
This Halloween, why settle for the ordinary when you can have the extraordinary? Bonito Designs offers the expertise to blend interior design with the spirit of Halloween, creating a hauntingly beautiful atmosphere that will leave your guests spellbound. So, dare to be different and work with Bonito Designs to transform your space into an elegant eerie masterpiece this Halloween season. Embrace the magic, embrace the artistry, and make this Halloween truly exceptional with Bonito Designs! 
Explore the endless possibilities and elevate your Halloween interior design by contacting Bonito Designs today. Your dream Halloween transformation is just a consultation away!