Introduction:
The kitchen, where delicious meals are prepared, and memories are made. Aside from the utensils, the stovetop is the unsung hero of the kitchen. In this blog, we'll go on an adventure to discover the meaning behind hob design, from its interesting origins in India to the most important factors to consider when selecting a hob that will complement your home's existing decor. Get a mug of chai, because we're about to enter the hot topic of hob design.
The Evolution of Crockery and Design in India: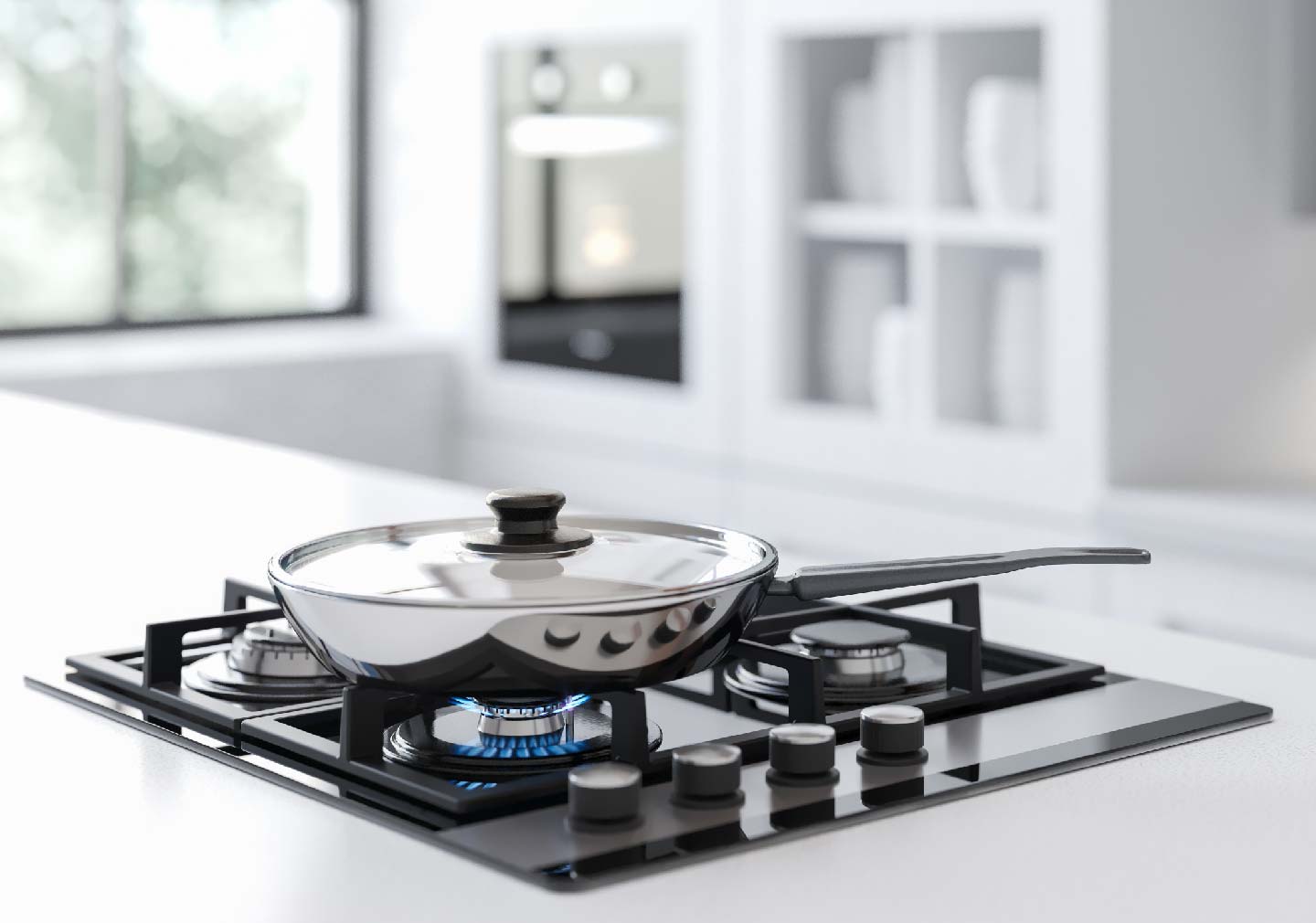 In recent years, hobs have made great strides in both form and function, becoming indispensable partners in the kitchen. Let's take a brief look at the fascinating history of hobs before we plunge into the present wonders of their design.
Back in the day, the kitchen was the heart of the home and a place where meals were prepared, and tales were shared. The traditional Indian kitchen has long been a veritable treasury of exotic flavours and fragrances. Before the invention of the specialised hob, people cooked on open flames or clay stoves.
Kitchen gadgets have evolved with the rest of the world. Gas stoves have greatly improved the cooking experience by allowing for more efficiency and control. A dependable heat source for our delicious dishes, the gas hob quickly became a kitchen must in Indian homes.
Fast forward to the present day, and the world of hob design has expanded beyond our wildest culinary dreams. Today, hobs come in a multitude of forms, from classic gas hobs to sleek induction cooktops and cutting-edge electric hobs. These modern marvels not only elevate our cooking experience but also add a touch of style and sophistication to our kitchens.
Getting the Right Hop for Your Kitchen:
Let's have a look at the stove's main attraction now. A stylish hob can do wonders for the look of your kitchen and the quality of your meals. But with so many choices, how do you choose the hob that not only serves your practical purposes but also looks great in your kitchen and throughout your house? Don't worry; everything is taken care of here.
Kitchen ranges that combine form and function
Finding that sweet spot between form and function is essential when designing a hob. Think about how your kitchen is currently set up and how much room you have. Is the timeless appeal of a gas stove more appealing to you than that of a sleek and contemporary induction hob? There are benefits to each kind; choose the one that best fits your cooking style and aesthetic preferences.
Incorporating Eye-Catching Appearances into Hob Designs
The days of hobs being dull and uninteresting are over. The style of a hob may now be considered a major design element in a kitchen. There is a variety of hob styles available, from sleek stainless steel to colourful glass. Don't be afraid to express your individuality via your kitchen's design while yet maintaining a cohesive aesthetic across the rest of your house.
How to Choose the Best Surface for Your Stove Top?
The material you choose for your hob will have a significant impact on the longevity and upkeep of your stove, as well as the overall look and feel of your kitchen. Ceramic cooktops are known for their smooth and streamlined design, while stainless steel cooktops give off an air of professionalism and modernity. Think about how often you cook, how often you clean, and what kind of look you're going for.
Preserving the Life and Lustre of Your Hob: A Primer
After settling on the ideal hob, it's crucial to maintain it in tip-top form. It will last longer and keep its lustre with regular cleaning and care. Use mild soaps and water instead of abrasive cleaners. If you take care of your cooker and follow the instructions, you can use it for many years without any problems.
Here are 21 hob designs that you can consider for your kitchen:
Classic Gas Hob:
Embrace the traditional charm and precise control of a gas hob, perfect for those who love the art of cooking.
Induction Hob:
Enjoy the sleek and modern design of an induction hob, which provides rapid heating and energy efficiency.
Ceramic Hob:
Add a touch of elegance to your kitchen with a smooth and easy-to-clean ceramic hob, available in various sizes and configurations.
Electric Coil Hob:
This timeless hob design offers reliable heat distribution and is a budget-friendly option for home cooks.
Domino Hob:
Ideal for smaller kitchens or as an additional cooking surface, a domino hob allows you to mix and match different cooking zones according to your needs.
Wok Hob:
If you love stir-frying and Asian cuisine, a wok hob with a specialized wok burner provides intense heat for authentic flavors.
Built-in Griddle:
Take your culinary skills to the next level with a built-in griddle hob, perfect for preparing breakfast favorites like pancakes and grilled sandwiches.
Teppanyaki Hob:
Bring the sizzle of Japanese teppanyaki cooking to your kitchen with a dedicated teppanyaki hob, complete with a flat cooking surface.
Downdraft Hob:
For a seamless and minimalist look, consider a downdraft hob with a built-in ventilation system that eliminates the need for a separate hood.
Modular Hob:
Create a customized cooking area with a modular hob that allows you to mix and match various cooking elements like gas burners, griddles, and induction zones.
Induction Wok Hob:
Designed specifically for wok cooking, an induction wok hob provides high heat and precise control for stir-frying perfection.
FlexInduction Hob:
Enjoy the versatility of a FlexInduction hob that combines induction technology with flexible cooking zones, allowing you to place pots and pans anywhere on the surface.
Gas on Glass Hob:
Experience the best of both worlds with a gas on glass hob, which combines the elegance of a glass surface with the power and control of gas burners.
Touch Control Hob:
Embrace modern technology with a touch control hob that offers intuitive operation and sleek aesthetics.
Sealed Plate Hob:
A sealed plate hob is a durable and affordable option, featuring easy-to-clean solid heating elements for efficient cooking.
Domino Induction Hob:
Perfect for creating a cooking station tailored to your needs, a domino induction hob allows you to combine induction zones with other elements like grills or fryers.
Steamer Hob:
If healthy cooking and retaining nutrients are your priorities, a steamer hob lets you cook food using steam for delicious and wholesome meals.
BBQ Grill Hob:
Transform your kitchen into a grill master's paradise with a built-in BBQ grill hob, complete with grates and adjustable heat settings.
French Top Hob:
This unique hob design features a large, flat cooking surface with different temperature zones, allowing you to cook multiple dishes simultaneously.
Triple Ring Hob:
Ideal for professional-style cooking, a triple ring hob offers a powerful central burner that delivers intense heat for rapid boiling or searing.
Rotisserie Hob:
For those who love succulent roasted meats, a rotisserie hob lets you effortlessly prepare juicy rotisserie-style dishes in the comfort of your kitchen.
Conclusion:
You are now an expert in hob design, having learned everything from its historical foundations to how to choose the ideal hob for your kitchen. Keep in mind that the appropriate hob not only improves your cooking experiences but also makes your kitchen seem more elegant. The options for stovetops are many; use them to express your inner chef and cook up some delicious memories.
Remember to consider factors such as cooking techniques, available space, energy efficiency, and maintenance requirements when making your choice. Whether you opt for a classic gas hob, a sleek induction hob, or any other design that suits your needs, ensure that it aligns with your cooking style and lifestyle.
With Bonito Designs and let their expertise transform your kitchen into a culinary haven? With their innovative solutions and attention to detail, you can have a kitchen that not only meets your cooking needs but also reflects your unique style.