Managing Your Child's Toys is Not a Child's Play..
So you are finally moving into your dream house. Congratulations! You've dreamt of this day for years and it's here, but as soon as start working on the house decor you realize that storage is nightmare here too.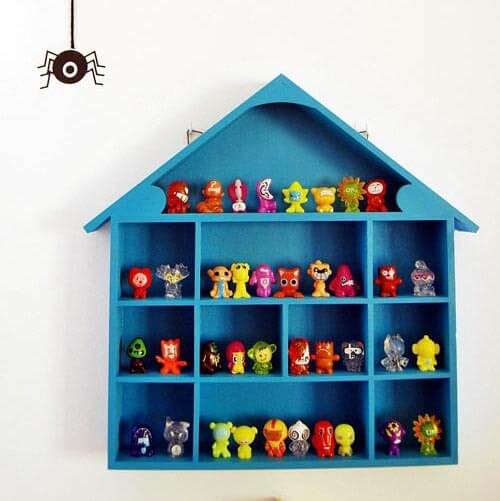 Source
Decorating huge and fluffy toys is not a big task, but what about simple and cute toys you want to display?
And decorating home becomes even more tedious when you have small kids. Managing space in kids bedroom for their clothes, books, essentials and most importantly toys which are strewn around all over the house becomes a headache.
Be it guest room, lobby or even kitchen you will find their toys and rattles all over the house. And no matter how spacious your house is – with kids around – storage will always seem like a huge challenge.
Fear not, help is at hand. We tell you simple, smart and snug ways to manage the storage space for toys.
Simple toy storage solutions – First things first..!!
Toddlers and even school going kids have a tendency to pick their favorite toys, play with them for a while and move on to next room leaving the toys around. A better idea would be to have small storage spaces or options in each room, once the child leaves a room just pick one or two toys to another room.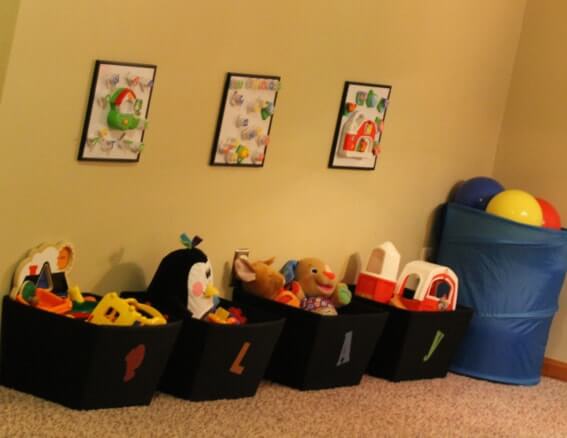 Source
You can pack the rest of the toys in that room itself. Storage accessories have to be managed in a way that bigger space like a rack should be placed in the child's room since this is where he spends most of his time and small storage accessories can be had in guest room, living room and other places where the child spends his remaining time.
Now coming on to storage options, these days there is a huge variety of storage essentials available. You can check them at nearby home decor shop or even search the popular websites for storage options for toy storage. Popular websites have free home delivery facility available in most cities and you can have them dropped at your doorsteps.
Here is what is available in the market:
1. Racks and Cabinets:
A child should have a rack in his room where you can keep his toys. The higher shelves can be for those huge teddies that every child gets as a gift and never plays with.
The lower shelves can have space for those little toys that are your child's favorite. Since they are placed at a hand's reach you can easily pull them out and keep them back too.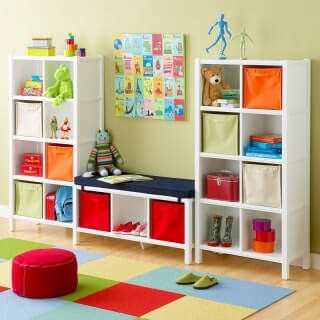 Source
It is durable, spacious, theme to place the stack of toys inside and easily gels with the decor in your child's room. This and many more such options are easily available online or at any local shop as well.
 More options with variable shelves, colours and styles are available in the market easily.
2. Step wise Chests
These is multipurpose storage options which will serve your child till he becomes a teenager. You can neatly store and display his toys at the same time, check this one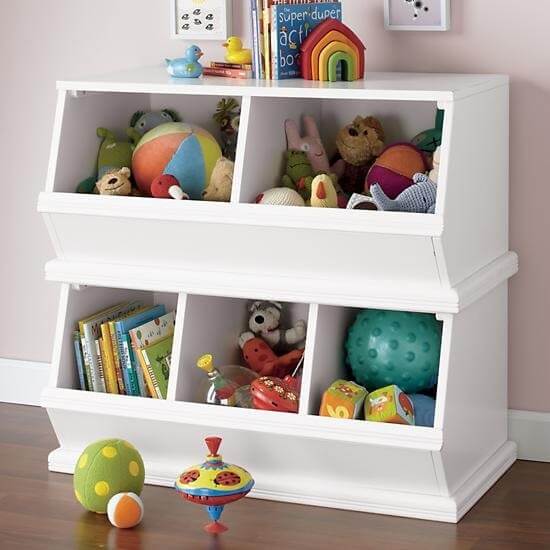 Source
3. Hammocks
This is the best storage solution for kids who love to sleep cuddling on to their toys. You can place this hammock on the ceiling of the child's bed. In the day time it can stack all your child's furry toys.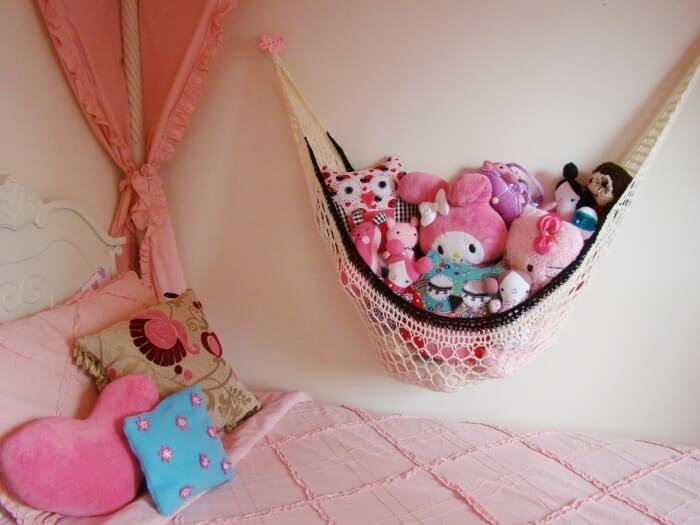 Source
 
Before sleeping, you can take the toys out from the hammock for the child to play and when he sleeps quietly put them back on the hammock.
"Best part, it doesn't occupy space on your floor!"
4. Stools
These are yet another classic storage option that has gone chic to accommodate toys even in the living room.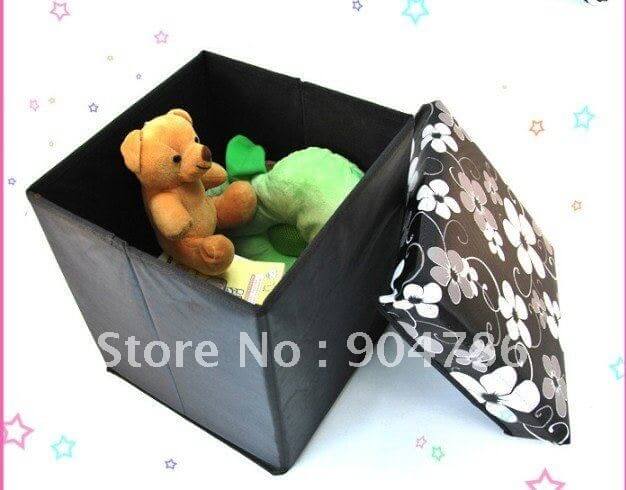 Source
There is a huge collection of stools available that look classy in your living room, add to the seating capacity in the room and can still hide the numerous toys that your kids leave behind carelessly on the sofa or on the floor.
5. Baskets
This is a very spacious option and can be used to carry toys around with the kids or keep them neatly in one corner. Baskets like this are available in various sizes, colors and designs.
Source
6. Hanging Racks
These racks cling on to your walls and can be a space option for soft toys. This saves your floor space and adds a glam spot for your walls.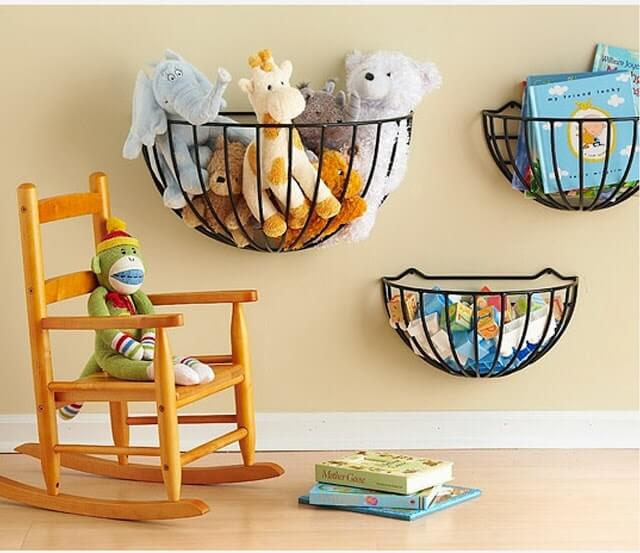 Source
7. Toy Organizers in kids room
This is more of a modern avatar of a cabinet where one can display and keep toys at the same time. This is a good option if you have little spacious kids room.
Source
8. Under bed toy storage provision
These is multipurpose storage options which will serve your child till he becomes a teenager. You can neatly store and display his toys at the same time, check this one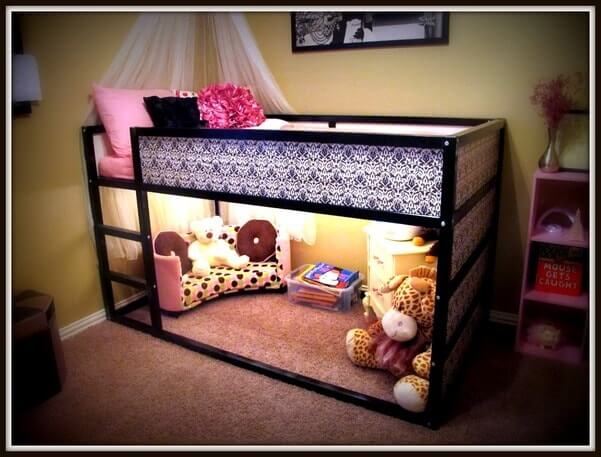 Source
Once the child grows up, you can use this as a book rack and later as an accessories rack.
We have already given you a low down of various toy storage options available in the market. Use the one which compliments the overall furnishing of your house.