A Glance at Vivek Malhotra's Luxuriant Villa
Our client, Mr. Vivek Malhotra, and his wife wanted their 2000sqft tranquil villa in Budigere, Hoskote, Bangalore to possess trendy neat and clean designs that are attractive and urbane. We are the best interior designers in Bangalore, and, therefore, they approached us with their wish to décor their home with furnishings that are simply outstanding.
Our designers made sure to meet all expectations of our clients to fullest within the client's budget of 12 lakhs and hence styled up the interiors. So read out to find the innovations and creativity we have used to design this lovely villa!
Beautiful Exterior Design
There is beautiful landscaping done on the exterior of the villa. We have also introduced a sweet and small shoe rack at the entrance. This as a whole creates a soothing exterior décor.
Sophisticated Living Room
Since the clients wanted something trendy yet elegant, we, therefore, used two different colored laminates to warm up the living room décor. We have introduced an attractive TV unit made with light and dark brown colored laminates.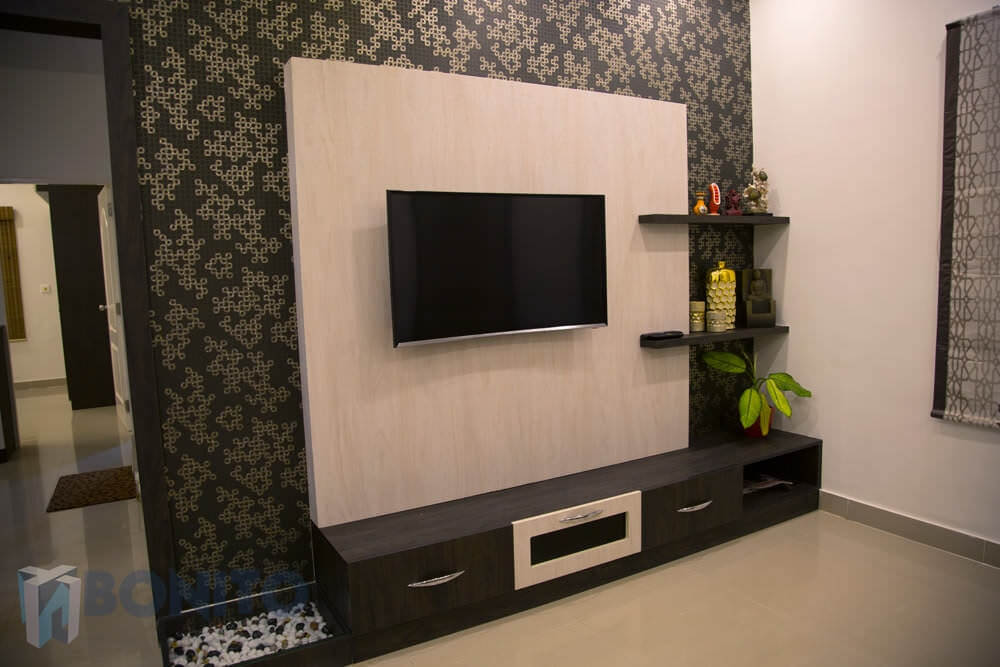 The TV cabinet is highlighted with the use of textured wallpaper. To add more utility in the living space, our designer has introduced a sleek yet good-sized shoe unit with pebble tray on the top. This shoe cabinet is structured with same dark colored laminated, which is used in the TV unit.
Elegant Dining Area
Wood, glass, and CNC design are the materials that we have used to enhance the beauty of the dining space.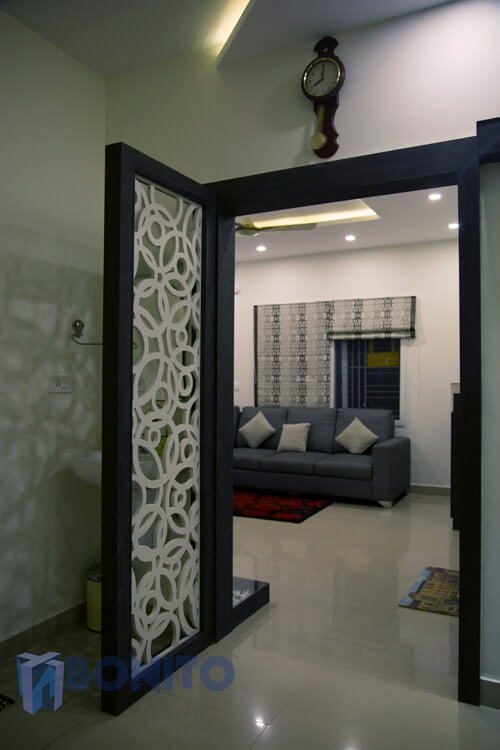 To cover the sink area our designer has created a stylish CNC cut partition with white laminate and splendid finish.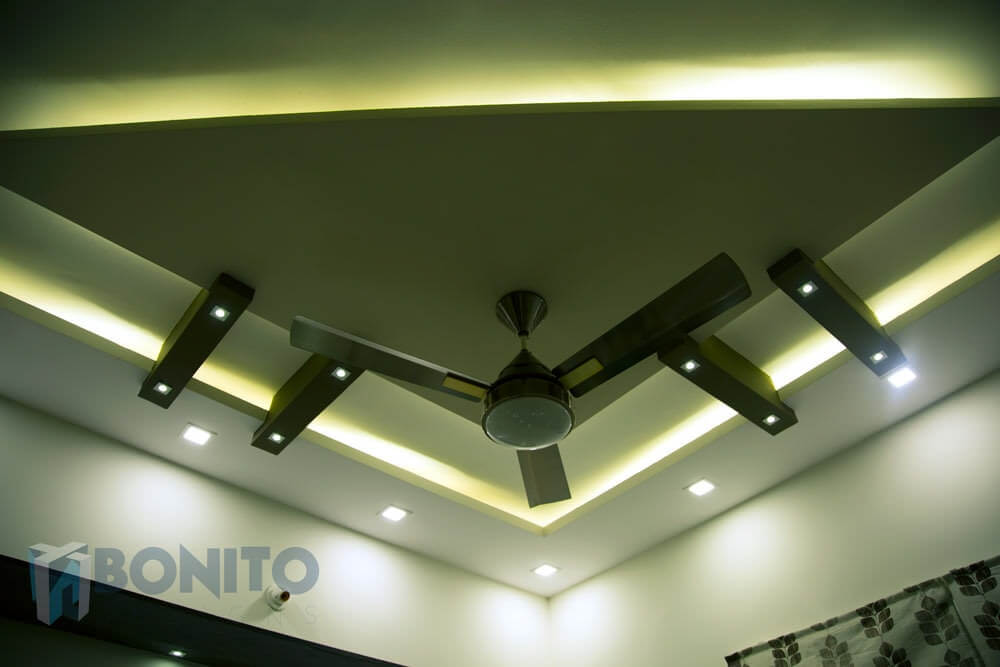 Around the entrance door to the dining space, we have introduced wooden rafter that continues on the wall. There are spot lights introduced along with the wooden rafter in a false ceiling to accentuate the beauty of entire space.
The utility is added within space by introducing an elite crockery unit. The crockery unit extends to the entire wall and is inbuilt with a pooja-unit with CNC cut shutters. It is excellently complemented with an extended slab and pull-out drawers.
[youtube width="700″ height="400″]https://www.youtube.com/watch?v=9GrRtX3qhPU[/youtube]
A unique color combination of white and gray is used to highlight the beauty of the kitchen area. The gray colored laminate is textured while the white laminate holds glossy finish. Besides this unique yet highly appealing color combination, the kitchen space is brightened up with a tall unit, bottle pull-out, tandem boxes, cutlery sets, garbage holder, and other similar modern utilities.
Extra Utility in Upstairs
Our designer has acted intelligently by offering ample storage space in space below the upstairs passage.
Cozy Family Room
This is the favorite room of our client which is styled with relaxing, cozy interiors.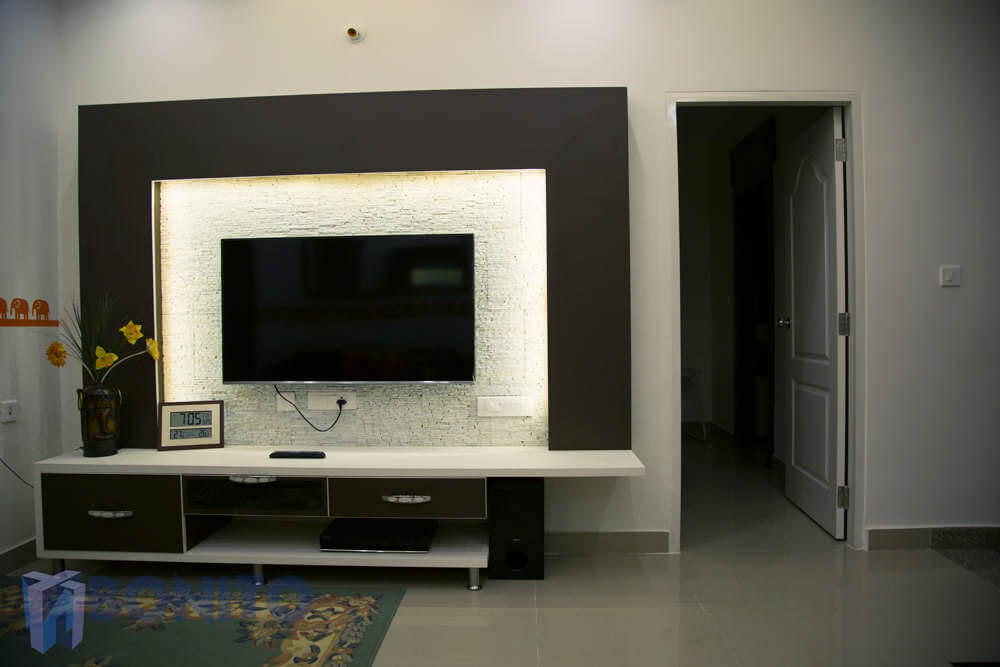 The room holds minimalist design with a square shape TV unit with stone cladding all around. Also, there are open drawers provided in the TV unit to display artifacts or other decorative elements.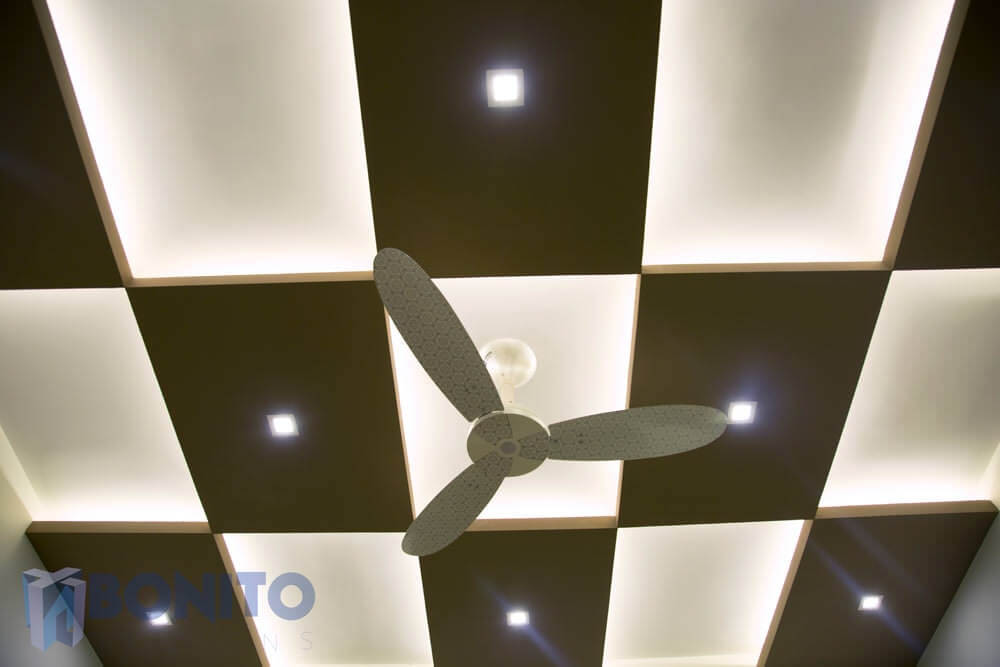 The false ceiling of this room is designed in a way that there is an elegant harmony maintained in the entire room. Blocks of same laminate used in the TV unit are employed to create blocks in the false ceiling.
Elite Master Bedroom
We haven't followed minimalism here! An exclusive TV unit with backlit CNC cut partition is introduced in the master bedroom.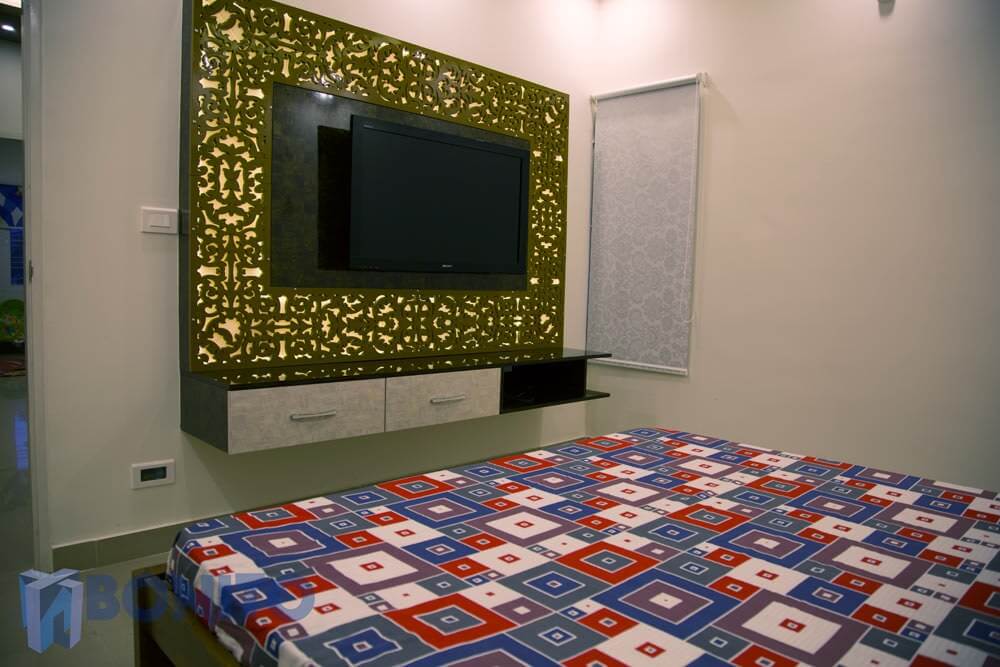 The design continues with few open shelves and drawers in distinct laminates.
The master bedroom hosts a walk-in closet with a combination of dark and light color laminates of glossy finish.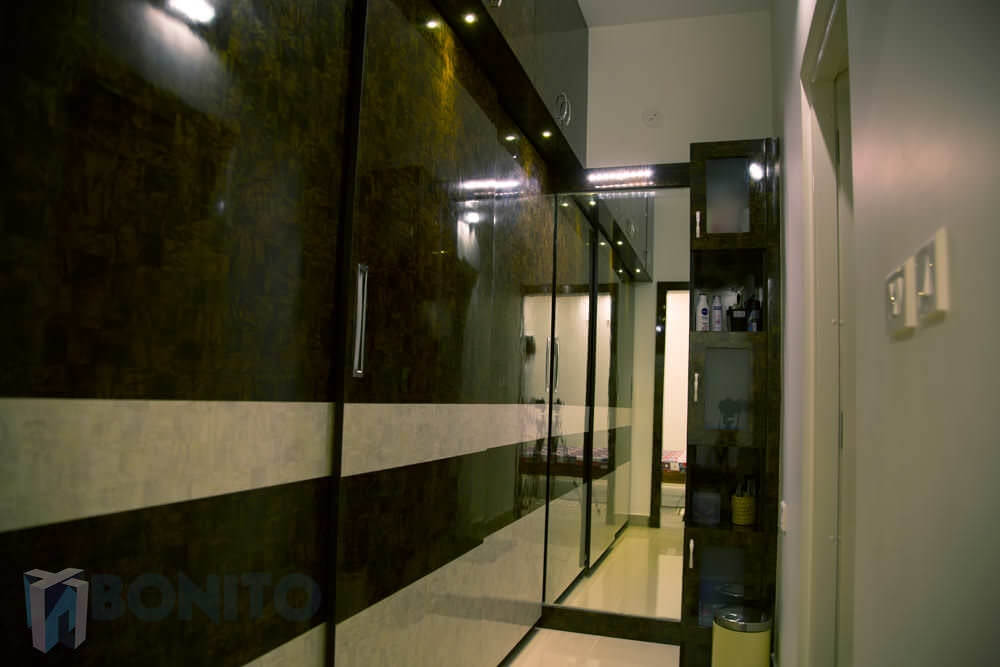 It is a 3-door sliding wardrobe that offers easy access to all usable items. A dressing unit with huge looking mirror is offered with open shelves and sliding drawers.
Vibrant Study Room
The study room of the villa holds lively and fascinating interiors fashioned with vibrant blue and green color. The harmony between the two colors is maintained with the use of white and orange color at few areas of space.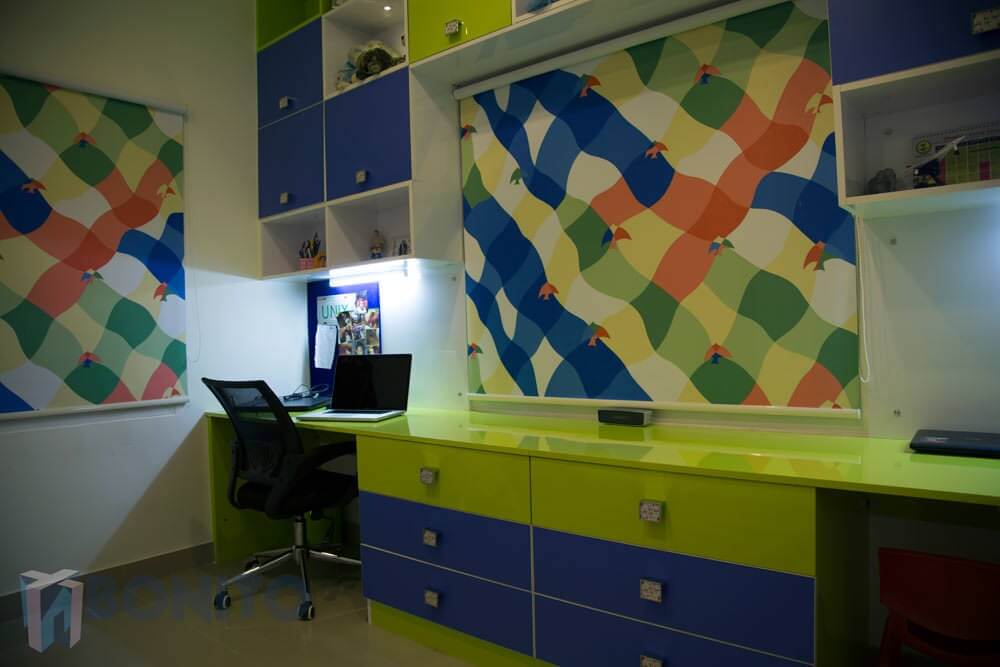 While there is ample storage space available for books and gadgets, the cleverly designed false ceiling adds up to the overall ambiance of the room. It is designed in the shape of a pie-chart with the use of similar blue and green colors.
Cheerful Kids Bedroom
The kid's bedroom has all the ingredients – liveliness, relaxing, and cheeriness. A comfortable sitting space is provided between the two wardrobes, which is both an amazing and unique style rarely seen.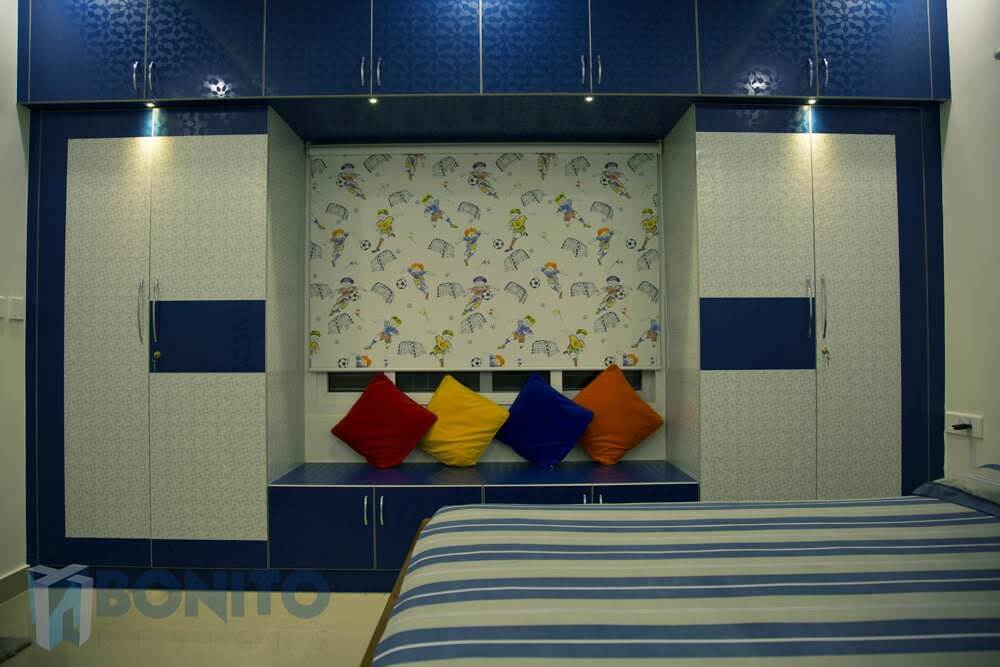 Textured laminate with blue color same as that in study room is used to beautify the wardrobes and dressing unit in the room. While the loft is projecting out, there is special provision introduced for spotlights. Simple false ceiling with spot lights completes the décor of this room.
We, therefore, styled Vivek Malhotra's villa luxuriously yet not making the interiors too loud. By the way, if you are looking for best interior designers in bangalore for your home, please contact us at https://bonito.in/contact/