Introduction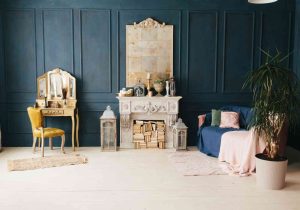 French interiors are unique. There is not one design style when it comes to French design. Most of it is either influenced by the Individual taste, which is further influenced by the art and artists they follow, or most interiors are influenced by the French fashion which is a huge deal. 
Yet, amidst this diversity, there's a common thread – a celebration of the art de vivre, the art of living. French design isn't just about aesthetics; it's about living with gusto. Every element, from the chandeliers to the quaint vintage finds, narrates a story, making the home a living a place of beauty and wild existence. 
In the world of French interior design, the concept of modern French country glam seamlessly blends traditional rustic charm with contemporary elegance. This style takes inspiration from the picturesque French countryside, where rolling vineyards and charming cottages coexist. It's a celebration of warmth, simplicity, and luxury, all woven together into the fabric of home decor. 
Embracing Nature's Palette: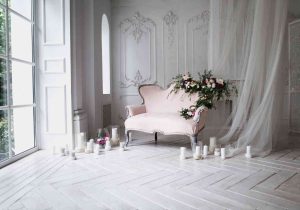 French décor is not just limited to Paris. The moment you step out of the city to the villages, you'd realise the décor and interior choices become more real. One of the defining features of modern French country glam interiors is its connection with nature. Earthy tones like soft beige, warm taupe, and muted greens dominate the colour palette. 
These shades evoke the serenity of the countryside, creating a calming atmosphere within the home. Natural materials such as reclaimed wood, stone, and wrought iron are often incorporated, adding an authentic touch to the decor. 
Elegance in Simplicity: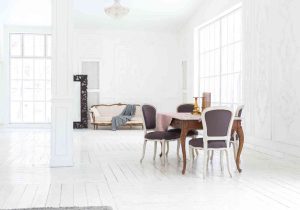 Modern French country glam emphasises the beauty of simplicity and antique pieces are often refurbished, giving them a new lease on life while preserving their timeless appeal. Delicate detailing, such as intricate carvings and distressed finishes, adds a touch of vintage charm. The goal here is to design something that feels inviting and lived-in, where every element tells a story. 
The Play of Textures: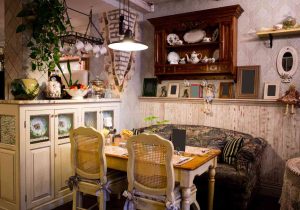 Textures play a pivotal role in elevating the charm of French country glam interiors. Plush fabrics like linen and velvet coexist with rough-hewn textures, creating a delightful contrast. Soft, billowy curtains frame windows, allowing natural light to filter in gently. Rugs woven from natural fibers add depth to the floor, enhancing the cozy ambiance of the room. It's a harmonious interplay of textures that invites tactile exploration. 
Glamorous Accents: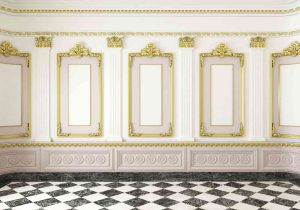 To infuse a touch of glamour into the rustic backdrop, modern French country glam relies on carefully curated accents. Crystal chandeliers suspended from high ceilings cast a soft, enchanting glow. Mirrored surfaces reflect light, creating an illusion of space and adding a dash of sophistication. Mirrors, gilded frames, and metallic accents bring a hint of opulence without overshadowing the inherent simplicity of the design. 
Personal Touches: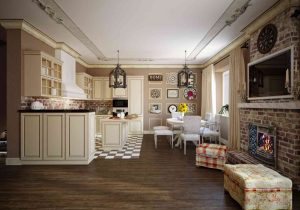 In the world of modern French country glam, personalization is key. Homes are adorned with artifacts, family heirlooms, and art pieces that resonate with the inhabitants. Every corner of the room exudes the personality of the people living there, creating a space that feels uniquely theirs. 
How Can We Help:
Design your own Modern French Country Glam. We understand that your desire for a home resonating with rustic charm and contemporary legend isn't just a style; it's a way of life. Allow us to be your personalised home design guides, transforming your home into a sanctuary that mirrors the timelessness of French interiors with celebrity designers, Gauri Khan and Manish Malhotra. 
Why Bonito Designs is Your Perfect Partner in Modern French Country Glam:
300+ In-House Designers:
Just as French design celebrates individuality, our diverse team of over 300 in-house designers ensures your home reflects your unique personality. Each member of our creative brigade breathes life into spaces, infusing them with the essence of modern French country glam. 
Innovation and Expertise Unleashed:
Modern French Country Glam is all about the seamless blend of rustic charm and contemporary elegance. Our creative team, armed with innovation and expertise, curates design that transport you to the picturesque French countryside. Every detail is meticulously crafted, ensuring your space is a masterpiece of sophistication and charm. 
A Decade of Assurance: Your peace of mind is our utmost priority. That's why we offer an unparalleled 10-year warranty on our interior services. When you choose Bonito Designs, you invest in not just the present, but in a future where your home stands the test of time, just like classic French design. 
Quality Beyond Compare:
Quality isn't just a word at Bonito Designs; it's our guiding principle. Our products undergo a rigorous 7-stage quality check, mirroring the meticulous craftsmanship of French artisans. From the conceptualisation of designs to the final installation, every stage is a testament to our commitment to excellence. 
Your dream home, inspired by the romance of the French countryside, awaits. Talk to us today!