Bonito Designs have been undertaking different kinds of projects for the past couple of years. Be it a 2BHK, a 3BHK, a villa or even an independent house— we have designed interiors of every kind. We understand that every type and size of home requires a special treatment, sometimes because of their structure and sometimes because of the owner's preference.
Till date, the Bonito team has been lucky in terms of client satisfaction. Bringing smiles to families, though sometimes difficult, has never been impossible.
What is Mera Homes?
Some time back we got a lead to design a Mera Homes 2 BHK apartment. Although we knew that Mera Homes is the upcoming township at the heart of the IT Hub of Whitefield, we had never designed any Mera Homes interiors before. So of course, our young and dynamic interior design team immediately started researching to find what kind of projects they are looking at. And what they found was amazing.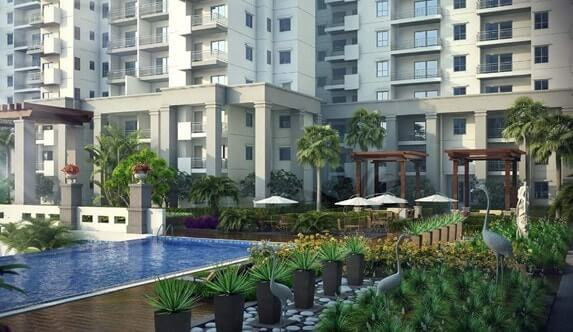 Mera Homes is a beautiful township in Whitefield comprising of 476 2 BHK and 3 BHK flats that have the full potential to be turned into beautiful homes with the help of an artistic mind and efficient designing. The 2 BHKs cover around 1400 sqft whereas the 3 BHKs are also huge measuring to over 1800 sqft. Needless to say, our designers are really satisfied with all the projects that have come to us from Mera Homes and are putting in their heart and soul to design them.
2 BHK Floor Plan in Mera Homes Apartments
Do you want to see what a Mera Homes 2 BHK somewhat looks like? Well, you are in for a treat.
Once you enter, you will find a compact foyer area which leads to the hall that has dining space on one side and living space on the other. Right adjacent to the living room is a beautiful balcony to enjoy a big cup of steaming coffee on a Sunday afternoon.
Right next to the hall is the open kitchen for the aroma of food to drift over to the dining space without any hindrance at all. From the passageway connecting the hall with the kitchen area, you can get a glimpse of the second bedroom as well as the master bedroom.
The master bedroom is spacious and airy with windows on two sides whereas the second bedroom is of course a little smaller in size but equally ventilated. All in all, Mera Homes has designed their apartments in such a way that Bonito Designs' interior designing team found it to be a cakewalk to add character and beauty to those spaces.
An Insight into Bonito Interior Design Ideas in Mera Homes
When team Bonito takes up a designing project, it's bound to amaze you. Right now we are working on a lot of projects in Mera Homes and they are coming out really good. To give these homes with an appropriate feel, let's go on a mini-tou Kphi ;yuyghby'r of these apartments.
Foyer Interiors in Mera Homes Whitefield Bangalore
We have started right from the foyer where people first enter and get the feel of your home. This is a rough idea about what kind of shoe racks we are implementing in these lavish apartments— simple storage with a little seating in the middle.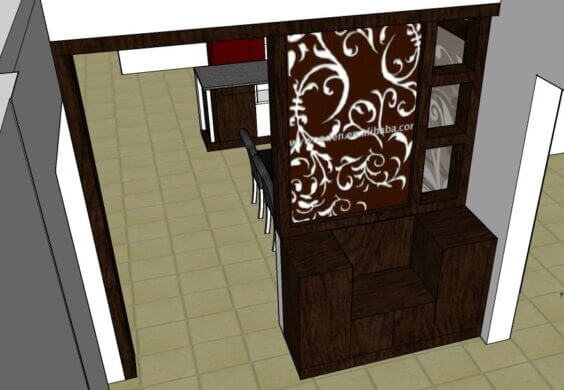 This beautiful partition creates a division between the foyer and the hall. As you can guess, on the right is the dining room while on the left is the spacious living area.
Dining Space Planning in Mera Homes
They say, home is where the heart is. And guess where the heart of a home lies? The dining space of course! So we took special care to make the dining room look as appetizing as the food that would be served there. We used a bit of stone cladding and a bit of wallpaper and the result was this.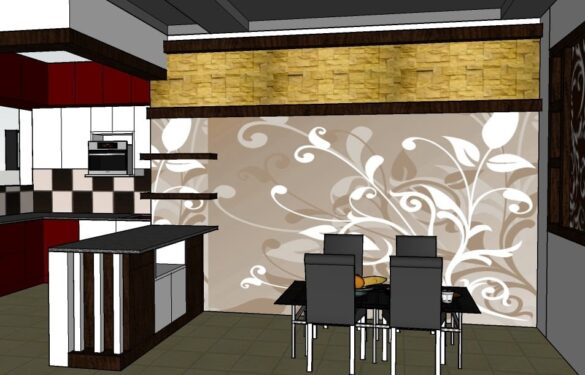 So, what do you think? Did we do a good job designing this dining room?
Kitchen Design Layout in Mera Homes
The modular kitchen, a glimpse of which you can already see from the dining room, is our specialty. We have worked for clients who have told us that our modular kitchen alone can win any heart.
Thank you for appreciating us, Bangalore. We hope we can better ourselves more and more with every project.
Master Bedroom Designs in Mera Homes
The master bedroom is always a challenge to interior designers. We need to use space most effectively to give our clients a good décor with lots of storage facilities. Bonito Designs are already known for its high quality premium wardrobes. So here we are again, trying to sketch out the perfect wardrobe for a gorgeous master bedroom.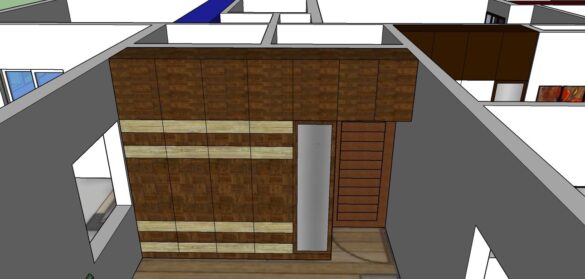 What is a master bedroom, without a king sized master wardrobe, right?
Many families have also asked for a TV unit inside the bedroom. Keeping in mind the bedroom square feet we have given them a crisp yet beautiful TV unit where they will have a full facility for a DVD player and set top box for a wonderful bed and entertainment experience.
You want an overall summary of the look?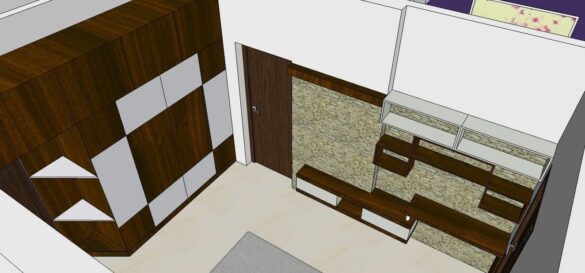 Here you go. But just so you know, all these designs might not be from the same apartment but from two to three apartments taken together.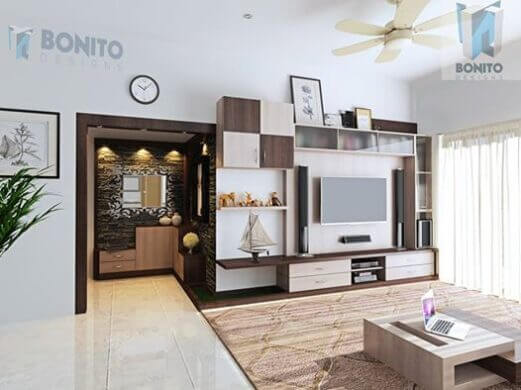 But they will help you form an overview about what kind of work we are doing in Mera Homes right now.
Mera Homes Living Room Layout
You must be wondering why living room, the most hip and happening space of every home is left for the last. Well, to use a food metaphor, it is the dessert. Remember the saying, the first impression is the last impression? Well, the living room is your first impression. The foyer area is just a prelude to the whole story. The living room is Chapter 1. This is the space to intrigue and attract.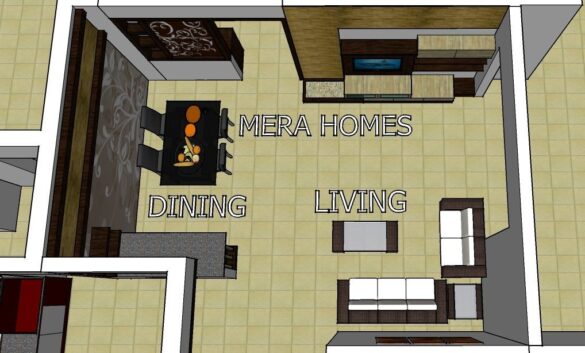 Every client comes up with his/her own customized needs. But a spectacular living space— that is the requirement they all have in common. In our Mera Homes projects we have provided detailed attention to every little nitty gritty of designing while working on the living room. Take a look.
The image above shows a glimpse of both the couch and the puja unit we have prepared for one of our clients. Don't worry, the puja unit is not as bare as it seems here. Let's look at a more finished image.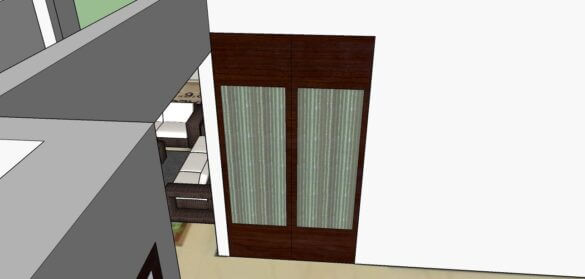 See, sometimes a door can make a world of difference!
And now comes the best part— the TV Unit area. It is indeed a pleasure to design something beautiful… a furniture or an interior that people will fall in love with. But that pleasure becomes tenfold when we, at Bonito Designs see our designs coming to life. That's the best feeling on earth. It's like being a parent for the first time, every single time.
This is how we designed the living room of one Mera Homes apartment.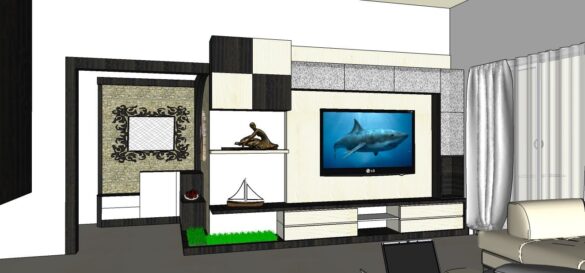 And this is how it came out to be…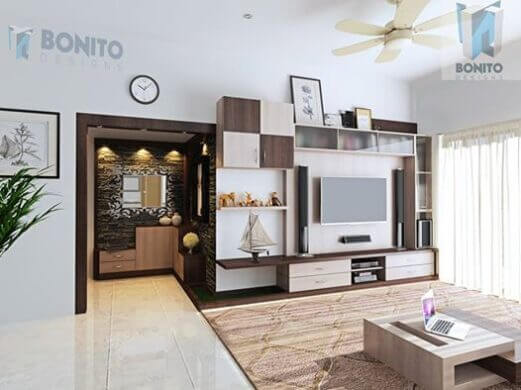 Goosebumps, right?
So as you might have understood by now, we are having a great time designing different apartments in Mera Homes. We can play with spaces and get to add to our database of happy customers. And frankly, by now, we know all the Mera Homes floor plans by heart and can thus come up with more creative, more classy and more beautiful designs.
If you have a house at Mera Homes, please feel free to get in touch. A home is, as already said before, where the heart is. So don't compromise on its looks and feel. You can reach us through any social network or directly through our website. Call us at +91-9019598877 A happy home awaits you.
Do follow us on Facebook to get more updates about our recent projects.