Client Name: Revati Vishwanath
Current Residence: Raheja Apartment Magadi Road.
Type of Residence: 3 BHK Flat
Residence To Be Occupied: Bangalore Shobha Althea, Yelahanka
Project Commence: March 2011
Project Completion: April 2011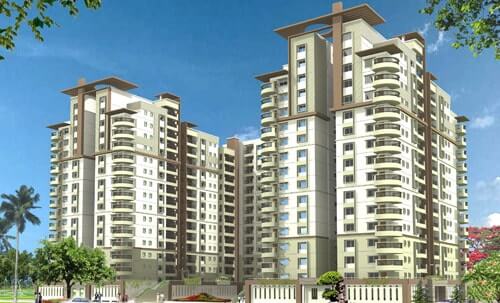 Requirements Given by Mrs.Revati:
Mrs. Revati is a voracious reader and a great chef in hobby. She never stops looking for ways to make dishes even better. Everyone knows that books are most priced possessions for any book lover.
She needed book storage in a passage which would mostly store non-recipe related books and another book storage in utility which would store cookery books. She happens to have around 5000+ books of which she claims 2000 are usually used.
Mr.Vishwanath needed a bar unit inside the dining room within dimensions of 4′. This space would also house a 2'6″ wide refrigerator.
She already has a set of existing wooden furniture which she loved and didn't want to let go and she wanted a sleek and a contemporary display unit that could be placed along with these furnitures which would rightly blend in.
She believes in Vaastu.
Our Initial Analysis & Challenges Faced By Us
At the very first look; we could identify and pin down few of the most problematic things about the apartment. Interior designing in Bangalore is easier said than done. Everyone knows that builders turn a verandah into another 2BHK house with columns coming out as if they were a scarecrow popping out of fields to scare the birds. No offense Shobha Developers; you still didn't nail it down that well.
These are the troubles that bring out the best of the interior designers in Bangalore, and you're suddenly able to look through the fog.
We could right away identify the following problems.
Innovation Added
We provided Mrs.Revati with at least 2 to 3 options in order to make sure that she was happy beyond doubt with the design she chose; luckily the designs were frozen in less than 3-4 iterations and following were the important additions to the design.
Parabolic designs were extensively used with contemporary looks and the parabolic shapes served out to ease the corners of the book racks, the storage racks and we were pretty sure you wouldn't be hurt if you were to bump into them in the passage. Plus; the design was made in sync with the existing furniture.
Every closet was designed in order to house a shoe rack and it would let the house members put in their bedroom slippers etc.
A 4′ bookshelf in the passage is seemingly invisible and yet capable enough to store 1000s of books.
Final Delivery
4 site visits and 3 discussions were sufficient to deliver the design of the choice. We understand things fast 🙂
3D views along with floor plans were delivered in time to Mrs. Revati.
We made Interior Design in Bangalore painless for Mrs.Revati
What Mrs.Revati Had to Say
She was quite happy with time planning and space planning and also the way we presented to her; the drawings and our openness to take her requirement and fulfilling the same.
She was thrilled with the design of the kitchen and the book racks in it.
Update: We were fortunate to be assigned the execution of the entire proposed design, and the same has been updated here.