Introduction
Diwali, the festival of lights, is a time for joy, family gatherings, and the exchange of heartfelt gifts. As Diwali Celebration 2023 approaches, what better way to add a personal touch to the festivities than by crafting your own decorations and gifts? In this blog, we will explore a plethora of Diwali DIY crafts that will not only infuse your interior design with charm but also make for delightful presents.
Whether you're a seasoned crafter or just beginning, these ideas will help you create a unique Diwali experience. We'll also introduce you to Bonito Designs, who can offer their expertise to seamlessly incorporate these crafts into your home's interior design. 
The Significance of Diwali
Before we dive into the world of Diwali DIY crafts, let's take a moment to understand the significance of this beautiful festival. Diwali, also known as Deepavali, symbolises the triumph of light over darkness and good over evil. It is a time when homes are cleaned and adorned with beautiful decorations to welcome prosperity and good fortune.
The exchange of gifts and sweets signifies love and togetherness. Crafting your own decor and gifts allows you to add a personalised and meaningful touch to this special occasion. 
Interior Design by Bonito Designs
To ensure that your Diwali DIY crafts blend seamlessly with your interior design, consider the professional services offered by experts like Bonito Designs. They can work with you to incorporate your handmade creations into your home's design, ensuring that your Diwali decorations harmonise with your overall aesthetic. 
Diwali DIY Craft Ideas
Now, let's explore a range of DIY craft ideas for Diwali: 
Hand-Painted Diyas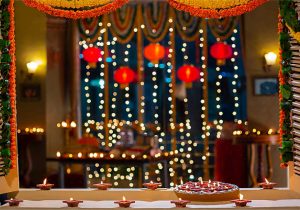 Transform simple clay diyas into works of art by hand-painting them with intricate designs and vibrant colours. These personalised diyas will add a touch of elegance to your Diwali decor. 
Rangoli Stencils
Create beautiful rangoli patterns by making stencils. This DIY craft will help you achieve perfectly symmetrical and detailed rangoli designs that can be used both inside and outside your home. 
Up cycled Lanterns
Turn old glass jars into stunning lanterns. Paint them in Diwali-inspired colours and patterns, then place tea lights or LED candles inside for a warm and inviting glow. 
Floral Torans
Craft torans (door hangings) using artificial flowers and embellishments. Hang them at your entrance to welcome guests in style. 
Customized Candles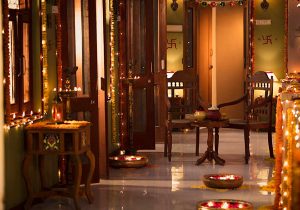 Decorate plain candles with pressed flowers, aromatic spices, or even your own unique designs. These candles can be used to add warmth and fragrance to your living spaces. 
Paper Quilling Decorations
Use the art of paper quilling to create intricate patterns and designs for your Diwali decor. These handmade creations can be framed, hung, or used as table centerpieces. 
Handmade Greeting Cards
Craft personalised greeting cards to accompany your Diwali gifts. Write heartfelt messages and include your DIY crafts as tokens of love. 
Scented Potpourri
Create your own potpourri by drying and mixing fragrant flowers, herbs, and spices. Place the potpourri in decorative containers and set them around your home for a pleasing aroma. 
Embroidered Fabric Lanterns
Use embroidery to add a touch of elegance to plain fabric lanterns. These lanterns can be hung from ceilings or placed on tables. 
Beaded Diwali Garlands
Craft garlands using colourful beads and metallic accents. These garlands can be used to decorate walls, doorways, and windows. 
The Art of Gift-Giving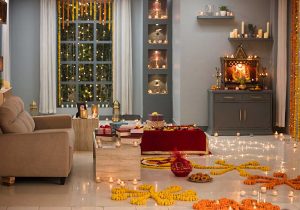 Diwali is a time for exchanging gifts as a symbol of love and good wishes. Handmade gifts can be the most cherished, as they reflect the time and effort you've put into creating something special. Here are a few Diwali DIY gift ideas: 
Hand-Painted Tote Bags:

Paint intricate designs or messages on plain tote bags.

 

Customised Photo Frames:

Decorate photo frames with your own designs, then add cherished photos.

 

Homemade Sweets and Treats:

Bake or create homemade sweets, like cookies, chocolates, or traditional Indian mithai.

 

Embroidered Handkerchiefs:

Add embroidery to plain handkerchiefs, making them unique and practical gifts.

 

Personalized Candles:

Design and decorate candles to gift to friends and family.

 

Handmade Jewellery:

Craft jewellery, such as beaded bracelets or necklaces, to gift to loved ones.

 

Conclusion
As Diwali Celebration 2023 approaches, let your creativity shine and add a personal touch to your festivities with these Diwali DIY crafts. Whether you choose to incorporate the expertise of interior designers like Bonito Designs or embark on this creative journey on your own, these ideas will infuse your interior design with charm and your gifts with sentiment. May your Diwali be illuminated with love, creativity, and the joy of handmade decorations and gifts. Wishing you a happy and crafty Diwali!