Bedroom wall designs can go beyond paints and can be artful or subtle, straightforward or complex, to result in walls that are so lovely that you might think twice about covering them with images or framed art. Trade in the painting swatches for a palette of breathtaking textures – these bedrooms demonstrate how to use light, shade, depth, and form in several beautiful and practical ways.
Various Wall Finishes for Unique Wall Designs
You need to know that more than one form of wall finish is accessible for you to have a wall finish that fits your style and complements your bedroom's interior design and decor.
But why is only paint not enough?
While paint is often the first thing we turn to when a home feels gloomy or flat, the texture is an equally (if not more) powerful tool for living in a room. Indeed, adding texture to space has the added advantage of adding depth and dimension, and even color-averse decorators can reap the benefits. It doesn't stop at throws, rugs, or fabrics, either. Dressing your walls in natural materials such as marble and wood—or even paintings and wallpapers with perceived texture effects—will instantly liven up a room that falls flat without taking up any surface space.
Textured Finish Wall
Textured walls add texture to every room and carry character into it. They can be central elements and are also an artistic expression that embraces the senses of sight and touch in their own right. They catch shadows and light, which makes them visually appealing.

A fabulous marbled concrete finish on this accent wall brings a calmer and more grounded feeling to this spacious bedroom. This bedroom wall paint design makes it look rich, clean, and cozy. The effect is a warm and inviting backdrop that reflects modern furniture's geometry but can be easily adapted to any decor.
Headboards are a part of the Wall Design
While you read or watch TV, any headboard will hold your pillows on the bed and provide a backrest, but it takes a special one to help turn your bedroom into a haven of relaxation and make your accent wall look extra good. Tufted headboards are known for adding elegance to a room, embodying a cozy atmosphere, offering a focal point, and infusing a designer style into a bedroom. Not to mention, they come in a variety of colors, sizes, and designs as well.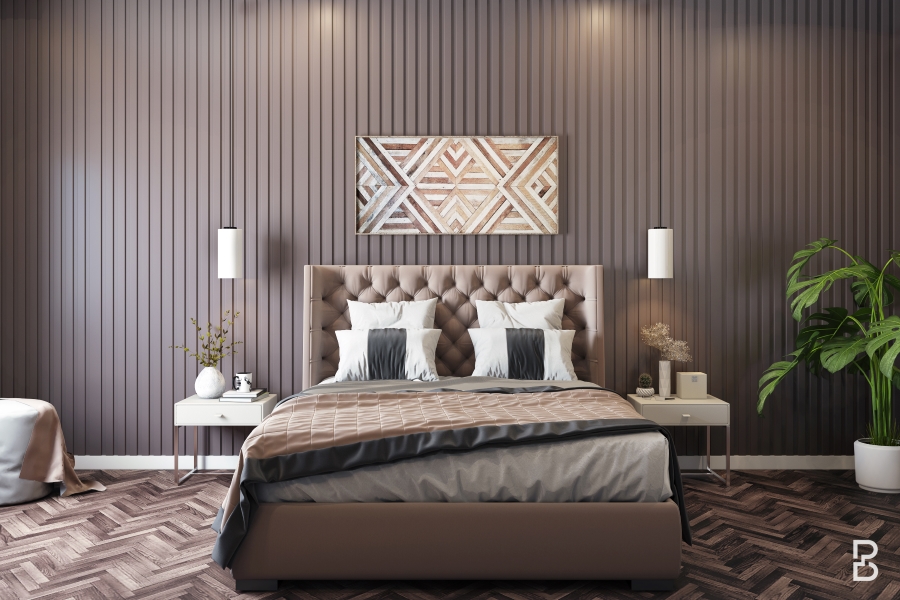 Neat segmentation and directional contrast offer an enormous personality to this small bedroom. The patterned floorings go well against the panels of wood on the wall. Vertical wood slats make it feel like its own distinctive space in this modern master bedroom. Rugged materials and geometric patterns offer a relaxed industrial appeal to these bedroom walls. Often industrial-inspired designs can make a room feel too cold, but the liberal use of contrasting texture makes it feel warm and attractive to this space.
Printed Wallpaper
Wallpapers are an excellent option if you are looking for a budget-friendly and stylish wall finish. They come in different prints, patterns, and styles that can blend into any home interior theme and complement your space's overall aesthetics. 3D wallpapers supply boring walls with an artistic touch. With visually captivating compositions, 3D illustrations not only use the wall but also stylize it.


3D printed wallpapers are a futuristic and practical way to bring texture to the forefront of your interior design with light and shadow, depth and dimension. The options available with wallpapers for a bedroom wall design are limitless. Not a strong fan of color? A hint of a shimmer can render all the difference. Accentuate them with lighting and contrasting furniture instead of shying away from offbeat architectural features.
Cladding
One of the most common and popular forms of wall finishing is cladding. If you opt for this type of wall finish, different types of stones are available for you to choose from. Granite, marble, glazed tiles, or glazed tiles, for example. Depending on the space where it will be used, the choice of stone or tiles you use for your house. In a myriad of patterns and colors, they are readily available.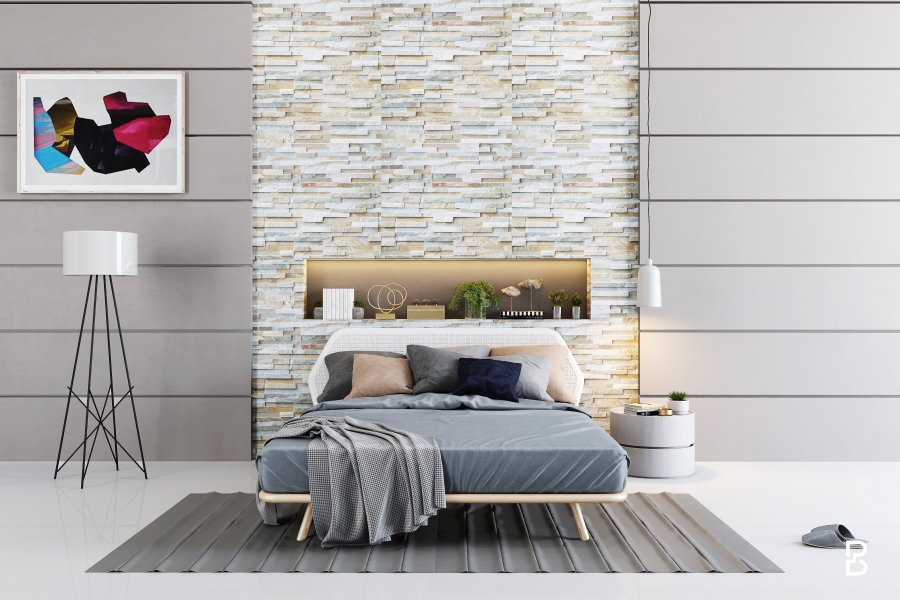 The brick effect looks gorgeous in this bedroom! With a new look, render your bedroom inspired by an exposed brick wall. There's no need to fear their instantly-stylish and hardy exteriors, stunning when distressed. Offer a Scandinavian twist to your place, with a complete brick wall behind the bed. Make your headboard a brick one in tones that are raw, distressed, or painted. Your brick wall can be a feature in an eclectic space, helping you level up to a rich and personal design.
But Simple Can Also Be Brilliant

It is also possible to make simple, bare walls look trendy and fashionable. But with simple paint – the finishing of the paint is what matters. It can help you to define your space as well as accentuate anything put up against the wall. Like in a bedroom, the wall art you choose turns the space, so a contrasting finish of the paint is essential. If you are trying to achieve a more sophisticated or polished look, neutral art with a firm texture is always a safe way to go.
As various interior design trends are recently gaining popularity, the market for wall finishes has risen alongside it. Homeowners today do not want their homes to look like something out of the 80's. Choosing the right finish for your walls is essential, as it adds to your bedroom's and even your home's overall aesthetics, making simple walls look beautiful. Get in touch with the top-most interior designer in Bangalore – Bonito Designs today and create your dream home with the right wall paint designs.
Start your journey with us and craft your
dream home
Make a statement, build a designer home.