Introduction: The Royal Blue Hue of Navratri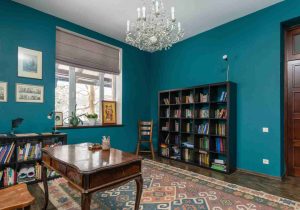 Amidst the vibrant hues of Navratri, Royal Blue commands attention on October 18, 2023, coinciding with the revered worship of Maa Kushmanda, the fourth manifestation of Goddess Durga. 
This majestic shade, steeped in history and symbolism, exudes opulence and tranquility in equal measure. Join us as we unravel the enchanting story of this regal colour and discover how it can grace your home interiors with unmatched luxury. 
Understanding the Essence of Royal Blue: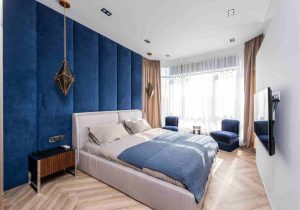 Royal Blue, a colour synonymous with nobility and sophistication, carries an energy that promotes a sense of calmness and grandeur. It symbolises depth, both in terms of colour and meaning. Much like the vast expanse of the ocean, it reflects a tranquil demeanour while exuding a richness that entrance the beholder. 
Incorporating Royal Blue into Your Home: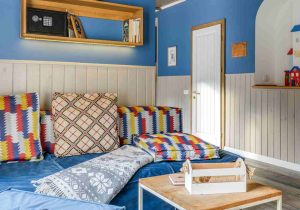 Upholstery and Textiles: Start with royal blue upholstery for your sofas and chairs. The soft touch of this hue against your skin will invite a sense of indulgence and relaxation. Consider royal blue curtains or rugs that add depth to your space while offering a cozy ambiance. 
Accent Walls and Cabinets: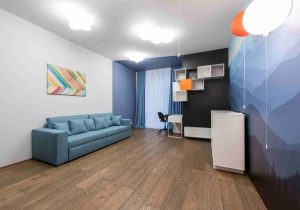 Transform a focal wall with the allure of royal blue paint. This bold statement not only adds depth but also serves as a captivating backdrop for your decor pieces. For kitchens or living spaces, royal blue cabinets bring a touch of sophistication while maintaining a sense of calmness. 
Art and Decor:
Introduce royal blue through art pieces, vases, or even cushions. These accents provide a pop of color against neutral backgrounds, enhancing the visual appeal of the room. A royal blue centerpiece or a painting can be the focal point of your space, drawing the eyes with its captivating charm. 
How Can We Help?
At Bonito Designs, we understand the art of blending luxury and comfort seamlessly. Our designers bring the regal essence of Royal Blue into your home, curating spaces that resonate with opulence and tranquility. From sumptuous upholstery to mesmerising decor elements, we infuse your interiors with the richness of this hue, creating a haven that reflects your exquisite taste. 
Indulge in the allure of Royal Blue this Navratri, honouring Maa Kushmanda's divine energy. Elevate your home with the calming yet opulent touch of this majestic hue. Contact Bonito Designs today, and let's craft a space where luxury meets serenity. 
Step into the chic world of Chicago Mid-Century Modern design, where urban vibes meet timeless elegance. Bonito Designs, India's No. 1 full-home personalised interior design brand, invites you on a journey that merges the spirit of Chicago's urban character with the sophistication of mid-century modern aesthetics. 
Discover Our Collection: Immerse yourself in our exclusive world designs, meticulously crafted to reflect the energy and grandeur of celebrity-designed home in budget. Every piece tells a story, blending the past with the present seamlessly. 
Expert Craftsmanship, Tailored for You: With our team of 250+ in-house designers, we blend innovation and expertise, ensuring your home is a masterpiece tailored to your unique style and preferences. 
A Decade of Confidence: Enjoy peace of mind with our 10-year warranty on interior services. We stand by the quality and durability of our work, promising you a home that stands the test of time. 
Your Dream Home Awaits: Experience the fusion of the various iconic design styles, creating a home that's not just luxurious but deeply meaningful to you and your family.