The heart of the home is a modern, beautiful kitchen. Large counters, storage space, and entertaining areas frequently feature prominently. Yet, flooring is a crucial aspect of appeal that shouldn't be overlooked. Affordable but elegant flooring may make a world of difference, whether you've recently moved into a new house or are considering remodeling your kitchen.
Since it establishes the tone for the entire room, kitchen flooring option is a crucial component of any kitchen interior design. The market offers a variety of kitchen flooring options, including tile, hardwood, vinyl, and laminate. To make an informed choice given the always evolving trends in interior design, it's imperative to keep up with the most recent kitchen flooring trends. We have examined the leading kitchen trends of 2023, but this article will assist you in making a choice that will make your kitchen flooring stylish and contemporary.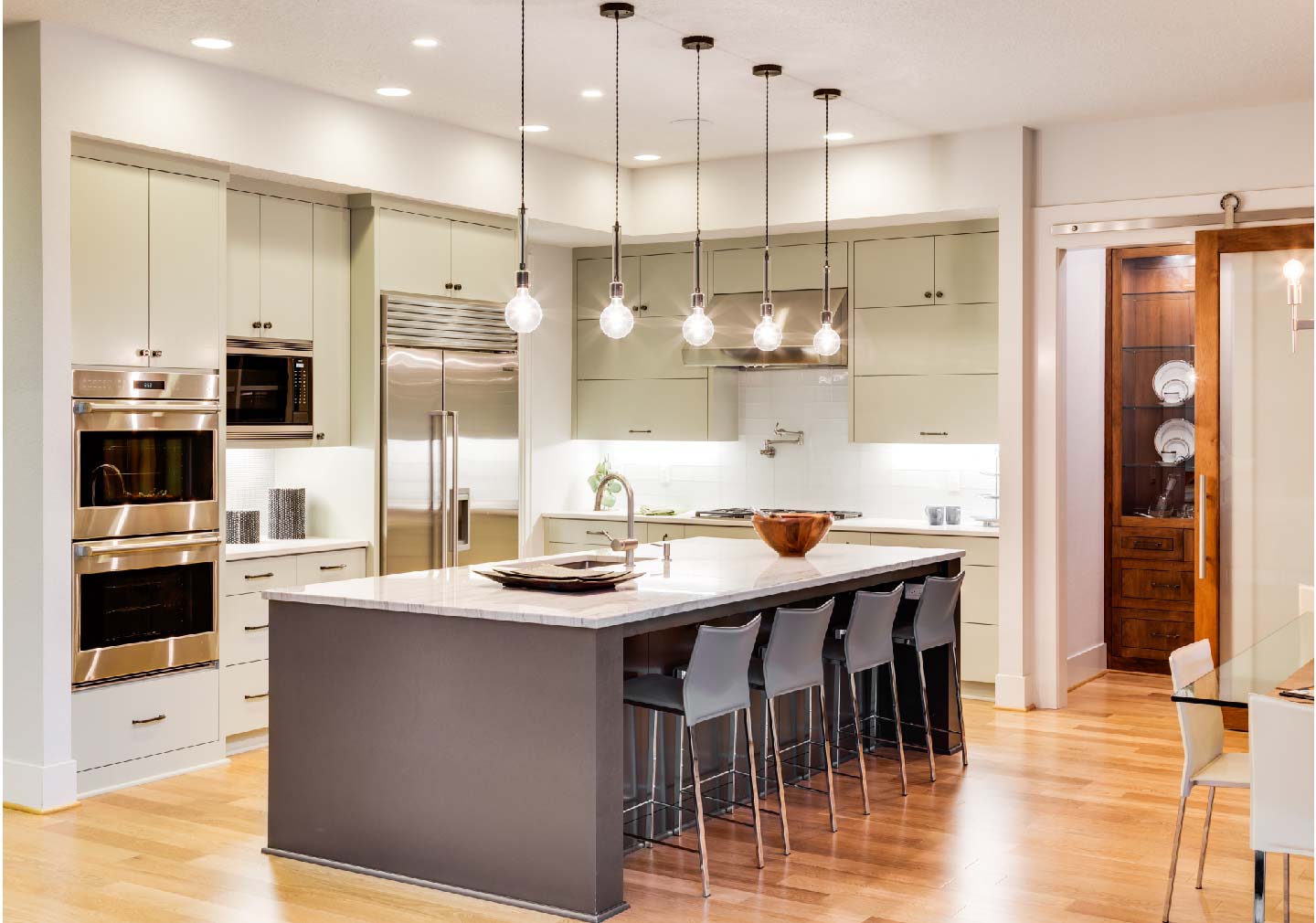 When you're designing a kitchen the major focus frequently goes on the layout and kitchen cabinets style. The flooring in the kitchen, however, is arguably the most crucial element in kitchen design.
In addition to being very visible (so you want it to appear beautiful), your kitchen floor is used more frequently than most other flooring in your home. Choosing the appropriate floor for your kitchen is crucial.
Best flooring guide for your kitchen interior design
A kitchen floor needs to be sturdy, simple to maintain, and water-safe. And if you have an eye for style, you want the floor to be chic and blend in beautifully with the rest of your kitchen's decor.
There are many different flooring options that can be used in a kitchen. Whether your kitchen is in your living room and you want one flooring type for the entire space, you may choose from natural stone tiles for a classic kitchen design to sleek marble for a modern kitchen and wooden floors for a warm kitchen look. Let's check out this flooring guide for kitchen interior design:
The most popular option for a kitchen floor is tile flooring. Apart from kitchen wall tiles, floor tiles can create an amazing view. You can choose a tile floor that matches your design aesthetic because tiles are simple to maintain and come in a huge variety of sizes, hues, and patterns.
Each of the materials used to make tile flooring has a distinct appearance and set of properties. You can choose ceramic tiles or porcelain tiles that you will love for the room, no matter what style you may have. The tiles come in a wide range of designs (including some with a wood or stone appearance), hues, and patterns. Also, you can pick between various tile finishes like a matte tile finish or a gloss tile finish.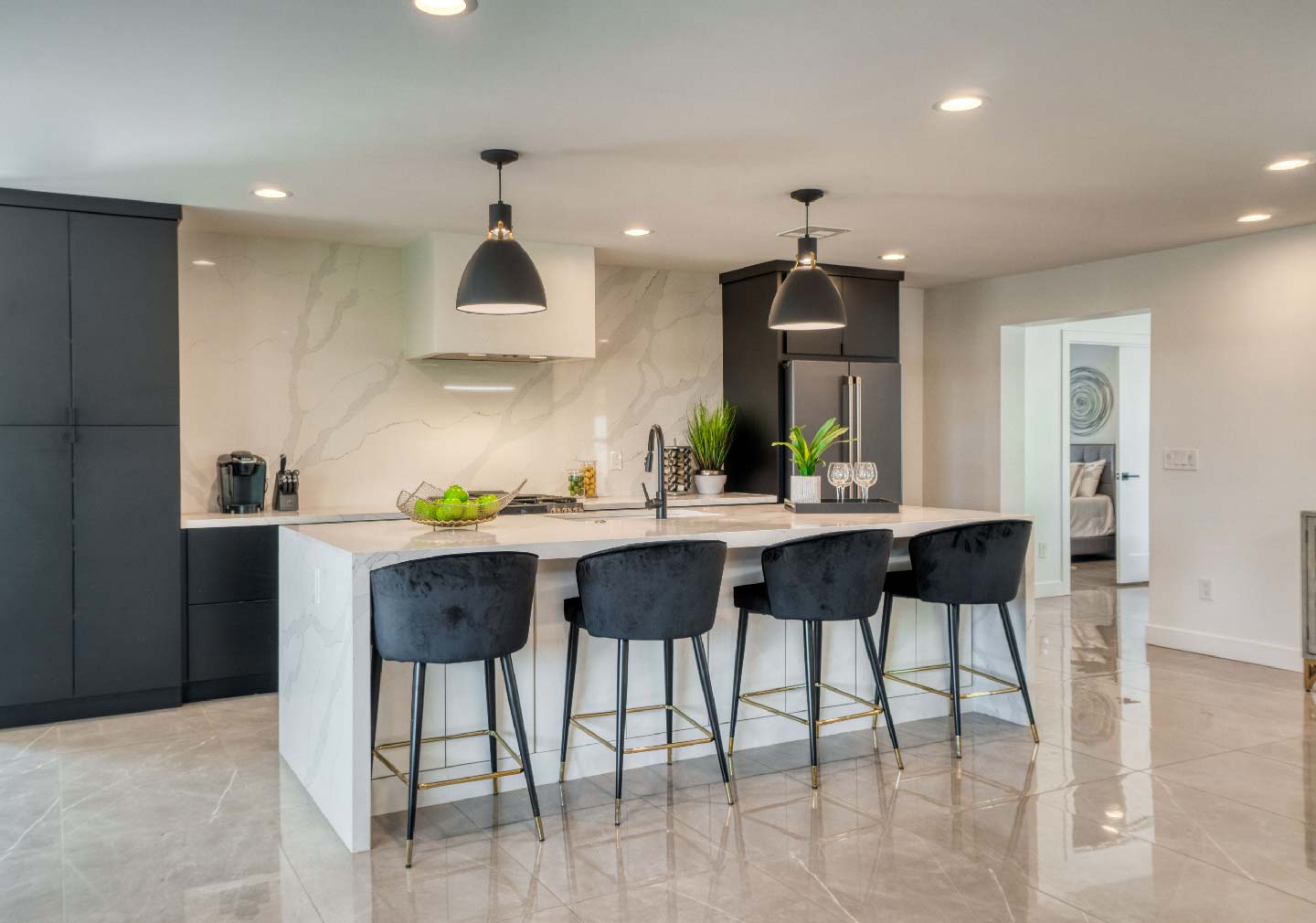 While choosing tiles, there are a lot of stylish options to consider. Another style that's becoming more common in the kitchen flooring industry is large format tiles. These tiles have a sleek, contemporary aesthetic and are often 12×24 inches or larger. Big format tiles are perfect for giving your kitchen a seamless, uninterrupted effect, which may be especially helpful in open-plan settings which is highly durable too.
Hardwoods come in a variety of hues and variations and can be a good choice for kitchen. You might be surprised to learn that hardwood might be an economical alternative if you're searching for a cheap fix.
Both solid wood flooring and engineered wood flooring come in reasonably priced versions. Just as it sounds, solid wood flooring is made of solid pieces of wood that are machined into planks.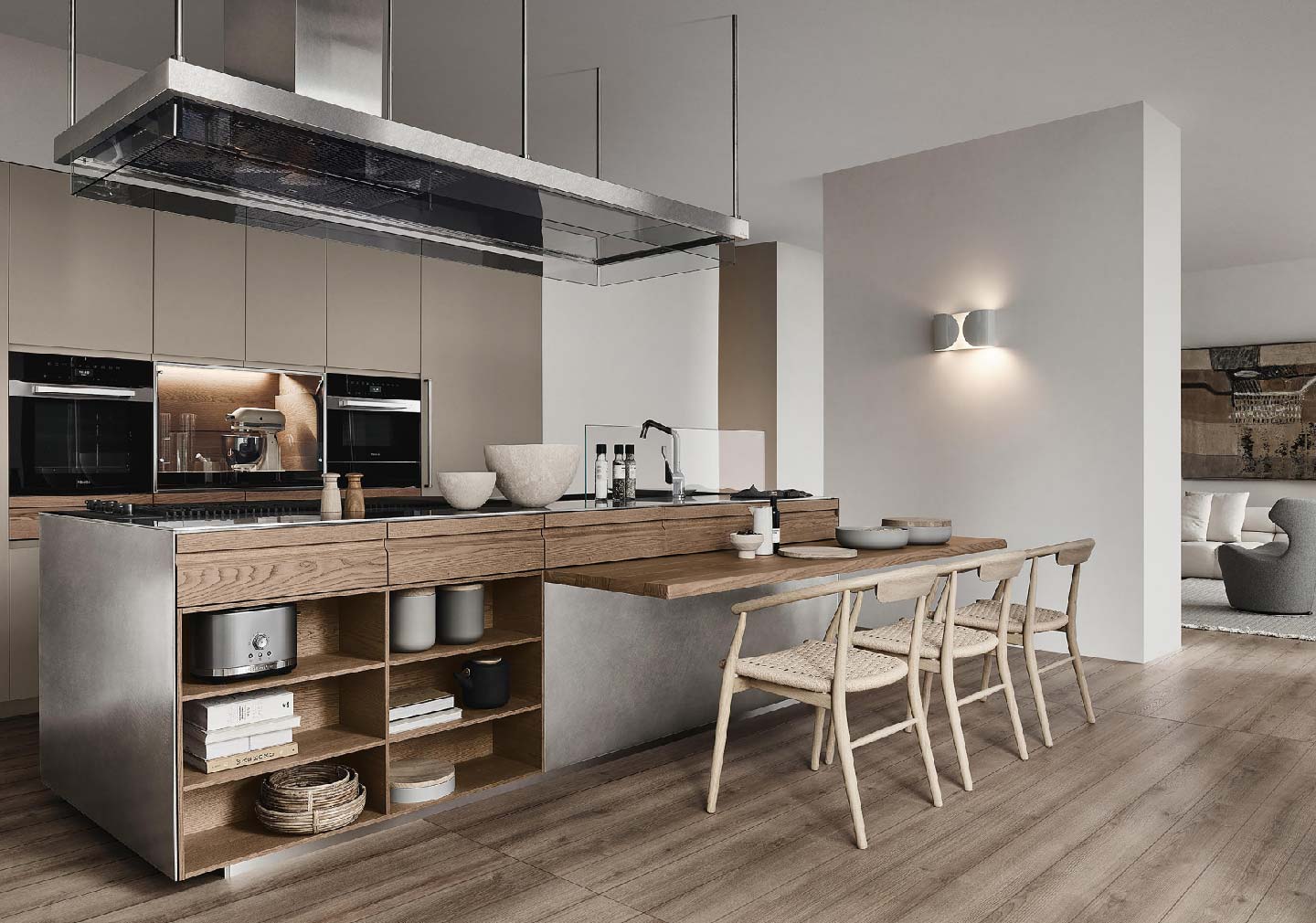 Engineered wood flooring has a plywood or medium-density fiberboard substrate with a wood veneer glued on it (MDF). This makes it a more reliable option for changes in temperature and humidity.
Sustainable flooring solutions are gaining popularity as people become more conscious of their environmental impact. Recycled materials are excellent choices for individuals who want to design an eco-friendly kitchen, including cork, bamboo, and reclaimed wood. These resources not only enhance the sustainability of your kitchen, but they also give it a special, organic touch.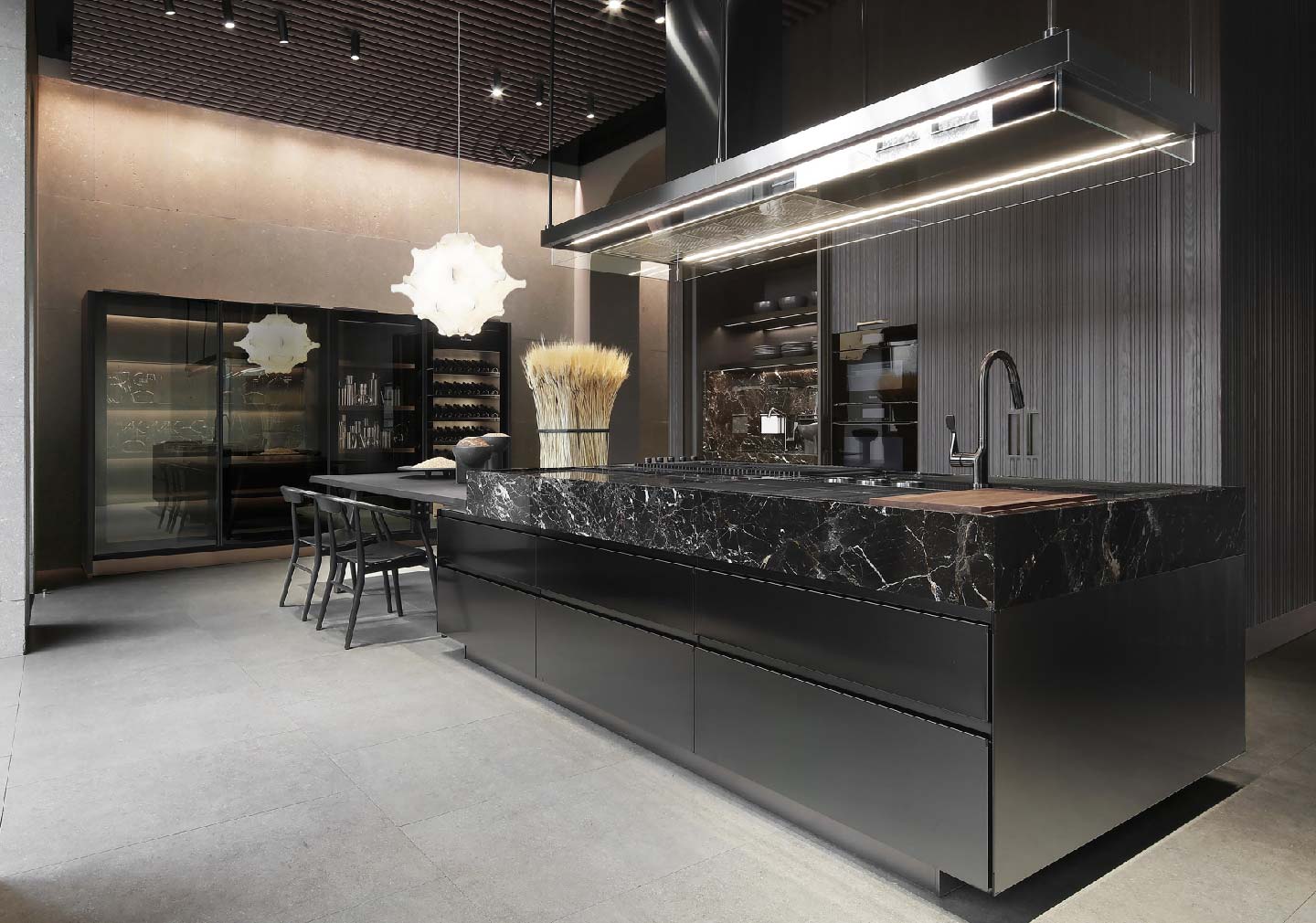 Amongst all the materials, cork is the best. Colorful cork is distinctive, unexpected, reasonably priced, sustainable, highly durable and long-lasting. Also, it works well with any nearby wood floors in the dining room or great room. Although cork kitchen flooring may be more expensive than some other options, it has several advantages. It is simple to install and provides more comfort for older people or active kids.
Luxury vinyl is a category of vinyl flooring that mimics the appearance and texture of natural materials including ceramic, stone, and hardwood. Luxury vinyl may be installed in a variety of patterns and designs, is long-lasting, and is simple to clean. For individuals who desire the appearance of natural materials without the upkeep, this flooring option is ideal.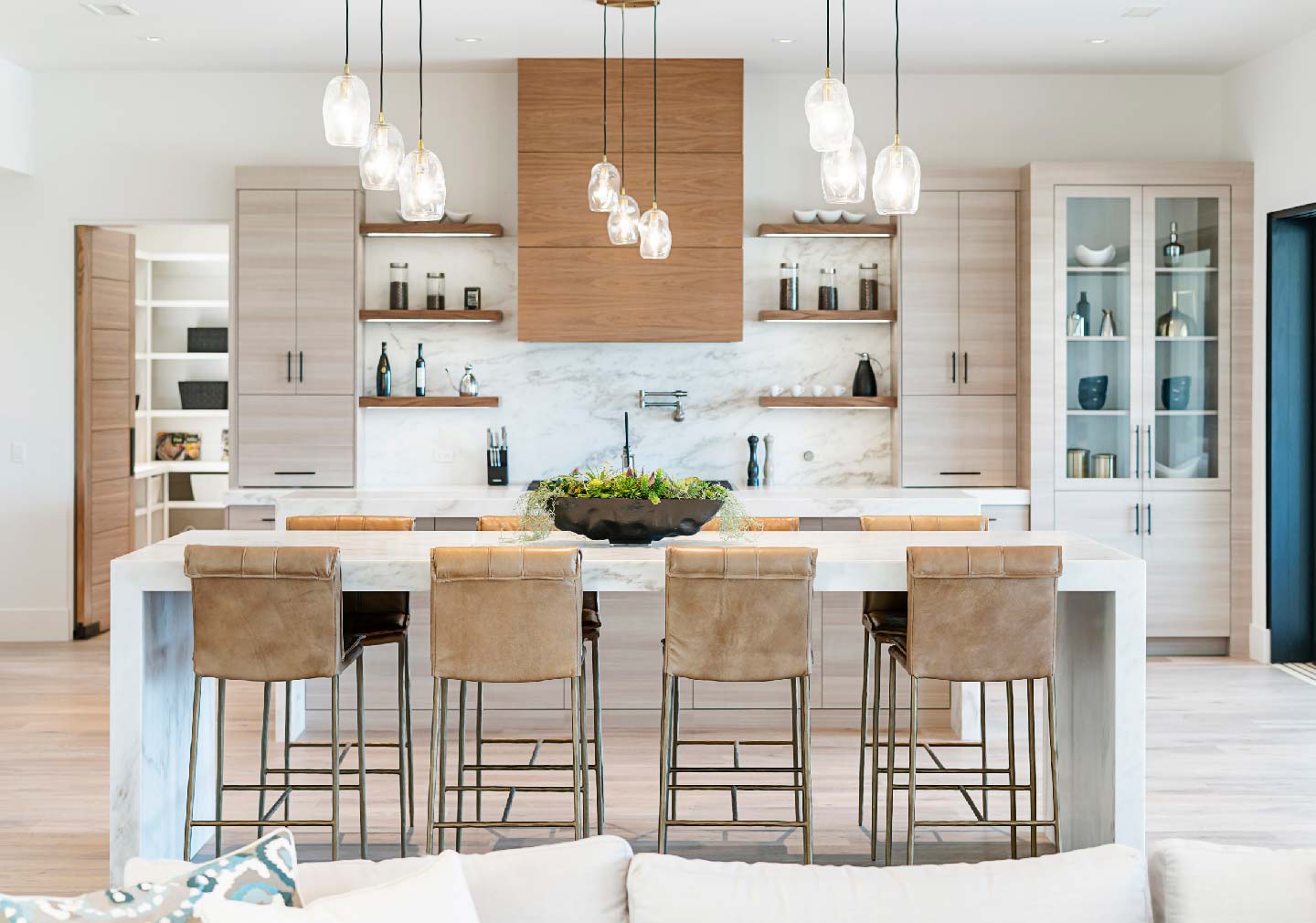 When compared to wooden floorboards, vinyl is more affordable, water-resistant, and easy to install. It also has textures that resemble the grains of wood. A suitable subfloor is necessary for the installation of vinyl.
Yet, depending on quality and construction, this flooring is an alert! It can release specific poisons into the air and is not very good for wear and tear. Before you buy vinyl flooring for kitchen interiors, always verify the certifications to make sure it is secure for use at home. That can keep you safe.
Another development in the area of kitchen flooring is the mixing of materials. You can give your kitchen a distinctive and unusual appearance by combining two or more materials, such as stone and concrete flooring, wood and tile, or both. The options are unlimited because mixed materials may be utilized to make so many different patterns and designs.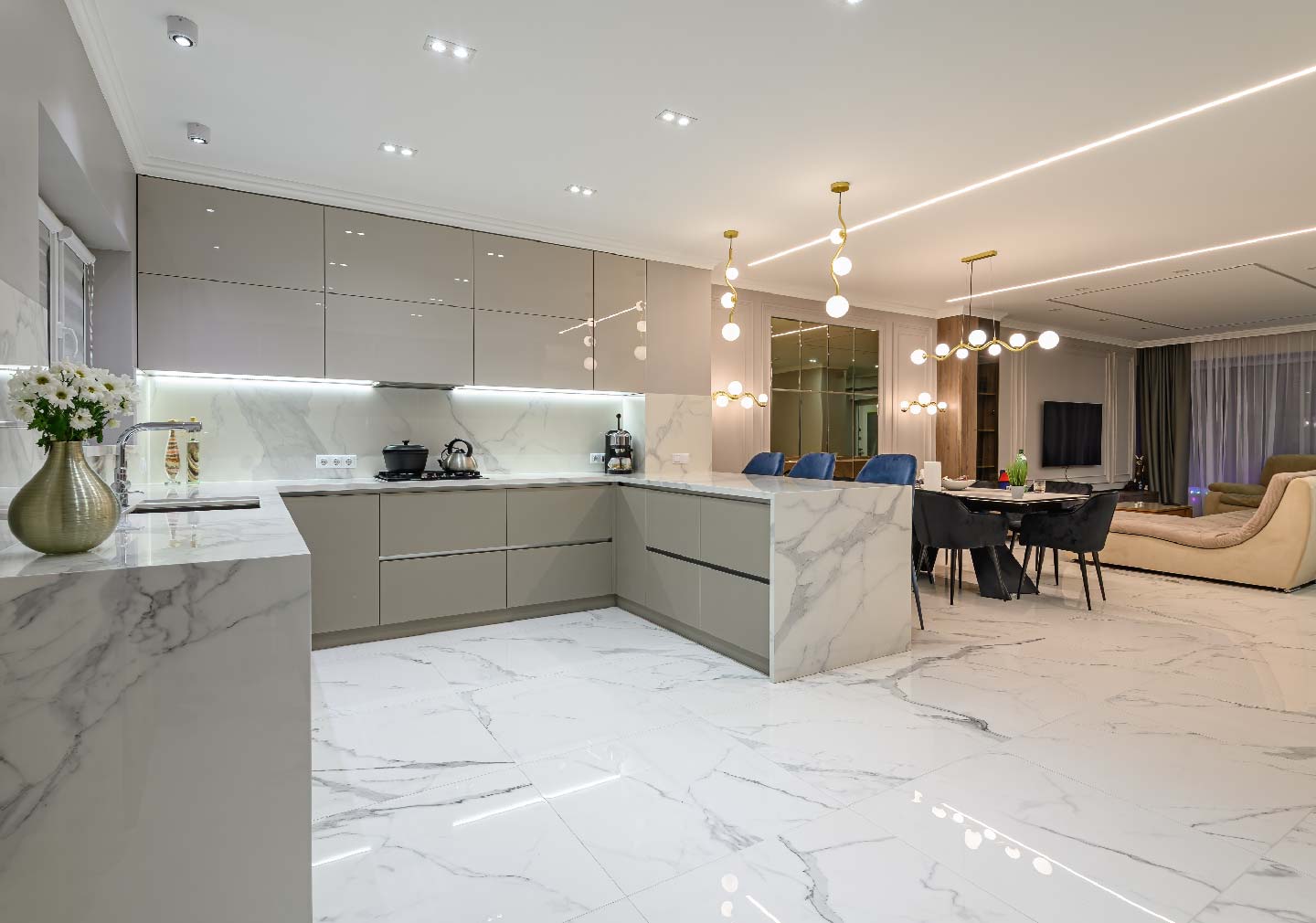 Apart from all the materials, marble kitchen floor tiles are also popular since they add a posh touch to the room. Your marble flooring option for kitchen interiors has an organic and exquisite appearance thanks to the colors and variances in the stone. However, marble can absorb the colors quickly for which it can be avoidable too.
In colder areas, you might want to think about adding floor heating because the material is naturally cool. But, keep in mind that some marble varieties are simple to scratch and stain, necessitating routine sealing. In a similar vein, marble flooring for kitchen interiors might also require a lot of maintenance.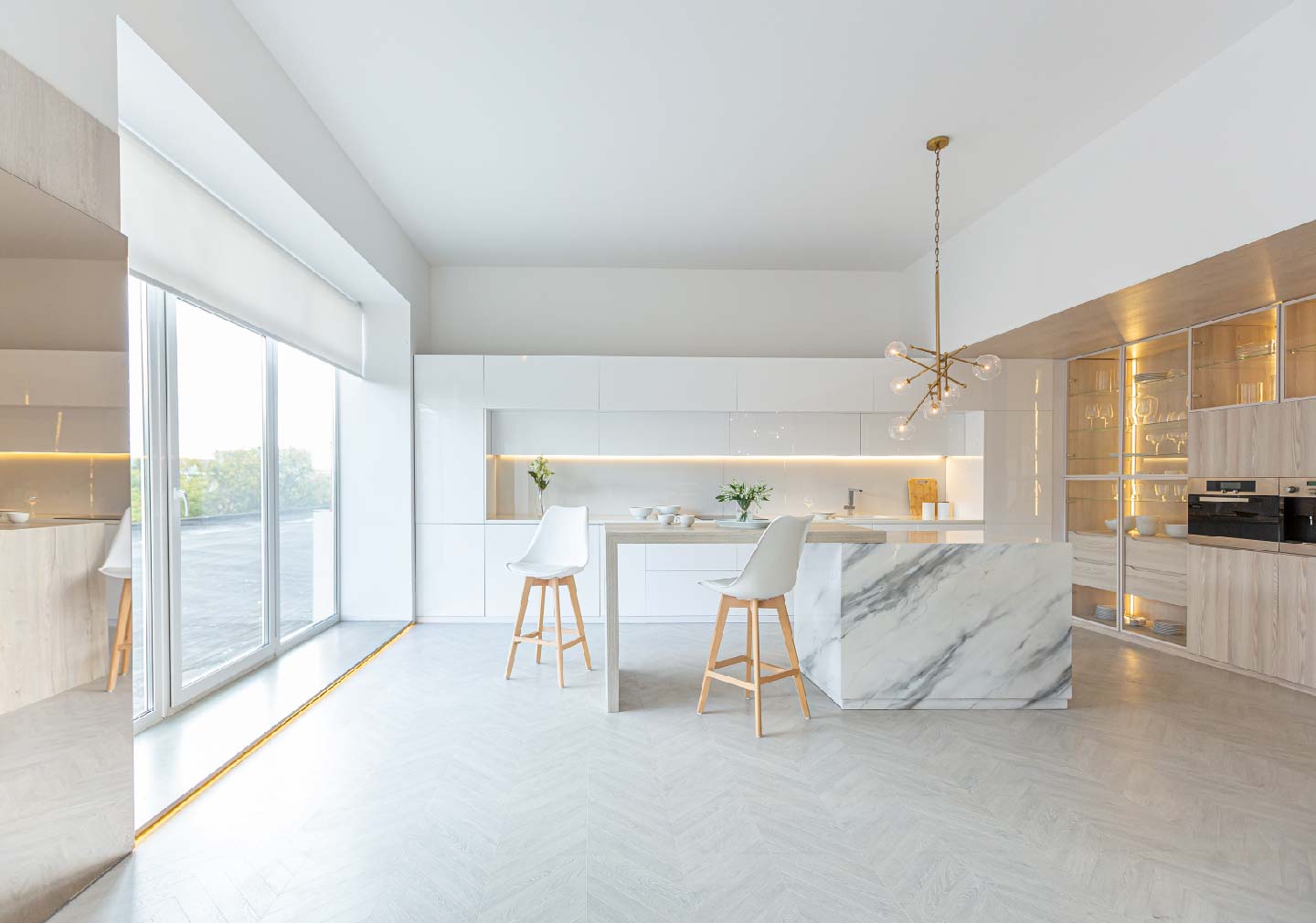 Another style that's making a resurgence in the realm of kitchen flooring is bright hues. Brightly coloured flooring is a terrific way to add a pop of color to your kitchen. Options range from intense blues to strong yellows. If you want to add personality and flair to a kitchen with neutral colors, bright colors are especially helpful.
To ensure that the floors last for many years, the flooring material should be resistant to heat, moisture, stains, and impact damage. Making the best decision for your kitchen means balancing aesthetic, function, and comfort. We intend to give your kitchen space a visual getaway with these flooring options.
Subscribe to read the latest blogs update.
We promise we won't spam!