Minimalism. How does it make you feel? Does it mention wood floors, open plan white walls, and large French windows that are open? Does it appear to have strong architecture, muted hues, and simple patterns? It's not necessary to choose plain, uninteresting, or cheap furniture and accessories to achieve minimalist design. Minimalism, which simply means "less is more," can help you direct the attention of your space towards the atmosphere or theme you want to evoke. Put some lovely furniture in it, like a row of pink couches on a white floor. Make it dramatic by dividing your room in half with a bold beige and white line. However, the minimalist living room ideas are just unlimited!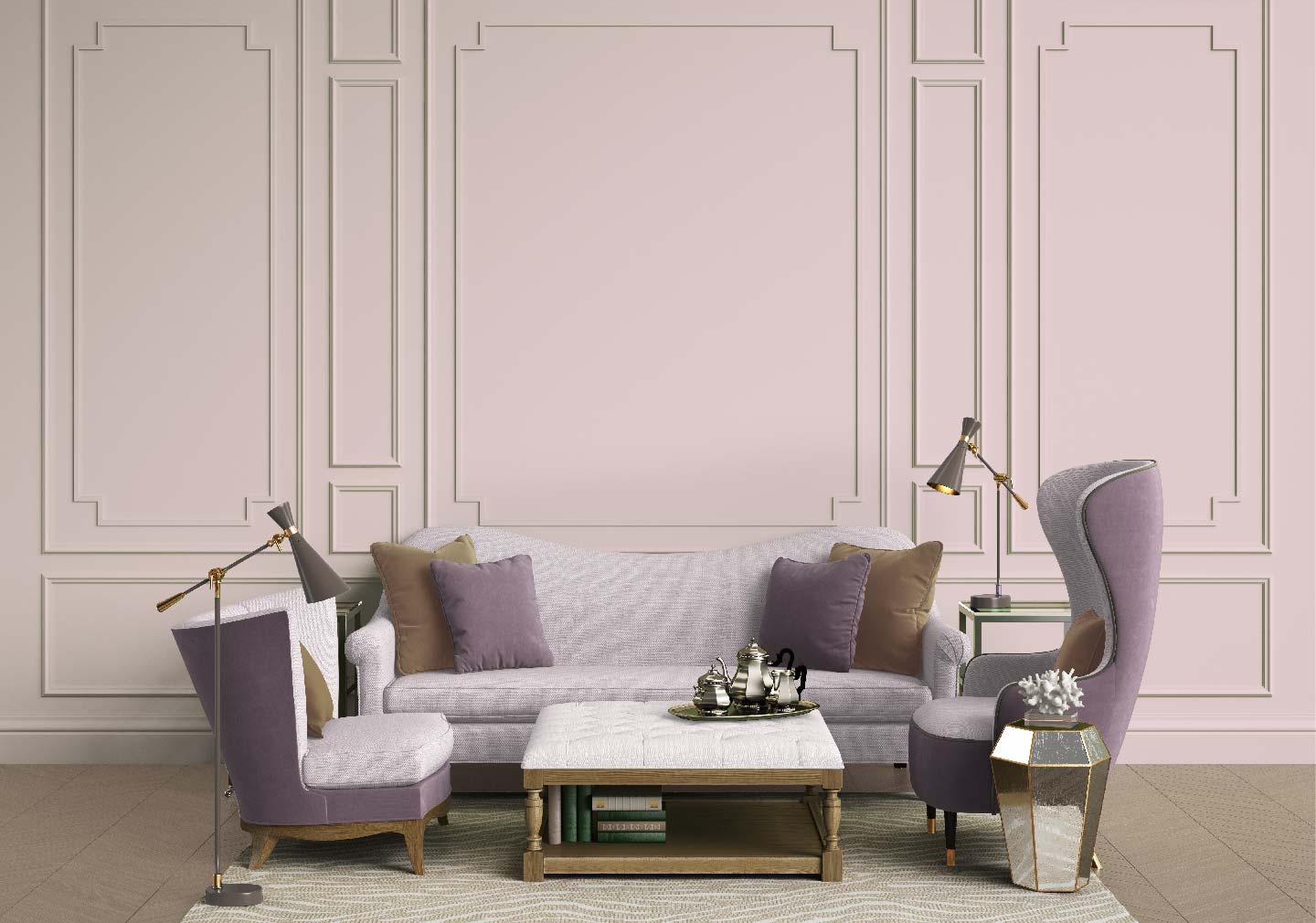 Although the real battle against consumerist clutter helped to popularize minimalism, its roots can be found in the long and significant history of minimalist design in practically every aspect of design, including fashion, interior design, art, and graphic design. While there is nothing wrong with conscious maximalism when it comes to home décor, a less-is-more aesthetic where everything has a function and spaces are focused on the fundamentals is more appealing for a variety of reasons.
While minimalist design can be used in any room of the house, including the kitchen, bathroom, and nursery, one of the simplest places to start is the living room. This common gathering place serves as a place to connect with loved ones, unwind, and recharge, and only needs a few essential components to become a useful and lovely space that allows for all kinds of living.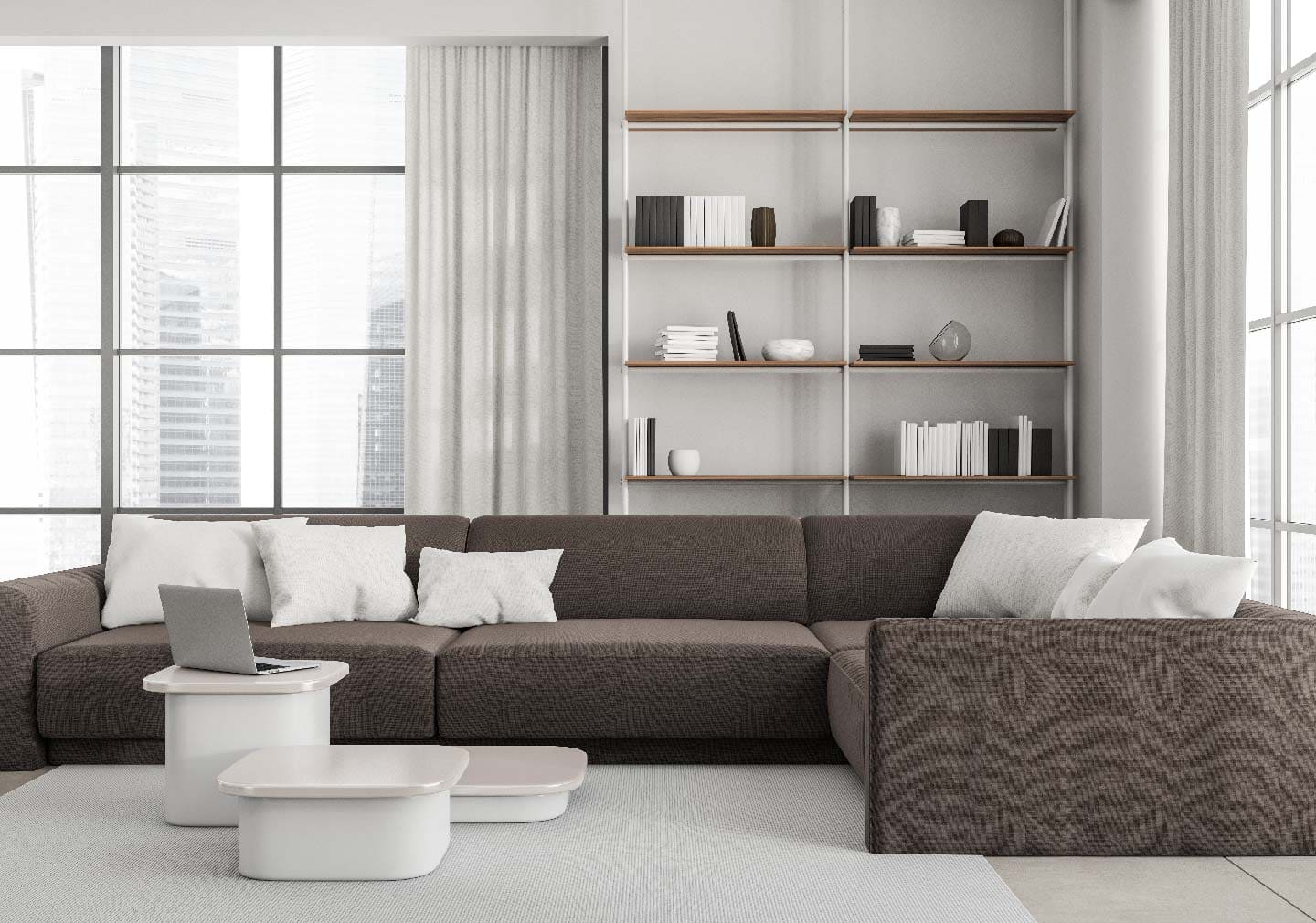 There is no clutter or unnecessary flair in minimalist decorating silhouettes; they are smooth and clean. In a minimalist living room, you probably won't see things like a houndstooth couch or stacks upon stacks of books, but you could notice a bright color here and there or a few subtle patterns being introduced in the shape of a rug or throw pillows.
The very idea of minimalism is based on the idea of getting rid of clutter in your life and emphasizing simple lifestyle choices, such as carefully choosing the goods in your home so that they are few and meaningful rather than constantly adding to your possessions. Also, this design philosophy emphasizes living in a cleaner, more sustainable, and more effective manner.
Best minimalist living room ideas that you can't miss
Minimalism is just everywhere. The modern minimalist trend has shown that it is here to stay, as evidenced by the minimalist rooms on Pinterest and the wonderfully elegant examples in your Instagram feed. Let's check out these minimalistic decor ideas for the living room interior design which are here to stay:
Eliminate clutter and simplify your area which is the first step in designing a minimalist living room. Get rid of anything you don't use or need, and only keep the things you genuinely love and that have a use for you. Items in good condition but no longer required should be thought of for donation or sale.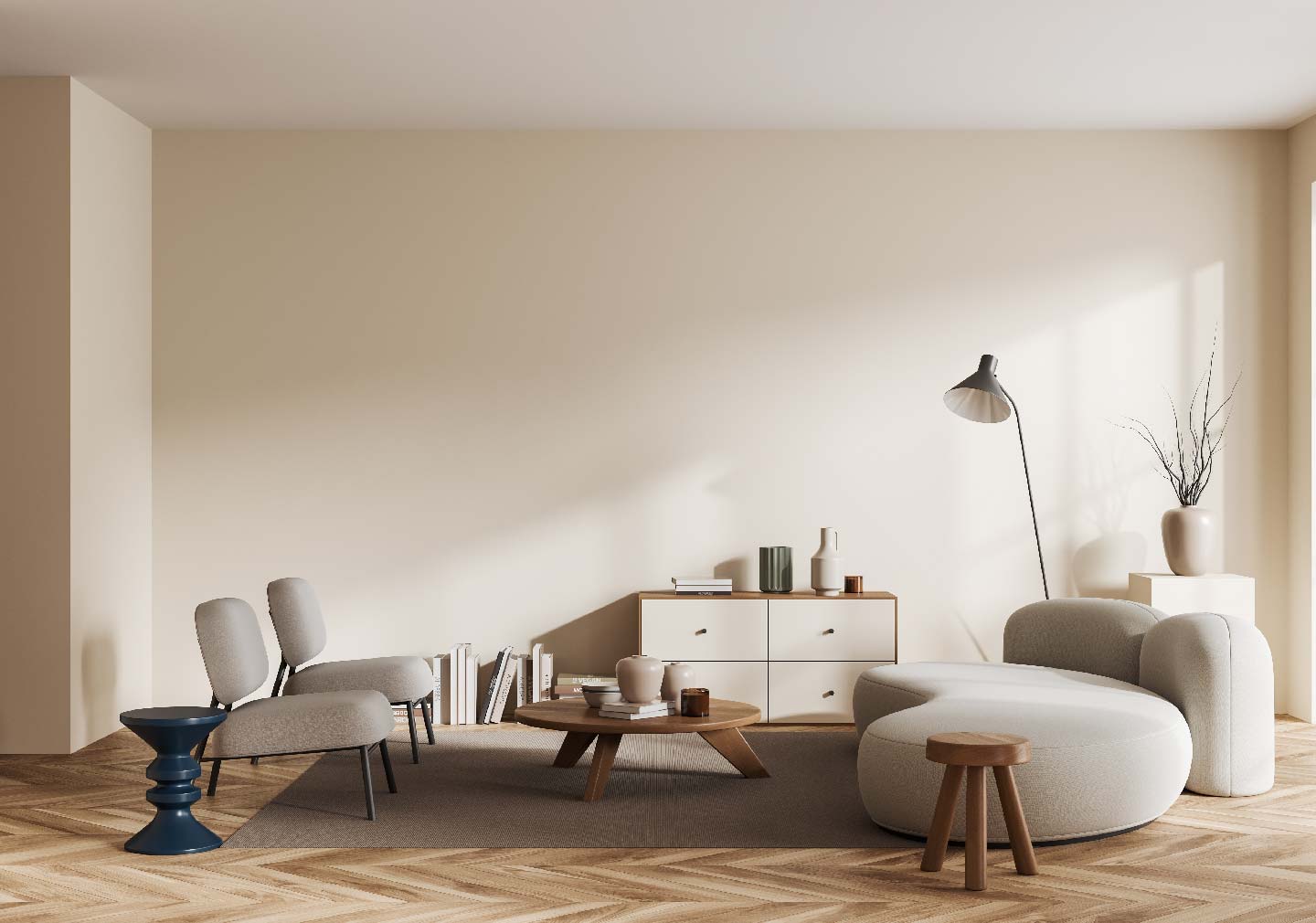 Functional storage is another aspect to take into account. It's crucial to use caution when selecting furnishings. Storage is essential to achieving this minimalist design; a wall-hung unit will preserve the openness and clarity of the floor space.
It will be possible to create a streamlined design with the choice of discrete open and closed storage if you incorporate creative, bespoke storage into your living area. As a result, spaces appear clean, allowing architectural details and statement finishes to command attention.
Make sure that every piece of minimalist design, furniture or home décor you include is appropriate. This kind of thinking will raise the level of your design as a whole and strengthen your relationship with the area.
Are you interested in finding out how to create a cozy yet simple modern living room? Nordic design's muted colors and calm minimalism are ideal for making elegant, unobtrusive interiors.
Nordic design has evolved into a sort of conventional design standard that is widely used, mass-produced, and constantly revised. The streamlined Nordic look, however, never loses favor in its basic form.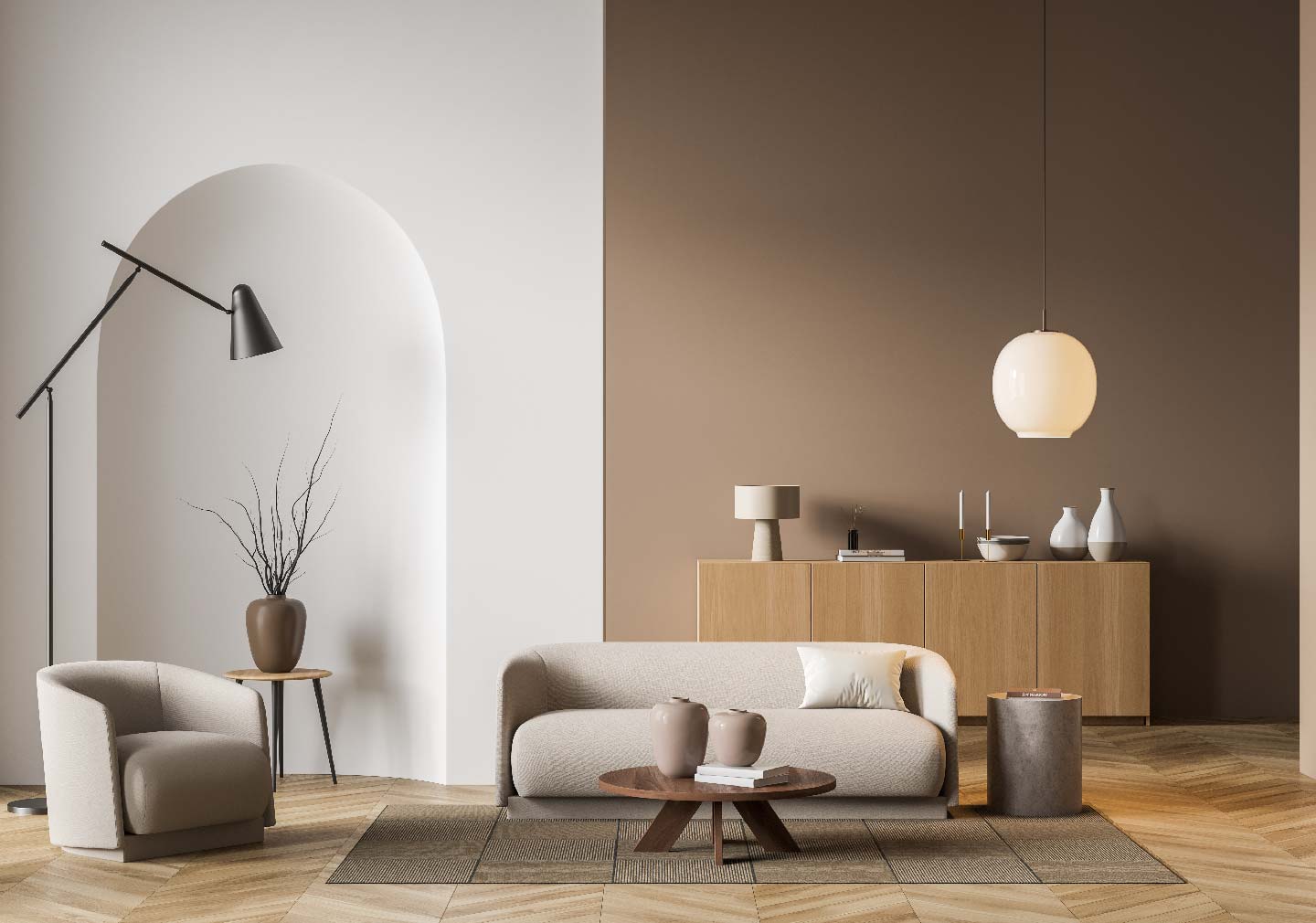 Choose well built forms, organic materials, and a simple, restrained color scheme to create a Scandinavian-inspired living space. Clean lines, repetitive shapes, and a delicate minimalist space that attempts to be precise without appearing stark make up the core of the style.
Take into account if each component is necessary, and remove those that are not. It turns out that minimalism is not just about things. It is a helpful frame of thinking, helping you let go of the things that don't matter, and no longer serve you.
Play with natural textures and elements
While selecting furniture for a minimalist living room, natural materials like wicker and rattan are not required to be avoided. Natural fibers, unusual woods, and interesting stones can break up the flat appearance of minimalist designs. The associated Scandinavian design aesthetic, which has roots in minimalism, frequently uses natural materials. Your living space might feel cozier and warmer if you add natural accents. Think about putting in some plants, hardwood furniture, and natural fabrics like cotton and linen.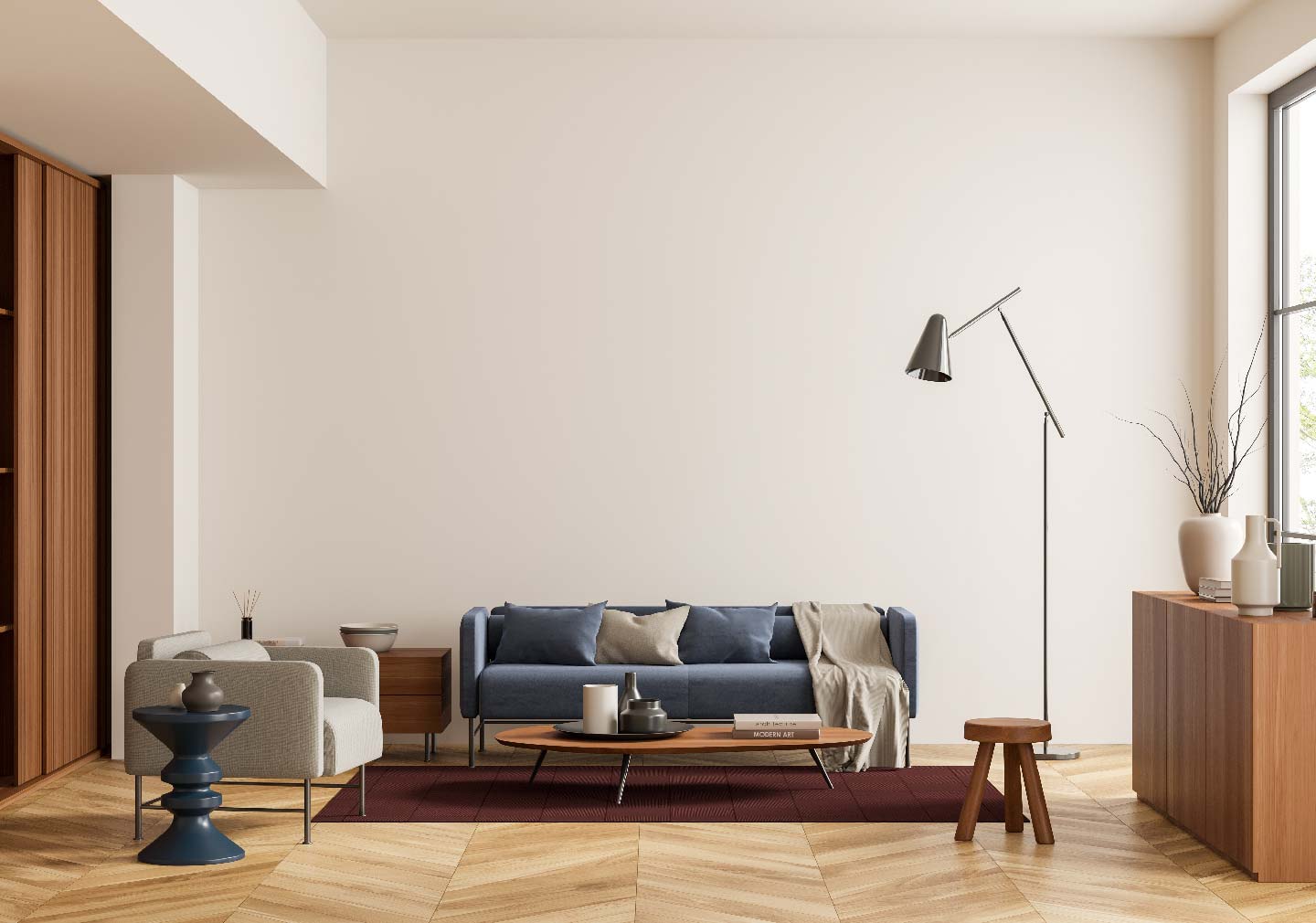 Few areas really benefit from greenery as much as minimalist spaces, and adding plants is a surefire way to add vitality to any space. If you want to leave your floor space free and simple, you can even add hanging plants. There are numerous modest, low-maintenance plants that will keep your home and life simple and intentional, and many interior designers believe that every room should contain at least one plant.
Go for neutral ideas and warm palette
Small living room ideas and modern minimalist decor go hand in hand, so it pays to stick with neutral color schemes.
The materials and color scheme used can also have a significant impact on the overall design.
Even when the design of the home changes, the simplicity of a minimalistic combination of rich wood finishes and muted, neutral tones will be evident.
A minimalist living room's color palette often consists of neutral shades like white, gray, beige, and black. The clean, serene mood that neutral colors produce makes it possible for other components of the space to stand out.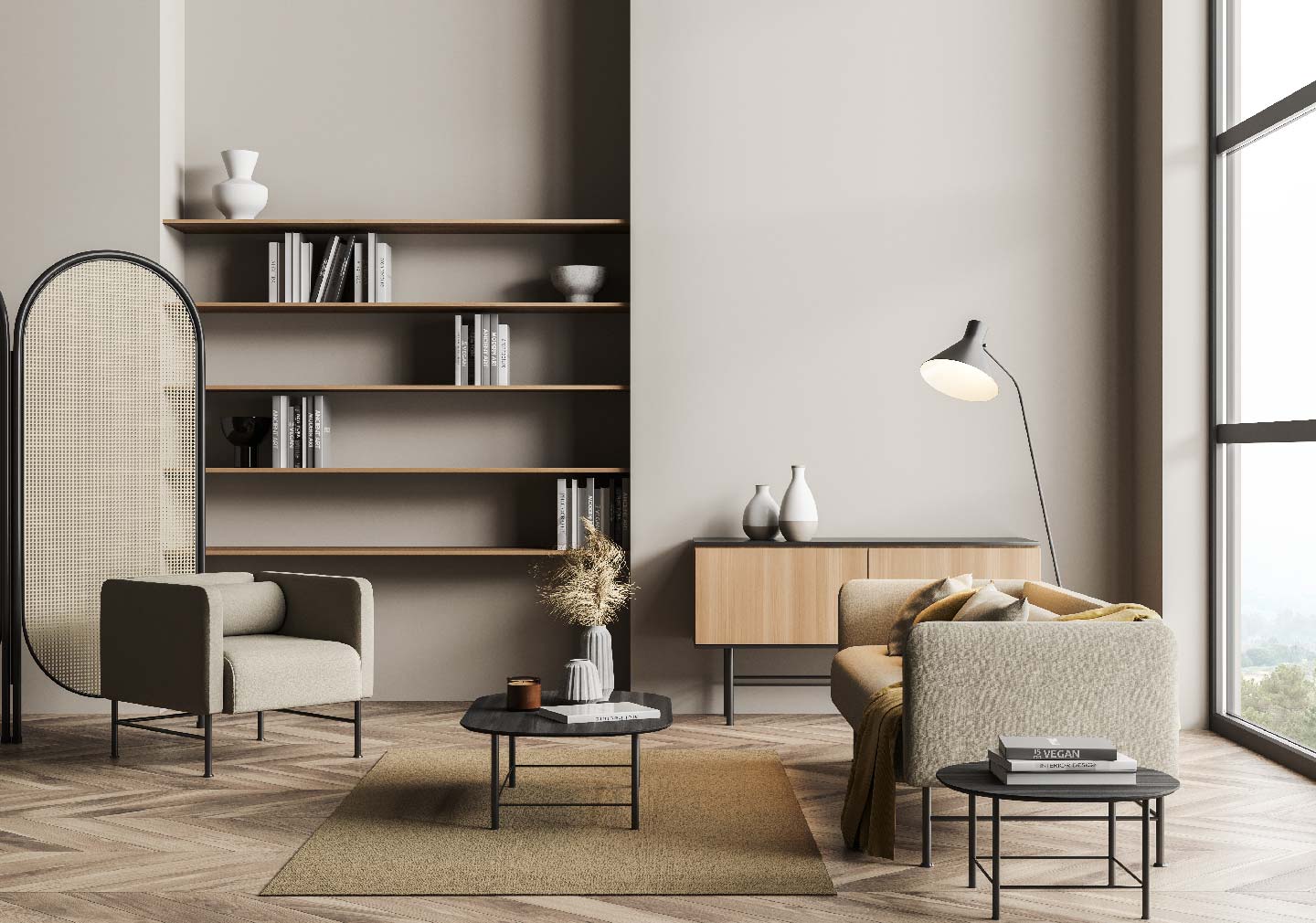 Ideas for decorating a black and white living room in minimalist decorating style may usually appear stylish. A monochromatic color palette is a simplistic choice that calls for some daring because it demands meticulous editing and a keen design eye. You can also check out our previous blog on white colored kitchen ideas and get some amazing insights.
This style of interior might also appear 'flat' if you don't provide texture and minor tone variety. Yet, when skillfully put together, it's a terrific way to improve a minimalist living space.
Texture and tonality are significant. To create a warm and welcoming minimal scheme, keep in mind that the most effective monochrome rooms incorporate movement and depth with tactile elements.
Incorporate proper lighting
If you have lamps and hanging chandeliers, your home will appear smaller and more crowded. So for minimalistic decor, choose compact, potent lighting alternatives or incorporate them directly into the walls or ceiling for a streamlined, minimalist living area.
Although lengthy LED strips integrated into the architecture can deliver strong, tunable light throughout the entire room, recessed can lights are still a fantastic option for any home. The living room will become brighter with white lights. When you want to create a cozier atmosphere, adjustable smart lighting can change to warm yellow tones.
A living room must have adequate lighting. To create a cozy and welcoming ambience, think about incorporating wall sconces, table lamps, or floor lamps. To regulate lighting brightness, use dimmer switches; stay away from strong fluorescent lights.
Don't be reluctant to use the sunlight if it is coming in plenty. Consider installing wide windows with transparent glass so that sunshine may shine in and illuminate your living space.
It used to be thought as having stark, polished furnishings with a modern, mid-century feel.
By including bohemian living room ideas like rattan lighting, artisan-style vases, a thick wool rug, and rustic raw wood furniture, you may soften the clinical edge of an all-white design for minimalist decorating touch. Brown, caramel, and dusty sienna are examples of neutral colors that draw inspiration from the earthy tones found in nature.
You won't have to stress over important choices and small details when you work with Bonito Designs. We will handle everything with the help of our team of talented designers, knowledgeable planners, and premium materials. Can we help with the design of your home? Connect with us today to get going.