Internet has bought a lot of change in the working mechanism. Working from home by sitting on a favorite couch or in a favorite corner is no more a dream for the right candidate.
It is a fun and cool way to complete the tasks. It offers the comfort to work with your own timings and ease. But working from home also has its own disadvantage that is if the home working space is not professional and interrupted with other house sounds. This ultimately ends up with the less quality outputs.
Designing a home office will become a double edged sword if things are not planned in a proper way. While a home office is expected to be comfortable it is not essential to go overboard with comfort and make it too casual. A home office space must be separated and quiet placed from the rest of the house.
These are the simple home office design ideas that are to be considered while designing your home office:
Location:
Having a well-designed location for your home office setup will keep your ball rolling just like on a smooth surface. So it is advised to never compromise on the office space, stuffing a small space in the corner of the house is not suggested.
Have your office room or space constructed in an area of the house where distractions will be a minimum.
This also depends on individuals, as some people can work best in the midst of mirth and conversations while some need a quiet corner to get things done.
How to organise office space?
You can use vertical file folders on the wall racks(just like this study room) so that the desk space is spacious enough and yet one can reach for the important documents within arm's contact.
If you have the work that generates piles of worksheet and papers, then you can use a decorated basket to pile in the papers there. In case of too many drawers, you can also label them on the pin board and use accordingly.
Furniture for Home Office :
Invest in modest furniture after chalking out a plan of what all items are required in the office.
You can go for elegant furnishings that serve the purpose as well as look good. If the home has conventional decor then the office furnishings should also go with the mood of the other home furnishings, to ensure that the office place does not look out of place or odd.
A home with traditional outlook must have the office space with warm wood and soft, cozy chairs.
A modern home office can feature artistic glass pieces or modern metal furnishings. The sitting chair in the office must be an easy chair and of comfortable reach to the office table.
Walls design for home offece:
Office walls should be painted with the subtle colors – A color that looks inviting and refreshing.
It is not necessary to stick to boring office colors of white or cream. The adventurous kinds can indulge in bright colors such as cheery color, orange or lime green. Conservative workers can work with shades like light green and sky blue.
Dazzle up your office space:
Have sufficient light in the office space. Light can help cut down on stress, eye tension and headaches. Light should be facing you along with the computer monitor; this positioning enables glare free computer view.
If you need additional light during specific tasks, then a simple table lamp can be used. Have a window in the room covered with a shift through curtain, so that you can get a view of the natural surroundings as well as cover it up if you have too much sunlight coming across the window.
Locate the desk in such a way so that you can view something interesting while you get tired and weary of work.
Frame your office:
You can also use a sweet picture or a catchy phase to be put up in the space having direct eye view. Hang cheering prints on the walls, it can be kid's framed drawing or family photos or simply a traditional painting.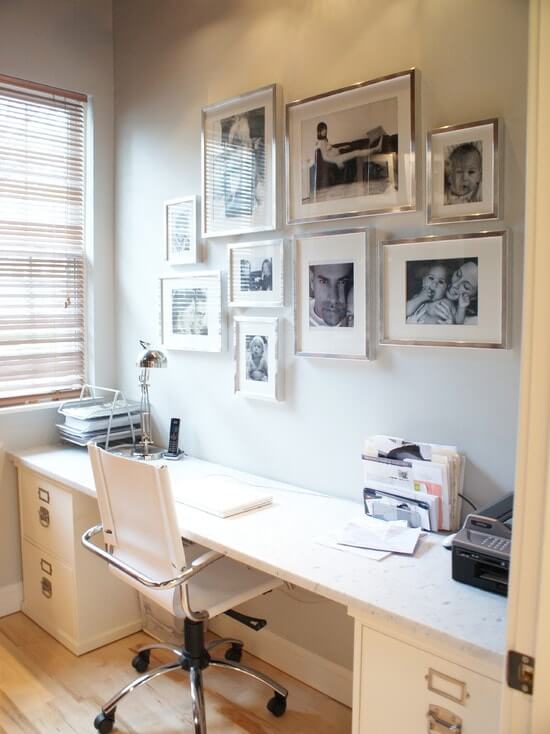 However it is recommended not to go overboard with decoration as it can be distractive.
Home office Accessories:
Again use accessories in moderation that are required. If the office space is limited, then choose limited collection of accessory items.
One can have an attractive pen holder, some decorative photo holds, along with necessities such as fashionable notepads, sticky notes, and a funky dustbin.
Additional tips to design office at home:
Avoid the cords of computers and printers and other electronic items to stare back at you. All technical equipments, which are to be used, should be within one's area of access.
One can encase the cords in beautiful fabrics or metal caps and close to outlets.
If one is fond of bright colors and has used them on walls and decorations, then try to even the flashy colors out with non-glare colors.
Go inspirational..!!
Try to get some personal touches such as a feng shui charm, paper pad and lanterns.
For the devotional kinds, you can hang up a mini temple or memorial. Anything that is inspirational can be of great help.
No matter how much you decorate the house, one has to also make space for empty spaces and corners to avoid the space from looking cramped or over crowded.
Enjoy your work while working in your favorite spot..!!
No matter what the work load is, you can always spruce up the load with ease with peaceful mind and lovely ambiance.