A beautifully crafted ceiling is the hallmark of an interior's appeal and durability. Wooden ceilings have long been regarded, because of their infinite variety and adaptability, as the elite alternative for ceiling design. The wooden ceiling has been a cornerstone of homes and public buildings worldwide for decades, and today's styles are no exception.
Your wooden ceiling is an opportunity for you to regain the room above your head. The modern wood ceiling, rustic or refined, lends any home a welcoming and straightforward air, guaranteeing the kind of fuss-free comfort a gentleman craves.
The wood ceiling, coffered and patterned or planked horizontally, adapts to every home and interior system, opening up even the most narrow perimeters and adding incredible height and equally eye-catching nuance. Every morning or after a hard day of work, gazing up at these 6 wooden ceiling ideas will take on a whole new joy.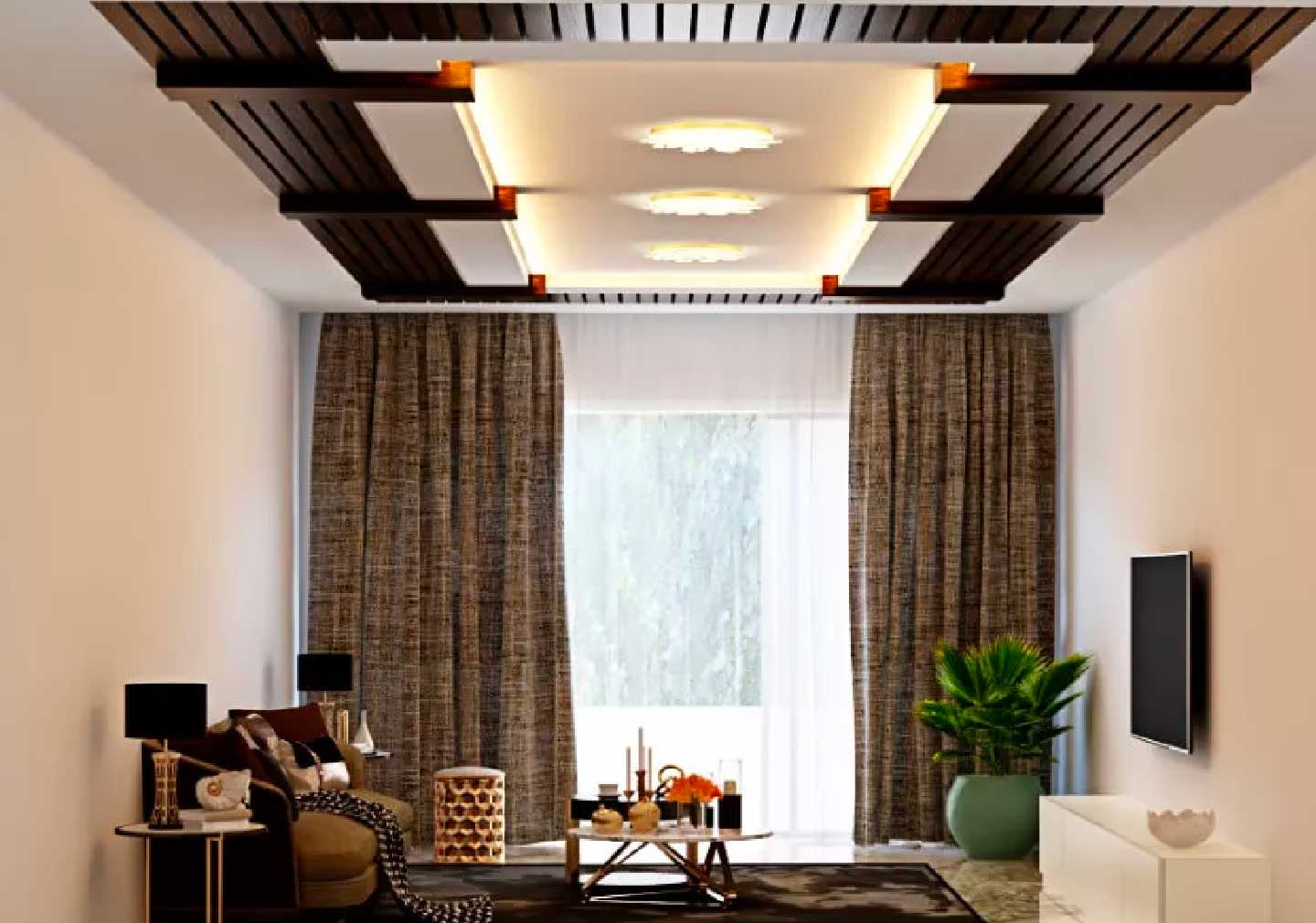 There are plenty of choices available for those who want to recreate the classic 'beam' look, as shown above. With the Beam ceiling, this is the unmistakable style one can opt for. It might not be part of systemic support, but a timeless and historical appeal is added. The best aspect of all of these impressive ceiling designs is that they fit in with the rest of the home seamlessly. It still humbly steals the spotlight, even though it combines it with the chosen theme.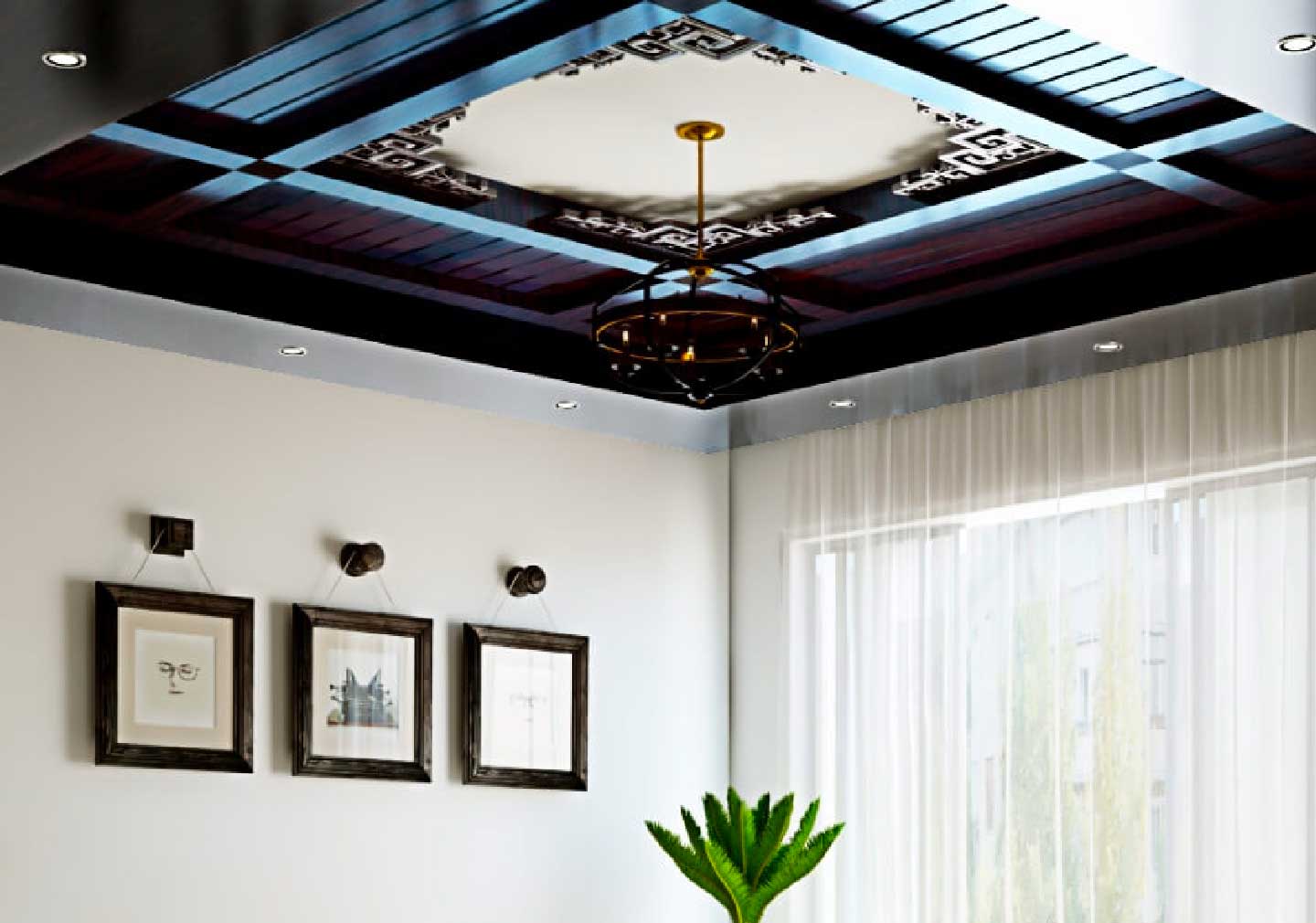 Exposed beams in a rich color of mahogany will help you achieve a classic statement that looks unique. Paired with bright white walls and upholstery, you are sure to draw the eye upwards. A perfect setting for a dramatic chandelier to illuminate your space, this false ceiling design is sure to bring in a lot of appreciation.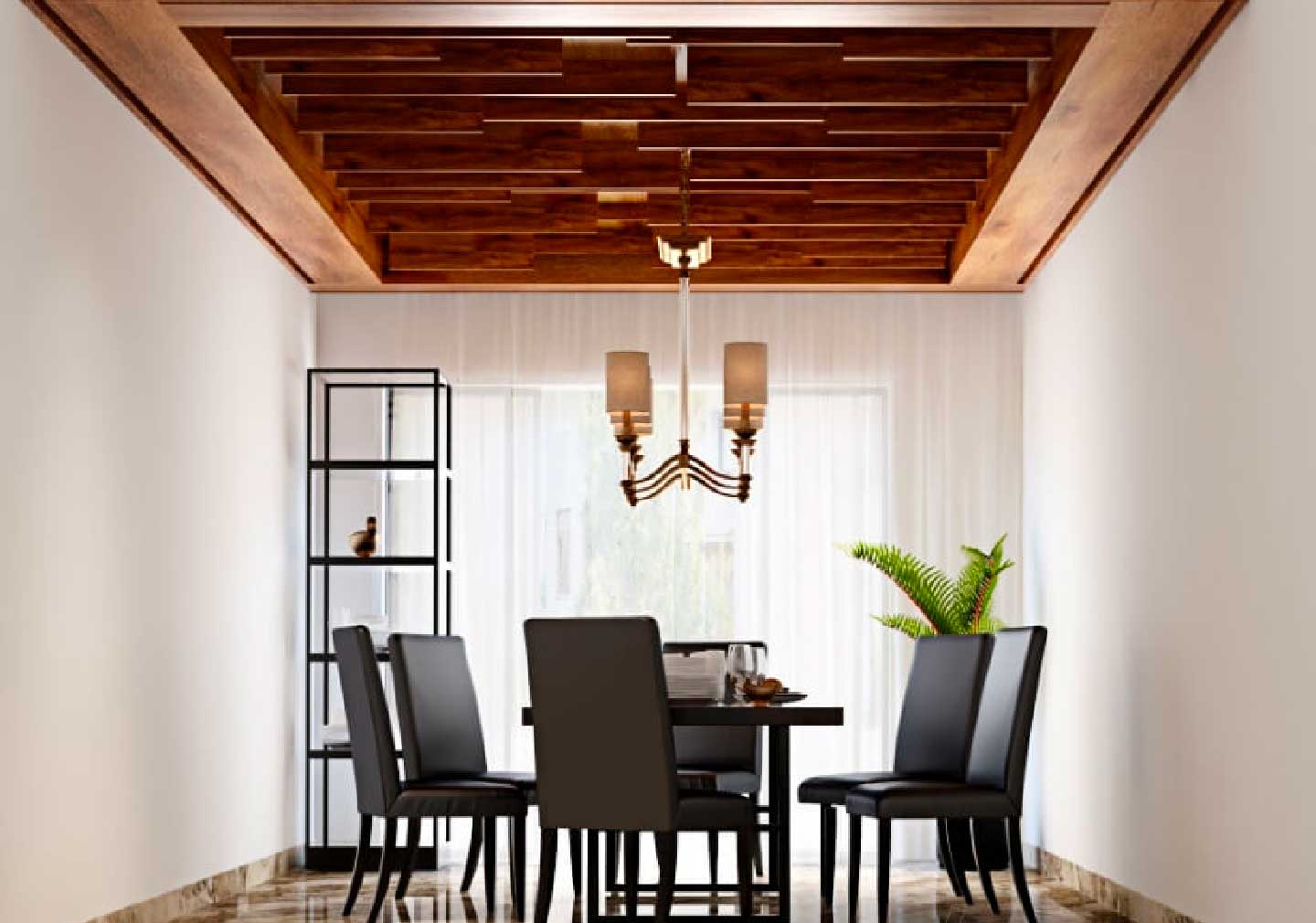 The dining set in this home would fit in with many different interior decor styles, but the stunning false wooden ceiling above screams positively rustic. The candelabra's sleek light comes down to the very center of the room, which only helps make the ceiling look higher, resulting in a larger room.
Any space is complemented by a fantastic ceiling, raising its architectural appeal and giving it a fresh new ergonomic and aesthetic viewpoint. It is the ideal combination of style and substance at the end of the day!
This view of the living room area showcases the dark wood drop ceiling design with inbuilt spotlights that blend with the space's original white walls and give texture to this area. This works well with the Neoclassical white wooden end table and coffee table of the L-shaped sofa.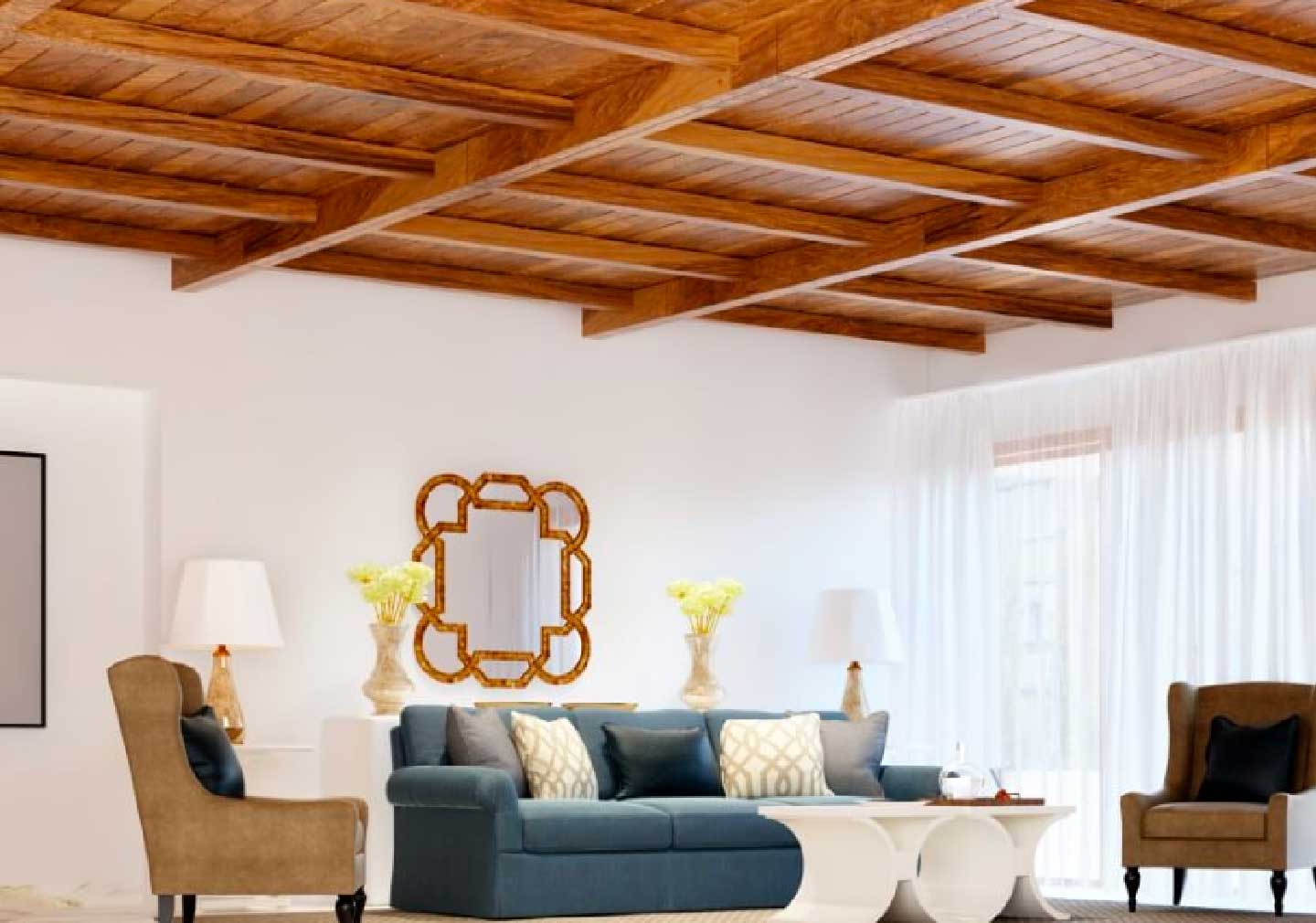 A coffered ceiling can produce a sense of height for a home and an airy feeling. All while offering it the 'old English' charm dreamed of by so many designers and homeowners. The impression of a more spacious interior is achieved and can be built using the Tray Ceiling with a modern perspective. While it fits better with a higher ceiling for houses, it offers a new view.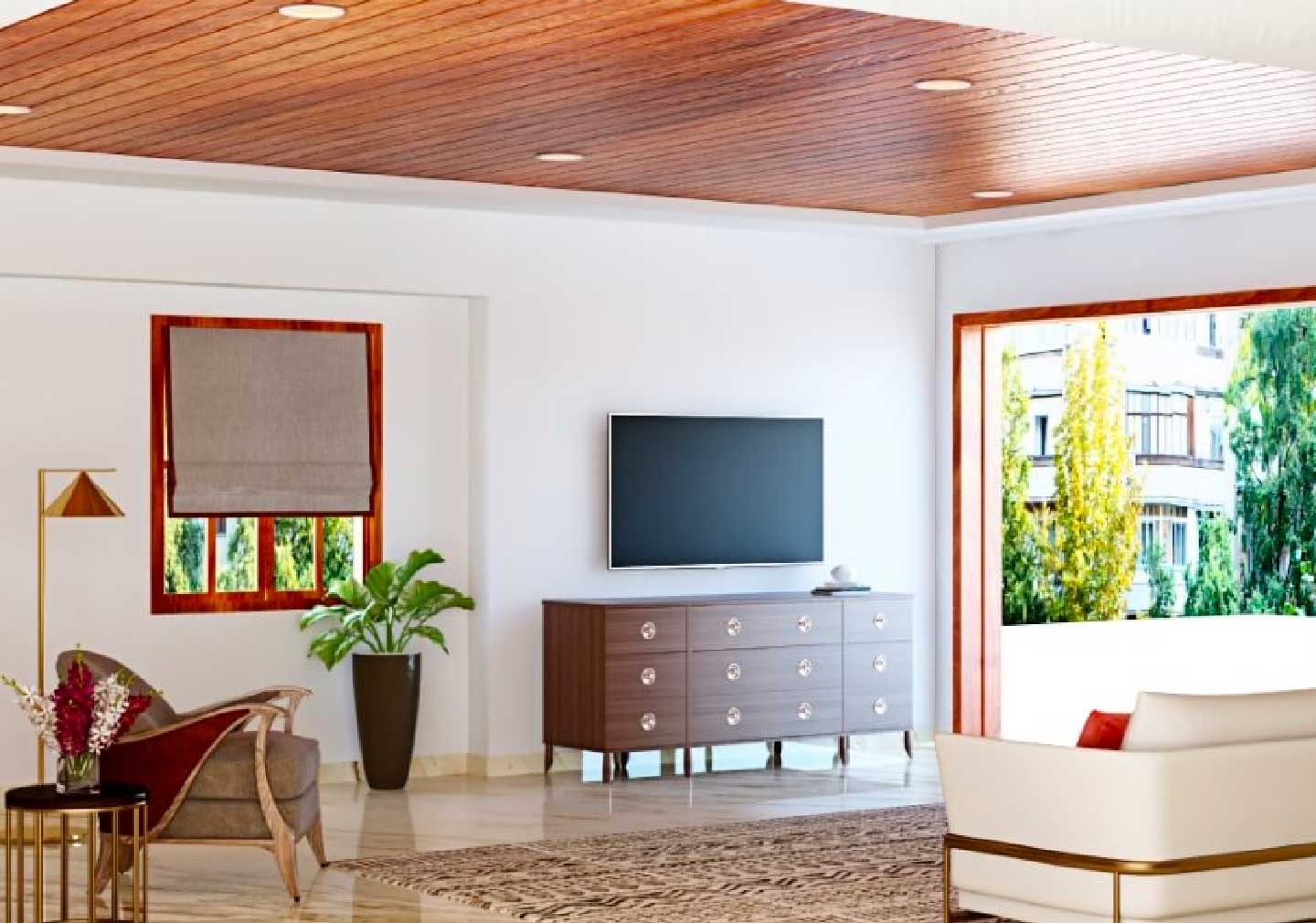 This is an entertainment area with a high ceiling next to the living room area and a simple, compact TV unit that does not take up much space on the wall. Sliding glass doors bring in natural lights that illuminate the wooden false ceiling with cove lighting to contrast the white leather couch and the wooden entertainment console.
Choosing the right Wooden False Ceiling Ideas
While the wooden false ceiling ideas can look stunning and there are several examples to it, it is also crucial to understand whether these ideas will actually suit your interiors or not. Here are some of the important parameters that one should surely check out before opting for the right wooden false ceiling design.
The Height of the Ceiling:
The very first thing that you should check out is the height of the ceiling. If you are staying in a hilly region, having an exposed wooden ceiling is something pleasant to see. But if you are in the plains, you need to make sure to check out the height of the ceiling. If your space already has low ceilings – reducing further height with false ceilings will end up making your space look smaller and congested. Compared to that, rooms with much higher ceilings can easily display various false ceiling designs that further enhance the look of the room.
Accessories to Hang:
Another important factor that you need to take care of is the number of accessories that you are going to hang from the ceiling. There is a difference between other materials such as POP and wood. If you have a ceiling fan that is very heavy or a cast iron swing, it can get quite risky to hang it from the wooden false ceiling. In such a case, either you can drop the idea of having a wooden false ceiling or can fix the accessories first on the ceiling before installing the false ceiling.
SOME FALSE CEILING FAQ YOU SHOULD KNOW
Do I need a false ceiling for my house?
This relies on your preferences. In addition to its decorative appeal, false ceilings are practical features that enhance acoustics, cover unsightly wires and pipes, and be built around ducts for air conditioning and lower electricity consumption. In addition, you can also opt for fireproof and moisture resistant designs.
How long will they last?
In normal circumstances, these false ceilings that are specially built and made with high-quality POP and gypsum will last well over 20 years. But you should always verify with your vendor or your Interior Designer prior to installation about the lifespan of the product they are using.
How could it be better than conventional lights?
They are cost-effective and energy-efficient in the long run instead of tube lights, lamps, and track lights. They are more effective than concentrated lightings such as track lights and tube lights because of their ability to reflect and disperse light to a wider area.
Why install a false wooden ceiling?
These ceilings have typically had many advantages, such as:
Absorbing sound: It acts as a natural acoustic absorber since wood is a porous material. You may also select sound-absorbing acoustic panels to regulate noise reverberation in the room.
Energy-saving: The wooden false ceiling decreases the amount of room that an air conditioner requires to cool down, thus reducing energy consumption. In addition, wood is a heat insulator, meaning your room can stay cool for longer.
Strength: opt for a wooden design if you are planning to install lights in your false ceiling. Through this, more lights can be mounted without the worry that the ceiling will sag.
Fast installation and removal: Wood is among the easiest to install and remove from various types of false ceiling materials. If you opt for wooden ceiling panels, you can quickly mount and dismantle the wooden planks.
Finish choice: Wooden false ceilings provide a wide variety of finishes, from polished to matte to textured. You can also pick between the laminate, veneer, and other varnished natural wood.
Eco-friendly: This is a big argument in favor of wooden false ceilings if you're environmentally aware. When removed, they will naturally decay, causing little damage.
The best thing about a great ceiling design that draws the eye is that you don't have to completely remodel your home to achieve your perfect look. There are great money-savvy ways to buy stick-on coffered ceiling tiles that can be painted any color or even these simple molding trims for DIY crowns! Or even try gold, design-encrusted tiles in a 12-pack or the decorative, regal ceiling trim if you're looking for something more elaborate. Finally, you can just hire a contractor and re-do the entire ceiling if you're ready to take the plunge! 
Think wooden false ceiling is the final touch for your dream home? Contact the experts at Bonito Designs to design your favorite home interiors.