Mr. Vipin's 3bhk apartment is situated in Salarpuria Magnificia near Tin Factory in Bangalore. This property is quite unique and can be called a glass house as we have used mirrors all around while doing its design. Another interesting point to note here is the absence of a foyer. Since there is no foyer in this house, a cute little step size shoe rack welcomes you with its extraordinary look as you enter the house.
An enticing living Area:
The living area is small in size but enticing in look. It has a minimalist design but well decorated in all aspects of a modern living area. The TV Unit has a beautiful stone cladding behind it. A simple rafter with spotlights adores the whole area above the TV Unit.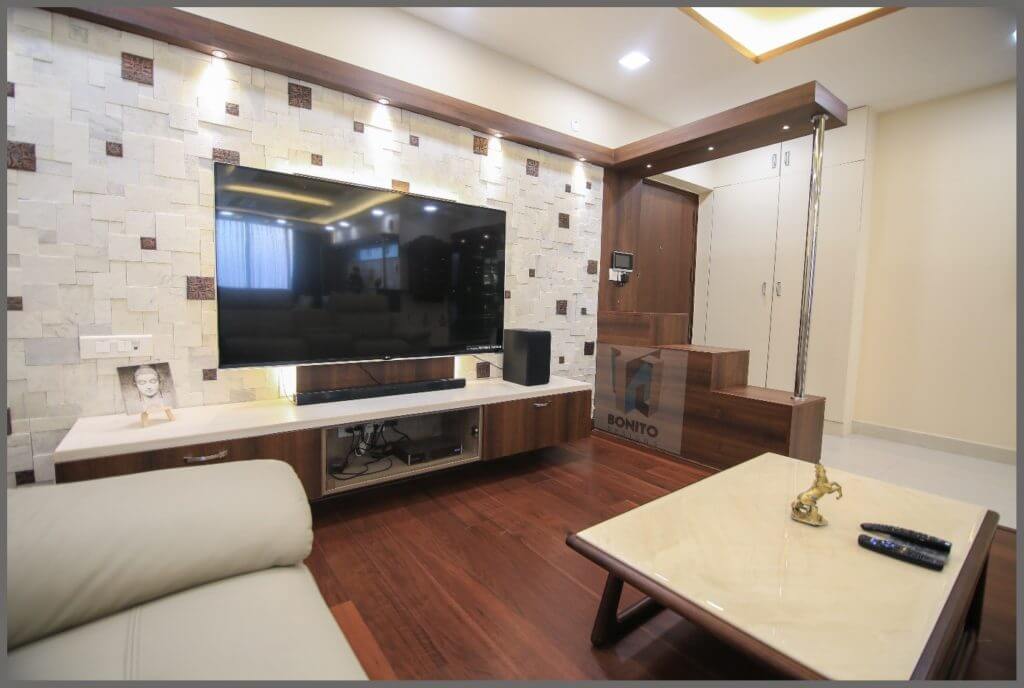 The dining area is flanked by a rectangular crockery unit with spot lights like twinkling stars above them. A black pearl ship stands proudly on the countertop and this is probably the focal point of attraction of the whole house. The dining area is connected to both the living area and an open kitchen. The living and dining areas are connected by peripheries.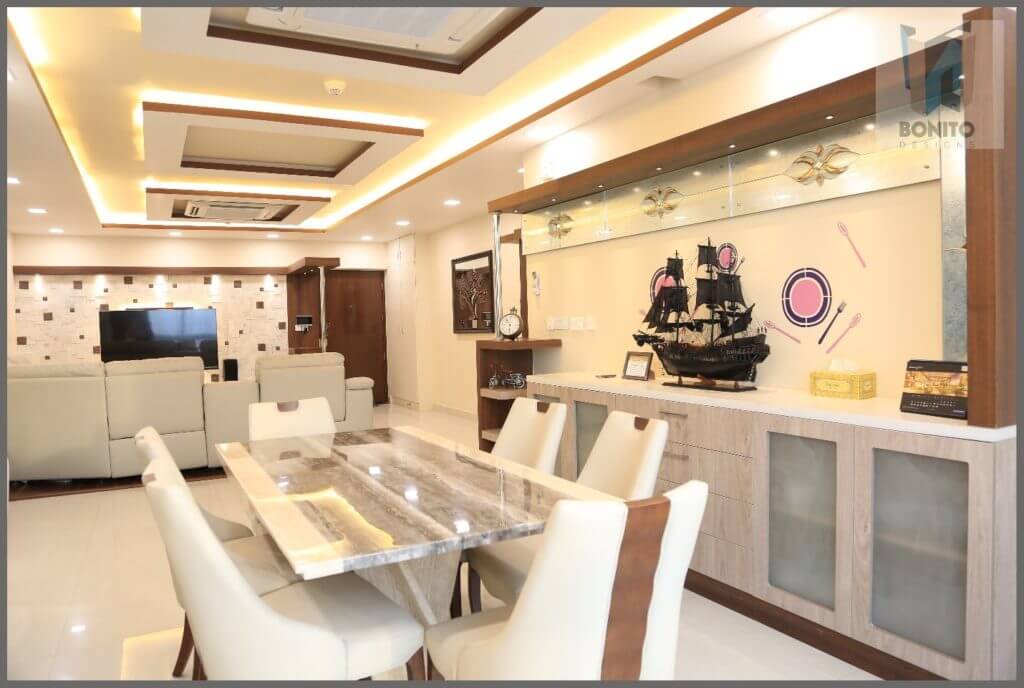 The Puja unit is mandap shaped on top and has bell cuttings and bells are hung accordingly. The one striking feature of the puja unit is a digital glass painting with Deity's picture on top.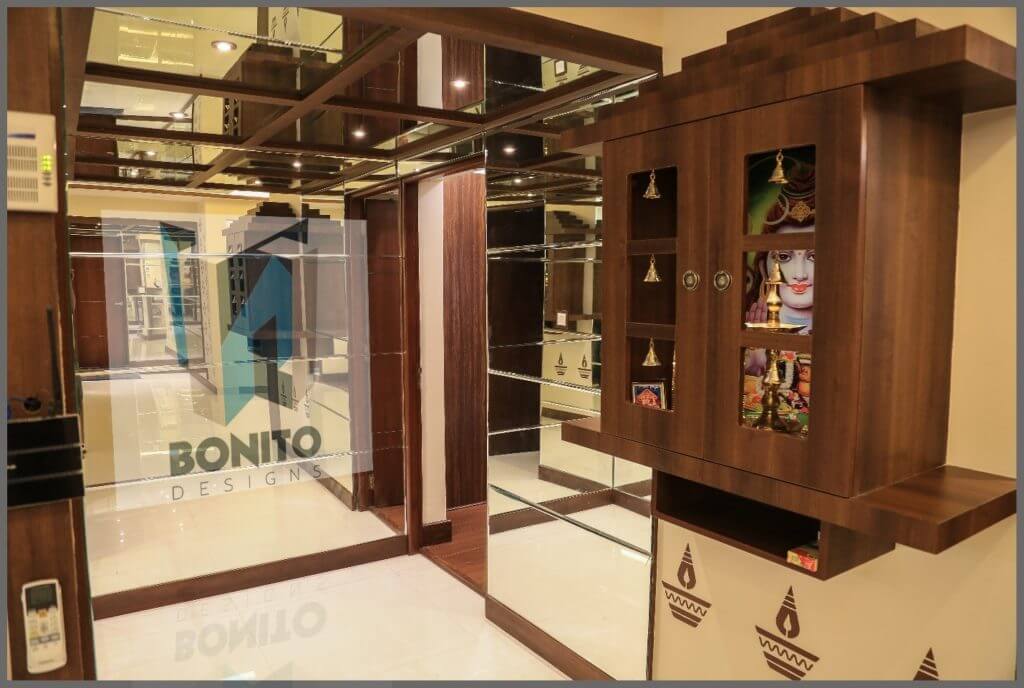 As we have said, this house resembles a mirror house, so the presence of mirrors on three sides gives it a mesmerizing look when entering the master bedroom and kid's bedroom.
A Gorgeous Master Bedroom:
A black TV unit welcomes you with all its splendor as you enter the master bedroom. The highlight of the entire portion is a CNC cutting in glass and lit by cove lights. The false ceiling is marked by peripheries and rafters which has cove lights and spot lights. A head board starts from the ceiling down to the wall and lit by spotlights adds a kind of astonishing look. Also a wooden rafter from the ceiling, dropping down to the floor enhances the entire look of the master bedroom. On the whole the master bedroom is a mark of beauty and glamour.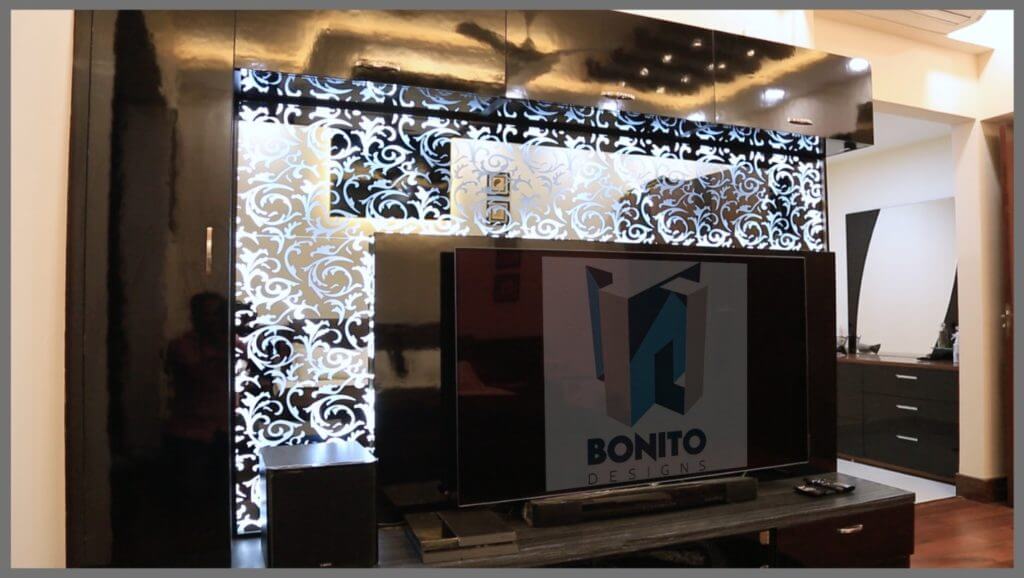 Guest Bedroom is marked by a king-size bed with side tables and drawers. There is 3 door sliding wardrobes with aluminum profile. Mirrors are being pasted on the doors of the wardrobe to give it a glossy look. There is a huge dresser mirror with storage space behind it. The false ceiling is decorated by spot lights and cove lights to give it a different look. There is ample space for sunlight to pour inside the room.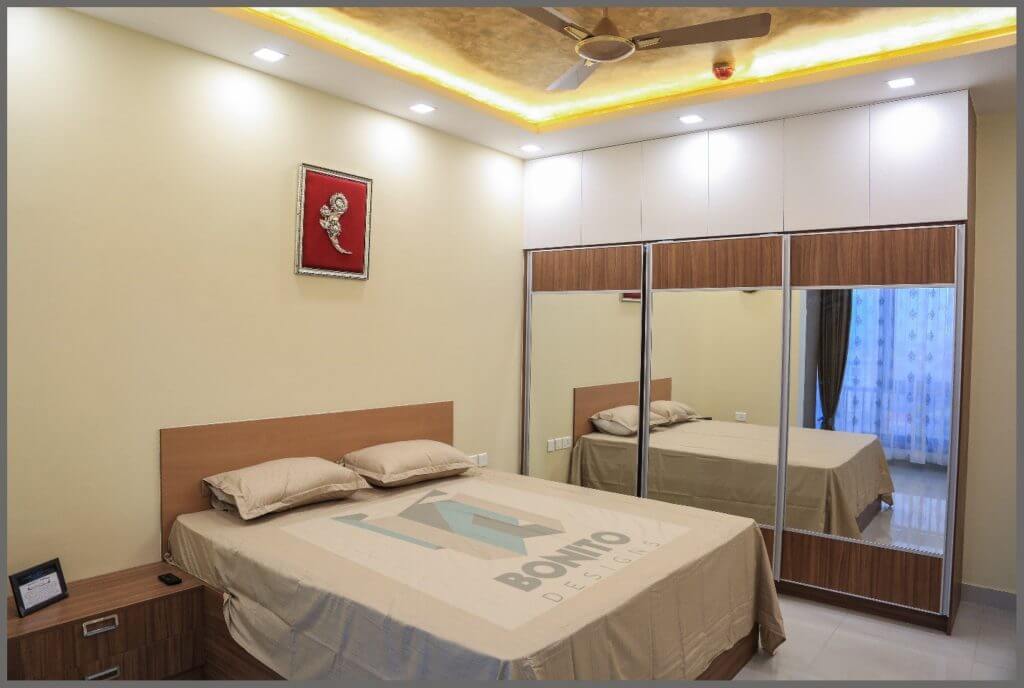 The Kids's bedroom has a very subtle color theme. A king size bed with side tables on either side and three door sliding wardrobes, with mirrors pasted doors gives a stunningly wonderful look to the room. The ceiling looks fantastic as it is painted with a unique texture.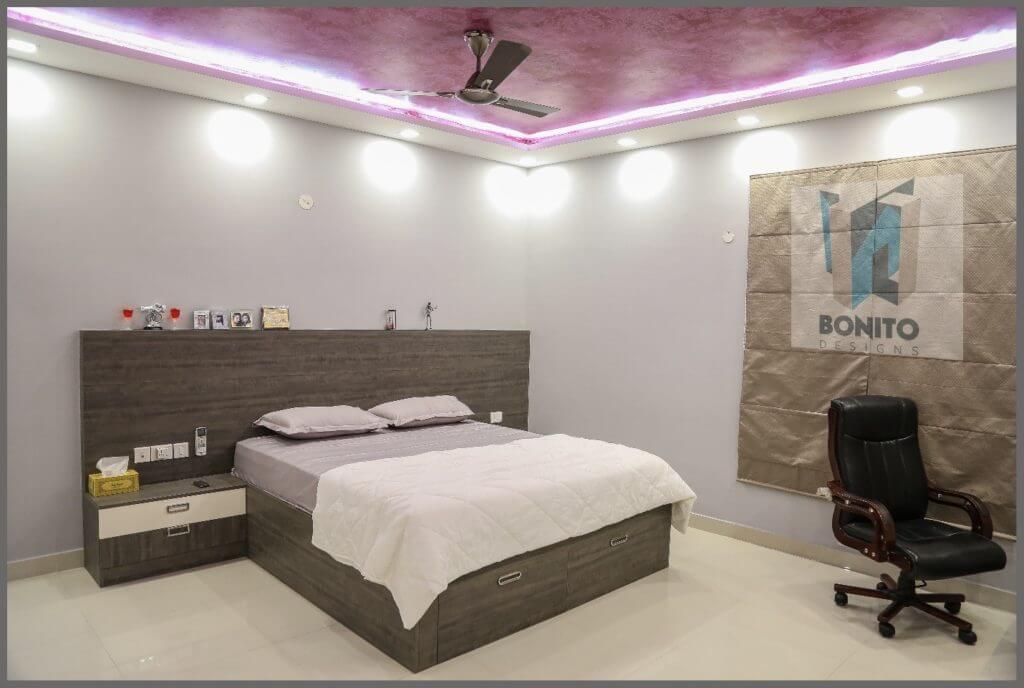 Thus we can say that this house is a classic definition of a good and modern design, with a touch of elegance and grace in it. All modern concepts of design has been incorporated in this project to give it a defining look.
Please Do reach us on Email: hello@bonito.in
Telephone Number: +91-9019598877