20 Crazy Garden Furniture Knowhows
Gardens redefine the beauty of your homes. So groom them with cute little furniture to make them look more beautiful. Let the flowers bloom with a huge grin on their faces and spread fragrance and elegance throughout the garden. Scroll down to own the ideas mentioned below.
20. The raised garden beds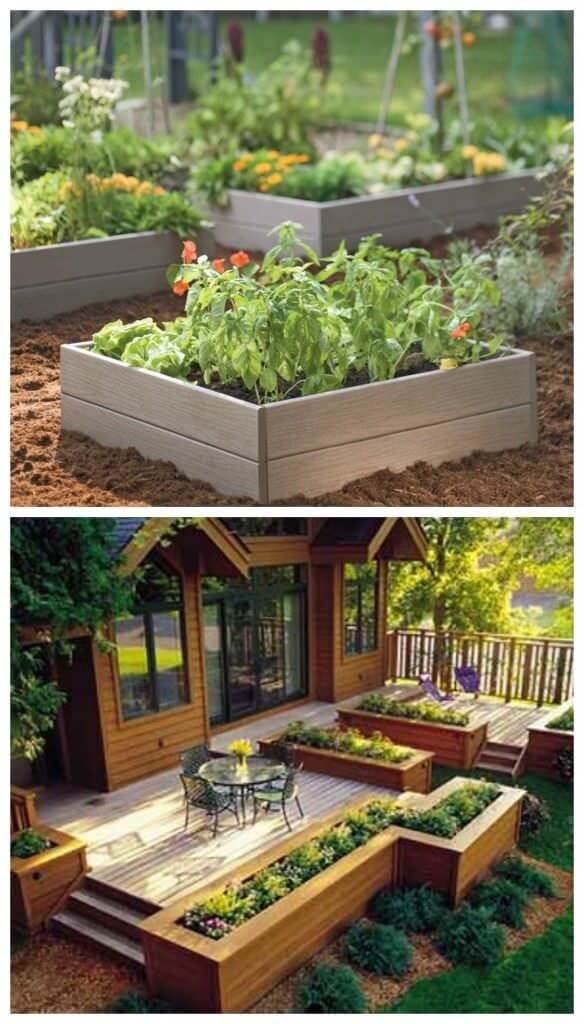 To witness the lush green of the plants and healthy growth anywhere this method can be adopted.
Installation guide for raised garden beds
19. To conceal air conditioner
Let the entrance look pleasant with the fenced plants to hide your giant air conditioners protruding out.
18. Sewing machine as an outdoor bar unit
What if a Sewing machine table goes old? Take it easy and use it as a bar unit. Fill it sewing machine space with ice cubes and wine bottles.
17. Tire tables
The old car tires can be retained as a table, by just adding a piece of wood or glass on it. Now, you can day dream in the garden.
16. Tire seats
Make yourself comfortable on the fluffy seat made with cushion and a car's tire.
15. Cable spool table
How about using the old cable spool as the garden table to spend your time with family? Try this out.
14. Plastic crate furniture
Soft cushion to rest your back and another to sit on it. Now, a mini sitting space is ready with the plastic crate. Supervise the garden with extreme comfort.
13. Milk jug side table
A circular piece of wood just kept on top of the milk jug can be used as a side table in your garden.
12. Barrel tables
Retain your old barrels and top it with a fine piece of wood to make it look like a table.
11. Barrel chairs
A barrel can also be cut in such a shape to look like a chair where you will have to nail the wooden piece on top and place a soft cushion on it.
10. Milk crate bench
Your garden will look even better when a bench is in scene. It can act as an accent furniture that will make your garden look all the more attractive. Just hype its look with a colourful cushion.
9. The concrete chair or sofa
Blocks of cement can be arranged in such a way to look like a sofa. Just add a long leather or foam made cushion to sit and rest your back.
8. Chair Swings
Who wouldn't love to have a swing in their garden? Your chairs or old doors can now be used as a swing. Make it look cozy with your bright coloured cushions.
7. Chair garden
Your patio chairs can now become a place for the flowers to sit. It is now your turn to stand and watch them sitting, with a smile.
6. Sewing table planter
Your sewing machine has become old? Use it in the garden as a flower bed and paint it with some vibrant colours to awe you.
5. Trunk box storage
Your trunk box can be used as a storage area and a bench when opened and closed respectively.
4. Garage door bench
The old looks of the garage door will always impart a rustic look to the garden. If supported with a colourful mat, it will be the apple of your eyes in the garden.
3. Flower planter from old buckets
Rusty dusty buckets can bear flowers and become the showstopper of your garden.
Ladder can also be used as a pot holding stand. Splash bright colours to make it look out of box and attractive. After that place the potted plants. Now, the LADDER GARDEN is ready.
1. Pallet and cable spool furniture
Spread colours and smiles throughout the garden with the cable spool seats and wooden pallet tables.
Now, add beauty to your garden with colorful flowers and a few furniture made out of left outs at home by picking one of these ideas. By the way, you can check our latest furniture design ideas at http://www.homefuly.com/